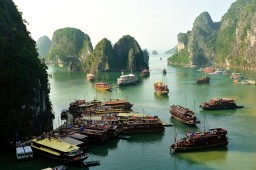 Packed with natural charms, Vietnam is a study in contrasting delights.
Vietnam stretches for nearly 1,500 kilometres from its northern border with China to its vast Mekong River delta in its southern extremity. A mountainous spine bridges the northern, central and southern regions. Indeed Vietnam is competing against Thailand for south eastern Asia's hot-spot beach destination, so popular has it become in such a short time.
First time visitors will be pleasantly surprised at the local laissez-faire attitude to enterprise. Though the Vietnamese are naturally entrepreneurial, they don't push a hard sell. Wandering through bustling markets elsewhere in Asia can be a trying experience, as in, 'Try this' or 'Try that' yelled from every corner but here it's more relaxed. Of course a sale will suffuse a vendor's face with delight, but a simple reply 'No thanks,' doesn't offend either. It's as if fifty years of self-reliant government has had the effect of encouraging people to rest assured that the state will provide and that money is not necessarily the basis for a contented life.
This is not intended to portray the locals as glum. Rather, with a smile and hello spoken in Vietnamese, faces light up radiantly. More naturally friendly people are hard to find. If other countries proclaim that they are the land of smiles, Vietnam is surely the land of the big grin.
Coinciding with Vietnam's rise in global travel esteem has been its government's opening to foreign trade. Though Vietnam's socialist government was founded in the hotbed atmosphere of the decade's long conflict with the French and later the Americans, it has relaxed its attitude to visitors. Gone are the days when foreign tourists were watched closely by government officials. Only fifteen years ago, cultural regions such as those around the northwest at Sa Pa were virtually closed to travellers. Now a luxuriously appointed tourist train takes visitors directly from Hanoi to a town near Sa Pa where treks to Mount Fansipan (Southeast Asia's highest peak) and to neighbouring hill tribes' villages are widely promoted by tourism authorities.
Two big cities dominate Vietnam: Ho Chi Minh City (HCMC) still referred to by the locals as Saigon and Hanoi. The first is the economic powerhouse of the nation. Vibrant and brimming with activity, it's the place in which to do business. It's also a shopper's paradise. Hanoi is the bureaucratic heartland, more relaxed, historic and atmospheric. A visit to Vietnam without seeing both its major cities is to leave the country half-explored.
Hanoi is filled with culturally significant sights. The Ho Chi Minh Mausoleum is the country's pilgrimage place. Uncle Ho's house and gardens near the mausoleum are open to the public. They are both particularly poignant. He is the founding father of modern Vietnam and his place in the national esteem is unparalleled. Due respect is required for a visit to his mausoleum. It is unforgettable.
Hanoi's ancient university, The Temple of Literature gives insight to the importance of Confucianism in the country's religious history. Hanoi's university is one of the oldest in the world; its grounds are very beautifully restored. Both the Kim Lien (Golden Lotus) Pagoda on the shore of West Lake and the restored One Pillar Pagoda near the Temple of Literature are two of the oldest in the country. Visit the Kim Lien Pagoda at dawn to take part in an impromptu Tai Chi class. The old quarter at Hoan Kiem District is Hanoi's retail therapy centre. Don't miss 17 Nha Chung Street's Hanoi Art gallery filled with propaganda posters reminiscent of depression era artwork from Australia or America.
Haiphong in the Red River delta is the nation's largest port and an industrial giant. Its close proximity to picturesque Halong Bay makes it worthy of acquaintance. Few travellers get here and as such, it's virtually untouched by tourism.
Halong Bay is Vietnam's significant contribution to UNESCO's World Heritage list. Its landscape is the stuff of dreams, karst mountains jut out of an enclosed bay for as far as the eyes can see. Sadly the bay has become littered with plastic rubbish left behind by hundreds of thousands of annual visitors. Though Vietnamese authorities try to tackle the problem of too many visitors boarding too many day tripping boats, their attempts at controlling pollution have so far been lacklustre.
Numerous boats make day trips to various beauty spots in the bay but if time allows, The Emeraude, a restored French steamer does an overnight cruise that permits visitors to see more of the bay than a simple day trip provides. To relax on the upper deck of the Emeraude, G & T in hand, while progressing at a stately pace through densely forested peaks that lean sideways forming hidden coves, is to experience Halong Bay at its most sublime despite the rubbish strewn water. See www.emeraude-cruises.com for details.
HCMC, or Saigon, may lack the cultural weight of Hanoi but its Reunification Palace, the War Museum, the Museum of Fine Arts and the Jade Emperor Pagoda are all not-to-be-missed regardless. Dong Khoi Street is still the city's lifeline, as it was when Graham Greene visited it and mentioned it in his novel, The Quiet American. Le Thanh Ton street in District One near the central Ben Thanh markets is packed with bespoke tailors. Choose carefully, ask lots of questions and be prepared to order in large quantities: custom made suits, shirts and dresses for a fraction of what they cost at home. Saigon is the country's centre for tailors, though Hoi An gives it a run for its money.
If the heat of the plains or Saigon's sultry humidity becomes more than bearable, the old French hill resort of Dalat is only a 40 minute's flight away. At over 1,700 metres the surrounding countryside is verdant and agriculturally rich. Strawberries, artichokes and cabbage fields spread out along the often misty slopes. Dalat itself is a history buff's endpoint: French colonial architecture reached its apex here. It's also a golfer's paradise. Vietnam's premier course is here and well worth visiting, as is the heritage railway station, the town's horticultural gardens and its innumerable cafes.
Hoi An near Da Nang is one of Vietnam's most picturesque towns. Protected by government building restrictions and therefore historically intact, it is easily negotiated in a matter of hours. The beaches nearby at Dien Ban, its famous China Beach, are ringed by the Marble Mountains and offer a variety of resorts, some super luxurious, some very family friendly. The long sweeping sands edged by the warm waters of the South China Sea are endlessly inviting.
Further south at Nha Trang, lush resorts invite travellers to indulge in more sun and sea worshipping. It's a win-win combination.
Both Mui Ne and Phan Thiet (180 kilometres northeast of HCMC) are reputedly the sunniest towns in Vietnam. Laid back tourism is the key claim here. Relax on relatively uncrowded beaches and practice your newly discovered Vietnamese passion. It's unavoidable.
Never forget that the Vietnamese live to eat. Fresh foods abound. Try the national dishes: pho bo (beef noodle soup) or its close cousin pho ga (chicken noodle soup) for breakfast. It's a very healthy start to the day. Vietnamese fish sauce, Nuoc Mam, is integral to nearly all Vietnamese cooking. The best of it, labelled Ca Com, indicates that only long jawed anchovies were used in its making. The level of protein, no higher than 40N, is indicated on the label and is essential to Vietnamese dental health. It's also a preventative for parasitical worms. The best Nuoc Mam is prohibited for export, so highly is it esteemed by the Vietnamese. But you can buy some for personal use and take it home.
Fact File:
See www.vietnamtourism.com for more details and trip planning advice.
Most western citizens must obtain a Tourist Visa before travelling to Vietnam.