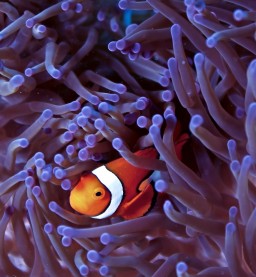 Tropical far north Queensland's biggest little town, Port Douglas boasts the World Heritage Wet Tropics and Great Barrier Reef at its doorstep. What's not to like? From November through April, the rain may fall but the fun doesn't stop.
Flying through air with the greatest of ease… but it's no trapeze and this isn't the Cirque du Soleil. Instead I'm zip-lining, one of the latest in the list of death-defying adventure travel romps designed to scare the bejesus out of most sane world wanderers.
I've zip-lined in Hawaii, Fiji and southern Victoria. Now I'm in far northern Queensland, high up in the rainforest canopy, yelling my lungs out while speeding over deep ravines. A hard rain is pelting down; it's warm and slightly sticky. Or is it me? I've been sweating buckets trudging up the steep track to the first zip point. Then it's up a ladder attached to a black bean gum tree towering over forty metres. One of the guides mentioned that snakes like to sun themselves on the track, though in this rain I think a stretch of the imagination is at play. My hands are clammy. Did that fallen branch on the track just move?
Within screaming distance is Cape Tribulation, the extreme end of the Wet Tropics World Heritage Area and the location for take-off on the Jungle Surfing Canopy Tours. I'm strapped into a safety harness that looks like an abseiling rig, hung from a steel cable and propelled from one tall tree to another, making loud Tarzan-like whoops while flying through the air swinging from tree to tree. It's late on a Saturday morning and I'm thinking, I could be home at a familiar café sipping a latte. Balderdash! This is much more fun.
Jungle surfing is about getting very close to the rainforest itself. It's also an adrenalin rush of rare quality, something I relish despite the fact I've screamed like a little girl in a fake horror house on a Halloween's midnight.
The jungle surfing tour takes roughly two hours. I'm never alone, as I wouldn't be due to safety concerns and public liability insurance issues. This is rain forest, home of cassowaries, crocodiles and large pythons and venomous snakes. Yep, it's a jungle out there. Two guides, both well versed in the local ecology, its animals, reptiles and plant life, escort the surfers from one jump-off platform to the next. One zip includes hurtling over a fast flowing creek far below in a narrow ravine, bordered on all sides by towering trees. From the highest point on the tour, one view sums it all up.
Swathes of multi-hued green extend in all directions. There are no towns or people to be seen. Beneath me in the near distance is the Coral Sea and the Great Barrier Reef, clearly visible as blotches of opalescent water surrounding coral atolls, islands in the endless cerulean blue. (Not usually given to purple prose, in this instance the scene calls for it.)
The Daintree rainforest, one of the oldest on the planet, is Australia's most bio-diverse eco-system. Insects, amphibians and reptiles are still being discovered as biologists hurry to record and classify all the species in the Daintree, a laborious task seemingly without end. The rainforest's environment is comprised of different climactic zones; it's not all soaking wet, nor is it always cloaked in heavy clouds.
The forest at sea level tends to be drier and is the favoured habitat for the endangered Southern cassowary, Australia's largest animal. The Red kangaroo is taller, as is the Emu, but the cassowary is heaviest. Between the three, I'd prefer a close encounter with either a kangaroo or an emu. The cassowary can be aggressively territorial, particularly when the males are guarding chicks. Cassowaries can inflict serious injury, the talon on its middle toe is dagger sharp and its kick can be fierce.
Unfortunately, cassowary numbers have declined in recent decades due to human encroachment into their breeding areas, death due to traffic accidents and worst of all, predation from introduced animals such as feral dogs and pigs. Sadly, without the cassowary's ability to distribute seeds through its digestive tract, the rainforest itself is in peril. The cassowary is considered a keystone species, essential to the rainforest's capacity to regenerate itself. Without them, many of the rain forest's trees cannot reproduce therefore the forest itself is threatened through loss of bio-diversity. Southern cassowaries are protected by law. If you're lucky enough to see one in the wild, leave it alone to live in peace.
The rainforest breathes life, literally. So many creatures live here, I'd like to spend weeks exploring the forest's animals and plants but I'm no biologist. Instead I choose the layman's option and visit a zoo.
To be precise, I visit a zoo that isn't actually a zoo. It's more like a huge open park that operates as an information centre about wildlife and botany. Covering over twenty hectares of reclaimed wasteland, previously logged and denuded of all trees and undergrowth, the Hartley's Crocodile Adventures park was re-planted to native species. The stars at Hartley are crocodiles, big ones and bigger ones, some weighing up to 750 kilograms. Commonly called 'Salties', Estuarine Crocodiles can be found in all the Daintree's many rivers, swimming in them is ill-advised. Locals say it's not the crocodile you see that gets you.
These crocs are called 'salties' because they've adapted to living in saltwater. Large males have been spotted far out to sea cruising along the Great Barrier Reef making return trips to Papua New Guinea in search of new territory.
While I've yet to encounter a migrating crocodile when diving along the Great Barrier Reef, I do get up close and personal with less daunting species of underwater life.
Several experienced tour companies operate out of Port Douglas' main wharf, running daily trips to the outer barrier reef or the nearby coral encrusted Low Isles. The Low Isles are approximately thirty minutes by boat from the wharf, the outer reef itself anywhere from one to two hours depending on the boat's engine and size.
Certified divers and snorkelling enthusiasts alike are catered for, with a few boat owners offering both onboard SCUBA facilities as well as masks, snorkels and fins for those interested in paddling on the surface instead of plumbing the depths.
I spend a day on the reef with a small family owned local operator, Calypso Snorkel & Dive, doing three dives in the one day. Of sixty passengers on board, ten are certified divers. There is no crowding while divers and snorkellers go about exploring three different dive sites around Osprey Reef at their leisure.
A dive anywhere on the Great Barrier Reef never ceases to thrill. Over the years, I've dived the reef from its southern extremity at Lady Elliot Island to its northern reaches off Lizard Island, never once failing to see something I hadn't before, always feeling privileged to enter a magical world known to few. This day, along with requisite reef sharks, Maori wrasse, schools of blue grenadier, clown fish and countless other species of fish, molluscs and crustaceans, I spy a trio of harlequin patterned shrimp tucked into a coral cleft 22 metres deep. Waving their antennae at me like a welcome sign, each shrimp stroked my fingers with delicate feelers while shuffling back and forth in its reclusive private world. I feel welcomed, like I've shaken hands with tiny neighbours, which is a lot less risky than shaking claws with a large crocodile.
Back in Port Douglas town, it's time to kick back and let the adrenalin rushes wash over me. I've been zipping in rain, sloshing in mud and diving with denizens of the deep. Now I feel the need for snazzy food and revivifying drink. Where to go? I head for the town's weekend markets in search of a man that sells rare delicacies.
Tied with simple twine into a small bundle, looking very much like a bunch of moist black sticks, I lift the sticky sweet mass up to my nose and inhale deeply. Intoxicatingly perfumed, fecund and sensuous, it's pure vanilla. Being a keen cook, I'm excited as a kid in a candy store. Real vanilla is a chef's treat, akin to fresh truffles or authentic saffron.
I've been wandering around the Port Douglas open air market looking for the 'Vanilla Man', as he's known locally. Russell Stanton, former stonemason, hippy surfer and globe trotter set down roots nearly a decade ago on a lush rain-forested property on Port Douglas's outskirts and decided to grow vanilla. He runs a stand in Port Douglas' busy public market selling his vanilla beans and essence.
I ask him why he chose to produce vanilla. He explains, 'It's a long term investment and I wanted to do something different. I worked as a stonemason, helping to build Keith Williams' hotels on Hamilton Island and creating mosaics for Doris Duke's Hawaiian estate and I'd had enough hard yakka. It's not easy being a stonemason. Growing vanilla is easier.'
Well, it's sort of easier. Imagine waiting three years for the vanilla beans to cure before ready to package and sell. Vanilla seed pods need careful management after they're hand-picked. The seed pods of an orchid flower, vanilla is delicate and difficult to cultivate successfully. Its natural home is the wet tropics. The region around Port Douglas and the Daintree forest of tropical north Queensland is a wet tropics habitat, prime vanilla producing territory.
With my AUD$10 bundle of six vanilla pods and a small AUD$20 bottle of Stanton's pure vanilla essence in hand, I gloat inwardly (Crème brulee? Vanilla custard?), while continuing my exploration of the busy market. Storm clouds have gathered and a heavy but short deluge descends, soaking everyone, customers and stallholders alike. Thirty minutes later, the sun re-appears, clothes drying while the shopping continues.
Feeling the heat, I stop for a freshly squeezed glass of sugar cane juice with added lime to cut the sweetness. It costs a single Aussie dollar. Later I buy three bars of handmade soap for AUD$12 from an Aboriginal man who discusses the local bush plants he uses in making his soaps like a pharmacist giving advice about what to do with an itchy skin condition. Native lemon myrtle, wild honey and finger limes dominate the soap blends.
Shopping mission accomplished, I continue wandering up and down Port Douglas' main drag, Macrossan Street. Saturday morning has passed languidly to mid-afternoon. Cocktail bar staff members are reporting for duty, floors are being swept and cleaned. Chairs and tables are set in preparation for the first sundowner of the evening. Meanwhile the cafes are packed; customers are sipping iced coffees, picking over cake crumbs left on nearly empty plates. I'm seeking inspiration. Where to have dinner? The Salsa Bar & Grill or the Nautilus? Salsa is tonight's choice. I checked the cocktail menu posted in the restaurant's doorway, deciding that mango, lime and rum would be a fitting start to a night on the town.
Port Douglas has become one of Queensland's pre-eminent holiday villages. Little 'Port', as it's called locally is a combination of tropical enclave, resort town and a la mode destination for the smart set. Cashed up southerners have bought lavish boltholes here to escape the worst of winter, returning each season like migrating birds to relax in this sophisticated outpost.
Fortunately, it's not all excess cash and glamour. The town is bordered on one side by nearby mountains covered with impenetrable rain forest, sugar cane and mango plantations, the other by beautiful Coral Sea. Not every local is rich or famous, thank goodness, which keeps the place in a state of continual reality check. Designer duds mix in well with a working man's singlets and stubby shorts. Thongs come in all sizes and price tags in Port Douglas and remain the universal footwear of choice.
Apparently, no one is allowed airs or graces; the person standing next to you in the local pub may be worth ten million or ten cents, appearances often lead to incorrect assumptions. The cliché, laid-back and relaxed, is the rule of thumb in 'Port'.
If laid-back and relaxed conversely means a distinct lack of activity, the reef and rain forest are at your doorstep. Port Douglas prides itself as being the place where the Great Barrier Reef and the Daintree Rain Forest come together in blue green harmony.
Naked Facts:
For the best car hire deals and service see:
Naked Dining:
Port Douglas offers a wide range of dining options from cheap and cheerful take-away joints to sophisticated restaurants that would appeal to the well-travelled gourmet.
My top pick is The Nautilus Restaurant. With new chef Dave Perry in charge, the food at The Nautilus has improved almost beyond imagination. I relished a seven course degustation with matching wines for AUD$220 which rivalled any superior dinner I've eaten anywhere else in the state. Top marks to the talented kitchen team for getting the combination of clever food and wine combinations right in a tropical climate where appetites are tempered by extreme heat and humidity.
Nautilus Restaurant
17 Murphy Street
Port Douglas, QLD 4877
Phone: +61 (0)7 4099 5330
Web: www.nautilus-restaurant.com.au
Also very good with smart, knowledgeable service, an extensive wine list, killer cocktails and decent food is the Salsa Bar & Grill.
Salsa Bar & Grill
28 Wharf Street
Port Douglas, QLD 4877
Phone: +61 (0)7 4099 4922
Web: www.salsaportdouglas.com.au
Highly recommended are: The French inspired Harrison's Restaurant led by head chef Spencer Patrick, is one of Port's best. www.harrisonsrestaurant.com.au. Both Bel Cibo (www.belcibo.com.au) and Bucci (www.bucci-ristorante.com) do Italian food with tropical flair. Sassi Cantina offers value for money pizzas, spuntini, home made pasta and simple Italian food. See www.sassi.com.au. Bistro 3 does contemporary Australian food with an emphasis on local produce and seafood. See www.bistro3.com
In the Daintree rain forest don't miss Whet café, bar, restaurant and cinema, serving surprisingly good food in a location that demands know-how and real skill in order to succeed, which they do admirably.
Whet
Lot 1, Cape Tribulation Road
Cape Tribulation, QLD 4873
Phone: +61 (0)7 4098 0007
Email: whetcapetrib@gmail.com
Naked Accommodation:
In Port Douglas, the family owned small hotel, the Port Douglas Peninsula Boutique Hotel is deluxe, friendly and sophisticated. Breakfasts are served a la carte by the poolside. A small cocktail bar and restaurant facing The Esplanade and Four Mile Beach is a great alternative when venturing into Port Douglas' frantic restaurant scene becomes too much. Good food and better cocktails. The Peninsula Boutique Hotel occupies a prime location, at the end of Macrossan Street on the corner of The Esplanade, facing Port Douglas' famous Four Mile Beach. It's within walking distance of the town's most popular attractions including the public wharf for all trips to the reef, restaurants, the market and the town's bar and café scene. A winner.
Port Douglas Peninsula Boutique Hotel
9-13 The Esplanade
Port Douglas, QLD 4877
Free call1800 676 674 (within Australia)
Phone: +61 (0)7 4099 9100
Email: res@peninsulahotel.com.au
Web: www.peninsulahotel.com.au
Accommodation options in the Daintree rain forest are sparse. I checked out a couple of small resorts that cater to campers and backpackers but found them mostly unimpressive, downtrodden and very rustic. There are only two superior choices, the Heritage Lodge & Spa is a four-star resort lodge while the well appointed though basic Crocodylus Village caters to travellers mindful of bottom line costs.
Heritage Lodge & Spa is located right in the Daintree rainforest. The clear running and crocodile free Cooper Creek runs alongside the resort, a perfect place to cool off after a day spent exploring the wonders of the local environment. All rooms have en suite facilities and are air-conditioned. Meals served in the small resort's restaurant, 'On the Turps' are well prepared and tasty.
Lot 236 Turpentine Road
DIWAN Daintree Rainforest, QLD 4873
Phone: +61 (0)7 4098 9321
Email: reservations@heritagelodge.net.au
Web: www.heritagelodge.net.au
Budget conscious travellers will find satisfaction at Crocodylus Village, set in a prime location adjacent to Cow Bay and its stunning beaches. A variety of accommodation options are available from self-contained to shared facilities. A licensed bar and restaurant, tours and eco-friendly activities add to the simple yet well-run package.
Lot 5, Buchanan Creek Road
Cow Bay, QLD 4873
Phone: +61 (0)7 4098 9166
Web: www.crocodyluscapetrib.com
Naked Touring:
Note: Port Douglas and the Daintree experiences two seasons, wet and hot or dry and hot. During the 'Green Season', December until April, heavy tropical rain may fall every day and cyclonic storms may occur. From late April, the prevailing monsoon winds begin to shift northwards, leaving cooler and drier air in its wake. May through November is peak touring season in Port Douglas and the Daintree. The weather is normally drier and days are marginally cooler. Hotels and restaurants are full, reservations are strongly advised. During the heaviest rains, trips to the outer Great Barrier Reef may be cancelled with little notice. Roads into the Daintree rain forest and to Cape Tribulation may close due to flooding.
Port Douglas' produce and craft market is open every Saturday from 9am.
Location: Wharf Street at the end of Macrossan Street in the town's main public park.
Vanilla Australia isn't open for business on a daily basis, however if Russell Spanton isn't operating his stall at the Port Douglas market, arrangements can be made to visit the plantation itself.
Contact:
Organic Vanilla Beans & Essence
Russell and Mary Spanton
Captain Cook Highway
Phone: +61 (0)7 4099 3380
Email: vanillaaustralia@bigpond.com
Getting up close and personal with a crocodile or cassowary or a big python is easy when visiting Hartley's Crocodile Adventures. Learn what makes the rain forest tick.
Hartley's Crocodile Adventures
Captain Cook Highway at Hartley's Creek (20 minutes drive from Port Douglas)
Open 7 days from 9am until 6pm
Phone +61 (0)7 4055 3576
Web: www.crocodileadventures.com
Calypso trips to the Great Barrier Reef should be reserved in advance and operate most days weather permitting. SCUBA divers should carry their PADI cards when diving anywhere in Australia.
Contact: Tropical Journeys
Personalised Reef and Rainforest Tours
Eleanor Jones
Phone +61 (0)7 4099 6999
Web: www.tropicaljourneys.com
In the Daintree, Jungle Surfing Canopy Tours should be reserved in advance. Tours run daily, weather permitting, and include transfers from all Daintree accommodation or arrange to meet at Mason's Cape Trib Store and Café in Cape Tribulation Road for a free transfer to the Jungle Surfing headquarters, approximately ten minutes drive.
Phone: +61 (0)7 4098 0043
Email: info@junglesurfing.com
Web: www.junglesurfing.com.au