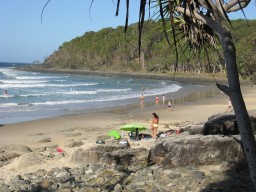 Noosa is as well known for its foodie delights as it is for its surf breaks, gentle climate and pizzazz.
Jam Guru Jamie Milverton stirs an enormous stockpot full of gently simmering tomato chutney while explaining that his mother taught him much of what he knows about jam. 'She wins a lot of gold at the Rockie show for her jams. I grew up learning from her.'
Not something usually uttered by a Queensland bloke who looks like he'd be happy mustering cattle as he is creating jams and chutneys. Over many years, his mother has won numerous gold medals for country culinary expertise at the rural Rockhampton agricultural show.
Jamie is a regular guest chef at FreeStyle Escape, a beautifully sited property perched high up in the Blackall Ranges overlooking the Noosa hinterland that offers accommodation and cooking classes.
Two tastefully decorated, fully equipped holiday houses serve as top-end accommodation while the open air kitchen built to take advantage of the marvellous views operates as both an al fresco dining room and classroom. If there's a better place in which to learn how to make tomato chutney using local ingredients, I've yet to find it.
This part of Queensland is recognised widely for its agricultural richness. Far enough away from the salt spray of the coast yet close enough to kilometres of golden sand and warm water, (a half hour's drive downhill from FreeStyle Escape will get you to any number of the Sunshine Coast's famous surf breaks), the Blackall Ranges' rich soil, sub-tropical climate and reliable rainfall guarantees agricultural plenty.
Plant a bare stick in this ground and watch it grow, seemingly overnight, into a tree. If the gardening world's rich tapestry has an Eden pocket, this may well be it.
I'm part of a small group of roving food fanatics brought here to see what's beyond the restaurant hype constantly touted by Noosa's tourism authorities. Over the years, I've had my share of sadly overpriced and below average food in too many restaurants in this cashed-up beachside village. If Australia has a St. Tropez, this is supposed to be it.
Sometimes Noosa's tourism advertising bravado goes well beyond its stated brief. Extolling the realities of dining in this town, which is essentially an easy task; there are reasons why the food scene here is above average compared to other rural destinations scattered around the wide brown land, should be something of a no-brainer.
As in any exclusive resort town, some restaurateurs and chefs have been overly dependent on advertising hyperbole rather than actually having to deliver authentic goods. The result is meals priced above mean average Sydney or Melbourne equivalents without the commensurate quality. As hungry tourists continue to visit in increasing numbers, a pervasive attitude of lassez-faire to pricing and value has sadly taken root and flourished. Caveat emptor rules here just like anywhere else.
But Noosa does continue to promote itself as a foodie destination. The annual Noosa Food & Wine Festival held in May (see www.noosafoodandwine.com.au) has grown into one of the region's major tourism events, rivalling the surfing carnival and jazz festival.
This festival strikes me as one of mass appeal rather than special interest. The food media brought in to participate and report on the festival represents a predictable collection of minor telly stars and big city newspaper restaurant critics. A few of the media hacks have been around for so long that an element of safe predictability impairs the festival programme's capacity to surprise or illuminate.
Estimated attendance for the weekend's festival was approximately 25,000. According to principle festival organiser and sponsorship manager, Jim Berardo, it has reached its relative maximum number of attendees. Successful by anyone's measure, the logical next question is, where to from here?
How about another food event, the Sunshine Coast Real Food Festival? This is a 'weekend of celebration of authentic food experiences', I read from the festival's brochure. Having met one of its organisers, Julie Shelton, I gather that this festival is differentiating itself from the much larger Noosa Food & Wine Festival while it promotes the values of slow food, local providores (locavoring is the buzz word as it is throughout the known gourmet world), eating sensibly from organically raised crops and the clear benefits in reducing carbon emissions while sourcing food.
Either festival will deliver the goods to anyone with more than a passing interest in quality produce, authoritative cooking tips and gustatory hoopla. Putting my carping aside in favour of objective fairness, Noosa's dining scene is one of Australia's most consistently interesting.
I chat with FreeStyle Escape co-owner Martin Duncan, a tree-change escapee from the hard life of running a Sydney restaurant. Easy going and generous in his praise of other local chefs, Martin is clearly in love with his surrounds. (See his blog: http://freestyle-freestyler.blogspot.com/ for fun on-the-spot updates.) He and his partner spent years redeveloping their bush property. From an abandoned noxious weed-infested paddock, they have turned it into a garden of wonders. Most of the herbs and fruits we use to prepare our lunch after Jamie's chutney making class come from the garden. The basil leaves scattered on the wood fired pizzas we rolled out earlier still have dew on them. It really doesn't get any fresher than this.
FreeStyle Escape shows me what genuine talent combined with care for nature really means. Noosa and its hinterland are full of ersatz boutique guesthouses, gourmet restaurants and cute shops. It's a lovely area to visit. It must be a rewarding place to live if a love of good food is a prerequisite for putting down roots and FreeStyle Escape ticks all the boxes in all the right places. There's nothing ersatz about this foodie haven.
The environment around Noosa, particularly its bucolic hinterland, is very conducive to kicking back and revelling in the glossy good life. Choose accommodation and restaurants wisely and the rewards are obvious. Choose recklessly and pay the inflated price.
To its everlasting credit, the Noosa Farmers Market is held each Sunday, rain or shine, from 7am until 12pm. Located at 155 Weyba Road in Noosaville, it's in a very convenient location. Here is where you see local products displayed at their very best condition. The atmosphere is relaxed and fun. By all means, spend a morning here and stock up on terrific goods. Here is where residents mix with visitors in a completely casual environment.
I get another sampling of just how good Noosa's few hinterland gems can be at Spicer's on the Range Clovelly Estate, a fine small hotel almost hidden away behind touristy-twee Montville.
Here at the hotel's The Long Apron restaurant I have the finest meal I've eaten anywhere around Noosa, in all of southeast Queensland for that matter. Chef Cameron Matthews is as talented a chef as I've encountered anywhere. That he works in a hotel restaurant located more or less in the back blocks of Noosa is a wonder, a real find. I have a degustation here that puts me in mind of similar feats of gastronomic expertise that I've enjoyed eating Dan Hunter's food at The Royal Mail hotel in Dunkeld, Victoria. The wine pairing component of the degustation isn't yet up to the same standard as at The Royal Mail but the food is certainly on the same par.
At the end of a long weekend of noshing around Noosa, I'm still of two minds about how this town of gourmet reputation sells itself honestly, or not. The Noosa Food & Wine Festival does a good job of promoting the hell out of the pleasures of eating both well and wisely but in my opinion, the programme is a mixed bag of boring old fish and chips seasoned with a smidgen of spice. Metaphorically, I've tasted it all before and don't need to go there again. The Sunshine Coast Real Food Festival may prove to be the extra allure I need in order to proclaim that Noosa's purported superlative food scene achieves what it claims, something beyond the ordinary, say… beyond Master Chef.
In the meantime, I'm happy to revisit one of Jamie Milverton's jam classes at FreeStyle Escape, pull a pizza out of the wood fired oven while chatting amiably with Martin Duncan. I'll be sure to leave enough room for dinner at The Long Apron later that same night too. Cameron Matthews' star is on the rise and I want to catch it for as long as I can.
Naked Facts:
See www.booking.com/Spicers-Clovelly-Estate for reservations. The Spicers Group operate a number of boutique luxury lodges around Queensland. They are highly recommended.
These three restaurants have lately caught my attention because of their combination of great food, service and good value:
Pitchfork Restaurant in Peregian. A small BYO only set in Peregian's small central square. Classy interesting food (Gazpacho with local spanner crab for instance) at moderate prices, from AUD$22 to AUD$32 for a generous main course is full of visitors and local residents alike.
5/4 Kingfisher Drive
Peregian Beach, QLD
(07) 5471 3697
www.pitchforkrestaurant.com.au
In Sunshine Beach, Embassy XO offers Tuesday, Wednesday 'locals' specials, three courses set price AUD$39.00 per person. Imaginative and inspired SE Asian food done with obvious talent. The Hervey Bay scallop dumplings on the shell are outstanding. A very smart spicy food friendly wine list shows off innate understanding of how food and wine matching can be done well.
1st floor, Cnr of Duke St and Bryan St
Sunshine Beach, QLD
(07) 5455 4460
www.embassyxo.com.au
Coconut Grove Bar and Bistro, also in Sunshine Beach does a local's special Tues-Thurs, three courses plus a glass of house wine (white or red) for AUD$32.50 represents outstanding value. Excellent service in a large airy room with a popular bar combines with food I'm happy to compare with capital city dining in Melbourne, Sydney or Brisbane. Open 7 nights too.
46 Duke St
Sunshine Beach, QLD
(07) 5449 2333
www.coconutgrovebistro.com
See www.visitnoosa.com.au for more information.