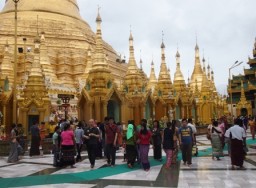 In 2010 when Myanmar's repressive military government freed Aung San Suu Kyi from years of unjustified incarceration, the world took notice.
Suddenly, closed doors opened.
Strict visa laws applied to foreign tourists were relaxed.
Interested bystanders bent on visiting Myanmar soon as possible welcomed the change with open arms and wallets.
Almost overnight, Myanmar became the go-to country for all serious travellers.
You simply have to go there before everyone else does.

I can't tell you how many times I've heard that given as a logical reason for visiting Myanmar: 'Go there before it changes forever' is the cliché at the tip of many globe-trotting tongues.
If a popular destination can be smacked by impressions of desperation, Myanmar is it.
I don't believe all of Myanmar will change virtually overnight. The country has been isolated from the world for so long that real change won't happen quickly.
For now, change is mostly cosmetic. Politicians like those in power in Myanmar change stripes to suit a different tiger. Big business smells money and moves in fast to make an even faster buck. Where does this leave the majority of Myanmar people? I say, well behind.
Slow travel is what Myanmar is all about. Slow change follows suit.
What have I learned about Myanmar?
To begin, let's study some basic facts about tourism in Myanmar as it is right now.
During high season (November until April) hotels in tourism hot spots such as Pagan, Yangon, Lake Inle and Mandalay are packed to the rafters.
No surprises here.
Why?
First, there aren't enough hotels to satisfy demand. Infrastructure isn't keeping pace with demand despite more hotels going up almost overnight, particularly in Yangon.
Second, those four destinations rightly offer much to travellers and they're justifiably popular. Beyond the four, mass tourism support is rudimentary at best.
Third, this quartet of Myanmar hot-spots is linked by frequent air services. The majority of roads in Myanmar are rougher than a local opium drug dealer.
For time poor travellers, flying is the essential transport mode. As a consequence, new airlines have popped up overnight to meet demand. I'm not certain about how well international safety procedures are followed but the country is keen on investment from foreign visitors so risk factors have been studiously reduced. Safe flying appears intact as official government policy though I have my doubts as Myanmar's government is anything but transparent.
How to avoid overcrowding and extortionate pricing during high season?
Visit in the off or low season.
I was in Myanmar during the beginning of the monsoon. Hotels had rooms to spare. Prices were lower. Tourist sites were uncrowded. Like the Thais, Myanmar tourism apparatchik has embraced the descriptive phrase 'Green Season' as an attractive monsoon moniker. Certainly the slightly cooler though damp weather is enticing instead of May and June's sweltering and dry heat.
Most travellers will begin and end their Myanmar visits in Yangon, the country's largest and busiest city.
Since the capital was moved to Naypyidaw in 2005, (apparently on instruction from a general's astrologer whose advice was so esteemed by the superstitious leader that an entire city was built at huge expense in the middle of nowhere) Yangon's administrative and government buildings are now mostly vacant or under restoration while morphing into 5-star hotels or perhaps museums. No doubt a shopping centre is planned for a number of those great old relics.
Yangon does nonetheless possess a nostalgic allure. When the British turned backwater Rangoon into the capital city in the late 19th century, the adoption of Victorian Raj-style architecture was apparently compulsory for urban planning under home rule. Much of that stuck-on heritage still exists; serving nicely as Yangon's claim to fame amongst most travellers.
Compared to other southeast Asian cities where 19th century Anglo-Gallic architecture is saved only because greedy developers can't get their dirty hands on the land, Yangon's look of faded glory is conversely refreshing.
Just in time, local crooked property developers realise that in Yangon, maintaining an the old look, if only for the building's facade, might just be the ticket to increased profitability.
The 'Rip it down if it's old and falling apart anyway' mentality isn't so prevalent in Yangon… yet.
If UNESCO grants World Heritage listing to Yangon's CBD, as it's rumoured to do, the nail on the heritage coffin won't be struck down hard and the glorious faded ruins will get a fresh lick of paint as they're tarted up for increasing numbers of tourists.
This current state of transition in Yangon partly fuels the 'Go there before it changes' attraction about Myanmar. Most savvy, albeit cynical, travellers realise how money talks universally.
Given the current Myanmar military government's total embrace of corruption on a gigantic scale, no one would be mildly surprised to see the rules bent to suit the aims of the powers that be.
Yangon's past is not yet guaranteed for saving.
Of course, Yangon isn't all about nostalgic architecture tripping. It's the home of the country's most important Buddhist shrine, the sublime Shwe Dagon Pagoda.
What St. Peter's Basilica is to devout Italian Catholics, the Shwe Dagon Pagoda is to devout Burmese Buddhists. Eight hairs of the Buddha are embedded in the main pagoda, unseen but most assuredly there, so I was told by my guide and everyone else I asked.
The great gold wrapped Shwe Dagon is Yangon's true beating heart. A whole industry revolves around it and the thousands of daily visitors who come to pay tribute to Buddha's enshrined hairs and teachings whose influence inform whole populations of devotees.
Food markets, restaurants, monasteries filled with monks whose dawn perambulations, begging bowls in hand, saffron coloured robes swishing about their sinewy bodies populate the surrounding streets. Shops selling Buddhist relics mix in with florists selling kaleidoscopic arrays of plants for offering to Shwe Dagon's numerous shrines. Astrologists operate out of miniscule holes-in-walls dispensing advice to starry eyed clients, me amongst them. Apparently I shouldn't trust all my closest friends and a new business venture will grant me great riches next year.
I visited Shwe Dagon every day during an eight days visit to Yangon. If only to hang out at a 'mohinga' cafe (the country's ubiquitous fish noodle soup, served normally at breakfast) or to sip from tiny cups of 'lapayee',  Burmese super-strong sweet and milky tea, about 10 cents per cup, watching the Myanmar world proceed slowly by. During monsoon season when rain hammers down with the force of a boxer's punch and humidity is soaking wet high, no one moves very fast.
Yangon's other vital organ, its stomach, comparing favourably to Shwe Dagon's beating heart, is the riverfront. Not a tourist site per se, the commodious wharves are busy from dawn to dusk with all manner of intrastate shipping. Low slung barges offload or load with bananas, coconuts, sugar cane, pineapples, bags of rice and tonnes of cargo readying for shipment downriver to the Delta or upriver to otherwise inaccessible towns lining the great Irrawaddy River.
At the Yangon River wharves Yangon city is alive and thriving. No industrial cranes operate at these inner city wharves. It's all manpower or no power. Shifting 50 kilo bags of rice up and down shaky gangplanks while balanced on narrow shoulders is a job not suited to the weak.
If you visit Yangon, two stops are obligatory on the local tourist trail: Shwe Dagon Pagoda and the river wharves. See them both and begin to understand how this city lives.
One day I ventured with an excellent guide for a walk on the wild side. We made an excursion to the Yangon River's opposite bank to Dalah village, where the rents are cheaper, where the living is harder and from where the local folk commute daily on grimy crowded ferries.
A bridge has not yet been built over the Yangon River. Its bed is too silty and the bridge foundations would prove too costly were two explanations I was given.
Over in Dalah town, I visited yet another food market, this one so squalidly dirty that even I was a bit shocked. When you spy another decrepit pariah dog lying next to a slab of pig meat or a skinny chicken carcass covered in flies on a filthy bamboo table, butcher squatting nearby, machete in hand ready to chop off a gristly bit (the pig's not the dog's) for that night's curry, the overall impression is one of complete exasperation touched with despair. How could I feel otherwise?
Average annual incomes in Myanmar are stuck at the bottom end of extreme poverty levels as measured on OECD scales including annual income, nutrition intake, work accessibility, education levels and provision of health care. Villagers migrate to cities such as Yangon in search of a liveable wage, hopefully with enough cash to send to families steadfastly waiting for help in the home village. Despite political change, life for the great majority of Myanmar's people continues to be inexorably challenging.
Worse still is a dog's life. I felt sorry for all the street dogs I met in Myanmar. Theirs is not a contented life on the Buddhist wheel of reincarnation. Dalah's dogs appear to have been meted an exceptionally dismal allotment in this life.
My guide and I sat under cover in a cafe out of the rain for a couple hours, chatting about politics and Myanmar's unexpectedly rapid change to modernisation. We had hired a cyclo-rickshaw to cart us around. The driver was a fun guy, ever ready with a smile, sporting iron strong thighs toughened from hauling commuters to and from ferry wharves and the bustling though sodden market.
Heavy rains for the past week nearly inundated most stallholders' businesses. Dengue fever was rife. Hospitals were full of patients brought down by the dreaded 'break-bone fever'.
On another day, without a guide in tow, I hopped aboard the slow train around Yangon. In a country with few railroads, Yangon is blessed with a circle line. I kid you not.
From Yangon's faux Oriental folly of a central station, trains depart approximately once every two hours or so, one heading clockwise, another anti-clockwise. Punctuality is admirably respected. This adherence to an almost British sense of punctiliousness is in stark contrast to the state of the rail bed and engine speed.
A TGV train this is not.
For about one dollar, you get nearly three hours of gently unfolding glimpses of life, like looking through a coffee table book filled with arresting images.
Fetid slums swimming amidst barges of floating rubbish intersperse with narrow paddies planted edge to edge with water spinach or rice. Some neglected paddies supported cloaks of suffocating water hyacinth; others were bright spots of lotus plants whose blossoms tilted towards the sun hiding behind heavy dark clouds. Fellow passengers napped or chatted on their phones.
Mobile phones have proliferated in Myanmar since the price of a phone fell from USD$2,000 to less than USD$10 in a quick three years. Though internet connection in Myanmar, even in Yangon, is still wonky and the government controls access to online search engines, people seem to have embraced device-life here as much as anywhere else in modern society.
Each station, (there were 38 and we stopped at each one during our 38 ks circumnavigation of Yangon) provided an opportunity to wave at passersby: noodle sellers, nut purveyors, cold drink hucksters and idle onlookers lazing the day watching slow moving trains.
Through open windows, no flyscreens or shades, just open space to let in fresh air, rain or clouds of flying insects, passengers are treated to outer Yangon's rural scenery, the occasional water buffalo lifting its horned head from a swampy paddy or a horse cart trundling off into the distance to a market town up the Irrawaddy Delta.
This was the best value commuter experience I've had anywhere.
My very first stop in Yangon, not twenty minutes after passing through a surprisingly congenial Customs & Immigration procedure, was at Aung San Suu Kyi's house located next to Inya Lake in the city's toniest neighbourhood. 'The Lady', as she's known universally in Myanmar no longer lives full time in the house where she was imprisoned for so many years. Instead she lives mostly in Naypyidaw, or she's travelling overseas or throughout Myanmar.
Being something of a political animal incessantly curious about what makes governments tick, I also visited the National League of Democracy's national headquarters in Yangon. I leave it to you dear reader to follow up on the vagaries of contemporary Myanmar politics. Suffice to say, it's a nasty business where power is held in the hands of a small group of very nasty people, some related to the ruling junta who pull puppet strings behind the scenes.
Travelling in Myanmar requires a degree of incredulity checking. Gossip-mongering is rife. I heard tales that made my blood run cold; or my ire was raised conversely to boiling point. In such a poverty struck country, a few kleptocrats closely connected to government or actually in charge of it, have attained ill-gotten wealth that would cause a blush in the face of a Marcos or Assad or even a Mobutu or two.
The NLD headquarters continue to serve as a focus for military agents spying on campaign workers and visitors. The dingy drinks stalls directly across the road from where Aung San Suu Kyi's volunteers crusade for transparency and justice in national government is where clandestine observers (i.e. paid thugs) are staked out, though their presence is not as stark as it was before the by-elections of 2012. I waved at a couple of them in hopes they'd photograph me from a flattering angle. No such luck.
I also visited the Bogyoke Aung San Museum, the home where Myanmar's modern founder lived with his wife, two sons and daughter before his assassination on 19 July 1947 when he was only 32 years old. The house was owned by a Chinese woman and leased to Aung San. When he died, she donated the house to his memory but the museum was created and opened to the general public only recently.
The house was damaged during Cyclone Nargis in 2008, the worst natural disaster to strike Myanmar in recent times, coincidentally a catalyst for regime change due largely to the generals' attempt to isolate global recovery and rescue efforts from the hardest hit areas in the Delta. It is still undergoing repair though the damage was relatively slight. Aung San's assassination day is a national holiday in Myanmar. Known as Martyr's Day, it is marked in commemoration of the country's founding father and his independent legacy.
The guards at this family museum wouldn't allow me to photograph the house exterior or its gardens (photography is prohibited inside) so I had to be content with a photo of the museum sign instead.
I came away saddened at the loss of such a young, intelligent and innovative man. The museum is small yet feels intensely personal. Some of his favourite books sit on shelves in a small office. Beds swathed in mosquito netting where the children slept look almost as if they were recently occupied.
By contrast, the National Museum in Pyay Road, Dagon Township is impersonal and austere. The Lion Throne is a remembrance of former royal glory days. Filled with artefacts of Myanmar's dynastic past when various regions held sway over greater Myanmar right up until the country was more or less unified by one ruler in the 1850s when Mandalay became the country's last capital under one king, this is Myanmar's showcase repository of national hegemony. Its curators have done a fine job, probably with minimal resources and they should be applauded.
By all means, visit both museums, easily done in a single day.
Yangon is thriving, there's no doubt about that.
Go there before it changes forever, won't you?
Tom Neal Tacker visited Yangon as a guest of Viator, Travel Indochina and Shangri-La hotels.
Naked Facts:
Naked Routes:
Yangon is easily accessible from Bangkok and Singapore airports with frequent daily flights. Overland travel is problematic in regions where the ruling government continues to quash regional independence movements such as in the Karen and Rohinga homelands.
Viator, the global tour operator's (www.viator.com) local Myanmar adjunct is Khiri Travel owned and run by the top bloke and all round nice guy Edwin Briels. Edwin organised the British motoring show Top Gear's expedition into Myanmar's inaccessible border region with Thailand. What he doesn't know about contemporary Myanmar isn't really worth knowing anyway.
See www.khiri.com Viator's newest personalised tour in Yangon with private guide, most meals, driver and accommodation is a three day insight into how this amazingly complex city works. My guide Ms. Nina was utterly charming, helpful and caring. She clearly loves her country and was desperately keen that I share her enthusiasm. What more could anyone ask of a guide?
Travel Indochina's local operator in Myanmar is Tour Mandalay managed excellently by Marek Lenarcik and Karen Salamanca. This is a very well run group similar to Khiri Travel and essential to travellers keen on seeing Myanmar from an off-the-beaten-track point of view.
I thoroughly enjoyed my one day tour with wonder guide Mr. Johnny while we explored the back streets of Dalah, the waterfront wharves of inner Yangon, the Bogyoke Aung San Museum and a valuable side trip to the NLD headquarters. See www.tourmandalay.travel or www.travelindochina.com.au for up close and personal tours in Myanmar.
Naked Tips:
Visas for Myanmar are required for all nationalities.
There is no international train service linking Myanmar with its neighbours.
Myanmar has no telephone roaming agreements with other countries. Internet cafes do exist but the connections may not be up to speed, literally.
ATMs have begun to pop up in major towns though they're often 'Out of Service'. Cash is dispensed in the local currency, the Kyat (pronounced 'Chaht').
US dollars are accepted in many tourist centres though not as frequently as they once were when US currency was compulsory for large purchases made by foreigners.
Credit cards are almost universally UN-accepted. 4 and 5-star hotels accept Visa and Mastercard, but only those with particular links to certain offshore banks. For instance, my HSBC Visa credit card was virtually useless as HSBC hasn't yet negotiated an international agreement with Myanmar banks. Do not depend on using your credit card in Myanmar. It's still a cash economy.
Myanmar people are some of the friendliest I've met anywhere in my travels. I would have thought since the country opened to mass tourism a few years ago that a Western white man's face wouldn't be such an object of curiosity but I was wrong. Away from the four main tourist centres, a Westerner is indeed a curiosity. Don't be surprised to draw attention from unexpected sources. Kids will randomly follow you down a street. Market stallholders will stop suddenly mid-conversation with a customer to stare at you and smile. Passersby will angle their way towards you in order to get a closer look. This all being said, Myanmar people are respectful, polite and genuinely friendly. The curiosity is mostly entirely innocent. Almost none of the hard sell practices seen in other south Asian countries will confront you in Myanmar, though the street sellers in Pagan can be relentlessly pushy, albeit in a very friendly way.
Myanmar people are mostly very conservative. Displays of public affection are serious breaches of etiquette, though men hold other men's hands and women walk arm in arm, side by side, physical interaction between opposite sexes in public is a public no-no. Though acceptable canoodling spots do exist, (Kandawgyi Lake and Inya Lake parks for example) men and women should not be seen kissing in public. Any display in public of sexual affection is almost anathema to Myanmar people.
All Buddhist temples, pagodas and shrines are sacred places. Men and women are not allowed to enter wearing shorts above the knees. Women should wear long loose fitting skirts or long pants. Low cut blouses or shirts are definitely not allowed. Cleavage is a no-go zone in Buddhist temples. Men should not wear singlets that expose shoulders. Under no circumstances may shoes and socks be worn inside a Buddhist pagoda, temple or shrine. Hats should also be removed. Never sit with your feet pointed at a Buddha image or another person for that matter. Never touch someone on the head, including a child unless the child belongs to a friend or is a close relative.
Myanmar women dress in colourful 'longyi'. The sarong like garment ('longyi' for men is thin cotton sewn into a tube, for women it's a tube or single sheet of cotton cloth) is wrapped round the waist with one end secured at the side. Men wear the same ankle length 'longyi' but in more subdued colours, blue, brown and russet checks being the preferred pattern and colour scheme. Men tie their 'longyi' around the waist in different fashion to women. It took me two days to perfect the method, which also meant I risked finding my 'longyi' wrapped round my ankles on several occasions. Given that public nudity in Myanmar is akin to sticking your feet in a Buddha image's face, I was hyper-vigilant about any possible 'wardrobe malfunction'. I learned how to hoist up my 'longyi' by drawing up the front fabric through my legs, gathering the excess at my lumbar region and securing it in place so that I had a very short pair of shorts, perfect for wading through high water in markets or riding a motorbike on a muddy track. I bought two 'longyi' during three weeks in Myanmar, one in the Dalah market for approximately USD$2.50 and the other from a persistent young man in Pagan for about USD$5.00.
Many men in Myanmar don't wear underwear, I was informed, so I adopted the local practice, thanking myself daily for the extra freedom and immediate cooling relief. Going commando in 40C heat was a Buddhist godsend. Once I learned how to tie my 'longyi' in the proper Myanmar fashion, with a small bustle at my navel and two flaps clinging to my thighs, I was the recipient of numerous thumbs up signals coupled with broad smiles of appreciation, from both men and women I hasten to add. A 100% cotton 'longyi' dries quickly in Myanmar's climate. I wore mine in the shower, stomped on it while shampooing my hair, draped it over the shower rail and had a fresh 'longyi' ready to wear the following day. Utter bliss. Add a T-shirt that covered my shoulders and a pair of thongs and I was dressed like a local ready for any Buddhist shrine or local cafe, maintaining a cool air of liberty while feeling the breeze blowing up my backside.
Women in Myanmar are highly respected if they adhere to society's dress code. I was told that properly educated Myanmar women wear their hair long and clean, tied back with fresh flowers woven into the shimmering tresses. They smile demurely and keep to themselves. This was confirmed to me by a man of about 22 years. The times are changing slowly in Myanmar, though in both Yangon and Mandalay many women dress in Western style with short skirts and high heels. They get a lot of looks but hey, fashion victims are everywhere.
In Myanmar you will see women wearing smears of yellow-ish ochre painted on their cheeks and foreheads. This is 'thanaka', made from the powdered bark of the Thanaka tree (Murraya paniculata or exotica) ground down on a stone slab and mixed with water. Worn both for its cosmetic and skin care properties (anti-inflammatory and acne preventative as well as a whitening agent or sunscreen), the Thanaka tree thrives in Myanmar's dry zones, mostly around Pagan and Mandalay. Men use 'thanaka' paste as well but tend to apply it before going to bed though it's not unusual to see men wearing it during the day as well. The best 'thanaka' is authentic stuff, approximately USD$5.00 per jar. It smells vaguely sweet and musky. Cheaper imitations exist but they aren't very effective. Its anti-ageing properties are also highly praised. It hasn't worked for me but I've only just begun using it. Perhaps I should have started younger.
Superstition is rife in Myanmar. Astrologers hold a lofty position in society. Their advice is sought by the most senior government officials. A prime example is this: when a ruling general was told by an astrologer that Myanmar would be better off if all drivers shifted from driving on the left to driving on the right, the country would be more easily governed or some such nonsense like that. Since the early 90s Myanmar drivers now drive on the right, despite the fact that over 90% of vehicles have steering wheels on the right as they're directly imported without alteration from Japan. Myanmar's most prominent neighbours, Bangladesh, Thailand and India all drive on the left. Myanmar is lately the odd country out, much to the consternation of local drivers and foreign passengers.
No major decision is taken in Myanmar without consulting an astrologer first. Weddings, anniversaries, births, funerals, home purchases, major business decisions, you name it. Without an astrologer's wisdom, you're cactus. Same rules apply to general living. One guide pointed at three small dot-point tattoos on the back of a man's neck, telling me he had them placed there to ward off the effect of snakebite. The venom would pass no further than the tattoos, thus preventing it from reaching the man's brain and therefore saving his life.
Though Buddhism is the country's major religion, small minorities of Hindus, Muslims and Christians exist. Superstition is embedded in all religions, despite overriding dicta from authorities on high. Another example is Nats. 37 Great Nats are spirits who were formerly human beings that met violent deaths. Lesser Nats exist in trees, water and other natural features. There are hundreds of Lesser Nats. Nats shrines can be found in all villages and towns. They're usually positioned under old banyan or mango trees and are festooned with offerings of food, candles and small trinkets much like Buddhist shrines are similarly adorned. The king of the Nats, Thagyamin, is usually depicted seated upon a lofty throne atop a white three-headed elephant. He holds a conch shell in one hand and a yak tail whisk in the other. Most homes in rural areas have a Nat shrine inside.
Great Nats spirits can be reincarnated in human beings as both men and women. Like Indian 'Hijra' whose spirits are linked to feminine deities, many Myanmar men reincarnated as female Nats spirits dress as transvestites and perform at frequent religious ceremonies throughout the country. The biggest annual Nats festival takes place during the August full moon in and around Mandalay. The festival has morphed somewhat into a big gay party that attracts lots of Thai ladyboys, gay men and lesbians and their supporters. Though Nats reincarnated spirits are not at all officially connected with GLBT international rights movements, Myanmar's unique celebration of gender difference has evolved into something altogether unusual.
Myanmar food isn't as chilli hot as in Thailand, though many exceptions exist. Chillies, chilli paste and chilli sauce spread liberally throughout cheap noodle snacks sold in every street in every Myanmar town prove the exception to the rule. Myanmar food is rather like an amalgamation of Bengali, Bangladeshi, southern Chinese and Thai. Rice is eaten daily if possible. Many Myanmar people can't afford to eat rice every day. Rice noodles are cheap and widely available, served cold in a salad with a fishy broth, chillies and fresh herbs or hot in a soup such as 'mohinga'.
Meat is expensive and abstemiously used in cooking. Chicken, mutton, pork or beef is typically cut into small portions and distributed in a savoury sauce such as curry. This is the norm. Fish is a national staple, particularly in the south on the Andaman Sea and Bay of Bengal coasts.
Tea is the national drink. A thermos of hot 'Chinese' tea, without milk or sugar is placed on every cafe table for free even if a milky sweet Myanmar tea is ordered.
Coffee culture is not prevalent yet in Myanmar. Espresso machines are rarely seen, normally only in big international hotels.
Myanmar beer is the preferred alcoholic beverage, locally brewed and served cold when refrigeration is available.
Locally made spirits (gin, whisky and rum) are cheap and widely available though not very good. Toddy palm spirit is cheap and widely available. Buyer beware, some toddy stinks of sour sap while a well made toddy can be quite delicious if consumed in the right circumstances. For me circumstances were right in the middle of nowhere when nothing else alcoholic was available to drink.
A couple wineries, fairly new to Myanmar, are established in the high country near Inye Lake. I drank a Shiraz/Carignan blend from Inle Valley winery and enjoyed it very much.
Myanmar people's greatest vice apart from tobacco and opium addictions is the widespread consumption of betel nut. Mildly addictive, it's a hunger staving stuff that stains teeth bright red when chewed and gives the chewer a sustained energy boost. Nearly all Myanmar men chew betel, either in a 'pan' preparation mixed with any or all of the following: green tobacco, cardamom, cloves, fennel seeds, fenugreek seeds, liquorice root and jaggery sugar and is available for a pittance at countless street stalls. The red spittle stains you see sprayed on random building walls or kerbs or in public toilets is expelled betel juice. Years of betel nut chewing will rot teeth, a real pity to see handsome young men with permanently stained rotten teeth. Most young women these days don't chew betel. Is it vanity? Probably. I did see a lot of older women with tell-tale red stained teeth and gums. On them it seemed a quirky character trait, images from old National Geographic magazines leapt to mind. I felt immediately embarrassed at the thought, like an antiquated colonialist but each time I spied an old woman with red rotted teeth and gums, I thought, 'Huh, she reminds of a photo I saw once.'
Tap water in Myanmar is not potable. Ice made from tap water will likely make you sick.
Hygiene in Myanmar is questionable. Most street food sold in Myanmar is not prepared with sensitive Western palates in mind. Hot water, soap and clean cloths for drying dishes, glasses, cups, etc is almost non-existent. I ate at many street stalls but only in the company of a guide. My guides would not eat at most street stalls for fear of dysentery or worse. The most popular busy restaurants and cafes are sure signs of good hygiene in practice. Myanmar people don't want to be sick from eating bad food anymore than you would. Follow their lead when eating out. Most international hotels operate at a better standard of cleanliness, though exceptions exist. Use your nose and eyes. If it looks dodgy, avoid it no matter how hungry you are.
Electricity supply in Myanmar is shall we say… intermittent? While I was in Yangon, the power went out for a couple hours on a daily basis. Most good hotels, large businesses and essential services (hospitals, the airport for example) run their own diesel generators. Those loud noxious contraptions you see planted permanently on the footpath next to a busy street is the generator, some are large as a shipping container. Imagine the noise.
Yangon's public transport system is basic. Though I very much enjoyed the slow train around town, I wouldn't want to rely on it to get me anywhere in a hurry. Public buses are common and useful though it helps to be fluent in Myanmar script otherwise you could easily board the wrong bus. Buses are slow and overcrowded. At least they're cheap.
Taxis can be easily hailed in Yangon though don't expect the driver to know every street. Some operate with metres running but most don't. Negotiate the fare before you enter the taxi. Ask for local advice regards price and distance.
Yangon's street numbering system outside the old British grid is based on a completely illogical system. Street signs, house numbers, business addresses listed by street name and number are fantasies.
Motorcycles are prohibited in Yangon, another silly general's decree.
Medical facilities in Myanmar are not yet at an international standard of care and hygiene. If you become gravely ill, you'd better have a good travel insurance policy that provides a medical evacuation clause.
Universally applicable anti-smoking laws in public restaurants and cafes don't yet exist in Myanmar. People light up in bars and many restaurants though most places catering to foreigners have a no-smoking policy or they provide a separate smoking area. Not so for bars where the smoke is thick as Irrawaddy Delta mud. Cough, cough.
For products that are made in Myanmar by local crafts experts, the NGO operated shop Pomelo is a one-stop shop for unusual gifts and souvenirs. Funky and like nowhere else in town, Pomelo is a great find. No. 89, 2nd floor, Thein Pyu Road, Botataung Township, Central Yangon. www.pomeloyangon.com
Since 2010 artistic expression in Myanmar has really exploded. Local artists are creating works that walk the fine line of political correctness and safety. They get away with criticising the government in ways that put journalists in prison. I am very impressed with many works I saw, though prices have risen to USD$10,000 per painting for many artists whose works are gaining international recognition. The best place I discovered in Yangon to buy art from respected artists at a fair price is Pansodan Gallery at No. 286, 1st floor, Pansodan Street near the Upper Block between Anawrahta and Bogyoke Aung San streets. www.pansodan,com
On most Tuesday nights the gallery runs an open house for visiting foreigners and guests. Many local ex-pats and writer/journalists stop in for this regular gathering. It's a great place in which to learn more about Myanmar politics and society.
Near Pomelo shop is Genky 11, a Japanese-Myanmar massage therapy centre run as a charity and staffed by blind therapists. Inexpensive and excellent massages are available here, often without prior booking though during busy times, bookings are advised. Genky has two locations: Genky 1 and Genky 11. Ask a local for directions. Their website address is written in Myanmar script.
Naked Sleeps:
Yangon has five 5-star hotels that boast superior amenities: The Sule Shangri-La (formerly The Trader's Hotel), The Strand Hotel, The Belmond Governor's Residence, The Chatrium Hotel Royal Lake and The Savoy Hotel. Of the five, the Shangri-La is the most modern and offers the greatest number of dining options, conference facilities, spa, gymnasium and pool. The upper level Executive Rooms offer access to a private lounge where breakfasts, evening hors d'oeuvres and drinks are served daily. The hotel's Summer Palace Chinese/Cantonese restaurant is really superb. The chef is from HongKong and he makes a mean dumpling or three. The lobby cafe area is very popular with local residents, primarily because the service is good and the hotel has an excellent wi-fi connection. I've never seen so many people nursing inexpensive pots of tea accompanied by two hours of free wi-fi. So many laptops opened… so many empty cups. The hotel is centrally located very near Scott's Market area, the city's main railway station and the Sule Pagoda. The old British Raj CBD is only a few minutes walk from the hotel. See www.shangri-la.com
The Strand Hotel is the town's original grand-dame hotel. Refurbished to a sparkling state, its 40 rooms are all suites, quite capacious and very well appointed. The hotel's Long Bar is a local hang-out and popular Friday nights at Happy Hour. The hotel's French restaurant is reportedly one of the best diners in town. There is no pool or garden however. The hotel is smack dab in the middle of The Strand road opposite the Strand Wharf (ferries to Dalah leave from here) so it's a very busy location. Luckily all suites boast double-glazed windows so loud street noise isn't an intrusive problem. The room rates are at the top end of acceptable pricing in my opinion. I've stayed in similar hotels in Paris, London and New York for an equal price. Good value? You be the judge. See www.hotelthestrand.com
Yangon lacks a good range of middle priced hotels, an unfortunate fact many travellers find out to their dismay during high season when rooms are full and vacancies are virtually non-existent. Even the most ordinary hotels will be full. The best of a disappointing lot is the small group of Clover Hotels. I stayed at one near Inya Lake, a bit far from the old centre but nearer to where most Yangon residents actually live. This Clover Hotel has nice views of Shwe Dagon Pagoda, particularly at night when the gold shrines are lit up like a bonanza. Breakfasts here are bloody awful. Eat somewhere else; 'mohinga' cafes are numerous. See www.cloverhotelsgroup.com
Clean no-frills hotels and hostels don't really exist in Yangon, though very cheap doss houses with no facilities certainly can be found. Shop around, ask a local where a room for a nominal amount can be found and you may get lucky. Taxi drivers are sure-fire sources of information about local inexpensive accommodation.
Naked Eats:
Apart from very fine meals at the Sule Shangri-La's Summer Palace restaurant and The Strand Hotel's Cafe and Restaurant, I ate well in Yangon's Chinatown in the old British CBD. Follow the local crowds to the cleanest places in which to dine.
The Corriander (sic) Leaf restaurant adjacent to the slightly sleazy Yangon International Hotel compound is the city's best Indian restaurant. The food is primarily Punjabi. Tandoori oven cooking, northern Indian influenced curries, naan, rotis and chapattis made to order are the go. Cocktails are fairly good and fairly priced. See www.corrianderleaf.com
Naked Reads:
Every Anglophone with a literary mind will know Eric Blair's (aka George Orwell) 'Burmese Days'. Cheap Penguin rip-off copies are widely available. Orwell/Blair's tongue-in-cheek sarcastic account of bored, racist and corrupt English colonialists and their hangers-on in early 20th century British Burma is enthrallingly dry reading. I couldn't have liked it more.
U Thant's grandson, Thant Myint-U's masterpiece 'River of Lost Footsteps' is an excellent account of the great river Irrawaddy and the people who live on it, near it and depend on it for their livelihoods.
'The King in Exile, the Fall of the Royal Family of Burma' by Sudha Shah tells the tale of Burma's lost nobility. Want to know what happened to the family that ruled over all Burma until approximately one hundred years ago? Read all about it here.
The Pagan Book House in Yangon's CBD at No. 100 37th Street is a small shop that stocks a wide range of English books all about Myanmar/Burma.
The annual (there have been two festivals thus far) Irrawaddy Literary Festival is opening the world to Myanmar's literary culture and Myanmar's literary culture to the world. Still in early development, the festival has attracted highly regarded authors from round the globe, an effect of that 'Go there before it changes' opinion. Anyway, it's a fun event spread over a few days, with a varied interesting programme. See www.irrawaddylitfest.com
Naked Note:
This is the first of two stories about a recent visit to Myanmar. The other story about Pagan, Mandalay and beyond will appear within two weeks.
Thanks for reading.