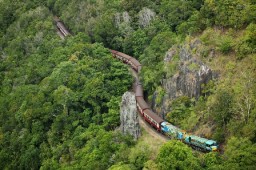 Far north tropical Queensland, a.k.a. FNQ or TNQ (Tropical North Queensland), has taken a couple of huge hits in recent years. Cyclone Larry ripped through the area around Tully, Innisfail and Babinda in March of 2006 while Cyclone Yasi rammed into the coast between Mission Beach and Cardwell in February 2011. Billions of dollars in damage ensued but thankfully, no lives were lost. Yasi shattered history. It was one of the biggest storms ever recorded.
It's said that Queenslanders are built tough. I don't doubt that. Two huge cyclones, floods and the economic downturn have taken an emotional toll but the spirit is strong.
I can report that FNQ is now looking renewed.
Most travellers while away their time on the beach, day tripping to the nearby Great Barrier Reef to snorkel or SCUBA dive. The reef and the rainforest represent the quintessential combination while visiting the region. (See NHT's story nakedhungrytraveller.com.au/troppo-in-fnq)
Less familiar is the Atherton Tablelands adjacent to the coast, higher up and a lot cooler. Weather-wise that is, not flash or glam-wise. There are no glitzy resorts. Tourism is small-scale and laid-back.
Pastoral country dominates south of Atherton town, where the landscape is eternally green and forested. Scruffier and drier country dominates around Mareeba and beyond to Cooktown. In between a scattering of villages are dotted amongst volcanic lakes and protected swathes of rainforest where the canopy occasionally opens to long views to the Coral Sea beyond.
From this naked hungry traveller's perspective, in general the Atherton Tablelands ooze quirky, eccentric and off-beat in equal measures.
Try this itinerary for a change.
From Cairns, drive south for approximately 90 minutes along the Bruce Highway past Innisfail to Paronella Park.
While not exactly smack dab in the middle of the Tablelands, Paronella Park near the tiny village of Mena Creek, is at its edge and as good a destination as any to begin a tour of the upper echelons of FNQ.
Jose Paronella's phantasmagorical park opened to visitors 77 years ago. It was the dream of a Spanish migrant in love with his new country. He devoted his life's energy to creating a wonder world amongst the sugar cane fields and steep forested mountains. Sadly Paronella Park had fallen into neglectful disrepair by the 1980s. Good luck prevailed and it was purchased in 1993 by Victorians Mark and Judy Evans.
The whole park, its camping grounds, cafe and gift shop have gradually and lovingly been renovated or added to since then. Now it's a necessary stop on the FNQ traveller's trail, well worth the time spent, particularly during the daily evening tours of the ephemeral grounds when the coloured lights illuminate the rainforest garden and waterfalls.
To see the Moorish inspired castle in a green-scape on a summer's evening while fruit bats flutter around its tower and balustrade, is to witness one of Australia's most quirky sites. And don't forget to enquire about Jose's lover, her sister, his family and his fight with the Black Hand, the local branch of Italy's Camorra and Sicily's Mafia.
From Mena Creek up into the highlands to Mamu Rainforest Canopy Walk, a slow and winding drive along the Palmerston Highway leads to this excellent adventure into Australia's oldest and wettest rainforest, the green heart of the World Heritage Wet Tropics of Queensland, 8,940 km2 including seven national parks and over 700 areas of protected land, many privately owned.
The walk may take a couple hours or it can take a whole day. Photographic opportunities are in abundance and wildlife enthusiasts will be rewarded by patience, particularly early morning or at dusk. Hundreds of rare species thrive in this part of the northern tropics bio-sphere national park and reserve. The Wet Tropics contain the world's greatest concentration of ancient flowering plant families in the world.
From Mamu via Milaa Milaa and Ravenshoe to Herberton, the landscape changes from wet to dry. In the 1880s Herberton became a wealthy mining town. Gold was the main aim but huge deposits of tin were discovered instead. As the tin was plundered down to the last ounce, the town's importance eventually dwindled. Tin mining ceased operations in 1978.
Like Paronella Park, a large part of old Herberton was 'rescued' by a southern family with money and drive. It has become an open air museum, a small town with over thirty buildings packed with memorabilia. A good cafe operates from an old store in the centre of Historic Herberton Village, perfect for afternoon tea or lunch when the Aussie history touring experience begins to take its toll and heads fill with interesting trivia. There's a lot of information to take in here, well worth absorbing as it's laid out over several city blocks. I needed a head clearing espresso after a few hours and was only half way through Herberton's illustrious past.
From Herberton Historic Village head back to the main Herberton-Atherton Road to the Kennedy Highway then to Yungaburra on the Gillies Highway.
Yungaburra is tiny, a one-pub town rather lost in time, lately being rediscovered by tree-changers and organic farmers bent on escaping from the hurly-burly of life on the lowlands.
Outside Yungaburra is a duo of volcanic crater lakes, perfect for a cooling dip on hot muggy days. Lakes Eacham and Barrine are the centrepieces of the Crater Lakes National Park, each perfectly formed jewel drops filled with rainwater. To the east at the back of the lakes rise the mountains Bartle Frere and Bellenden Ker, Queensland's highest peaks, 1,622 metres and 1,593 metres respectively. They are both 'cloud-catchers', their eastern slopes record Australia's highest annual rainfall, 4048 mm. In 1979 Bellenden Ker Mountain was drenched with 11,251mm, the highest recorded in modern Australian history.
The rain shadow northwest of the high peaks grows in size further north towards Mareeba and the great outback.
Atherton town at 766 metres above sea level is FNQ's dairy country capital town, quite lush with verdant grassy paddocks surrounding the town. Further along the Kennedy Highway Mareeba sits at 410 metres, the northernmost extent of the Atherton Tablelands, much drier, though small pockets of rainforest exist in the deep valleys and gullies around town.
Above average accommodation options are fairly sparse. Bog-standard motels, caravan parks and town pubs fill the short list. Sophisticated guesthouses or boutique hotels are mostly found on the coast itself.
I was lucky to find peace and serenity at Allawah Retreat on a large farming/grazing property just outside Tolga village between Atherton and Mareeba. A sweet collection of fully self contained cottages, all sporting stunning views from capacious decks (with spa baths) overlooking the expanse of the Tablelands. Each house has a fully equipped kitchen, lounge room with television (never used during my visit), shelves lined with books about the area's history and wildlife, large bathrooms and king sized beds. Allawah is basically a couple's retreat, not for kids. The wallabies hopping around my cottage each morning brought out my inner kid, as did the kookaburras perched on the deck railing while they laughed at me flopping in the spa bath. The owner kindly stocked the fridge with salads, steaks for the barbecue, breakfast makings with freshly baked bread and home made jams. The eggs were from the farm, the steaks from local beef and the fruit platter was from down the road. A reasonably priced wine list added even more value.
Mareeba was once FNQ's dope capital, now it's the caffeine capital. Italian migrants settled there in the 1920s to grow tobacco. The Black Hand moved in and gradually gained control of the local drug trade. Weed is still grown in abundance on hidden locations scattered round town but coffee has taken root as the prime agricultural money maker, that and tropical fruits. Coffee Works is in the centre of Mareeba and though it's more touristy tacky than I like, its museum concerning the history of coffee and tea is quite fascinating. Well worth a few hours visit.
Outside town is Skybury Coffee plantation, a truly well run establishment that produces some of Australia's best coffee. Mareeba's dry, warm to hot climate is perfect for Arabica coffee bean growth. Don't miss stopping at Skybury's restaurant for at least one cuppa. Lunches are very good as well, particularly when enjoyed on the veranda overlooking the rows of evergreen coffee trees.
Besides coffee, the area around Mareeba is mango territory. By January, mangoes and other tropical fruits are at their best condition. If a farm stand is open by a roadside, stop and buy something. Support the local growers while you buy direct from the farm.
Quirky FNQ displays itself well at de Bruey's Boutique Winery outside Mareeba on the road to Kuranda. Family owned and run, tropical fruit driven wine is the modus operandi here. Never tasted passionfruit wine or jaboticaba wine, lychee wine, bush cherry wine, mulberry wine, star apple or indeed mango wine before? Well, here's your chance. Personally I find wine made from fruits other than grapes to be alcoholic novelties better suited to the punch bowl but I came away from this place admiring the skill involved in making wine from fruits that are expensive to cultivate and difficult to ferment. The wine made from limes won me over in the end. I took a bottle with me and enjoyed it a few nights later with a splash of gin and some ice.
From Mareeba the Kennedy Highway leads east to Kuranda, itself the terminus for both the Scenic Kuranda Railway and Skyrail Rainforest Cableway. These are among FNQ's top tourist attractions and rightly so.
The recommended route is train up, cable car down, though this reflects a personal preference. Either way is a great day trip. The KSR operates a 'Gold Class' carriage with more spacious seating, a light meal, wine or beer and table service. The train trip between Cairns and Kuranda takes about two hours. Spend a few hours wandering around Kuranda's array of shops, art galleries, its craft market and an assortment of cafes. Join the Skyrail Rainforest Cableway down the escarpment back to Cairns. A couple hours wandering along Kuranda's single main street is enough but ensure enough time remains before the last train or cableway departs.
Tickets combining both routes can be purchased from both companies. They work in tandem to coordinate their timetables.
In this instance, it's the trip, not the destination that takes precedence. The railway was a masterwork of engineering when it was built. The gradient rise is impressive, as are the switchbacks, tunnels and sidings that make up the relatively short journey. The railway was built to provide a link to the Tableland's mineral riches and the ports of Cairns and Port Douglas. All that Herberton tin had to be shipped somewhere to be worth something. The small museum at Freshwater station a few kilometres outside Cairns' town centre (the preferred departure point from Cairns though the train actually begins its daily journeys from the main railway station in town) is well worth a visit to understand how much effort, at considerable cost to human life, was involved in constructing the railway.
The Skyrail on the other hand is all about its environmental angle. Two 'eco-stations' have been built at strategic points along its 7.5 kilometres route. Do not miss these stops as they are essential to gaining a better understanding of the marvels of the Wet Tropics rainforest ecology. Each station has a visitor's information centre with great thought and care put into creating interactive displays, particularly with a child's view in mind. The cable car trip should take about two hours, much faster if the eco-stations are skipped but that would be missing the main objective of the ride wouldn't it?
Both the railway and the cable car are leisurely trips, best appreciated slowly. As the train engine tugs its line of antique carriages inexorably up the escarpment, an excellent vista of coastal mangrove swamps, forested mountains, sugar cane fields and Coral Sea becomes more enriching the higher up you go. Spectacular waterfalls cascade right next to the track, particularly during the Wet Season from December until April.
The tiny skyrail cable cars skim the treetops while descending from Kuranda. You're not merely watching the rainforest slide by as much as actually becoming part of it. There was controversy concerning potential damage to trees when the cable car towers were installed but due care was taken and tree loss was minimal. Now the opportunity to appreciate the hidden wonders of the forest canopy is available to many more environmentally minded travellers, a fact that goes some way to mitigate previous concerns.
I like the fact that I spent a whole day travelling between Kuranda and Cairns, less than 20 kilometres as the crow flies. The close contact helped me to understand how the great escarpment acts as a sort of green wall between the coastal lowlands and the Atherton Tablelands, a metaphorical wall, one with many doorways to the hidden world of FNQ, all easily opened with a gentle slow push.
Tom Neal Tacker was a guest of Tourism QLD.
Naked Facts:
For the best car hire deals and service see:
Paronella Park offers campsites and accommodation in small, air-conditioned cabins. The cabins are simple yet comfortable but without en suite bathrooms. Luckily the amenities block is a few metres away.
For more information see: www.paronellapark.com.au
Mamu Rainforest Canopy Walk is owned and co-managed by the Ma:Mu Aboriginal people and the Queensland Government's Department of National Parks.
See www.nprsr.qld.gov.au/parks/mamu for more information.
For information about Herberton Historic Village including special events,
See: www.herbertonhistoricvillage.com.au
For bookings and special deals at Allawah Retreat outside Tolga off the main Kennedy Highway between Atherton and Mareeba,
See: www.allawah-retreat.com.au
Skybury Coffee is just outside Mareeba.
See www.skybury.com.au for restaurant bookings and tours.
In Mareeba, don't miss Coffee Works for its range of coffee, teas and chocolates.
See www.coffeeworks.com.au for more information.
de Bruey's Winery is a small gem. Don't miss it. Arrange a tasting of their large range of weird and wonderful fruit wines before visiting.
Kuranda Scenic Railway operates return trips between Cairns and Kuranda twice daily.
See www.ksr.com.au for reservations and information.
The Skyrail Rainforest Cableway operates daily with frequent departures from its station 15 minutes from Cairns in the suburb Caravonica or from Kuranda's town centre next to the railway station.
If stopping a night in Kuranda, the moderately priced, well maintained and exceptionally friendly B & B Miju Rainforest Retreat is highly recommended. See www.mijurainforestretreat.com for details and reservations.