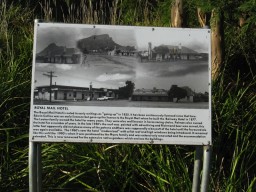 Dunkeld seems an unlikely town to choose for setting up one of the country's best restaurants but as the Royal Mail Hotel's first manager/sommelier Lok Thornton claimed in 2008, "We plan to be not only one of the ten best restaurants in Australia but in the world within a few years."
No doubt this forecast has indeed put tiny Dunkeld on the map in a fashion it hasn't enjoyed since it was a major stop on the Cobb and Co. route to Hamilton in the 1850s. Situated at the southern extremity of the Grampians (Gariwerd) National Park with stunning views to Mounts Sturgeon (Wuragarri) and Abrupt (Murdadjoog), Dunkeld's scenic location certainly adds extra emphasis to overall visitor satisfaction.

There are a few trendy boutiques in the town's main drag, Parker Street, a couple of cafes, an antiquarian bookshop and a lovely park with picnic ground but the focus is on the renovated Royal Mail Hotel. It seduces cashed up gourmets faster than a reduced price truffle sale.
Owned by local boy made good Allan Myers Q.C., whose family once owned the former butcher shop across the road, Myers has sunk a small fortune recreating what was once a country pub, albeit historic, into a gastronome's pilgrimage. Quite simply, no expense has been spared. Plans are afoot to turn what is a prosaically decorated and somewhat noisy dining room into an oasis more suited to its transformation to an iconic restaurant. As of 2012, slight changes have been made. The dining room is quieter and feels even more exclusive. Overlooking a small landscaped garden, it still presents as an austere space, perhaps not a bad impression when attention should rightly be focused on the food.
Don't eat here and expect a country hotel chicken Parma or a grazier sized rump steak and chips. The Royal Mail's budding reputation is credited to Dan Hunter, ex head chef at Mugaritz, a Michelin two-starred restaurant outside San Sebastian in Spain that has been claimed one of the ten best in the world. Hunter's approach to food, honed in the hallowed halls of molecular gastronomy, has been tempered by a no-nonsense attitude to flavour. Leave it alone but for an innocuous tweak appears to be his credo. The restaurant's kitchen garden supplies much of the menu's innovation. When produce this good is enhanced with a deft touch of genius, spectacular results await the adventurous diner. The degustation menus: Vegetarian or Omnivore (from AUD$120 per person excluding wines) of nine courses, give or take a couple depending on what's in the garden and the chef's whim, left me feeling full, not stuffed, replete with healthy food cooked with love and incredible attention to detail. Hunter eschews butter and cream at the Royal Mail, resorting instead to stock reductions and contrasting flavours. Absent were the most gimmicky tricks of molecular gastronomy: sand, earth, air, bubbles and dirt. For example, a dish of hapuka fillet with perfectly peeled asparagus spears was lifted by the merest hint of coconut and soured milk foam. I've never enjoyed a piece of fish so much before.
A compendious cellar provides a wine list that defies description if not competition. The index alone runs to five pages. Kept at a constant temperature, the wines are served at peak condition. There is room for over seventy pallets of wine. Waiters run to retrieve rare bottles from the storage building across the highway. Seeing dedicated professionals in action is pure joy. The surprisingly low mark ups are a key to the encyclopaedic list's success. Here wine is sold rather than cellared. The house ethos is to pour wines that go with the food. Hunter and his management team taste everything meticulously, trying to find the best wine or spirit to match to each dish.
Food this good in such a remote location lends international credence to the claim, 'it's worth going the distance.'
Naked Facts:
Mountain View rooms with outside decks offer views to the Grampians that are inspiring. A small pool is available for guest's use and walking tracks into the nearby hills and town were described enthusiastically by the reception staff. Though the motel rooms look more redecorated 50s than contemporary, they are still more than adequate.
A far better choice is to stay in one of the renovated Cottages located three kilometres away on the Myers estate. Each has a lounge room with fireplace, small kitchen area, bedroom, large bathroom and veranda facing Mount Sturgeon. Breakfast provisions are provided. The cottages are separate and very private. Private transfers to and from the restaurant are included in the tariff. There is also a Homestead with four bedrooms for larger groups or for people requiring even more privacy.
Dunkeld is approximately 250 kilometres west of Melbourne near Hamilton. Four hours drive from Melbourne's Tullamarine International Airport or 40 minutes by private air transfer to the Hamilton airstrip. Taxis are available from Hamilton.
Royal Mail Hotel
Parker Street (Glenelg Highway)
Dunkeld, VIC 3294
www.royalmail.com.au
T: 03 5577 2241
F: 03 5577 2577
E: reservations@royalmail.com.au
Mountain View Room: AUD$160 or AUD$200 per night peak (Friday and Saturday nights, long weekends and special events) including breakfast.
Cottages from AUD$250 per night including breakfast and restaurant transfers.