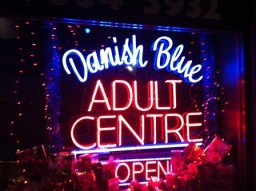 Trawling through the internet while researching a story about the world's most sensuous and sexiest cities, I tripped over this claim which was cited in a Yahoo reader's forum: 'Sicily is the oral sex capital of the world'. These sorts of salaciously illuminating studies litter the google-sphere like sequins at an Indian wedding. You just can't help noticing the abundance of bling.
Sicily is the oral sex capital of the world? Surely this question leads to an immediate riposte. How was the research conducted?
Were post-grad students in Advanced Sociology set loose on the streets of Catania and Palermo to accost randomly chosen people? 'Excuse me Signore, how many times has your penis been sucked in the last 48 hours?' or 'Scusi, Signora, is cunnilingus your preferred modus operandi during intimate relations?'
I always thought Sicilians were notoriously tight-lipped (ba-da-boom), Mafia threats equal silence, right?
Apparently not as Sicilians aren't withholding evidence Monica Lewinsky style; they can talk while their mouths are full.
The study says as much which begs the question, why the predilection for oral sex? Is it perhaps in an effort to avoid an unwanted pregnancy, perhaps for a change of missionary positioning? The study didn't reveal all the facts but the conclusions were clear. Head jobs are a Sicilian specialty.
Writing a story about what constitutes a sensuous or sexy city leads directly to the temptation to insert numerous double-entendres into each sentence. Even the word 'insert' infers loaded meaning when discussing this topic.
My own observations based upon casual research taken while tramping through the world's cities has often led me to ponder travellers' motives in choosing one city over another, for whatever reason, sex on the menu included.
The obvious reasons concerning choice of holiday destination usually involve cultural, hedonistic, historical or even familial based logics. A fact not admitted to freely is: many travellers are in pursuit of sex that they can't find at home.
The oft repeated but not set-in-stone rule, 'What happens in Vegas, stays in Vegas', may be applied democratically across the globe's hot spots, inclusive of Las Vegas and others, which accounts for the lack of statistical analyses regarding data collection.
Most people talking about getting off while travelling are discussing train routes, not metaphors for sexual climax. I'm talking here about Mr and Mrs Katz on a package holiday to Boca Raton, not your average sex-starved vagabond searching for pleasure in whatever form it presents itself, which I believe represents more than 50% of actual travellers.
That said, in the eyes and minds of most pleasure seekers, what makes particular cities sexier than others? Is it the flagrant availability of sex itself? A plethora of prostitutes of both genders leaning out from open windows entreating custom as witnessed in certain shady Mumbai blocks? The houses of ill repute all lined up in a tidy red lit row, price lists displayed at each seductively decorated entryway 'XXX' marks the spot, as in Amsterdam? Whole neighbourhoods widely known for their sex-on-sale shops packed with dildos of surprising sizes and all colours of the rainbow, such as in Bangkok's Soi Nana, Soi Cowboy and Khao San Road?
The difference in meaning between the words sensual and sexual is clear, the former's implication is based on feelings of intellectual stimulus combined with physical delight while the latter's implication rests on the act of sex itself, ending in orgasm or not, as long as it's all about getting off at the happy ending.
The world is full of sensuous cities, objectively speaking. One man's little oyster is another man's case of gastroenteritis.
I can only write subjectively about ascribing levels of sensuality to one city over another as sensuality is essentially confirmed from one's own unique perspective.
For instance, I find Venice rather sensual on bright summery days but decidedly kinky and a bit spooky on misty wintry days. I've never considered Hong Kong as a sensual place on a whole though once on Lamma Island during a mid-summer's seafood lunch fuelled by buckets of icy beer I was embraced by a feeling of momentary muggy sensuality. Paris is sensual because it's Paris, enough said. Even New York can display a sensual side in the area near Central Park, particularly when viewed upwind of the horse-drawn carriages outside the Plaza hotel.
I find that in Rome, nearly everyone flirts non-sexually. For Romans it's more about dolce vita than dolce loca. Even grandmothers dressed in widow's black flirt, a strangely sensual habit if not downright eccentric. Sexy? No. Comic-tragic? Yes.
So, what makes a city sexy? Apart from stating the obvious, the availability of procurable legal sex as evidenced by a tally of houses of prostitution, most studies are clearly based on a perceived atmosphere of 'if you want it, you can get it here no matter how ugly, old, young or beautiful you may be.'
In other words, equal opportunity sex is applicable to all. Enter here all those virgins who dare.
Sexy city surveys are subjectively undertaken, based largely on hearsay and reputation. Actual scientific data is hard to come by (boom-tish).
Essentially, a stretch of credibility is integral to compiling these kinds of lists. For instance, if money is sexy, then cities such as Luanda, N'Djamena, Tokyo, Moscow and Geneva should rate highly as they all continually rank in the top ten most expensive places for ex-pat employees to find roofs over their heads and three squares per day. If Luanda is sexy because it's expensive then we may conclude these surveys are seriously skewed in weird directions.
Having searched through various top ten lists of the world's sexiest cities, I see these cities mentioned more frequently than others based on the good looks of their inhabitants or the obvious availability of sex for free or at a cost:
Rio de Janeiro, Buenos Aires, Havana, Caracas, Barcelona, Miami, Cannes, Bangkok, Amsterdam and Berlin, all of which continually rank highly in the many top ten lists I've perused.
Consistent in the top ten are five cities with strong Latin connections. No surprises there.
Interestingly, most surveys are primarily based on a photogenic summary of the collective good looks of the inhabitants, as if a sexy city is sexy because so many of its citizens are alluringly attractive. Drop dead gorgeous looks spread evenly across a majority of a population contribute much to the perceived notion of overall 'sexiness'. For this reason alone cities such as Warsaw and Tel Aviv make the grade. Suffice to say the beauty gene pool has found a deep reservoir in both those metropolises.
Caracas is regularly cited not because it's a sexy city (it's not, the traffic is nightmarishly plebeian in a country of subsidised fuel prices) but because the greatest number of Miss Universe winners hail from Venezuela and it's the capital city.
Why Cartagena isn't on the lists if Venezuela is considered the beauty queen country of the world is beyond reason but as I said, these lists are reliant upon mostly subjective data collection.
Seoul enters a few 'sexiest city' lists, as do Austin, Texas, Saint Tropez, Pattaya and Cannes.
Personally, I find Seoul about as sexy as Kim Jong Un frocked up in Minnie Mouse drag but maybe I wasn't visiting the recommended ex-pat clubs in hopping Hongdae at the right time, as advised in one particular list comprised by Ben Groundwater in his 'The Backpacker' blog.
Austin, Texas makes many American sexy city lists because of its attractive student population and youthful energy. It also makes the drive from Dallas through Waco down the ever busy I-35 Interstate highway worthwhile if only to see a nice body in a singlet and shorts instead of a flabby belly hanging over baggy chinos with dusty old cowboy boots peeking from underneath.
San Francisco scores well in all the top ten American sexy city lists that I researched, from both gay and straight angles. San Francisco also enters into many top ten international sexy city lists.
Incidentally, Salt Lake City, Utah is often listed at the bottom of American sexy city lists; it's the ugly duckling city full of chaste Mormons with pursed lips and judgemental attitudes. I believe most uptight Mormons cross the border to make quickie dickie trips to Las Vegas, only a half day's drive away.
If the majority of lists are solely based on a population's good looks (as in the case of Warsaw and Tel Aviv) I don't understand why Salt Lake City isn't ranked higher. Those Mormons ooze loads of potential for naughty sex musings. I challenge anyone to perve any member of the Osmond family and wonder what they get up to when the lights are dimmed.
Cannes and Saint Tropez frequent many top ten lists. It's where the jet-set beautiful people flock to flaunt their moneyed looks. That they're often surrounded by scruffy paparazzi isn't evidently an impediment. Looks can be deceiving at a distance. Close up the surgeon's scalpel marks appear ghoulish. In both Cannes and Saint Tropez, anthropological missing links have been discovered. Or living mummies; it's hard to tell the difference.
Pattaya on old Siam's murky shores 90 minutes drive from Banger-kok is Thailand's sex capital. This is Thai sin city central where sex is sold as a commodity, like wholesale teak furniture.
Though its tourism authorities are trying hard to portray potty-mouthed Pattaya as a family destination in an effort to shed its seedy reputation, Pattaya is one city where I've seen literally scores of fat, white middle-aged men (British, Russian, Arab and Eastern European men dominate the scene) strolling the streets, young women and men half their size hugged close to them as if their sex lives depended on it.
The Thais, practicing their Buddhist non-judgemental custom, accept the sex trade as a trade-off in cross-cultural relations. Women and men compete to move up from jobs in cheap cafes to jobs in cheap hotels in order to support whole families back home in the provinces where work is scarce and wages are low. It's considered a rather honourable profession.
The gazes of rapture coming from the eyes of fat white men as they fondle and hold tightly to their (temporary) Thai partners is pitiable. As one wag told me once during a visit to Pattaya, 'You don't lose your girlfriend (or boyfriend) in Pattaya. You just lose your turn', a lovely way to interpret 'I get sloppy seconds again?'
Does this make Pattaya a contender for world's sexiest city? If a sexy city survey's data collection is based on reasonably priced access, yes indeed. Remember, buyer beware.
For gay and lesbian travellers both Mykonos and Copenhagen come up trumps while consistently rating in the top ten list of gay sex friendly destinations. Whether or not either rates as sexiest among common global contenders is debatable. I've observed quite a number of supposedly straight people score well in both locations.
The Canadians politely offer a list of sexiest cities, published by HuffPost Living, founded on statistics generated by who buys the most sex toys. This tricky list includes Kingston, Ontario and Moncton, New Brunswick. I am wondering how this unique research was conducted, by postal ballot?
All of which leads me compellingly to publish our own Top Ten Naked Hungry Traveller's Sexiest Cities List, which is entirely subjective of course. It changes according to whim, fancy and who's paying the bill.
In no particular order influenced by confabulations of wishful thinking, pure lust and fond memory:
1) Paris. I first confused sex with love in Paris. I still find Paris confusing but it's a helluva' sexy city packed with people (mostly tourists) bent on fulfilling romantic fantasies. I could happily live there but doubt my libido could handle the constant demands on its ability to co-operate.
2) Rio de Janeiro. I caved in to peer-pressure with this nomination. Cariocas are indeed attractive; even the bodies-less-beautiful decorating the city's fabulously magnetic beaches adding sheer physical pizzazz while geographically speaking, the city is simply a sex spot laying easily on a line of semi-tropical latitude.
3) Marrakech. Being sold into slavery as a sex worker is a fantasy/reality made plausible in Morocco's southern royal city, a thought I find dauntingly seductive. Hang out at the Djemaa El Fna square wearing a T-shirt that reads, 'Cheap Dates'. You may not get lucky but at least you won't go hungry.
4) Mombasa. It's a steamy tropical sleazy port town completely off most travellers' radars that's full of intrigue and ugliness. Damned sexy.
5) Udaipur. Rajasthani people are jaw-dropping gorgeous. They're colourful, tall and blessed with chestnut coloured skin, elegant postures and tantalisingly unapproachable demeanours whilst the women sport kaleidoscopic saris or the men are draped in pink dust tinged robes of fluid elegance. Udaipur is where my heart fluttered wildly without stop while walking endlessly, lost in the dreamy lake city of palaces and flower markets.
6) Kuala Lumpur. My quirky choice. It's not really a sexy city but I've been propositioned there more times than I can count. It's full of lip-smacking food opportunities in case you can't get laid. Sometimes it's better to eat well instead of chasing ephemeral sexy fantasies. Reality strikes.
7) Boston. All those bright minds steaming away in all those stellar centres of higher learning churning out ideas to save the world. Can multitudes of brilliant brains be sexier anywhere else but in the Athens of New England? I'd like to call it mind-fucking central but that's a cheap shot.
8) Dublin. Chatting before sex? How charming! The Irish are masters of flirty dirty chat about everything and anything. The loquacious city on the River Liffey lays low down and flows like treacle.
9) Papeete. Not exactly Papeete itself which is just another Polynesian town with ratty edges but the whole Tahitian archipelago. I find the complete package of sultry South Pacific and laissez-faire attitudes to sex very appealing, minus the faux-sultry honeymoon resort scene of course.
10) Istanbul. When Eartha Kitt sang, 'Oh, those Turks,' she definitely knew what she was talking about. Istanbul combines slightly-beyond-reach mystery with dark secrets folded into a fascinating multi-layered past, a sacred sexy city with a long history of steamy stories, many of them derived from adventures in bath houses. (See a short list of Istanbul's historic hammams here: http://www.allaboutturkey.com/ist_bath.htm for more information.)
What are your favourite sexy cities? Feel free to comment. Please keep your comments clean (if possible.) We don't have a lot of spare time to moderate nasty cheap shots, the internet is calling and we have trawling to do. (That's a joke by the way. Internet trawlers are a blight on the squeaky clean side of humanity.)
Safe travels!
Naked Facts:
For further references concerning lists of global sex capitals:
http://answers.yahoo.com/question/index?qid=20080219110409AAXmCaq
http://www.uncg.edu/rel/Unlikely_FINAL.pdf
http://www.roadjunky.com/guide/1617/sex-capitals-of-the-world
http://www.smh.com.au/travel/blogs/the-backpacker/the-worlds-sexiest-cities-20101019-16sdl.html
http://www.yourtango.com/2012149356/10-sexiest-cities-america-guess-which-state-has-8-them
http://abcnews.go.com/Travel/slideshow/americas-sexiest-cities-15546048
http://travel.ca.msn.com/international/photogallery.aspx?cp-documentid=24048391
http://www.huffingtonpost.ca/2012/05/11/sexy-canadian-cities_n_1509595.html#slide=965783
http://shine.yahoo.com/love-sex/10-sexiest-cities-america-living-one-them-193700030.html
http://www.independent.co.uk/life-style/love-sex/taboo-tolerance/the-ten-best-places-in-the-world-to-be-gay-932557.html?action=gallery&ino=10