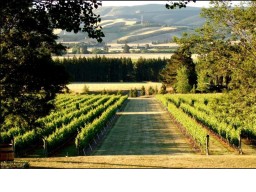 There's more depth to the Kiwi wine scene than bucket loads of Sauvignon Blanc.
The Marlborough region is dumping wine in huge quantities on the global market. Credit given where credit is due; some of the gooseberry infused S.B. from the northern parts of the South Island is eminently quaffable.
Quaffable yes, but also boring and predictable.
Wind your way down, or up, to the Waipara for a walk on the wild side of wine. Not famous, yet, this region is the newest kid to emerge from the Kiwi vine block.
Cool climate, scenic and conveniently located, a real pity it's often overlooked in favour of the well-known South Island regions, Marlborough or Central Otago. Sixty minutes drive time from Christchurch's CBD will land you in the middle of this pocket of fine wine land.
As it's still relatively new, the first vines were planted here in the early 80s, the Waipara remains a closely knit community of keen grape growers and talented winemakers. Large scale wine tourism hasn't hit hard. Instead a visit here involves direct interaction with owner/operators. Cellar doors are usually small cosy spaces run by the winemakers themselves, friendly and welcoming.
Dominant grape varieties in the Waipara are Pinot Noir, Riesling and Chardonnay, the king makers in the world of wine.
Only two wineries could reasonably be called middle sized, Pegasus Bay Winery (263 Stockgrove Road, T: +64 (0)3 314 6869 www.pegasusbay.com) and Mud House Winery & Café (780 Glasnevin Road, T: +64 (0)3 314 6900 www.mudhousewineryandcafe.co.nz). Both are open 7 days.
Torlesse Wines (Loffhagen Drive, Tel: +64 (0)3 314 6929 www.torlesse.co.nz) and Waipara Springs Winery & Café (SH1, Tel: +64 (0)3 314 6777 www.waiparasprings.co.nz) are definitely in the realm of boutique sized but they're also open 7 days per week.
Greystone Wines (SH1, 376 Omihi Road, Tel: +64 (0)3 314 6100 www.greystonewines.co.nz) is open October-April from Friday-Sunday 11am – 5pm. The same opening hours apply to Fiddler's Green winery (246 Georges Road, Tel: +64 (0)3 314 6979 www.fiddlersgreen.co.nz).
All other wineries in the Waipara are open to the public by appointment only. It's not a case of snobbery in action, more a lack of overall visitation. The number of annual visitors here is few. It's more cost effective for wineries to open doors to travellers when a personalised request is made. Canny Kiwis don't waste time or money.
A trip to the Waipara does require some advance planning in order to take advantage of all the winery visits this region has to offer. As so many wineries are open only with advance notice, my experience has been more like a celebrity tour. If a visitor is keen enough to contact the winery to request a tasting, the red carpet is rolled out to welcome him or her.
Here are a few wineries that should be placed high on your 'must visit' list: Mountford Estate (Tel: +64 (0) 3 314 6199), Dancing Water (Tel: +64 (0)3 314 6114), Harris Estate (+64 (0)3 314 6767) and Mount Brown (Tel: +64 (0)3 314 352 3191).
The effort of contacting the wineries before dropping in becomes a relatively effortless and pleasant exercise when the proximity of one winery to another is taken into account. That and the fact that the wines are so bloody good, moderately priced, hence great value for money.
Cycling between wineries is a recommended option. They stretch out along a beautifully sited valley for approximately ten kilometres. The terrain is mostly flat and the roads don't carry much traffic. Few wine regions in the world compete on this scale of easy access.
Tip: The best option is to hire a bicycle in Christchurch from one of many bike shops scattered around town. Bike hire in the Waipara isn't possible. But it is possible to transport a bike to the Waipara via the daily coach service or hire a bike rack when renting a vehicle.
Naked Facts:
Accommodation in the Waipara is also small scale. There are no large hotels or motels. Luxury cottages or B & B is the only choice. Try Dry Paddocks Country Retreat (two bedroom fully self-contained cottage, 325 Purchas Road, Amberley, Tel +64 (0)3 314 9639 www.drypaddocks.co.nz) or Annie's Loft & Studio (169 Mackenzies Road, Waipara Valley, Tel: +64 (0)3 314 6184 www.anniesloft.co.nz) or Dunnolly Luxury Vineyard Cottage and Villa (157 Church Road, Waipara Valley, Tel: +64 (0)3 314 6940 www.vineyardcottage-dunnolly.com).
I ate at Mud House Café and enjoyed it. Pegasus Bay Winery runs a reputable restaurant. Overall choices are limited however. Some self-catering may be necessary. The Nor'Wester Café in Amberley (Tel: +64 (0)3 314 9411) comes highly recommended and is open 7 days, a rarity in this part of rural New Zealand.
My magic Waipara moment occurred when I climbed to the top of The Gradient vineyard at Mountford Estate and was rewarded with a gob-smacking view over the valley, beyond the Canterbury Plains and right up to the Southern Alps. Behind me were lush green rounded hills reaching eastward to the southern Pacific Ocean. Sheep studded the surrounding slopes like fluffy moving shrubbery.
The joy I felt at being one with such a stunning landscape was increased tenfold when I tasted the Pinot Noir from The Gradient vineyard. It was simply one of the finest wines I've had all year and certainly ranks among the best made in New Zealand.
All cycling from then on was too easy.
The Waipara region is about an hour's drive north of Christchurch. Daily bus services pass through frequently. The Waipara is dissected by National Highway One. For convenience, hiring a rental vehicle is recommended. Most major car rental companies operate from Christchurch's international airport.
Christchurch is open for business and recovering quickly since the earthquakes struck in 2010 and 2011. The international airport has never closed. All major roads in and out of town are fully repaired. See www.christchurchnz.com for more information about accommodation and touring options.