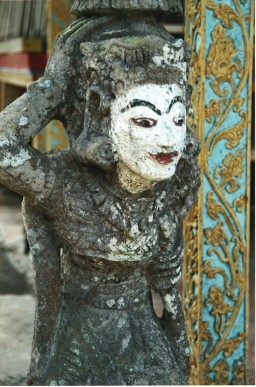 Bali has been getting lots of press lately, most of it negative. The reasons behind this are clear but not necessarily balanced. Why?

I can't read a newspaper or listen to a news report lately without reading or hearing about another mishap in Bali.
In October 2002, the infamous Bali Bombings exploded on innocent bystanders. 202 victims were killed, effectively targeted by Islamic terrorists from Java. Tourism in Bali nosedived shortly thereafter.
In 2009 and 2010 a rabies epidemic spread across Bali. Thousands of dogs, many of them cherished pets, were rounded up by Balinese authorities and euthanised. Australian veterinary services were called in by late 2010 to help manage the crisis, in hopes that rabies would not travel to East Timor and possibly south to the Northern Territory and beyond. The epidemic was largely ignored by most media, particularly tourism media for fear of another drastic decline in visitation.
By 2005, tourists visiting Bali had reached nearly 3 million. The total has increased by approximately a couple hundred thousand more since then. With increasing numbers of low cost flights into Denpasar's Ngurah Rai international airport, there has been an inevitable increase in accidents involving very under-informed visitors.
In 2013, Bali's permanent population is now matched by its annual tourism influx of roughly 3.2 million visitors.
Here's a short list of recent appalling Bali accidents.
A young man was electrocuted to death after he touched an inadequately secured advertising sign while walking down a busy Kuta street.
A fourteen year old Australian, nicknamed 'Bali Boy' by mainstream press in search of a catchphrase, returned to Australia having spent two months in detention after being stung by police while attempting to buy a bag of grass off a street vendor in Kuta.
In a Sanur bar, a young man died after imbibing a number of arak cocktails that had been laced with methanol. Methanol imbibed in even small quantities can cause permanent brain damage and blindness.
A recent news report indicated the depth of influence organised crime has in Bali via a number of local gangs involved in the drugs trade and worse still, assaults and robbery on unsuspecting tourists. The assaults often occur in Kuta's busy tourist bars.
Looking closely at Indonesia's management of Bali's tourism boom, I note the following facts:
The lack of public money spent on infrastructure support is obvious. Water and air pollution is increasing. De-forestation is robbing Bali of its natural beauty and ground cover to control erosion. Over-development is rampant, a result of endemic corruption in environmental planning controls process. Adequate rubbish removal is almost non-existent.
Natural water resources are being drained faster than they can replenish themselves, despite Bali's tropical rains. The ancient system, called subak, where farmers share water filtered down from the highlands via a series of mutually owned canals and terraces is constantly under threat from rampant over-development.
Clean drinking water becomes increasingly scarce. Wells need to be dug ever deeper while salt water poisons the water table itself.
If Bali's tourism industry eventually collapses, most likely it will happen because fresh water for drinking, washing and irrigation has run out, literally. The pool villas adored by tourists will no longer exist because there isn't enough spare water to fill the pools.
Bali's constantly increasing traffic congestion and the obvious lack of infrastructure to alleviate the congestion is turning the tourism hub around Sanur, Kuta and Legian into Jakarta. Quite simply, public transport in Bali is a joke. Hundreds of thousands of motorbikes and scooters clog Bali's already over-crowded roads. The noise is deafening, the air pollution noxious.
Tourists attempting to wander the streets of traditionally quiet towns such as Ubud or Seminyak are confronted with endless streams of motorbikes, jeeps and cars competing for space on very narrow roads. Crumbling concrete footpaths make a pedestrian walk something of a challenge. Disabled or physically incapacitated visitors would be confined to their hotels as it's simply too dangerous or difficult to try navigating broken pavements posing as public footpaths.
In the main tourist towns of Kuta, Sanur, Legian and Jimbaran, traffic is bedlam. The infamous Jalan Bypass is more often the Jalan carpark, traffic often reduced a standstill.
Almost four million international and domestic tourists now visit Bali annually. Consequently, Bali is becoming a victim of its own success.
Many first time visitors to Bali are taken aback by the relentless touting of services or goods. 'Hallo, transport!' Hallo, massage!' 'Hallo, taxi!' Endless replay and continual repetition are wearying for many visitors whose experience of salesmanship has clearly been confined to western department stores where service is often elusive and normally discreet.
What many first time visitors to Bali are unaware of is the fact that many of the touts have moved from East Java where work is scarce and wages lower than they are even in Bali. Javanese poverty has forced many young conservative Islamic Javanese men to move to Bali in hopes of earning enough Rupiah to support families back home.
Compare Bali's visitor statistics, for example, to Surabaya's. Bali is Indonesia's tourism commercial success story. Surabaya is not. Imagine a semi-literate young man from a village outside Surabaya, whose experience with free-wheeling, loose living, alcohol loving westerners is very limited. Young men freshly arrived from those villages prowling the streets of tourist-y Bali in search of a sale are impressionable as are the first time visitors to Bali whose expectations are unnaturally raised by false advertising.
Lured by glossy advertorial spreads and outrageous claims sprouting from cheap airline package deals seen online or in print, many first time visitors to Bali believe they're about to experience a tropical paradise closer to what is imagined in Hawaii or even Fiji.
Bali is not wealthy. Money is there in abundance but its distribution is unequal as it is in Kenya, Bolivia or Mexico.
Sadly, women continue to be marginalised in Balinese society while men hold its balance of power. Arranged marriages continue to dominate love's connections and Balinese women are expected to live at home until married.
The separation of the sexes is historically entrenched. Western women are viewed as socially different, open to sexual proposition and consequently fair game. The infamous 'Kuta cowboy', the sexed up and pumped Bali boy well rehearsed at picking up foreign females (and males) has gained a sort of renown beyond Bali's dirty shores.
While education in Indonesia is compulsory and free up to year twelve, it doesn't guarantee matriculated students a job. Family connections prevail in Balinese society, wealthy families continue to retain prized positions while those holding precariously to the ladder of society's bottom rung stay there unless extraordinarily gifted and lucky, better yet, both. Men get first option at the best jobs, women second.
Visitors to Bali are seen by most Balinese working in the tourism industry as a means to an end, hence income.
This is not to say that many Balinese aren't naturally charming, gifted with grace, wit and peace-loving sensibilities. I know for a fact that many Balinese are as unhappy with Bali's ceaseless over-development as are the many repeat visitors disgusted by what Bali has become. Let's face it, the relentless pursuit of money at the expense of environment, ecology and culture is not a pretty sight.
Balinese society, like so many other societies in other scenically blessed locales has grown into one whose governing philosophy is based on private wealth supported by public poverty. It wasn't always so.
Bali's historic banjar, a system of neighbourhood based local government rule, has been superseded by private enterprise ruling from Jakarta. Though the banjar system continues to hold major responsibility for local religious ceremonies, marriages, funerals and major holiday celebrations, its hold on overall authority has lessened considerably in recent years.
Though the banjar system was essentially male dominated, it did work to control anti-social behaviour towards foreigners in Bali on holiday, there to spend money and in turn support local communities.
Since gang control has gained ascendancy over banjar control, extortion from tourists caught up in drug trading or abuse (often in cahoots with local police), robbery and assaults have all increased in conjunction with increased tourist visitation. The banjar system is failing and honest Balinese are upset at what to do about it.
Is Bali the paradise of Southeast Asia? Perhaps it was fifty years ago. I've spoken with lovers of Bali who visited Kuta beach in the 1960s when it was a backwater quiet beach with a perfect surf break in sparklingly clean water. There were no international hotel chains with faux-Balinese resorts planted cheek to jowl from one end near Ngurah Rai airport's landing strip to distant Legian. I've read stories about Bali in the 1930s when it was considered an exotic artist's colony. For insight into Bali's recent past, visit the Neka Museum in Camphuan on Ubud's outskirts.
By early 2013, Bali's recent past has become a very distant memory. The little island has changed almost beyond recognition. When I first visited Bali some fifteen years ago, I often heard, 'Bali will be nice when it's finished,' referencing the continual construction work on new hotels, shopping centres and resort developments. During my last visit less than a year ago, I found myself repeating the same clichéd phrase as an attempt at gallows humour. The construction is ongoing; Bali is not nice.
And yet, Bali is undeniably beautiful from many angles.
Conversely, Bali has become undeniably ugly from as many other angles: social, cultural, environmental and ecological. To gloss over the latter fact is sheer bloody ignorance. Bali's slide into ugliness hasn't happened quickly. Gradually its unchecked growth has reached a tipping point where the ugliness now appears in equal proportion to the beauty. The reasons for the downwards slope to a repellant dystopia are many and I've only touched on some of them here.
What next for Bali?
My crystal ball is clouded. My passion for Bali mars my view. I see a reality I've outlined clearly above.
I don't know how Bali will survive into the 21st century. Well? Badly? Or worse, disastrously? Summing up, Bali's fate clearly lies in the hands of caring travellers, proactive residents and responsible government alike.