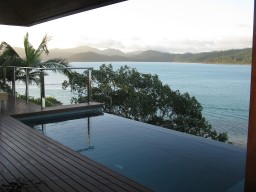 The Whitsunday Islands in Queensland have a new star.
Qualia, according to its cashed-up owners, the Oatley family (yes, they sold Rosemount Wines to Southcorp with perfect timing, wine sales have dropped out the bottom of the proverbial spit bucket since then) comes from the Latin, 'quality of conscious experience', implying that Qualia's discerning guests should know the difference between humdrum and bespoke.
When I last visited Hamilton Island, in the Whitsunday group of islands midway up Queensland's Great Barrier Reef between Townsville and Mackay, it looked like a small version of the Gold Coast, or Miami or worse. Three high rises poke up beside the island's single accessible beach. Another monstrosity overlooks the airport, not exactly indicating a quality conscious experience unless you were blind, deaf and dumb.
But post Oatley takeover and $300 million investment into infrastructure and an all round tidy up, old Hamilton is looking decidedly better. Gone is Keith Williams and his dream of creating a lagoon for a humpback whale just off Hamilton's only beach. Yes, I kid you not. Old Williams intended to show his greenie stripes by corralling a large migratory whale into a small space for the education of the ignorant masses.
The Oatley family is much smarter and greener. Unlike many people with excess cash, they have taste.
Qualia resort provides singularly excellent accommodation. It's low-keyed in all the right places. No kids. No noise. No planned activities and no jet-skies. Woo Hoo!
There are no rooms here. There are instead, pavilions. Half of the pavilions are on the leeward side and have no pools. The other half of the slightly larger pavilions are positioned on a hillside facing the windward side, each having its own infinity pool. Guests are appointed their own revved up golf buggy to get around the resort and the island. Service is of the sort that is so subtle and yet so efficient that I forgot that I was in Queensland. My golf buggy was recharged overnight by a special buggy man who patrols the pavilions in the dead of night ensuring that they're plugged in and ready to zoom the next morning hooning guests down for breakfast to either of two dining rooms, one overlooking a drop dead gorgeous beachside pool, the other overlooking the drop-dead gorgeous Whitsunday Passage. Tough choice. Breakfast is incidentally the best resort breakfast I've ever eaten in Australia. Bowls of fresh passionfruit, raspberries, figs, sweet strawberries and whatever fruit is in season that actually tastes real. And freshly squeezed orange juice or the house blend of freshly squeezed mixed fruits. And real coffee out of an espresso machine operated by well trained staff, or real leaf tea in a real heated pot. Real Eggs Benedict or real omelettes with imaginative ingredients. I shouldn't have to list these necessities but so often it's done so badly in 99% of resorts that I feel I should call attention to the difference.
Dinners and lunches are of equal standard. The Long Pavilion chef, Jane-Therese Mulry worked with Marco Pierre White in London. She was the only female allowed into White's misogynistic realm, quite an achievement actually and surprising as Jane-Therese is quite petite. But she's a damned fine chef. After a few days of hard yakka at Qualia I needed to spend more time in my windward pavilion in order to drink the Rothschild 06 Rose Champagne left chilling in an ice bucket while watching one of over 200 films available on the high-def widescreen television in my lounge room overlooking Whitsunday Island and the occasional sea turtle swimming by. Jane-Therese sent via speedy golf buggy a 3-course meal so I could plop myself in front of the Champagne, the turtles and the 2nd part of the Twilight film series. Deadened, wooden acting never looked so good.
In one's own pavilion no one can hear nasty comments about Robert Pattinson's perfect hair, see one lick the plates clean, or drain the entire contents of a lovely bottle of Champagne either. I waddled back to my dream sleep bed, feet pointing in the direction of heaven and sighed my contented self into the most peaceful slumber I've had in years.
If the stress of avoiding the occasional child on a scooter or obese tourist on a very slow buggy heading up Hamilton's steep hills, a visit to Spa Qualia is in order. Using Li'Tya products, made from all Australian ingredients derived from nature (I read the press material), my masseuse rubbed me luxuriously into another long nap state. I had a signature Qualia massage using a Li'Tya oil that I chose from four bespoke oils made specially for people whose noses are not out of joint. After my massage I had a Vichy shower in an outside garden filled with native plants. I think my buggy began to drive itself after that experience; my feet didn't touch the pedals and steering just appeared to happen without guidance from me.
Once past the silly gigantic Jurassic Park-like entrance gates, Qualia is a world away from good old daggy Hamilton Island. I swear I didn't know that Keith Williams and his gang of white shoes straight from destroying Queensland's Gold Coast had ever laid a heavy hand on Hamilton, such is the effect that Qualia has on me.
Now there is a logical reason to visit Hamilton Island, to get away from it all. Never did I imagine I would utter those words in reference to Hamilton Island but Qualia made me do it.
Naked Facts:
See www.Qualia.com.au for reservations and special packages. Qualia plays host to the Great Barrier Feast, a three day celebration of all things tasty and delicious in late November.