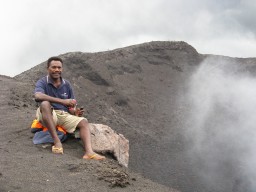 Travelling to Vanuatu is fairly easy these days. Cruise ships stop frequently off Port Vila for a day or half-day shopping reconnaissance, turning the tiny capital town into a mini-mall for an hour or two.
Port Vila is the country's crossroads, though most informed travellers wisely pass through it on their way to a tropical paradisaical resort elsewhere on Efate, itself the most populous island. Smart naked travellers change planes to proceed to another island altogether, a wise choice in fact as Efate has mostly been given over to tourism.
When I was whiling away the days in Port Vila mostly waiting for flight confirmations to other islands, part of the national prison burned and its fences were damaged, allowing convicts easy access to retail therapy. Much to my surprise, no impromptu riots or armed police wielding batons on convicts' heads were in sight. It was all very relaxed.
Several cruise ships were also in port for the day. Lanyard wearing name-tagged passengers uniformly dressed in baggy shorts and large sunhats strolled about town mixing in with the crims as they were being rounded up and returned to gaol.
Coincidentally whenever a cruise ship arrives, local shop owners increase prices. As soon as the boats leave, prices return to normal mark-ups.
After Saturday night brawling in downtown Port Vila, Sundays are quiet. Sundays anywhere else in Vanuatu are practically silent.
Religious observation is seriously upheld by local communities as Christianity of a more conservative kind holds sway, a holdover from earlier missionary days. On the more remote islands, indigenous beliefs meld into imported beliefs, an updated neo-paganism.
Piles of garbage litter the streets and most of downtown Port Vila looks seedy. The food market area is a favourite focal point, particularly on Saturday mornings when local people from all around Efate come in to sell whatever they've harvested or fished. The market area is littered like the rest of Port Vila but somehow organic food rubbish doesn't look as bad as empty beer cans and plastic bottles and empty plastic bags piled into mounds scattered around the rest of the small city.
At night, a few dingy bars open for hard drinking and an occasional brawl. Though most Nis-Van people are very friendly, Port Vila after dark represents the less amiable aspects of Nis-Van society.
Vanuatu was jointly run by the French and British until 1980. Officially termed a condominium, the archipelago was actually under colonial control with imported whites ruling over indigenous blacks. Now Vanuatu has emerged into the 21st century as a weird combination of Gallic/Anglo culture self-governed by Melanesian Nis-Van people who simultaneously embrace modern democratic life and its old habits.
Those old habits continue to thrive in contemporary Vanuatu. For instance, 'Kastom', the unwritten book of codes that control all village life remains ubiquitously prevalent. When you see a sign that reads, 'Kastom' fixed prominently on a wooden placard at the entrance to private property including many popular tourist spots, it means that without payment to the traditional landowners entry is denied. Most 'Kastom' villages have separate male and female areas while some villages reserve special places for menstruating women, which can pose tricky situations for uninformed visitors. Offence may be taken, but usually isn't. The Nis-Van people are, if anything, resolutely friendly and very polite. Casual infringements regarding 'Kastom' rules are rarely enforced upon visitors.
After a few days on Efate checking out the dubious charms of Port Vila and its surrounds, sampling over-priced badly cooked French inspired fare and drinking over-priced ordinary wine shipped in from France or Australia, I escaped to Tanna, 45 minute's flight to the south on one of Air Vanuatu's trusty workhorse twin-prop inter-island ATR-47s. En route flying low over Erromango Island was a treat; it looks ravishingly beautiful.
Flights to Tanna are diurnal; no lights or advanced navigational instruments are in place for its short landing strip on a cliff at the edge of the South Pacific. Rather it's like landing into the past a la James Michener's Bali Hai of the South Pacific.
Incidentally, Michener was stationed in Vanuatu during WW2 so the comparison bears historical veracity.
There are no security checks at Tanna airport. No luggage carrousel, nor diner, nor crowds either. One small curio shop runs its opening hours that suit the infrequent flights.
A few kilometres from the airport, I stayed at the White Grass Ocean Resort. It's the best on the island. White Grass also runs daily trips (weather and conditions permitting) to Mount Yasur, the island's volcanic furnace.
Yasur erupts continually, like Kilauea on the Big Island of Hawaii or Mount Bromo in East Java but as far as tourism goes, unlike the other two, numbers of visitors are minimal.
Vanuatu doesn't trip off the tongues of most travellers when remote countries are mentioned. A trip to Yasur may include only you and your guide.
Since a few visitors were killed by lava projectiles a few years ago, the Nis-Van government has subsequently insisted that all visitors are accompanied by a knowledgeable professional guide.
My guide knew his facts but was strangely nonplussed by the volcano. I discovered later that his demeanour was essentially religiously inspired, a sort of innate respect for the most holy of holies. My discussion with him went like this:
'So, that was a large explosion,' I comment while feeling nearly blown off the edge of the caldera after a particularly loud boom.
'Yes, but not very strong,' he says.
'How much stronger can it be? I mean to say, what was that on the scale of explosions?' I question the level of ferocity of the eruption according to scientific levels of magnitude: Level 1 through to Level 5, one being merely deafening and scary and five being Gotterdammerung and Armageddon combined.
Level 2 indicates that due care must be taken. Most days a visit to Mount Yasur is at Level 1, lots of rumbling and lava bubbling but no risk of flying lava boulders.
'That was maybe 2.5,' he suggests.
'And if a lava boulder comes towards us, what do we do?' I ask him worriedly.
The booms are getting louder. I've never felt energy like this. I see a red cataclysm spouting upwards some 500 metres away from deep in the caldera. Huge geysers of molten orange-red lava jettison upwards to the sky turning moist air into steam. A deafening sonic boom follows. I actually feel the blast shoot through my body. My first instinct is to run away as fast as possible screaming like a banshee.
'Stand still. Then you can see where the rock lands,' my guide responds succinctly. 'Otherwise you may get hit on your head and die.'
He gazes into the hell directly beneath us so nonchalantly that I wonder if he had been struck by enough bits of molten rock to cause brain damage. Either that or he was stoned.
Actually, being struck on the head by projectile lava rocks does result in certain death. Basically you blow up, incinerate and melt. It's a quick way to die with no margin for error or escape. It makes sense to stand still while watching overhead for burning hot rocks the size of Mini-Coopers coming at you. Don't try to outrun them. You'll lose the race. In effect, it's your last race.
'What happens when the volcano reaches Level 3?' I ask him when I calm down slightly after resigning myself to the fact that death by lava rock is at least very quick if only instantaneously painful. Turning into a human torch for a second or two followed by gruesome implosion can't be all bad surely.
'We don't park the van so close. We watch from over there,' he demonstrates by pointing to a ridge rising above some burnt forest about two kilometres away. A previous Level 3 eruption scoured that area a few years ago.
To get to Mount Yasur you travel across a vast ash covered valley that looks like the surface of the planet Mercury. After parking the van on the lower side of the mountain, you ascend 250 metres up a bare rock and rubble strewn path. Often a sulphurous mist envelops the summit and the path to the rim of the caldera disappears completely. Travelling at your own risk when applied to these conditions is understating the facts.
Back to my  conversation with the laid-back guide. I can't resist pursuing this inevitable line of questioning. 'And what happens when it's Level 4?'
'We don't come here,' he replies while looking at a particularly large lump of lava whizzing up above the rim of the caldera above my line of sight. If it turns our way I am faced with choosing to run or standing still. I'm still not sure what I'll do. My instincts are on such high alert that I don't think my mind will obey reason. The rock lands about 50 metres from our feet. I can feel its thud as it strikes the slope and rolls back into the fiery hole.
I gulp. 'And what happens when it's Level 5?' This is the highest on the scale.
'We leave the island.' Of course, I knew that. What else is there to do? Most of Tanna would go up in smoke after this one almighty grand boom.
Though Yasur represents the potential geological demise of Tanna, it also means much to the Tannese people. Here a particular form of Cargo Cult has taken hold. John Frum and his ghostly army are said to live in the volcano, like the goddess Pele of Hawaii, John Frum may bring destruction or life.
Established approximately 75 years ago John Frum cultism is one of the world's newest religions. Its origins are in fact based on a legend. A local deity, Keraperamun, said to come from Tanna's highest mountain, Tukosmera, was manifested by a local man named Manehivi who took the alias John Frum and walked among the Tannese dressed like a westerner making promises about future gifts and offers of prized largesse if they forsook western ways and rejected goods given to them by missionaries and colonists.
Manehivi cum John Frum was, according to some reports, something of an oracle. He prophesised that if the Nis-Van people rejected white missionaries and western connections that the people would benefit from the timely departure of all colonialism from Vanuatu. The wealth would subsequently flow back to indigenous people rather than vice-versa.
Since 'black-birding', the insidious practice of white venture capitalists capturing Melanesian men from Vanuatu and the Solomon Islands to work in sugar plantations on mainland Australia was prevalent, its destructive social impact left local people feeling disabused as to the overall benefits of white colonialism.
Many Nis-Van sold up everything they owned in the belief that if they rejected white society, John Frum would return with the goods which were sanctified by Frum himself. Many people moved to the more remote interiors of the islands, particularly on Tanna. Here John Frum-ism gained its popular roots deep in the rich volcanic soil of Tanna's mountainous interior.
When black American servicemen appeared on Tanna and other islands of the Vanuatu archipelago during WW2, most Nis-Van people had never before met or even seen black persons in positions of wealth and authority. Like most Americans stationed in the Melanesian Pacific during WW2, those on Tanna brought foodstuff the Nis-Van had never seen before, tinned meats and Hershey's chocolate bars for example. When the war ended and the Americans returned home, the locals started hoping for the return of one 'John from America', a.k.a. John Frum, and his splendid array of treats and other desirable items.
From its beginnings as a Keraperamun manifested by Manehivi a.k.a. John Frum cult only a decade earlier, it appeared to the people of Tanna that their wishes had come true, more or less. To this day the villagers around Sulphur Bay near Mount Yasur hold ceremonies honouring John Frum and his cargo buddies in the belief that deliverance from rule controlled beyond the sea will be forever banished from purist Vanuatu.
Even more incredible is the fact that certain other village populations around Sulphur Bay believe in the return of a great white saviour who is consort to a powerful lady who emerged from Yasur, in this case Prince Philip, HRH the Duke of Edinburgh. When Queen Elizabeth and Prince Philip visited Vanuatu in 1974, the Yaohnenen people believed him to be the living incarnation of a spirit who left the volcano to marry a great female spirit. Each year Prince Philip's June birthday is celebrated in hopes that his divine presence will once again grace the inhabitants of Tanna. The Prince Philip cult has its foundation in John Frum cultism and 'Kastom' practices, albeit something of a credibility stretch in an already incredible official religion.
Official? Yes, indeed. The Nis-Van parliament recognises John Frum adherents as bone fide citizens with due representation in parliament.
February 15 is official John Frum day. Incidentally, the year of his return is not known. On the 15th, celebrations on Tanna include faux-American soldiers dressed in camouflage battle fatigues sporting shoulder holstered rough hewn wooden guns looking like WW2 machine guns march up and down imitation runways studded with imitation control towers. Serious though the procession may be, an air of festivity does prevail. It's quite a sight to see in the jungles of Tanna with divine Mount Yasur rumbling auspiciously in the background and perfectly safe as long as you're not there on a Level 5 day.
Naked Facts:
White Grass Ocean Resort is not far from Tanna's airport. Transfers can be arranged when booking. White Grass is all inclusive and though the food isn't gourmet by any means, considerable effort is made to ensure that meals are far better than average Nis-Van fare. The fresh local crayfish is a treat. Ask the chef please not to overcook it.
The lagoon off White Grass resort is prime Green Sea Turtle habitat. Snorkelling with them when they're in the vicinity is easily arranged. Unfortunately White Grass Ocean Resort does not offer diving facilities. The offshore reef system is wondrous. If Mount Yasur is off limits, time spent exploring other 'Kastom' villages, the famous white horses of the White Grass plateau and the reefs off White Grass are equally rewarding ways to enjoy Tanna.
See www.whitegrassvanuatu.com.vu for bookings.
White Grass Ocean Resort
PO Box 5
Lenakel, Tanna
Vanuatu
Tel: +678 30010
Flights to Vanuatu are best served by the national carrier. See www.airvanuatu.com