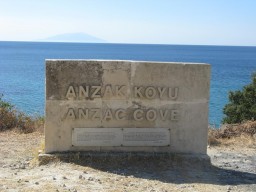 It's a new Turkey on the road from Troy to Halicarnassus.
Travellers from Europe and Australasia tend to go directly from Istanbul to Gallipolis for obvious reasons, to engage in an ANZAC tradition. Other visitors veer off in the direction of Troy (Truva) but without going too far off this well-trod track, another Turkey, one that is equal parts old and new emerges with surprisingly little driving involved.

From Gallipolis a short ferry trip across the Dardanelles, better known ages ago as the Hellespont, all roads lead to Canakkale and Troy.
Ancient Troy's nine layers of history confounded archaeologists since Heinrich Schliemann expressed amazement at purportedly seeing the treasure of King Priam back in the 1870s. A UNESCO World Heritage Site for several years, the ruins begin to make sense to the visitor since better signage was installed. Still, it's a complex puzzle that requires leaps of imagination that would daunt a modern Hercules.
With American and German archaeology teams continuing to make headway as they dig deeper into Troy's incomparable past, the unravelling is becoming clearer. It is an evocative site. The barely cultivated plains stretch to the sea much as they did centuries ago, poppies bloom in profusion and goats forage amongst the wild herbs, bleating peacefully, their backsides often directed to the nearby Mediterranean. With a little imagination the wind blowing through the stones will carry the voices of Achilles, Hector, Helen, Paris and a few Trojan Women as well.
The ersatz wooden Trojan horse placed at the entrance to the ruins is a modern addition placed to add veracity to history. If anything it's certainly a prime photo opportunity in situ. Disney would have loved it. It also bears about as much resemblance to Brad Pitt's Achilles in Troy as a badly packed kebab does to fine dining but that's completely off track.
Leaving Troy and Canakkale behind, a quick trip over the heavily forested Ida Mountains to the port of Ayvalik leads to a setting of cheek by jowl seaside resorts encircled by dense olive groves. The beaches leave much to be desired though the waterside fish restaurants serve up an enticing array of local produce. Turkish wines are available at most restaurants; vineyards spread throughout the Dardanelles region. Sample the local grog before it becomes outrageously trendy. Failing a chilled wine or beer, most Turks prefer raki (pronounced raka) with water as the drink to go with grilled fish. Why not begin with a raki and then try a local Chardonnay/Colombard blend? In this most secular of Islamic nations, booze is cheap and readily available.
Ayvalik's spectacular coastal scenery retreats as the road leads inland to modern Pergama a.k.a. Pergamum, one of Mediterranean history's most stunning sites posed majestically atop a rocky promontory overlooking the busy trade route below.
Here was the renowned Asklepion, an education centre for medicine and healing known throughout the ancient world. It was also a royal sanctuary.
Six ruined palaces set in one street confirm the rulers' preferred location next to the Roman fortress and armoury. Pergamum is also a modern wonder. The ancient theatre with seating for over 10,000 is still used today. The acoustics are marvellous. A day spent at Pergamum is a day well spent even if the drive to Selcuk and Ephesus is rushed. The new toll road through Izmir accelerates this progress. I noticed that the 110 k.p.h. limit is paid little attention, though the police do regular patrols. Beware of speed cameras.
Selcuk is within a bicyclist's saunter to the ruins of Ephesus. The remains are in such a well-preserved state that little imagination is required in which to recreate its reputation as an important metropolitan crossroads.
It's all here; popular houses of prostitution and a very public dunny included. Who didn't pass through Ephesus two thousand years ago? It's a very short list of the who's who of antiquity. The Virgin Mary supposedly spent her last years in a little house above the ruins. Look for the signs to Mother Mary's House to find her shrine on the hill. Ephesus also claims one of the ancient world's seven wonders, the great Temple of Artemis. Though the temple has disappeared the foundation is visible; it's huge. If that isn't enough, the nearly intact library and theatre are much easier for the mind to conjure on a grand scale.
Rather than staying overnight in Selcuk, drive eight kilometres further into the nearby mountains to Sirince. This perfectly preserved village has maintained its original Grecian allure and added modern Turkish charm. There is a thriving viticultural industry in the surrounding hills with many wine cellars dotted throughout, most of which offer samples to taste.
Sirince may have entered into Turkey's booming tourism market but it has certainly remained off the beaten track. The Nisanyan hotel comprises a selection of several exquisitely renovated four hundred year old houses with contemporary facilities.
The owners, a well known Turkish travel writer and his historian partner, re-discovered Sirince ten years ago and rescued the first of their houses, at the time sadly used as a donkey barn. Despite local opposition and jealous competitors, they have succeeded in creating a delightfully unique hotel.
Down the road and back on the highway from Selcuk, you enter into the ancient kingdom of Midas the "golden touch" where pinkish white marble glistens from the mountain backdrops and the valleys are painted golden green with apricot groves. Near the sea is modern Dydima, where the enormous temple dedicated to Apollo is smack in the middle of downtown.
The god of light certainly knew how to pick a site for a temple dedicated to the sun. Dydima glows in its Aegean halo. This far to the south, you leave the relatively verdant northern Aegean and enter into a sun-seeker's paradise of dry lands fragrant with wild thyme and rosemary, a sort of freely natural aromatherapy kit.
Dydima is on the way to the Bodrum peninsula, better known as ancient Halicarnassus. King Mausolus and Queen Artemisia were power mongers of the Hellenic world. The tomb built by Artemisia for her beloved husband became the world's first mausoleum and one of its seven ancient wonders. Today Bodrum is a party town full of clubs, cafes and boutiques crammed with back-packers and package tourists, though the old village atmosphere has been miraculously preserved. Founded by the Knights of St. John in 1404, the castle of St. Peter situated on a point jutting into the Bodrum harbour also houses one of the world's best, if not only, marine archaeology museums. What local sponge divers discovered in offshore wrecks over the last two hundred years is housed in a world heritage building. Don't miss the house of glass with its splendidly displayed artefacts stretching from those of ancient Byzantium to early Ottoman Empire.
On the quietly exclusive northern side of Bodrum is the practically unpronounceable Golturkbuku (try Gourl-turk-bourke-ker). This village is widely considered to be the St. Tropez of Turkey. Given the number of swish cocktail bars and restaurants lining its beautiful harbour chocked full with posh yachts, I'm not surprised at the comparison. Despite the high prices, my raki cost me the price of a dinner elsewhere, Golturkbuku offers good value for celebrity seekers.
If this is the new Turkey resting comfortably against the old, I'm all for the juxtaposition, even if at the slightest notion of it, old Mausolus is turning in his famous grave.
Naked Facts:
Getting around:
Hire a car outside Istanbul. Drivers in the big Turkish smoke are crazily aggressive. Neophyte drivers in Istanbul are forewarned. All of the international car rental companies are represented in Turkey. Hire cars may be arranged for pick-up outside Istanbul where the driving is safer. Obtain a good road map before setting out. Leave the car at Bodrum's busy airport and fly back to Istanbul. One-way flights from Bodrum to Istanbul are approximately USD$100.
Accommodation:
Ayvalik offers an abundance of seaside hotels. Check the local tourist office for current deals and availability.
At Sirince, Nisanyan House hotel can be contacted at: +90 232 898 3208 or hotel@nisanyan.com
At Golturkbuku, Turkey's only member of the esteemed Relais & Chateaux chain, the Ada Hotel is quite simply wonderful. Contact: +90 252 377 5915 or Relais & Chateaux website.