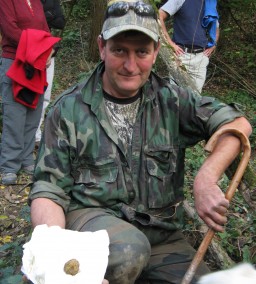 I can see white truffles from my window
Truffles, tartufo, truffes; it all means the same thing to me, a drug infused gourmet experience, an aphrodisiacal high, edible gold.
Alba, in Italy's north western Piedmont province, hosts an annual autumn truffle fair that draws in roving gourmands from afar. Apparently the afar extends mostly to Germany as there are so many Germans here that I believe they've rented the entire town.
The other morning in the lobby of my small hotel in La Morra I observed a truffle hunter selling five white truffles to a visiting German. Wads of euro exchanged hands while a carefully wrapped bundle of prized white truffles was proffered like a gift from a wandering Magi. Precious? Indeed. With white truffles currently selling for around 250 Euros per 100 grams, this is a sale of lucrative significance.
As for me, the innocent bystander, I want to be sated but can't simply because I can't get enough. Once you've had white truffle, there's no going back to black.
The harvest started only a few weeks ago in late September and is due to last until late winter, though mid-autumn is the peak time. Secret searches in secluded poplar, oak and chestnut forests last throughout the night. So closely guarded are these reliably truffle infused woodlands (not all forests are suitable for truffles) that I recommend haphazardly wandering travellers should hire armed escorts if out for a midnight stroll.
I've been lucky to spend a few hours with a 5th generation truffle madman. His dog is his mistress. His wife barely rates a mention. His eyes light up as if on fire when the 8 year old cross-bred mutt goes berserk over a white truffle. She shows only mild excitement when a black truffle is discovered. A well trained dog, she rejects wolfing down the truffle in favour of a doggy treat dispensed from her owner's loving hand.
In one night, I've participated in approximately 1,500 euro worth of truffle discovery, most of it likely bound within a day for Hamburg or Frankfurt. A white truffle must be consumed within 48 hours or its delicate, intoxicating pungency is diminished.
I've eaten one of the truffles we've found earlier the same evening in a small restaurant just outside La Morra, deep in Barolo and white truffle territory. It's shaved over 'taglarin', a local angel-hair fresh pasta that's been lightly seasoned and dressed with a bit of unsalted butter. I drink a Barbaresco with it and have what the French call a 'petit mort'.
In Alba, the main streets are lined with delicatessens promoting the joys of white truffle frenzy. Truffle infused pastes, oils, terrines and pates are on sale at mildly exorbitant prices. I wander along Corso Italia and Via Emmanuelle ll while perusing the joys of mass-marketed white truffles. From the temporary encampment just off Via Emmanuelle ll a white tent city has sprung up for the duration of the truffle fair lasting until the month's end. The tent is covered with images of well-known truffle lovers. Among the photos of famous faces holding truffles, Sophia Loren, Federico Fellini, etc. I see one of Alfred Hitchcock confronted by one large white truffle in an unidentified bare hand. A look of slightly sinister surprise illuminates the master of suspense's face.
I remember it my last night in La Morra while I gaze over the forest where I helped to find the truffles I ate earlier, sharing Hitchcock's secret of the seductive fungus found in the perfumed dirt around Alba.
Naked Facts:
See www.hedonistichiking.com.au for information about guided gourmet walking tours in Italy, Slovenia and Victoria's northeast alpine wine region. Hedonistic Hiking operates annual walks in the Piedmont to coincide with both the Barolo vintage and truffle hunting season. Hedonistic Hiking specialises in small group experience. They are lovingly managed, superbly run, charmingly efficient with expert guides well versed in all things to do with great food, wine and local history.