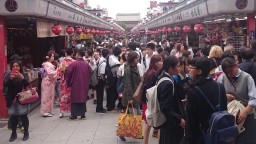 Such a puzzle!
Tokyo is a multitude of colourful pieces spread across the Kanto plain waiting to be assembled.
A tricky task for sure.
Like all the world's massive conurbations, Tokyo is almost unfathomably challenging to grasp as a single entity.
Best approach is to pick a neighbourhood, stay a while and get to know it. Gradually a semblance of order will appear; streets, shops and people become familiar.
I chose Asakusa because it's one of Tokyo's original villages, a bit like New York's Greenwich Village or London's Soho, mostly low-rise comprising neighbourhoods of narrow laneways near the Senso-ji temple, Tokyo's oldest (completed in 645AD to honour Kannon, the goddess of mercy).
It's a funky neighbourhood without being cutting edge, relaxed compared to crazy Shinjuku or Shibuya, a bit touristy but not overwhelmingly so.
Straddled along the Sumida River and within walking distance to Ueno Park (Tokyo's most popular art museums are here) and Kappa-Bashi dori (world's largest cookware market, quite simply a foodie's Nirvana), Asakusa is criss-crossed by two major subway lines (one going directly to the Ginza and Haneda Airport, the other heading out towards Narita Airport), it's well located near major attractions while retaining some original character (as much as Tokyo can since the massive fire-bombing near the end of WW2).
Nakamise-dori (so-called the Orange Street because of the brightly painted terraced tourist shops that line both sides all the way to the main 'Thunder Gate' entrance to Senso-ji temple grounds) is where the day-tripping tourists hang out searching for a souvenir and a selfie opportunity.
The back streets west of the Senso-ji are packed with tiny cafes and bars, shops and restaurants, quite unlike Nakamise-dori with its constant hordes crowding in from everywhere. I walked once along Orange Rip-off Street and didn't return.
The riverside is lined with promenades. Scores of local people sunbake there when weather permits. Tourist boats cruise the river many times per day, well worth half an afternoon for a view of Tokyo unlike any other.
Sumida was once famed for its eels. These days it's not clean enough for regular eel migrations upriver from Tokyo Bay but many local restaurants continue the tradition specialising in eel (unagi) dishes. Walking east from Asakusa station to the narrow riverside street either side of Kaminarimon-dori will find many restaurants serving unagi.
Skipping dinner focused solely on eel, I chose a couple of Asakusa's best restaurants. Actually I found them by aimlessly wandering — serendipity rules.
Countless ramen eateries can be found along Kaminarimon-dori and Kokusai-dori, Asakusa's two main cross streets. Here too are convenience stores like 7-11 with ATMs that accept foreign bankcards, handy when paying for a cheap ramen meal as almost all small Japanese cafes and restaurants operate on a cash-only basis.
Pick your ramen joint as you would anywhere in Japan; if it's packed with locals, it's good. Between 600 and 1,000 Yen will score a huge bowl of slippery scrumptious noodles, vegetables, with or without meat, swimming in a rich soup. I tripped into Hidakaya where a delicious bowl of chicken ramen with a half dozen succulent pork, shitake and chive gyozo and a half shochu/half fruit juice drink set me back less than 1,000 Yen. O-cha is of course included.
Asakusa is known for its special pork tonkatsu with udon. The restaurants with queues of waiting customers in Kaminarimon-dori nearer the temple are excellent indicators of justifiable popularity. Check prices before entering, some charging more than others but average for a meal is around 2,500 Yen.
I ate exceedingly well at two restaurants: Hanabo owned by master chef Mr Mori, a tiny place with fewer than 20 seats in a narrow laneway bordering the river near where Kaminarimon-dori crosses the main bridge over the Sumida.
Tsukimiso restaurant in Kokusai-dori is a long-standing favourite with local residents. More French influenced while remaining strongly Japanese (kaiseki is the go), the wine list is interesting, lots of Japanese wines. Service is excellent. In both places, seasonality is the benchmark.
Those same back streets west of Senso-ji are littered with typically tiny Tokyo bars, rarely with more than a dozen bar stools each, usually serving booze friendly food such as yakitori or takoyaki. Order a glass of sake or a biru; Kambai!
Japan has more vending machines and puzzling signage than anywhere else.
See what I mean?
From historic tradition to contemporary fetish via less than an hour from Asakusa on Tokyo's marvellous public transport, I got lost in a haze of cartoon characters at the Tokyo Disneyland complex.
As a curious insight into what makes the Japanese character tick like no others on Planet Earth, I can recommend it as a day trip, two days if you want to visit both Disneyland and DisneySea.
So…What's a visit to Tokyo without a side trip to Disneyland and DisneySea?
Minus Mickey, Donald and Duffy is what.
Duffy?
Duffy the bear is a favourite Disney character in Japan, just one of the quirkier aspects integral to a visit to one of the world's largest cities where difference, from a Westerner's eye, is everything.
Launched as a main attraction at DisneySea (the adjacent park to Disneyland) in 2005, Duffy had never been a prominent character in USA Disney parks.
In Tokyo, it's a different case.
Duffy the bear is everywhere.
By the way, for the uninitiated, Duffy travelled with Mickey from his Cape Cod, Massachusetts base, a duo set to have frolicking fun wherever they went.
DisneySea along with Disneyland straddling Tokyo Bay presents Duffy the bear in a perfect seaside location.
The Japanese have embraced Duffy like a long lost friend. Duffy merchandise has prominent position in all the shops across Disneyland/DisneySea. He's the inescapable bear.
So popular is this ursine character that purchases of Duffy themed merchandise are limited for each customer in case the shops run out. Given the amount of Disney paraphernalia the Japanese wear during a visit, I'm not surprised that Disney bosses have taken measures to ensure everyone gets a chance to buy their own Duffy souvenir.
Tokyo Disneyland has been in operation since 1983. DisneySea (focused on contemporary characters: Sindbad, the Little Mermaid, Mulan and the recently acquired Star Wars franchise for example) was opened in 2001.
A monorail links the two parks and Ikspiari Shopping Mall, providing easy and fast access.
Tickets to both parks can be purchased online at www.tokyodisneyresort.jp
(It's a good idea to purchase online before visiting. During school holidays and peak summer season, you won't get in otherwise.)
Different passes are available: one day, multi-day, family and individual.
Like all Disney parks across the world (the newest park in Shanghai is set to open in 2016), the whole shebang is immaculately run.
Gardens are lovingly tended to the nth degree, not an errant leaf out of place. Queues at popular rides (sometimes two hours long) are scrupulously monitored by ever smiling Disney employees, customers jollied along like happy seals to the next waterfall ride.
Food and beverage outlets (the majority are buffets) are easily accessible with comestibles available at various price points though food is where authentic Japanese influence is lacking. A weird amalgam of USA/Japanese cuisine constitutes the buffet arrays in both parks, borrowing from both but sadly excelling at neither.
But if a fantasy land experience is your oyster, this is the place to find a pearl or three.
I'm no great fan of the Disney illusion but constant messages of good triumphing over dastardly evil and the joys of eternal simplistic youth are compelling.
If you're in Tokyo for a few days and feel the need for pure escapism, the Disney parks provide a completely alternate reality.
Certainly the Japanese have embraced Disney characters (and their requisite wholesomeness) like ducks to water.
The daily Easter Parade sees hundreds of Japanese waiting patiently in prime positions along the route. Seated like Buddha on the cleanly swept footpaths, they wait quietly for a walk on down the Mickey, Donald, Goofy, Snow White and Duffy road. I've only seen comparable devotion in the holiest temples and churches.
The rides are terrific. I loved the Indiana Jones like volcano roller coaster, the Tower of Terror amongst several other thrill seekers' delights. I didn't make it to Space Mountain (next time I hope), but I did love the newest Star Wars 3D ride where I did indeed feel like Luke Skywalker travelling from one planet to another at light speed.
(Naked Tip: don't overdose on junk food before going on this one.)
I was less impressed by the shows; saccharine sweet and oh-so-twee but the kids seemed to love them.
Both parks are open until well after sunset. Stay late and enjoy the fireworks. The lighting is fantastic and the whole waterside extravaganza comes alive after dark.
Takeshita-dori near Harajuka Station, one stop past Shibuya, where young Japanese dress up like Lolita, Goths and other fantasy fetishes is weirdly like Disneyland and DisneySea but more grunge chic and edgy. How can Snow White be Lolita for instance?
Nevertheless I loved watching Japanese fans model their appearances to characters from the Disney fantasy world.
In this respect alone, Tokyo Disneyland and DisneySea are well worth visiting.
No visit to Disney wherever is complete without a shopping opportunity. Smack bang between the two Disney parks is the Ikspiari shopping mall. Spread over three floors, there's more shops and food outlets here than Donald Duck could line up in a row. Some of the restaurants are better than in the two parks themselves. The retail shops are pricy. See www.ikspiari.com
I never expected to feel such cross-cultural resonances in Mickey Mouse land but there you have it; always be ready for surprises in Japan.
Tom Neal Tacker travelled to Tokyo as a guest of Tokyo Disneyland.
Naked Routes:
If you can't find your way to Tokyo, something is wrong with your sense of direction.
Japan Airlines, JAL, is the national carrier. The few flights I've had with this above average carrier (compared to North American airlines), seated in the back of the bus, have been just tolerable. Service is efficient and friendly—without exception but economy seats in the Boeing 777-200 serving the Sydney-Tokyo route are cramped. Miserly service of alcohol doesn't improve the overall impression either. Requesting more than one tiny bottle of ordinary wine, I felt like I was borderline 'problem passenger'. The meals (apart from a small cup of miso soup) were the worst I've tasted of Japanese derivation, which is clearly not reflective of the high quality food available throughout Japan itself.
I don't understand why JAL continues to use old aircraft on its Sydney-Tokyo route. I was once seated in Premium Economy on a hop from Tokyo to Osaka; far better in a larger, newer aircraft but wasted on the hour's flight. Incidentally JAL's Premium Economy passengers are served exactly the same meals as Economy passengers—go figure!
Nine hours Sydney-Tokyo (worse still on the overnight Tokyo-Sydney return) in an old Boeing 777 is inexplicable if JAL is trying to pull more traffic from the Australian market.
See www.jal.com
ANA (All Nippon Airways) is Japan's alternate national carrier. It's viewed as a far better airline than JAL by industry insiders. The Skytrax 5-star rating isn't given out lightly and ANA apparently earns it.
See www.ana.co.jp
Naked Sleeps:
Nearby to the Disney complex is the Emion Hotel. Thematically linked to the parks via merchandising and family friendly facilities, it's an above average place to stay. Free shuttle buses carry guests to and from the parks (approximately 2 ks). A good onsen is open for a nominal fee to house guests. A restaurant on the top floor serves authentic Japanese cuisine, something the Disney parks do not. See www.hotel-emion.jp
In Asakusa, I stayed at the hotel Apa Asakusa Kuramae. Despite the tiniest room I've ever slept in (a capsule hotel would bear close comparison) and a rather ordinary breakfast buffet, I loved the rooftop onsen, the location and the quiet. See www.JAPANiCAN.com klick on APA Hotel Asakusa-Kuramae for best deals of the day.