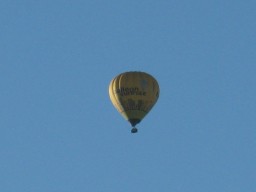 Airfares are at historic low prices. Hotels are begging for guests, rack rates are dropping faster than pants in Pattaya. Keen visitors are travelling to destinations previously off limits to all but the most intrepid, even foolhardy, travellers.
The commonly repeated dictum, 'Tourists don't remember where they've been. Travellers don't care where they're going', is being challenged in ways that I don't recollect encountering before.

This is a time of unparalleled opportunity for avid global adventurers.
I considered most participants in mass tourism to be simple cautious observers. Reluctant to venture beyond the familiar, timid innocents who favour a particularly soft brand of toilet paper, well-known fast food joints or fruity shampoos for comfort's sake, they avoid the untried unknown.
Now tourists I meet at various crossroads express honest curiosity about the places they visit. They wend their ways into some really off-the-beaten-track places, guide books in hand, facebook profiles updated constantly, photos sent from one mobile phone to the next. Captions read, 'Look at me elephant ride bhang fun' and accompanied by a tweet thumbed from the elephant's back somewhere in northern Thailand.
I believe that Ulan Bator and Budapest haven't been so closely connected since Genghis Khan tried linking them together in a Mongol empire nearly a thousand years ago. The landscape populated by herds of tourists venturing out in groups has changed.
Travellers prise open international boundaries that have been closed for decades. Consider this: now it's possible to go on a study tour, taking in cultural history and archaeological sites in Iran or North Korea or Iraq, the former 'axis of evil' countries. The preliminary vetting process by officially sponsored tourism operators via their government connections requisite to the trip may present minor delays. But it's the 'world traveller street cred' gained upon return that matters.
Political hotspots such as Burma, Zaire, Zimbabwe and Libya welcome daredevil independent travellers who balance their political consciences with piquant inquisitiveness. The long suffering citizens of these countries rely on travellers to remind them that they haven't been forgotten by the world at large. Even former global pariah, Cuba, has become a magnet for visitors keen to sample salsa music, cigar cafes and a few mojitos in bars made famous by Hemingway and American Mafioso.
Our planet, populated as it is with insatiably unsatisfied country-trotting adventure seekers is fast reaching a tipping point. This embrace of the world partially inspired by silly telly shows such as: 'Get Me Out of Here, I'm a Celebrity' and 'Survivor: Gabon' has rapidly created a sense of wide open door policy that I'm certain the citizens of Libreville are not yet completely prepared for.
For instance, I was recently in Vang Vieng, an idyllically situated town on the banks of the Nam Song River in central Laos. Graced by a backdrop of lushly caparisoned karst mountains and dense forest, it's a stunningly sited place in a country that adds new meaning to the term laid-back. 'See Laos between Naps' would be an apt tourist slogan. And yet, the town was inundated by flash-packing tourists 'doing Laos' whilst simultaneously experiencing an ancient rite of passage to adulthood, the big world tour before job reality sets in. That some of them will never reach intellectual adulthood bothered me little.
That they had reached a remote part of Laos to go 'tubing' down the muddy Nam Song is what surprised me. Downing large bottles of local hooch or beer while floating in inflated tractor tyre tubes down a flooded river, sunburnt topside, chilled to the bottom underneath, they whooped and hollered past rice paddies and villages, flinging empty bottles, soft drink cans and sandwich wrappers into the river, shouting loudly to fellow floaters. There was little interaction between the 'tubers' and the locals other than an exchange of money. Since 2010 dozens of 'tubers' have died in the Nam Song; no lifejackets and inebriation are a potent combination. But the Laotians take it all in their passive stride, some business people make lots of money off the 'tubing' trade, paying hush money to those who object.
Alarmingly, the increased tourist trade has caused rising rents, forcing unfortunate inhabitants out of town to more affordable digs. Integral to Laotian village life, Buddhist temples have consequently lost their neighbourhood support. Cheap, not cheerful, guesthouses catering to flash-packers on a budget spring up in their place via dodgy building permits. Under-funded local infrastructure inefficiently copes with extra rubbish collection created by tourist detritus; the discarded plastic bag trail is a messy one. An insidious sex trade thrives serving cashed-up bogans off tubes thwarting local mores. TV bars lining the trashy main street play endless repeat episodes of 'Friends' at full volume blasting Manhattan shenanigans to conservative Lao villagers.
One entrepreneurial local has opened a restaurant that advertises the best English Roast Dinner, a cold climate meal served in a country where the average summer temperature is above 32C and wet season humidity is over 80%. All told, it's not a pretty sight, a real pity in such splendid surrounds. Another town dies, avidly loved to death by naïvely irresponsible tourists.
Here's a universal truth: Everyone has the right to travel.
Here's another one: Everyone should also recognise that with this right comes responsibility.
Tourism also carries a burden, which is this: Travel is a privilege, one that is currently available to all of us in a manner hitherto beyond an ancient vagabond's ken or religious pilgrim's pathway. Travelling the world has become part and parcel to contemporary entertainment. With cheap flights, cheap accommodation and open borders, our little planet has become one big oyster. It appears that everyone wants a bite of it.
Though global society is shrinking with the effects of travel, cultures continue to clash. The tourists who gadabout without much attention paid to religious, ethnic or political difference leave uneven tracks of ignorant mess to follow. I know. I've cleaned up after them, metaphorically speaking. It's time they learned to clean up after themselves.
The next universal truth: Learn to be a traveller, not a tourist. The world on a whole, Laos particularly, stands to benefit. One Vang Vieng is enough.
Naked Facts:
Alvin Toffler's Future Shock (1970) and The Third Wave (1980) are required reading for mind broadening on a global scale. Henry Miller's The Colossus of Maroussi (1941) is recommended reading for Naked Hungry Travellers interested in viewing the world from older yet still very fresh eyes.