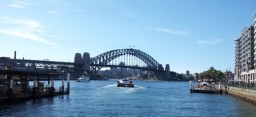 What does tourist-central Sydney look like on a perfect spring day? Huge crowds line Circular Quay's rounded shore like it's the planet's best natural amphitheatre, no ticket required.
Angling for the best view of the Opera House, travellers happy snap other travellers taking happy snaps, the Harbour Bridge as a backdrop always the preferred selfie position. Winter blues are swept away by smog-less sunny skies.
The Opera Bar on the concourse level is packed. Other waterside cafes do a roaring trade. Buskers cash in on crowds ready to contribute to amateur shows, acrobats prancing one impromptu stage, didgeridoo players puffing on another. The new wing of the Museum of Contemporary Art is full of admirers or bored hangers-on. Packed ferries wash in and out from their prime-positioned wharves, full of commuters and tourists. Seagulls look fat on chips and meat pie crusts.
Random pedestrians take time to read the Writer's Walk bronze plaques commemorating national and international writers embedded into Circular Quay's pavements. Comparatively speaking, not many onlookers read the plaques but a few curious travellers with obvious literary interests enjoy the potted histories nonetheless. These metal mementos are my favourite Quay objects; the similarly embedded bronze dotted lines marking the extent of Circular Quay's historic shoreline sharing an equal fascination.
Sydney's dress circle is looking great these days. (It will look better when the disastrous elevated section of the Cahill Expressway is removed and the train line is finally shoved underground but that's a multi-billion dollar project waiting on a forward thinking government willing to commit to a budgetary decision beyond the next election date.)
Remember Sydney 2000? The Olympics centre of planet universe? Sydney was the epicentre of sport and media attention combined. Juan Antonio Samaranch (former President of the International Olympic Committee, fondly nicknamed by smart-alecky Sydneysiders as 'One Tomato Sandwich') famously declared that 'Syd-erney' hosted the best Olympics ever. The city was completely and flagrantly abuzz with entertainment and sports-related activity, most of it free. Lanyard wearing volunteers worked the city streets like seasoned tour guides, greeting complete strangers with entreaties of charitable assistance, happy to help whomever whenever. There was an overriding sense that Sydney's attractions-loaded gravitational pull had finally become globally irresistible.
At the coalface, Sydneysiders exclaimed joy at the surfeit of free parking spaces (me amongst them) in the normally car crowded CBD. Public transport worked better than ever, the cleaner trains actually ran on time. Better still, prime harbour side houses could be rented to visitors at unbelievable prices, even enough to fund a luxury trip to Paris for a month while their owners were keen to avoid the Olympian crowds. Already cashed-up Sydneysiders reaped lucrative rewards.
Those were heady times indeed.
Post Olympics, Sydney tourism slumped. Too many 5-star hotels built for 2000's rush competed for too few visitors. Tourism Sydney and NSW Tourism PR campaigns were roundly criticised for relying on past glories rather than encouraging newly refreshed repeat business. A lack of imagination on the part of tourism bureaucrats was all too apparent.
Only recently has Sydney begun to emerge from its post-Olympics tourism doldrums.
Fast forward to 2015, an O. Winfrey chat show circus came and went. An E. De Generes chat show circus followed. Different audiences (mostly USA based) expressed renewed interest in visiting old 'Syder-ney'. More cruise ships than ever are stopping in for a night or two. Most good hotels are registering over 80% capacity while more visitors from China, India and the Middle East have taken up the slack left by Europeans and Americans frightened off by high prices, restricted by their own moribund economies.
Sydney is one of the world's favourite cities. That fact hasn't changed. What has changed is an increase in international visitors. Overall numbers are up again.
Apart from taking in the usual suspects: Bridge, Opera House, Circular Quay being the dress circle stars of the show, why not have a look at a few other sides of Sydney unknown to most visitors?
For instance, a short walk south from the Opera House along Macquarie St to Hyde Park takes in some major historical sights: the New South Wales Parliament building, the Australian Mint, the Hyde Park Barracks and the northern entrance to Hyde Park itself with its marvellous Archibald Fountain serving as the bubbly end point to the fig-tree lined walk south to the ANZAC memorial. Statues of Queen Victoria (glowering as usual) and her Prince Consort Albert (attractive as usual) stand at either end of the small Queen's Square facing the front of renowned convict architect Francis Greenway's St. James' Church.
It's a quintessential downtown Sydney historical promenade. What most visitors overlook as they stroll along Macquarie St is the statue of Matthew Flinders in front of the State Library of NSW (The Mitchell Library). The first two volumes of Flinders' journal concerning his circumnavigation of Australia in 1802 are housed within. A small statue of Flinders' faithful and beloved cat, Trim, rests on the outside sill of a stained glass window of the library behind the much larger statue of the great navigator himself.
The plaque under Trim's statue reads: TO THE MEMORY OF TRIM:
The best and most illustrious of his race. The most affectionate of friends, faithful of servants, and best of creatures. He made the tour of the globe, and a voyage to Australia, which he circumnavigated, and was ever the delight and pleasure of his fellow voyagers.
Written by Matthew Flinders in memory of his cat
Memorial donated by the North Shore Historical Society
I always pause (paws?) to reflect at this particular point in the brief walk along Sydney's memory lane. Trim was well loved among Flinders' crew for his good nature and tenacity.
Here's a short list of three off-the-beaten-track excursions, all easily managed in a day and readily accessible on public transport:
1)      1) Take a bus across the Harbour Bridge along the lower North Shore to The Spit and hire a kayak. Paddle up Middle Harbour past the Roseville Bridge into Garigal National Park to witness a slice of Australia's largest city from sea level. If you're lucky, at the northernmost reaches of Middle Harbour the water will run clear as gin and your only company will be kookaburras flitting in and out of surrounding gum forest while mullets leap from the water around the kayak. The city's hubbub is completely forgotten. As you paddle over a white sandy bottom, remember what Sydney once was before urbanisation obliterated the landscape and Kuringai people owned the land. Be sure to return the hired kayak before the rental shop closes at 6pm. Also pay attention to the tides. A hard paddle back to The Spit from Garigal National Park takes at least three hours if the tide is running against you.
2)      2) Take the train to Cabramatta, former heroin distribution capital of NSW and now a reformed example of positive multiculturalism in action. The Southeast Asian community here dominates the atmosphere and the lively vibe is infectious. In summer, street vendors sell freshly pressed sugar cane juice served fresh in plastic cups with a squeeze of lime. AUD$2 is the going price. At any time of year, duck or pork sold from various roasting specialists perfume Cabramatta's laneways while vegetarian fresh rice paper spring rolls pop up in dozens of stalls at about AUD$3 per roll. Vietnamese Pho soup is served in huge bowls for AUD$10, always a bargain. If a better example of urban renewal exists in Australia, please alert the media.
1)     3)  Take the ferry to Kirribilli, five minutes across the Harbour from Circular Quay. Walk to Kirribilli House and Admiralty House along the foreshore besides some fairly non-descript apartment blocks to two of the Harbour's ultimate chic addresses, both grand residences right on Sydney's Harbour. The former (Kirribilli House) is the Prime Minister's residence in Sydney and the latter (Admiralty House) is the Queen of Australia's residence when she visits Sydney. Entry without prior invitation to either house or their gardens (that's you visitor!) is prohibited. Loitering at the wrought iron gate entrance to Kirribilli House is also discouraged but it's a fun exercise tempting existential fate. Ask the security goons whether or not the PM is at home and be prepared to accept 'No' as the answer. Retrace your steps to the other (western) side of the Bridge to the fantastical Art Deco amusement park Luna Park, skirting its northern edge while making your way across Blues Point Road to Wendy Whiteley's private garden at McMahon's Point overlooking Lavender Bay near Clark Park. Wendy Whiteley (widow of famous deceased artist Brett Whiteley) created this delightfully simple garden essentially out of a public dumping ground. Her daughter Arkie (who died of cancer at a young age) and husband Brett's ashes are buried in the park. Artists are naturally encouraged to linger, perhaps to draw, perhaps to paint or write. Follow the shoreline to Balls Head past the Waverton bowls club at the shore's edge along Berrys Bay to the last remaining bit of original bushland on this part of Sydney's Inner Harbour. Follow the track around the headland to search for ancient indigenous rock carvings (a man inside a whale is one of the most interesting) and various middens. Stop to marvel at the view across the water to Darling Harbour. Walk back up Balls Head Road to Bay Road which leads to the Waverton railway station. Board the train back into the city from here, which is less than ten minutes away by train across the Harbour Bridge via North Sydney.
These three easy excursions provide a slice of Sydney life unknown to most visitors while the day trip to Cabramatta in Sydney's western outskirts offers a glimpse into where the majority of Sydney's population actually lives.
A house with a harbour view costs on average more than AUD$3,000,000 these days. Only a minority of residents can afford to live on the water. The two waterside day trips pack a lot of pizzazz, no wonder Sydneysiders dream of living in a house on the Harbour.
But beyond the Harbour's glittering shores, life in the suburbs has become harder, traffic is worse than ever according to complaints uttered by commuters making the daily trek into and out of town on over-crowded, late-running trains, ferries and buses. Roads are jammed from early morning until well after sunset. The lack of public transport funding is contentious as always, a side of Sydney most international and domestic visitors almost never see.
A journalist friend with whom I once worked (at a local newspaper) told me she thought Sydney was a 'wicked step-sister of a city' a nice way of saying it was a bitch of a place in which to live if money is short. That fact hasn't changed. Sydney is very expensive, even when compared to the average daily living expenses incurred in well known money-gobbling cities such as New York, London, Tokyo or Paris.
For travellers trying to get by on less than AUD$200 per day, staying in the worst flea-pit backpacker hostels, eating two simple take-away meals per day and walking everywhere, is possible but not very nice.
A recent acquaintance (originally from New Zealand) calls Sydney 'Beyond Thunderdome'. Certainly that's a description which conveys 'Mad Max' memories, applicable to Sydney's public arena appeal.
But as former PM Paul Keating once quipped, 'If you're not living in Sydney, you're just camping out.'
Personally speaking, I like camping out. Having been a resident of Sydney for more than twenty years, I say with hand on heart that it's not the be-all-to-end-all Australian city but it's a very nice place to visit.
Tom Neal Tacker visited Sydney as a guest of Swissotel Sydney.
Naked Facts:
Naked Sleeps:
One of Sydney's better 5-star hotels is the Swissotel. A recent upgrade of its rooms (2014) and public facilities has provided even more good reasons to enjoy its restaurant and bar. An in-house spa is one of the city's top pampering palaces.
The upper two floors offer access to the executive lounge, free breakfast and evening drinks plus snacks for a moderate surcharge. The rooms from these two levels boast great views either over the lower Harbour to the Heads or west all the way to the Blue Mountains and the upper Harbour. A large outdoor heated pool and well equipped gymnasium add more value.
Service is slick and efficient. It's a very well run establishment, befitting its Swiss heritage, everything works like… well… clockwork. The location in Market Street near the corner of George Street is unbeatable. All the city's major CBD attractions are within an easy walk.
See www.swissotel.com for more information.
Another hotel I like is the Fraser Suites apartment hotel. It's a sleek modern tower kind of hidden away in a quiet block of Kent Street near Town Hall. I've stayed here a few times and appreciated the in-room kitchens, very large rooms (separate bedroom and lounge room with kitchenette) which provide plenty of space to claim as a temporary home. Though Fraser Suites doesn't offer the same range of amenities as a truly full service hotel, it's still a treat staying there as sometimes I like the independence that self-catering offers.
See www.sydneyfrasershospitality.com
Another old favourite is The Hughenden in Queen St near the corner of Oxford St in tony Woollahra. A home away from home for writers and artists looking for the bolthole that offers the seclusion and home comforts they miss. Recent upgrades to the rooms, bar and restaurant have lifted this once quirky but fun boutique hotel to still quirky but now very reliably upmarket with service to match. Unusual for inner Sydney hotels, it's also pet friendly with several rooms set aside for travelling pets and their minders. With the expanse of Centennial Park directly across the street, what could serve better to provide doggy bliss?
While the in-house restaurant used to be rather hit and miss, since 2014 it's moved up several notches on the good cooking scale. Now I eat dinner there without hesitation.
Breakfasts are cooked to order from an a la carte menu that ticks all the requisite boxes to keep travellers happy until the next meal.
The owners have acquired the old Centennial Park manager's house for private accommodation. A lovingly restored Federation era grand house comprising four spacious bedrooms with ensuite bathrooms, tastefully decorated entertaining areas, a formal dining room and superbly equipped kitchen is set within its own private garden. When the park gates shut at sunset, residents have the whole park to themselves. Security keys allow access 24/7 for paying guests.  The house is available as a complete package; rooms cannot be rented separately. As a private function space, it's unparalleled in this swish neighbourhood. The Hughenden will provide a private chef and well stocked larder as well.
See www.thehughenden.com.au for more information and reservations.
Naked Eats:
During another recent visit I dined very well at Dragoncello, owned and operated by Roy Mcveigh. With a very impressive chef's pedigree, he's cooking what I like to eat: honest, toothsome and healthy. Following the trends set by most leading-edge chefs these days, Mcveigh's menu emphasises locally grown produce much as possible, accompanied by a small but expanding kitchen garden and a cleverly assembled wine list. Dragoncello (tarragon in Italian) is at the quiet end of Cleveland St in Surry Hills near South Dowling St. See www.dragoncello.com.au for bookings.
Over three nights during another recent visit to 'Beyond Thunderdome' I dined at Tetsuya's, Est and Sepia. Tetsuya's is rightly famous. Since the early 90s 'Tet's, (as Tetsuya Wakuda is affectionately known to all persons who've crossed his gregariously engaging path) restaurant has evolved into a globally recognised temple of gastronomy. However, in my opinion Tetsuya Wakuda's cooking these days isn't nearly as cutting edge as it once was. That's not a bad thing necessarily (maintaining an excellent standard for so many years is laudable and should be respectfully acknowledged) but during a degustation of more than ten courses, three of them were primarily comprised of very simple sashimi. I like superb quality produce as much as any glutton but those three courses out of ten exhibited a lack of imagination that impaired what should have been a feast of inspiration.
The meal I ate at Est was better than Tetsuya's. Chef/owner Peter Doyle is one of Sydney's hero chefs, a long-standing favourite of dedicated diners keen on the pursuit of gastronomic prowess who's been in the hospitality game for decades. He commands great respect from his peers while customers continue to fall in love with his superlative cooking. A dinner at Est is simply sublime. By the way, both Tetsuya's and Est provide seamless dining experiences. Wine lists are literally works of encyclopaedic art and service is nothing short of flawless.
That being said, Sepia was the restaurant that knocked off my socks and blew my mind simultaneously.  
Hungry sophisticated travellers will be excited by the whole package at Sepia, one of the city's most stimulating restaurants. Chef/owner Martin Benn is one of those rare geniuses, whose cooking talents display a level of sophistication that should be encouraged and embraced wholeheartedly by all dedicated gastronomes.
Devouring thirteen courses during a degustation of immense expertise, I admit to being in an element I'd like to call real food heaven for all holy gourmet cynical atheists like me.
While our table was being prepared, we sat in comfy leather lounges at the bar while sipping aperitifs. A Lillet Rose on ice for me, a chilled Floc de Gascogne for my partner in dinner crime.
Gracefully escorted into the slightly dark (sepia tones naturally), rather hushed but not unfriendly dining room, we checked out other diners. Fashion victims out for a big night on the town? Tick. Food bloggers snapping pics of plates while texting friends in HK? Tick. Small groups of family friends dining out at the big end of town? Tick. Date night for couples in the throes of infatuation? Tick.
Another Friday night out in Sydney for people interested in food that may provide conversation in and of itself? Most definitely yes.
To start: freshly shucked Pambula Sydney Rock oysters with lime and sake and a glass of Laurent-Perrier 'Ultra Brut' Brut Nature. I'm a total sucker for oysters and Champagne so I fell under the Sepia spell right from the get-go.
But wait there's more…
Sashimi of Big Eye tuna, steamed Japanese omelette, white soy jelly, dashi onion cream, puffed buckwheat, green apple and nori.
A course that could confound anyone given the surfeit of ingredients but actually it was simplicity personified. The omelette almost melted along side the exquisitely fresh fish while all the other factors just melded into the mix like a magic pudding I never wanted to see end. A matching glass of Umenoyado 'Gin' Jinmao-Ginjo sake from Nara was a brilliantly chosen accompaniment.
Following was another sashimi course (Tetsuya's comparisons are inevitable but Sepia's two sashimi courses were infinitely better executed) of Bonito, flavours of roasted chicken, umeboshi, upland cress, green tea and nori. This course really rocked.
Crisped chicken skin and raw bonito with sour umeboshi and tannic green tea combined to create an umami driven taste sensation. Paired with an Austrian 2011 Furmint from Wenzel in the Burgenland, by then I had fallen into a state of pure culinary kismet.
A single barely cooked Scampi tail was accompanied with sudachi, parsley root, white miso, nori fried potato and white Linaria flowers. Great to look at, better to eat. Meltingly buttery, slightly sweet scampi was infused by the other salty, bitter flavours, the pretty little flowers adding both piquancy and texture all at once. A 2011 Clos Sainte Magdeleine Marsanne-Clairette-Ugni Blanc-Bourboulenc from Cassis in southern France was another gob-smacking wine match.
A Seared Mandagery Venison, boudin noir, chocolate crumb, macadamia nut yoghurt, blackcurrant and sichimi pepper reads like a bizarre dessert horror story but this incredible treatment of excellent quality venison and surprisingly complementary accompaniments was another perfect dish highlighting outstanding kitchen accomplishment, fully realising an ability to draw a clearly defined line between savoury and sweet without erring on one side or the other. The 2006 Dominio de Alauta Tempranillo from the Ribero del Duero was another example of truly inspired wine/food matching.
The Aged Garrotxa goat cheese, sake and goat milk dumplings, celeriac cream, nashi pear and celery matched with a cider from Suffolk (Aspall 'Draught') was yet another revelation. I didn't think I could eat more protein after the venison but I was happy I did. Those dumplings were a tour-de-force.
The chef threw in a special course of his (becoming famous) Sugar ball with finger lime sorbet encased within. We were offered a special Japanese Yuzu liqueur to accompany that incredibly innovative course. Evidently, Benn worked for over three months to bring the perfectly spherical planet of sweet/sour sorbet freshness to fruition.
A Soft-poached meringue, truffle ice cream, truffle and rosemary honey hazelnut praline with malt second dessert followed. The 2011 Royal Tokaji Wine Company 'Late Harvest' Furmint-Harslevelu-Sarga Muscotaly matched that particular indulgence, fascinating to sample two wines (one dry the other sweet) made from the primarily Hungarian grape Furmint in the one meal.
 We had three additional courses to the set ten course menu. The first were the Pambula oysters, the dumplings were second and the third was compliments of the chef, the sugar ball encasing finger lime sorbet.
Do yourselves a flavour favour: dine at Sepia to witness greatness in action.
Naked Tips:
For very general information see www.sydney.com for accommodation tips, public transport information and special events specifically pertaining to Sydney.
For comprehensive NSW state tourism information visit: www.visitnsw.com