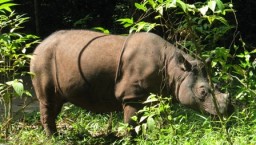 Orang-utans, Tigers, Rhinos and Elephants are some of Indonesia's star animal attractions. The going may be rough to see them, but it's always worth it.
Orangutans aren't the only endangered species struggling to survive in Indonesia's diverse eco-systems. In southern Sumatra I visited Way Kambas National Park, home to Sumatran tigers, Sumatran rhinos, Asian elephants, Malaysian tapirs, false gharials, clouded leopards, fishing cats and Sun bears; all rare and all extraordinarily difficult to find. Way Kambas' 130,000 hectares comprise riverine jungle, low-lying marshlands and towering rainforest. I also see siamangs, the world's largest gibbons. Their hooting calls wake me at dawn. Cute black faces peek around dense foliage high up in the trees. The gibbons are the loudest of all forest animals, their cries can be heard from more than a kilometre away. Overhead, fifty metres up, a deafening hullabaloo shatters any semblance of morning calm. Heavy metal music has a rival.
The rarest of all animals here is the Sumatran rhino. Way Kambas is home to the world's only successful breeding programme managed in this amazing animal's native habitat.
The Sumatran, or Hairy rhino, is the smallest of the five rhino species. Up close, it's an impressively large animal; there's really no such thing as a small adult rhino. But the Sumatran rhino is oddly dainty looking. Elusive and quiet, it moves through the forest like a ghost. I see one pregnant female, and two mature males. If .Sumatran rhinos have a chance at seeing out this century, Way Kambas is one of the few places where the odds aren't completely against them.
For a day, I was invited to join a mahout and his elephant for an outing.
During a stroll into a plain near the elephant training camp located at the centre of Way Kambas, we spy an enormous lone wild bull elephant grazing in the far distance. A king cobra slides into a palmetto grove, its body as thick as my arm. The mahout points to it and says, 'Raja cobra.' Indeed, it is the king of snakes and I am thankful to be atop an elephant.
A Sambar deer stands motionless in tall grass. Muntjac deer scamper from one clump of cover to another, constantly wary when crossing open ground.
An estimated 50 Sumatran tigers live in Way Kambas, one of their last hold-outs. Tallying tigers is tricky business I'm told by the park's chief tiger expert. He walks a ten square kilometre perimeter each fortnight, checking hidden cameras and recording tiger movements. Walking the grid takes five or six days, camping in the jungle under canvas tarpaulins, sometimes sleeping in trees when the tigers prowl too near.
Though he has lived in Way Kambas for three years, he has seen tigers only twice. 'I hear them all the time but I almost never see them,' he tells me. 'One of my assistants saw a tiger on this road here,' pointing down the single lane track that leads into the park from the ranger station. 'It was walking in the middle just there only a few hundred metres away.' I ask if that tiger was seen again. 'I don't think so but that boy was so lucky. You could be here for a year and never see a tiger.'
My last day in Way Kambas is spent on a long walk through soggy jungle. We're heading to a bird blind many kilometres away, up a river in a small boat, then on foot along endless muddy tracks.
Though I liberally apply leech and mosquito repellent, the leeches ignore it. My sandals are alive with them not long after wading across the third creek. The repellent washes away and I can't reapply it quickly enough. When I stand still, I see dozens of tiny waving heads marching towards my bare feet, unerringly latching to the soft spots between my toes. I decide to live and let live.
We arrive at a vast shallow lake with a lone tree at least 50 metres away. In its thin branches a wooden platform is balanced precariously over water. 'That's the bird blind?' I ask. 'The tree was not in water last week,' my guide informs me. 'We have had much rain.'
Another guide points to a rippling movement in the water. He opens his arms wide and slaps them shut. I recognise the universal sign for crocodiles as well as the next man and say, 'You go first. I'll be the main course.' Translated my comment evinces a nervous giggle. 'Don't worry,' I add, 'I'm only kidding, you're too skinny anyway, the crocodile is waiting for me.' That works a treat; we're not moving any closer. Standing knee-deep in water watching a herd of Sambar deer running into the jungle, a good idea I think. There are no birds to be seen anywhere, the white-winged ducks we've come all this way to see are absent. I'm told two species of leeches live in Way Kambas. One loves water. The other loves wet land. Now I'm being attacked by both species while a crocodile is waiting for its turn.
We decide that bird watching is not at its best today and return to the river via the same track. The leeches appear to have set up feeding stations, assured that I'd be back this way soon. In the boat I remove my sandals and see movement on my feet, like opening a can of hungry worms. I take great joy in plucking the little suckers and flinging them back into the river. My guides cluck like mother hens when they look at my bleeding feet.
Hours later, thoroughly de-leeched, we're in the 4WD returning to Satwa Elephant Eco-Lodge, my home at the edge of Way Kambas. Driving slowly along the park's single narrow road, a small elephant herd exits stage left from the forest not twenty metres in front of us. We stop. A female lifts her forefeet off the ground and reaches for a particular tree branch. She ignores us completely. Two adolescent elephants play with a broken branch, kicking it between them and then, as quickly and unexpectedly as they appeared, the elephants disappear into the impenetrable green wall.
My feet have stopped bleeding; I smile at my guides and point at my feet. 'No more blood, stopped. See.' But their attention is turned to the jungle, looking for the next surprise. I follow their lead, knowing that whatever surprise wild Indonesia has in store for me, the chances of seeing it are dwindling.
Tom Neal Tacker travelled courtesy of Garuda Indonesia Airlines and Eco Lodges Indonesia.
Naked Facts:
Garuda Indonesia flies from Amsterdam, most Asian and Middle Eastern capital cities, Melbourne and Sydney to Jakarta for easy connections to most Indonesian centres. Garuda Indonesia flies daily from Jakarta to Bukit Timur in southern Sumatra. Eco-Lodges Indonesia arranges land transport to Way Kambas (2 hours drive). See www.garuda-indonesia.com for information and bookings.
Non-profit Eco-Lodges Indonesia, the only Green Globe accredited accommodation group in Indonesia is based at Udayana Lodge, Jimbaran Bay, Bali. Eco-Lodges Indonesia operates according to Australian management practice with locally employed supervisory staff. Profits are spent preserving local habitats and endangered species rescue operations. Cost inclusive of park fees, transport into and out of the park, guide services and most meals is approximately USD$250 per day. Transport to Way Kambas from Bukit Timur's airport is approximately USD$100 for 1 to 4 passengers. See www.ecolodgesindonesia.com for other tour packages and rates.