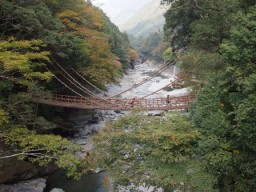 Shikoku?
Haven't heard of it?
If you've been wondering how to discover a relatively untouched Japan, this could be your best option.

Fourth in size among Japan's main islands (Honshu, Kyushu and Hokkaido are the other three) and least known to most international travellers, it's a bit off the beaten track but easily accessible from western Honshu. Osaka's two airports (Kansai and Itami) are a couple hours drive via a series of bridges across the eastern end of the (Seto) Inland Sea and Awaji Island. Japan's impressive railway network also provides quick entry to Shikoku from Hiroshima, Osaka and Kyoto. (See www.jbtravel.com.au/japan-rail-pass.com for advance purchase of a week's rail pass including the 'All Shikoku Rail Pass'.)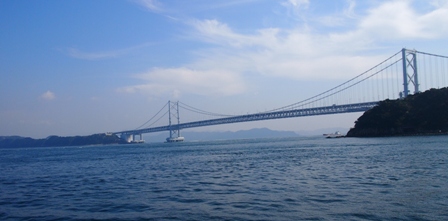 Naruto Strait bridge
Shikoku's northern side which faces the (Seto) Inland Sea is the most populated while offering easiest access to its top sights.
Driving from Osaka via Kobe, you cross Awaji Island over the Naruto Strait. Look down (there's a viewing platform complete with transparent reinforced glass) and see whirlpools. Seen from below during a short sightseeing cruise, the Naruto suspension bridge soaring overhead adds extra dramatic effect. Listed for inclusion to UNESCO World Heritage status, the whirlpools are an impressive natural feature caused by massive tidal change from the Pacific Ocean to the (Seto) Inland Sea through the narrow 1.2 kilometre wide strait.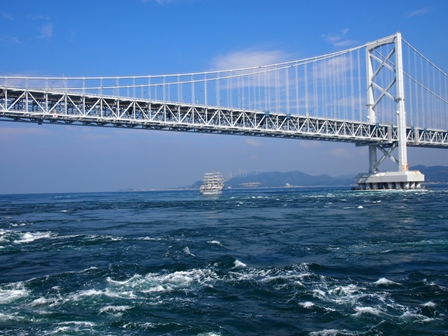 Naruto whirlpools
No accompanying stories about mythical dragons swallowing fishing boats or sea monsters inhabiting dangerous waters (I asked the boat captain about ancient lore) but the whirlpools, some stretching twenty metres across, are impressive nonetheless.
Best viewed from the water, Naruto Kanko Kisen sightseeing tours make regular daily trips to the swirling vortexes from nearby Naruto marina. Check tide tables beforehand to gauge prime whirlpool action. When the tide is running high (Spring and Autumn full moons are best), the twisting currents could indeed hide a Godzilla or two.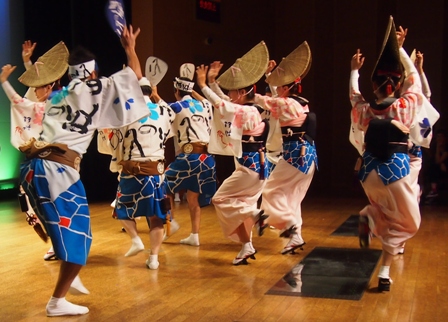 Awa-Dori dancers in full flight
Nearby Tokushima is a small city famous for its annual Awa-Odori Dance Festival. A ritualised dance in remembrance of the dead is held in mid-August during the national Buddhist/Shinto Bon Festival though local dance troupes meet regularly year round to practice technique in hopes to gain a prize and national fame during the big shindig.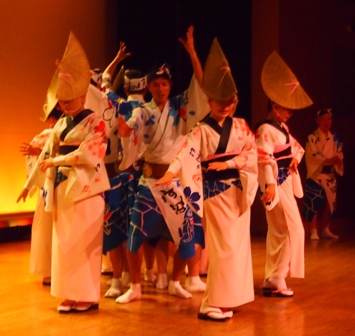 Awa-Dori dancers
Dancers chant, 'The dancers are fools, the watchers are fools, both are so alike, so why not dance', while doing the Awa-Dori shuffle.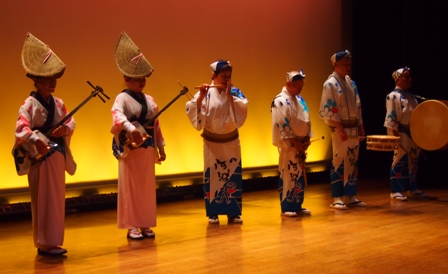 Awa-Dori band at Kaikan museum theatre
Hands are raised up like you're attempting a swan dive into a deep pool and your feet, toes first, step in time with the music. Awa-Dori is deceptively easy looking to perform. In reality it's anything but. The accompanying lutes, flutes and taiko drums establish a punishing rhythm.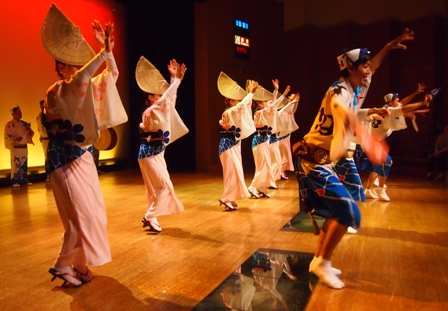 Awa-Dori dancers
The Awa Dance Festival dominates the city's tourist scene. Attracting over a million visitors, accommodation is booked out well in advance in Tokushima and nearby towns. This is a huge event in Japan but not well known to international travellers.
Street bars and cafes are open until late at night. More formal scheduled Awa-Dori dance performances can be seen throughout the day in various theatres and impromptu spaces set up just for the festival. Each evening however from 6pm until about 10:30pm the streets are packed with thousands of participants doing the Awa-Dori in a massive parade. If you want to get your jiggle on, this is the place.
Viewing stands are set up for non-terpsichorean observers though everyone is encouraged to join the festivities, like a Japanese version of Brazil's Mardi Gras in Rio de Janeiro.
Outside festival season, Awa-Odori can be seen during daily shows in Tokushima at the Awadori-Kaikan Museum located in the town centre. It's worth visiting for an intriguing insight into Japan's rich cultural history.
Takamatsu is another small city not far from Tokushima on the (Seto) Inland Sea.
Shikoku's udon noodles are unique in Japan; indeed every region sports at least one special dish or preparation and Takamatsu udon are particularly well favoured.
Udon noodle making classes are available at Nakano Udon School. Taking approximately two hours to complete, the package includes lunch and is fun for keen cooks and innocent bystanders alike. Book well ahead to secure a place; the create your own udon sessions are justly popular.
My teacher, the engaging and fun Tanaka-san was a pint-sized dynamo who, during vigorous noodle kneading had her students laughing heartily in tune with Japanese pop music while she danced with a tambourine in hand. Who knew a cooking class could become a karaoke session?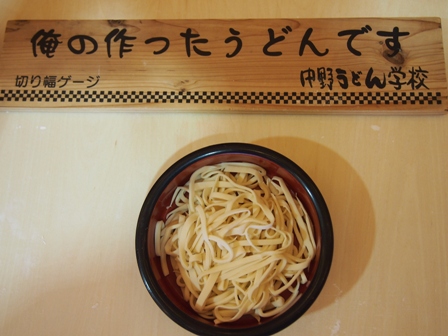 Udon ready for cooking
Udon noodles require a fair bit of massaging. The plastic wrapped noodle dough is worked by jumping on it in time with the music. Hand kneading isn't enough. Though the recipe is simple: flour, water and salt, perfection of the udon is nothing but simple. Once your noodle dough is ready, you fold into three pleats, cut into thin strands, dry by hanging over a wooden cylinder for about ten minutes and then cook in simmering dashi stock.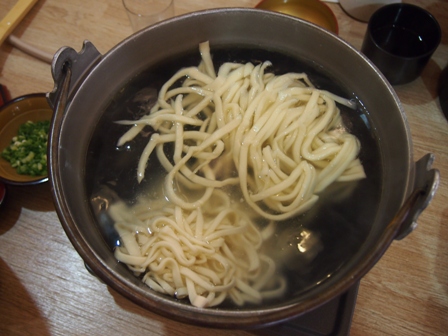 Udon cooking in dashi
Lunch is served in an adjoining dining room, your freshly prepared udon being the star course.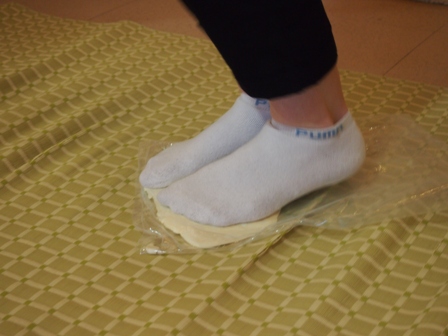 Foot kneading udon dough
(A curious side-note: karaoke dancing was once banned after midnight in many Japanese cities. Imaginative devotees brought udon noodle dough in plastic bags to clubs for jumping on to get round the ban. Apparently, you can bounce on dough and recover later from a strenuous routine by eating your noodles.)
Also in Takamatsu is the absolutely lovely Ritsurin garden, dedicated in 1953 as a National Place of Special Scenic Beauty.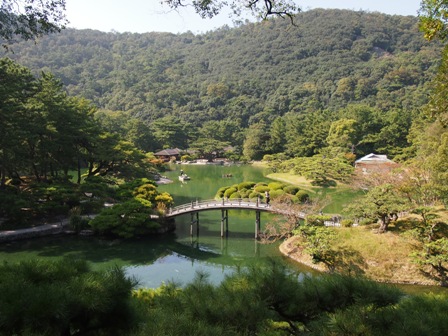 Ritsurin lake and gardens
One of the country's most famous gardens for its sublime 'daimyo strolling' horticultural design and ancient stands of Hakomatsu (box pine) and a special Neagari Goyo-matsu (a five-needle pine bonsai gifted in 1833 from the 11th Tokugawa Shogun), its 16 hectares of dedicated garden area is a sublime urban retreat, a Zen master plan of utter peacefulness.
Within the garden is the Kikugetsu-tei teahouse which dates from over three centuries ago and continues to offer authentic tea ceremonies, green and pungent matcha tea being the preferred tipple.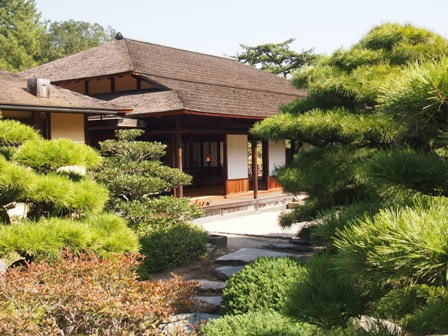 Ritsurin tea house
Volunteer guides are available for visits to Ritsurin and come highly recommended. My two 70-something guides added a personal touch; they'd both worked at Ritsurin for many years. Their emotional attachment to the place was clearly evident. Ask at the ticket office upon entry if any English speaking guides are available.
Near Takamatsu is an easily accessible reminder of Shikoku's rural past. The Shikoku Folk House Museum located in hills outside Yashima is a recreated 18th century village set in forested slopes complete with a waterfall and koi-filled lily ponds.
It's crowded with restored buildings collected from various villages around Shikoku, from various shops to a water powered rice mill, private residences and a full sized kabuki theatre which features frequent performances.
Shikoku's mountainous interior boasts Japan's longest white water rafting river and beautiful evergreen forest scenery.
The Yoshino River in the Mt Tsurugi National Park in the Kochi Prefecture is best known for its geologically interesting Oboke Gorge, a narrow defile running through glistening cliffs lined with white crystalline schist.
Frequent small boat cruises ferry visitors up and down the gorge when weather permits.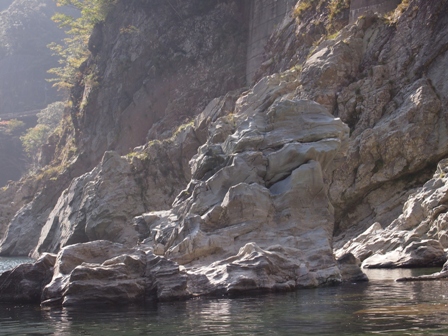 Lion Rock, Oboke Gorge
The Dosan rail line between Tadotsu in Kagawa Prefecture to Kubokawa in Kochi Prefecture clings to cliffs as it travels up and down the picturesque Yoshino River valley including the Oboke Gorge. This is undoubtedly one of Japan's most scenic rail journeys.
Also in the mountains above Takamatsu is the beautifully situated Bukeyashiki-Kita Clan old samurai house. Relocated over twenty years ago to its present position overlooking surrounding peaks, it is an authentic 18th century samurai house that now serves as a memento to the distant past.
Traditional lunches prepared with all local ingredients served in the rustic dining room may be arranged with prior notice.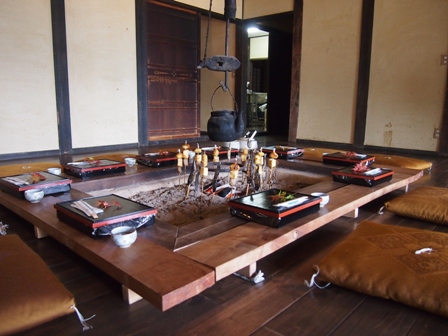 Lunch ready at Old Samurai house
One of Shikoku's most photographed sights is the picturesque Iya-no-Kazura Bashi rope-bridge near Miyoshi-shi.
Ignore the outsized and ugly visitor's centre, frequently crowded with numerous coach loads of tourists and focus your gaze instead on the lovely wooden and rope bridge. History reveals the bridge was first built over 800 years ago by samurai warriors who occasionally cut the support ropes to repel unwelcome invaders.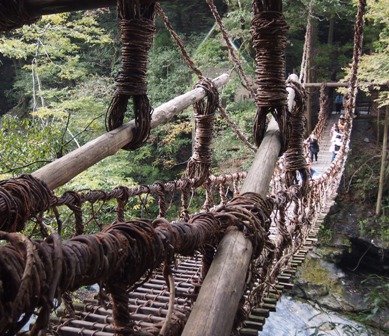 Rope Bridge close up
The entire bridge is rebuilt every three years to traditional custom. Walking across it is encouraged, though jumping up and down on it is not. Trust me, I tried it and was warned to mind my manners by a hidden loudspeaker. Big brother is watching even in rural Japan.
My favourite town on Shikoku is Matsuyama at the extreme western end of the island. Saved from the extensive WW2 bombing that destroyed the centres of so many Japanese cities (such as Tokushima and Takamatsu), it has survived with much of its low-scale residential neighbourhoods intact.
Though the small downtown area is filled with unattractive utilitarian architecture as in most Japanese cities, the streets surrounding Matsuyama Castle are wonderful for strolling and shopping. Antiques and second hand goods here are often cheaper than in Tokyo; stay alert bargain hunters!
The restored steam locomotive 'Botchan' train leaves from near the Dogo Onsen (in front of the clock that also celebrates the work of famous author Soseki Natsume's novel 'Botchan' and a stepping stone's throw from a lovely small hot spring with stone benches provided for a quick foot dip in soothing waters, free and open 24 hours).
Botchan clock in Matsuyama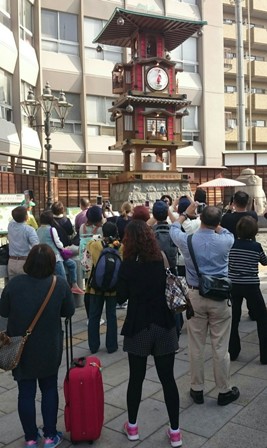 The tiny train jauntily pulls a single restored carriage through downtown Matsuyama's streets, depositing its passengers within easy walking proximity of the Matsuyama Castle. As a commuter experience, it's unlike any other in Japan.
Dating from 1603, Matsuyama Castle is perched high atop a hill overlooking the city and (Seto) Inland Sea and is a wonderfully maintained historic site. Don't miss it.
Self-guided tours follow a logical progression through the castle grounds with signs in Japanese and English.
A chair-lift to the hilltop is an easy way to reach the castle, a real gift on a sweltering humid summer's day. The views over the city and sea are illuminating.
Matsuyama Castle keep tower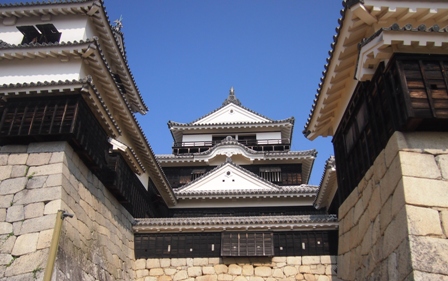 Haiku, Japan's revered poetry is honoured in Matsuyama. One of its founders and heroes, Masaoka Shiki, lived in Matsuyama. His house, the Shiki-do, is also the Shiki Memorial Museum. Haiku is celebrated in Matsuyama like nowhere else in Japan. International awards for the best haiku are presented occasionally to Japanese and international entrants.
Shiki (1867-1902) clearly had a sense of humour. Here's one of his haiku translated into English:
'A Quart of Phlegm'
'a quart of phlegm
even gourd water
couldn't mop it up'
Many visitors to Matsuyama are there for the historic Dogo Onsen. For over 3,000 years Japan's oldest hot springs has been open for public access. Housed in a lovely old wooden building (rebuilt in 1894) in the centre of town, it has provided hot spring therapy to many weary travellers.
Private rooms on the third floor can be hired for 1,550 Yen for a couple hours soaking bliss including a yukata to wear and tea served with the local 'Botchan' dango confectionary.
The Dogo Onsen Hanayuzuki Hotel Ehime is a modern ryokan opposite the original Dogo Onsen that offers both traditional ryokan tatami rooms as well as Western style accommodation.
Vouching for the tatami room, I can say sleeping on a futon in a traditional room including a kaiseki banquet dinner and breakfast while dressed in very comfortable yukata robe provided by the hotel (similar to a kimono but designed for both men and women with slightly differing rituals regards tying the sash), was one of the most memorable and enjoyable experiences during the whole recent visit to Shikoku.
From Matsuyama it's an easy drive to Imabari on the (Seto) Inland Sea. A separate cycling path adjoins the Shimanami Kaido expressway linking Shikoku and Honshu via nine bridges and six islands. Keen cyclists can make the approximately 70 kilometres land and water crossing in a day of dedicated hard and fast pedalling but most people stretch out the trip to at least two days easy travelling, stopping at small islands for refreshing swims (the beaches are lovely during summer) and spending at least one night in a traditional ryokan or the new Hotel Cycle.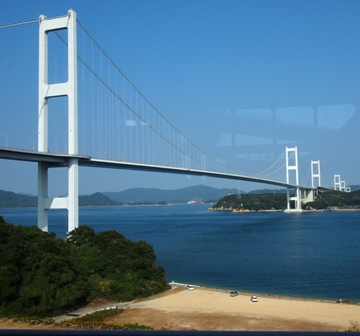 Bridge at Imabari and cycle way
Well maintained bicycles (including tandem and electric-assisted) can be rented at Sunrise Itoyama Visitors Centre near Imabari and fifteen other locations along the route (with a convenient return vehicle pick-up service included if you don't want to cycle all the way back from Honshu). Time poor travellers like me may cycle across the first bridge (Kurushima Kaikyo which is part of the Shimanami Kaiyo Expressway between Ehime and Hiroshima Prefectures) and back to the visitor's centre in a couple hours easy pedalling.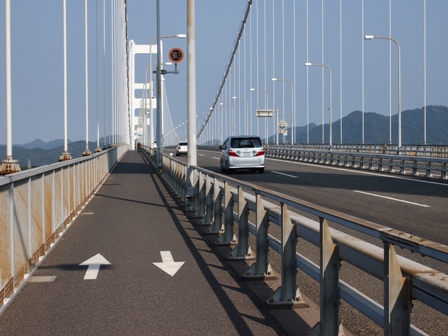 Cycle way on bridge
The views from high atop the bridge over the strait and tiny islands studding a cobalt blue sea are beautiful on a clear day.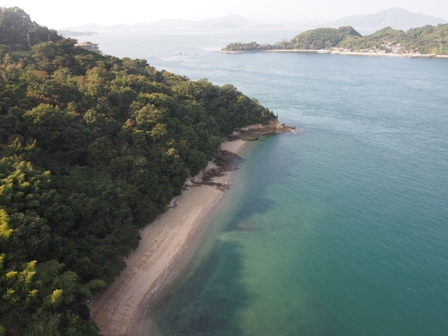 Inland Seto Sea island beach
Japan's (Seto) Inland Sea was once a kind of industrial dumping ground. Thirty years of tight anti-pollution laws have resulted in a return to glory days for this overlooked body of water, a sailor's dream-world with hundreds of small forested islands, innumerable coves and safe anchorages away from the madding crowds of contemporary Japan, particularly at the western end away from Osaka's metropolis.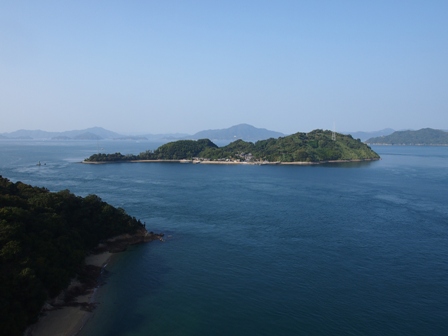 Inland Seto Sea island
If time permits and you're an avid walker ready for a different kind of 'Camino' pilgrimage, Shikoku is famous for its '88 Temples' walk which commemorates the teachings of Kobo Daishi (AD 774-835) who is considered one of the most influential figures in Japanese Buddhist history.
Straddling the island from east to west are eighty-eight temples linked by a popular and well signposted (in Japanese) track, some of them representative of significant national importance (such as Yashima Temple, with a shrine dedicated to badgers, in the hills overlooking the agricultural plains outside Takamatsu).
Serious pilgrims dress in white robes topped off with peaked white hats while they make the eighty-eight temples' circuit to cleanse their spirits and reconnect with ancient beliefs.
At over 1,400 kilometres long, the circuit may take several weeks to complete, some of it hard walking up and down steep mountains. Weather conditions should be paid attention when attempting the more remote parts of the trek. While this is almost wholly a Japanese ritual, it may appeal to travellers keen to immerse themselves into local culture.
More than a basic understanding of both Buddhist/Shinto faiths and the Japanese language would be essential for a successful completion of the famous pilgrimage. Many pilgrims–o-henro san in Japanese– take the easier option of bus connections or private car between the major temples, collecting a signature and special stamps from the monks at each temple.
Eighty-eight famous temples linked by an island wide trek?
A nationally important dance festival that attracts over a million visitors annually?
Special noodles that need jumping on for perfect conditioning?
Whirlpools and white water rafting?
Remote mountain samurai houses and imperial castles?
An Onsen to die for?
Go there and find out yourself why it's a special place.
Tom Neal Tacker travelled courtesy of the JNTO (Japan National Tourist Organisation).
Naked Facts:
The JNTO (Japan National Tourism Organisation) has a useful site: www.jnto.org.au
Further assistance including hotel and train passes can be arranged via: www.jtbtravel.com.au
Shikoku offers its own tourism website: www.tourismshikoku.org for information regarding accommodation, transport, festivals and weather.
For more information about Awa-Dori Dance Museum and its daily shows see: www.awadori-kaikan.jp (Japanese only)
Naruto Whirlpool Cruises can be arranged via www.www.uzusio.com
Nakano Udon School classes can be booked via www.nakanoya.net/school
The Shikoku Folk Museum village: www.city-takamatsu.kagawa.jp
To reach the Iya-no-Kazura-Bashi (Vine Bridge) a bus connects from JR Oboke Station www.miyoshinavi.jp/english
Matsuyama Castle is open daily: www.matsuyama.jp
Bicycle hire can be arranged via www.sunrise-itoyama.jp
For more information about the 88 Temples pilgrimage see: www.tourismshikoku.org/henro
The compact easy-to-use NINJA Wi-Fi router gave me continuous Wi-Fi access via my Smartphone throughout Shikoku, even in far-flung mountainous areas. The device can be hired via www.vision-net.co.jp is moderately priced and easy to use. I recharged its battery each night which provided Wi-Fi access for a moderate cost during my whole journey around Shikoku.
Naked Sleeps:
The Naruto Renaissance Resort on a wide clean beach near the Naruto Whirlpools and Strait but in safe swimming waters with life-guards and an array of beach equipment. It's a medium sized, modern hotel with good facilities. Rooms vary between traditional tatami or Western style and a very family-friendly place.
The hotel buffet lunch had one of the best sashimi and sushi spreads I've seen in Japan. See www.renaissance-naruto.com
The Grand XIV Kairakuen Hotel Golf & Spa Resort in the hills overlooking Tokushima is a collection of rather bizarre faux-Tuscan accommodation buildings (they are hotels actually) from deluxe to mid-range. This Italian themed folly attempting to appear like a San Gimignano apparition with belfries and towers set in rural Japan is all ephemera, with a lot of imagination thrown in for pizzazz. First impressions? Weird, misplaced and overwrought spring to mind. For a walk on the hole-in-one side of wild in Japan, this may fit into your fantasy world like a bespoke golf glove. My room was fairly ordinary with innocuous furnishings and the meal of Italian-inspired food was the last thing I wanted to eat in rural Japan. But each to his own oyster, right? See www.kkstokyo.co.jp
For inquiries regards room rates and special packages (such as tatami rooms with kaiseki meals included) at Matsuyama's Onsen Dogo Hanayuzuki Hotel Ehime in an excellent location stepping distance from the Dogo Onsen itself, see www.hotel-hanayuzaki.jp This modern hotel also boasts an open air roof top onsen with splendid views over the city reserved for hotel guests only.
The JR Clement Hotel in Takamatsu, Kagawa is a standard business hotel. Rooms are on the small side (as they are in just about every Japanese business hotel) but service is efficient while the breakfast buffet was better than average. www.jrclement.co.jp
Naked Routes:
Japan's incredibly vast railway network is easy to use. Shinkansen (Bullet Trains) routes continue to expand (such as the Hokuriku line in March 2015 from Tokyo to Kanazawa on the west coast). In March 2016 the Hokkaido Shinkansen line will open using the new Seikan Tunnel from Aomori to Hakodate then on to Sapporo.
The Shinkansen trains run to rigorously punctual timetables. Average delays are rarely more than 40 seconds, including those caused by natural disasters. Check your carriage and seat number printed clearly on your ticket. Find the corresponding number on the platform (seats between rows are posted on indicators hanging above platforms and painted on the platform surface itself), stand in the appropriate spot and wait for disembarking passengers before alighting the train.
Always sit in your reserved seat.
Luggage space on Shinkansen is limited. Avoid hauling large bags as overhead compartment space is small.
Forever resourceful, the Japanese use a luggage transfer system instead of dragging heavy bags around crowded railway stations (or subway stations when changing lines in Tokyo or Osaka). Ask at your hotel about luggage transfer facilities. Between large cities and popular tourist destinations,  bags will arrive the following day (usually before you) or up to two days in remote locations. The fee is nominal and the service is delightfully efficient. Why isn't this available in all countries?
Special Shinkansen such as the Nozomi Express run slightly faster than normal Shinkansen with fewer stops. Between Tokyo and Osaka, the Nozomi stops only at Yokohama, Nagoya and Kyoto before arriving in Osaka just over two hours after leaving Tokyo and vice-versa, faster than flying and much more efficient (and fun) when airport security measures are taken into account.
A kind of business class also operates on major routes. These green car carriages offer a bit more seating space, foot rests and maybe even a seat warmer. Blue carriage first class is available on selected Shinkansen routes which boasts special leather seats, privacy screens and shoe trays in case you want to feel really at home.
This being said, all Shinkansen trains deliver impeccable travelling experiences. Carriages are immaculately clean, toilets included. Employees are unfailingly polite and helpful. Trains are shiny-looking new, are cleaned thoroughly between each journey and there are no dirty windows or graffiti.
Impressively groomed and attired Shinkansen conductors enter each carriage with a bow and formal greeting before politely asking to check your ticket. They even wear white gloves for goodness sake!
Similarly outfitted attendants drive refreshment carts throughout carriages during the whole journey. Offering an array of hot and cold drinks and snacks, they are politeness embodied, elegantly dressed in crisply ironed uniforms.
Most canny passengers take advantage of numerous railway station purveyors for purchasing meals. There's a reason why bento boxes (ekiben when prepared for railway journeys) are so popular: convenience and freshly prepared food.
Unfold your in-seat tray, untie the bright ribbon around your ekiben/bento box and dig in. Most stations offer regional delicacies in their selections; they're inexpensive and healthy eating options.
All Shinkansen carriages are designated quiet zones where mobile phone use is prohibited. If you must use your phone, go to the space between carriages and speak softly. Speaking loudly on Japanese trains is a cultural no-no. Passengers are advised to put their phones on silent mode while travelling and conversations with companions should be in muted tones. I find this utter bliss.
Naked Tips:
Three observations that single the Japanese out for special mention:
Courtesy:
Bowing, greeting and thanking. Everyone does it. Millions of words have been written about Japanese customs regards personal space and the need for politeness in densely crowded urban communities. I need not add more other than to advise: follow their lead and react accordingly. Give thanks or greetings in return, bow as a sign of respect and smile a lot.
Respect:
Japan's population is aging like almost nowhere else. You'll see people so old, some almost look mummified. Zimmer frames are common as bicycles. What I like about Japanese attitude to aging is this: young people bow to their elders, treat them as fellow human beings, listen to them and show obvious care when around them. Frailty due to aging isn't such a social stigma as it is in so many western countries.
Tradition:
Yes, there's nowhere else like Japan. Cultural hegemony has caused frightful problems (WW2 atrocities and dolphin/whale hunting are clear examples) and yet, this is a country in a state of social change. Young people aren't so hide bound to conformity as their elders. And yet, they remain respectful and polite.
I love seeing kids walk from school unaccompanied by adults. Each student wears a kind of branded uniform that identifies their school in case they get lost and need help. The hyper-sensitivity about 'stranger-danger' that pervades western culture isn't so prevalent in Japan. Kids aren't collected by their chauffeurs (i.e. parents) from school. They walk or travel by public bus or train. When they're older, they cycle.
Theft is rare. I've never been in a country where I didn't have to be constantly hyper-careful about my stuff. Sitting in an airport cafe supping on another delicious bowl of ramen with tempura, I could leave my camera, passport, boarding pass, bag and wallet while using the toilet facilities, return to my table and all my things would be exactly as I left them. Talk about blessed relief!
Vending machines are another Japanese obsession. You'll never believe how many are around until you see them in even the most unusual locations, adjoining a carpark outside a traditional village museum for example. Hot and cold drinks, toothpaste and toothbrushes, condoms, snacks, combs… you name it and a vending machine probably has it.
While dining at a fuel station wouldn't be where I would normally hang out, in Japan it's not so bad an option. Most major highway roadside stations also act as a kind of local market.
Mega-stations even have food stalls lined up outside where takoyaki or fried sausages, ice cream treats and sweet biscuits are prepared to order. Inside you'll find dozens of competing stalls cooking everything from bowls of delectable ramen with meats/fish, pickles and various sauces to hearty regional udon cooked in dashi with vegetables to delicately crisp and delicious tempura and fresh sushi to throw-in-everything-tasty okonomiyaki.
I dare you to find a bad meal amongst them. They're cheap, cheerful and fast food… the way it should be unlike ubiquitous MuccasBurgerBlahKFCrapPizzaShit outlets found alongside major highways in western countries.