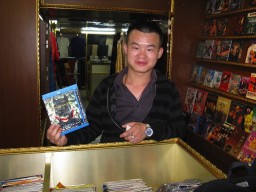 There's always a New Jerusalem isn't there? Once it was London, then came New York's turn.
Remember the film 'Working Girl'? Well, now the New Jerusalem must be Shanghai.
Founded on prostitution, the drug trade and no holds barred trading tussles between rival colonial powers, this megalopolis strutting up from the mudflats of the Yangzi River delta is capturing capitalists like ants to honey. It sucks them in.
It sucks in a hell of a lot of travellers too, me among them.
I was seduced at first, like so many others who came before me.
Then a funny thing happened on the way to M on the Bund, the Australian operated de luxe eating and drinking joint on the famous Bund. Clambering out of a taxi I was accosted, a polite word in this instance, assaulted is more apt, by a grandmotherly woman who insisted on polishing my brand new black leather dress shoes. I tried to cajole her, saying no politely. I tried the nervous gwailo brush-off too.
'No thank you. No thank you.'
Repeatedly she plops herself at my feet, blocking my path, plucking at my trousers, 'I clean' 'I clean'. Her sales pitch becomes a sort of chant.
My drinking buddies are ploughing their way up the Bund to M entrance and I'm fighting off an old lady who wants to polish my shoes. Finally she squirts some sticky white cream on my left shoe and points at it. It looks like bird shit.
'Ok' I say. She rubs and rubs for a minute and then demands the equivalent of USD$20.
Grandma is obviously a real Shanghai lady, a mover and shaker in the fleecing and flattering business that fuels this town full of newly minted capitalist roaders.
Shocked I hand her about USD$5. She shrieks abuse at me and I run off to M on the Bund to drink its $20 cocktails in a hot and noisy atmosphere.
Later I ponder shoe shiner's motives.
No doubt she has migrated clandestinely from the countryside. She doesn't have a permit to live in Shanghai. She's a survivor, a hustler in a city full of them.
Witness Pudong's rising towers of industry glowering over the megalopolis. They represent shocking growth. It's the fastest growing city on the planet and it looks it.
Its new airport dwarfs Sydney, Melbourne and Brisbane combined. The energy devouring mag-lev train flashes travellers into the city within minutes. The line extension into the CBD was completed in time for Shanghai's Expo 2010, itself a gargantuan success with tens of millions of visitors, most of them from China's provinces.
The train flings passengers from the airport into town at nearly 450 kilometres per hour. This occurs within Shanghai's city limits. Blink your eyes and miss the trip. Could anywhere else in the world ram through such a high speed conveyance among its tax avoiding inhabitants and get away with it? I think not. But in Shanghai it's the done thing.
A common scam is the 'tea ceremony'. Travellers are randomly chosen by young people working the crowd. Amongst the multitudes of visitors keen to experience a bit of old Chinese tradition, an invitation to sample authentic tea in a private ceremony is hard to resist, particularly when the hosts are charming and possessed of good language skills. 'Hello, welcome to our country.' Replies are graciously proffered. 'You're interested in Chinese culture? Tea?' Questions are posed politely. 'Sure, definitely interested. Thanks.' No costs are mentioned. Next thing you know, it's off to a nearby shop where a 'special tasting' of tea is performed with great solemnity and good humour. Then the price is submitted on an account. USD$50 per person for the 'experience' and no special tea is included. That costs extra.
Though it's a complete rip-off, it's all done in good fun. Part of the new Shanghai experience. Try authentic Shanghai tea and pay for a year's supply in real money. As if…
Prostitutes work the streets. Prostitution is officially illegal in China.
Shiny boutiques charge Belgravia or Fifth Avenue prices for frippery and silk shoes.
Most Chinese citizens get by on less than $2,000 per annum.
I buy pirated DVDs from a small store off the infamous Nanking Road. I don't expect them to be of viewable quality so I take a photo of 'DVD man' and warn him that if his DVDs don't work I will publish a photo of him on the internet with the caption, 'Don't buy DVDs from this man.'
But they do work. At about a dollar each I'm happy to tolerate the dodgy sound.
Welcome to the New Jerusalem. Same as it always was.
Naked Facts:
Shanghai is accessible by air from everywhere on civilised planet Earth. Getting there is easy. Most western visitors to the People's Republic are required to have a Tourist Visa. Most good hotels are near the Bund and along the main Nanking Road metro line or across the river in Pudong. Check online for current deals.