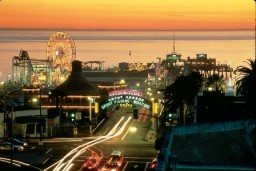 LA is a megalopolis.  
I keep trying to get my head around its ever increasing expansion but it's a tough mental challenge.
Santa Monica is like an escape hatch from urban sprawl. It's a perfect town within a city so why not make it a base of operations while exploring the rest of LA?
According to Mapping LA Project's 2010 data, 272 neighbourhoods co-exist as separate entities within the city's official limits. This doesn't include the suburbs outside Los Angeles' boundary lines.
Los Angeles County contains another 87 incorporated cities in addition to Los Angeles city itself.
The LA megalopolis of Orange, Ventura, San Bernardino and Riverside counties list well over another 100 incorporated cities, with new names being added yearly. 
Over 50 years ago, the wonderfully acerbic New York based writer Dorothy Parker worked for a time as a Hollywood scriptwriter. She described Los Angeles as, '72 suburbs in search of a city'.
Parker's description still resonates today.
By 2013, some 15 million people are claimed by official census counts to live in greater LA but that number is surely a cautious underestimate. Migrants from round the world, but primarily from Central and South America, add hundreds of thousands more to the population tally, albeit unofficially.
LA has a kind of downtown but it's nothing at all like New York City's or Chicago's downtowns, both of which are easily located on maps and criss-crossed by public transport networks.
Seen from space, LA sprawls ever outwards at the speed of light like a whirling galaxy lit by an infinite number of car headlights.
Yes, this is the original smog city. Cars rule LA. Despite an impressive underground rail network systematically embedded into the grid since 1990 (Metro Rail: six lines, a mix of heavy and light rail currently operate, boasting just over 360,000 customers per average weekday) that mixes and connects with the city's rapid transit bus service, LA is still almost entirely consumed by roads packed with millions of vehicles.  
So, how does a traveller cope with this kind of geographical enormity?
Driving is not recommended. It takes more than two hours, even on a slow traffic day just to cross from The Valley (San Fernando Valley) to Long Beach.
Surely, a travelling life is too short to be wasted sitting in traffic on an LA freeway.
I suggest a stay-put-and-focus-on-a-few-neighbourhoods-approach. Grasping the sheer scope of LA's depth and breadth is easier this way.
One of the oldest registered towns in greater LA, indeed California, is Santa Monica, a perfect place to stay put while making sense of LA's vastness.
Beachside, funky, gentrified but not dead, expensive, cheap, colourful and best of all, fairly central to whatever the centre of LA actually is, are descriptions that come to mind when I consider Santa Monica.
It's not Hollywood boho, nor is it Beverly Hills chic. It's not way out weird, retro-hippy stoner-ville Venice, though Venice's beach is just a few kilometres down from Santa Monica's beach. Uber-rich Malibu is just a few kilometres up the same beach road for comparison's sake. To its east are sky-scrapered downtown LA, corporatised Culver City and Century City and one of America's oldest Chinatowns.
The horrendous LAX isn't too far away either, close enough to facilitate an easy escape and far enough so jet engine noise is beyond hearing.
In short, you could do far worse when considering a pleasant base in which to settle during a visit to La-La Land.
Blessedly bordered by a typical LA beach, wide, windswept, usually crowded and equally blessed by well maintained public gardens and parks, Santa Monica is the sort of LA suburb that seems a tiny bit like paradise secreted into an urban hell.
There are cool, trendy star-spotted restaurants. There's also a scattering of down-home diners in traditional American style where a breakfast of Mexican omelette, hashed brown potatoes, bacon and endless cups of bad coffee will cost less than USD$15, toast, jam and butter included.
There are beachside bars that rival those in Cannes or Venice for film celebrity spotting. And there are bars that can best be described as dives but perfect for meeting local characters who aren't in show business, or they used to be but don't want to talk about it anymore.
So what's essential to a visit in Santa Monica? Apart from strolling up and down the beach walk, don't miss the famous Santa Monica Pier. Here is where tourists collect like bees to a queen that's loaded with honey. It's the photo money shot, a great place to watch the passing foot parade, watch a sunset over the Pacific and buy tourist junk.
Better yet, it's where America's most famous national highway, Route 66 ends, or begins. From Santa Monica's pier, up the Santa Monica Freeway to downtown LA and beyond, the road that inspired a truckload of songs continues to Chicago. A small map affixed to one of the pier's buildings shows the old route, including a potted history of the road that brought the rest of America to California.
There's a Santa Monica Museum of Art ( www.smmoa.org ) to wander through, filled with local and international talent. The museum is connected to the Bergamot Station Art Center, (by 2016 Santa Monica will link to downtown LA via Metro Rail's newest line at Bergamot Station) which also houses over 40 private art galleries.
As one of California's oldest settlements, the appropriately named, Santa Monica History Museum ( www.santamonicahistory.org ) is also worth visiting, if only to gain some understanding of how much times have changed in fewer than 500 years of colonial settlement.
Third Street Promenade is right in the centre of town, a pedestrian zone packed with upscale, low-scale and everything in between shops and cafes. In a city overrun with cars, any street dedicated to pedestrians is a godsend.
Befitting its health-conscious status, Santa Monica offers four farmer's markets each week, rain or shine according to its website www.smgov.net/portals/farmersmarket/ . I spent a glorious Wednesday morning at the Arizona Street market chatting with growers who had driven to Santa Monica from as far away as Bakersfield, over 150 kilometres as the crow flies.
Visiting the farmer's market was one of the best experiences I'd had in Santa Monica, a lucky find as I wasn't looking for a market, instead wandering the back streets away from the beach in an attempt to grasp the feel of this town within a city.  
The ex-patriot American writer Gertrude Stein once said that 'There is no there, there' when she described her childhood home town Oakland, California. I often wonder the same when I think of LA, mentally searching for a soulful centre in a city that many cynical travellers like me believe has none.
Though I'm still looking for LA's soul, for me Santa Monica has become a reasonably fine base while the search continues.
Tom Neal Tacker travelled as a guest of Qantas Airways and the Santa Monica Visitors Bureau.
Naked Facts:
See www.santamonica.com for the latest updates on events, festivals, shows and general information. 
Naked Sleeps:
The Shore Hotel is the newest boutique kid on the beach block. Quite spacious rooms with all the mod-cons a 5-star property is supposed to have, including a fabulous location overlooking the tatty-famous pier, the beach and its adjoining glorious stretch of parklands, it's a small-ish hotel that really delivers the goods.
The Shore is partnered with Sea-thos Foundation, a non-profit that promotes education and awareness of human impact on the world's oceans. It's also the only newly built Gold certified LEED hotel in Santa Monica.
I got lucky with a deluxe top floor beach facing room with floor to ceiling windows, double glazed to keep out traffic noise thankfully, with views that extended all the way to Malibu.
My room's colour scheme was a cool mix of 70s orange with more contemporary blues and greens, very aquatic oriented without being kitsch.
Room decor certainly differs from the hotel's overall appearance. The public areas are wide open and very well lit with lots of glass, eye-poppingly bright on a sunny southern California day.
Back to my room, the huge bathroom was stocked with decent toiletries, had good lighting (a failure in so many hotels) and a roomy shower stall with a large shower rose.
A small entry foyer fully separated the bedroom from any noise emanating from the hallway, a very nice feature I appreciated fully while trying to catch up on sleep.
The bed was a king-sized monster that gripped me like a lover. Wrapped in high quality linen, I slept exceedingly well. A single comfortable armchair and a low side table completed the stylish picture.
Wifi was free. The desk size was more than adequate though I was distracted by the views over the beach and Malibu so I didn't get much work done. No complaints there.
Since my recent stay, the hotel has opened a restaurant/bar next to its pool. It's called Blue Plate Taco and is part of a small chain of local restaurants. I've heard good reports.
Rates average USD$400 per night not including tax. See www.shorehotel.com
Naked Eats:
Right next door to The Shore Hotel is Ivy at the Shore, part of a small group of restaurants. The Santa Monica Ivy is as known for its celebrity spotting as it is for its food. A kind of LA trade-off where average food sold at high prices is compensated by the chance to dine in the same room as a soap opera star. Anyway, the food at this Ivy is above average. Views over the park and beach from street side tables are highly desirable. Good cocktails. You'd need to reserve a table here. 1535 Ocean Ave. Tel: +1 310 393 3113
Jinky's is an old fashioned American diner that serves reasonable food at reasonable prices. Breakfast here is the go. 1447 2nd St. Tel: +1 310 917 3311