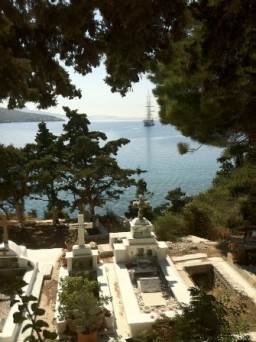 The ship rounds Cape Sounion heading straight into a fierce north wind blowing down the Aegean Sea with cyclonic force. Poseidon's Temple perched on the Cape's steep cliff is the last mainland sight we see, a fateful omen or a lucky glimpse. When the 'Meltemi' revs up, it's time to batten down the hatches and trim the sails.
It's my first night aboard the Star Clipper during a week's voyage around the Cyclades Islands between Greece and Turkey. My cabin is on the starboard side athwart the Plimsoll line. Ploughing through rough seas, driven by the remorseless wind, the ship is listing heavily to the right.
My single porthole window plunges below the waterline between waves. The view is like looking through the glass of a front-loading washing machine, all suds, froth and swirling water.
Luckily I'm not prone to seasickness so I choose the sensible option to while away the hours of a rough two day crossing from Piraeus to Kusadasi and retreat to the ship's small library. There I nurse gins and tonic, peruse navigation charts laid out on one of two round tables and study framed maps of the Aegean Sea lining the wood panelled walls, wondering if that large island we passed hours before was Andros or Tinos.
Joining me is a baker's dozen other passengers possessed of similar hearty constitutions. We exchange introductions and pleasantries, commenting on whether or not an unscheduled stop at Samos' southern shore is imminent because the open passage into Kusadasi's harbour may prove too difficult to access.
For a group of novice navigators, our assumptions are based solely on rumour and surmise. The crew are tight-lipped about any possible changes to the following day's destination while passengers resort to a guessing game. Will we reach Turkey's shore according to schedule or will we spend a day on Samos instead? I'm happy either way, content with a book, dinner and more gins and tonic or a Negroni.
Cruise itineraries are still largely ruled by weather conditions. In this day and age of stabilisers and state-of-the-art navigation software, when really bad weather strikes, even the mega-ships may have to alter course, stopping at ports not included in the official itinerary.
In his 'Sailing Issues' website, Diederek Willemsen describes the 'Meltemi' as, 'wind known by the old Greeks as the Etesian northern winds, and results from a high pressure system (>1025) laying over the Balkan/Hungary area and a relatively low pressure (<1010) system over Turkey. Although this katabatic wind can bring about harsh sailing conditions it also provides cooling, low humidity and good visibility. Furthermore, it can be characterized as one of the few Mediterranean winds that do not necessarily die out at the end of the day and can easily last more than three to six days. In the wide corridor between the Dodecanese and Cycladic islands the 'Meltemi' blows undisturbed over 100 miles. Within six hours of a 30-knot wind, the waves can reach heights over three metres. The adverse currents make these waves steeper, which can be seriously dangerous for yachts smaller than 10 metre.'
The Star Clipper measures a bit less than 110 metres and weighs 2,298 tonnes. It's big enough to face safely the 'Meltemi's' relentless onslaught. When the huge mainsail is unfurled, it's a dizzying view gazing up the main mast's 68.5 metre length. Any musings I have about playing bosun climbing up and down the ship's masts are dashed. The main mast sways in the wind like a rope trick, the rigging screams banshee howls.
She plunges in and out of the huge swell like a marine-loving racehorse, shaking off sparkling water as it runs off her teak decks, thrusting her bow deep into the ancient sea. A friendly passenger mentions memories of galleons lost in time.
Evoking Homer's Odyssey during times like these is damnably tantalising. During the worst of the 'Meltemi's' battering, passengers are prohibited from leaving the central deck; it's simply too dangerous venturing out on the bow deck.
Our little band of sailing stalwarts chats amiably in the library or gathers around the bar under cover at cocktail hour.
Wandering the corridors is ill advised while the ship bounces from wave to wave, the bucking bronco marine-loving seahorse is enjoying the wild ride.
It's less thrilling when you're trying to walk to your cabin without tumbling over topsy-turvy. I discover that many passengers have retreated to their cabins doped up on Dramamine or other anti-seasickness medications. The first night's dinner in the single main dining room is scarcely attended, though an occasional breaking glass flying off a bar shelf adds a bit of cheery noise.
Someone yells out 'Taxi!' when another tumbler crashes to the floor. I've sorted the enthusiastic travellers from the retiring tourists in one night. They're a fun bunch.
The Star Clipper is a different ship, relatively small and agile with a shallow enough draft (5.6 metres) to visit ports bigger ships can't. It's a wonderful experience to be a passenger from the only ship in a harbour, particularly in waters as busy as the Aegean's where pleasure barges bigger than many small towns expel thousands of passengers all at once, crowding normally quiet ports.
A majority of Aegean harbours can't handle large ships. The Star Clipper sails into many ports alone, appearing special in its aloofness. I note a barely suppressed feeling of pride shared amongst my fellow passengers. In less than two days, we've acquired a private yacht.
She's a gleaming white four-masted sailing vessel and rides magnificently when all sixteen of her sails are unleashed in action. There's something magical about being aboard a large sailing ship while she's racing through strong winds. Perhaps it's metaphysical. Is the ship itself happiest when she's riding the high waves, flags flying, sails on parade, crew working like sea sprites on Poseidon's Olympian bow?
We're sailing across the Aegean Sea, facing its most challenging summer weather conditions and I have to say, I quite like the feeling of freedom that true sailing engenders.
Maximum passenger capacity is 170 persons with approximately 72 crew members. This late northern summer's cruise numbers 112 passengers aboard, roughly half hail from the UK, about a third claim Germany as their home base. A dozen Americans, a dozen French, a few Scandinavians and Dutch proudly exclaim their origins. Four from Australia, me included, round out the ship's contingent.
The crew were a veritable international assembly: Italian, Swedish, Dutch, Greek, West Indian/Caribbean, Filipino, Pakistani, Bangladeshi, Sri Lankan and Indian.
A United Nations afloat.
During the first night the ship did call unexpectedly into Patmos to unload one frightened, seasick passenger. We docked quietly. The lone ill passenger and her husband disembarked without trace.
We weighed anchor within an hour arriving at the modern beach resort, Camliami, right on schedule early the same morning.
Once in sight of Turkey's coast, the 'Meltemi' winds receded as if they never existed. Gale force conditions were replaced by late summer's somnolent heat, previous dramas nearly forgot.
After a few hours spent swimming or wandering about Camliami's small beach, we rejoined the Star Clipper for the short trip around a headland to Kusadasi, where most passengers disembarked to visit Ephesus and Kusadasi's old town centre.
The wicked 'Meltemi' was all but forgotten.
Despite my somewhat romantically infused first impressions, real 21st century problems leaked into the Elysian picture.
Unfortunately, en route to Kusadasi my cabin became awash in bilge water bubbling up from the shower stall's drain. Evidently, the ship's pumps struggled to move waste water through the recycling system. Due to the strong list during the worst of the winds, most of the waterline cabins on the leeward side suffered the same problem.
Murky, smelly waste water made my cabin uninhabitable while cabin stewards worked furiously to solve the problem. Large exhaust fans were placed inside, my bags lifted off the floor onto the bunks, my soiled clothes were dry cleaned or laundered and excuses were made.
Later I was informed the captain didn't want to run the pumps at full throttle during the rough crossing. A formal apology was never offered by the captain or senior management, nor was a logical explanation proffered.
This was the only technical problem I encountered. It marred slightly what was essentially a good trip though I still can't get the scent memory of stinky bilge water out of my nose.
A small ship attracts a different clientele. I heard this affirmed quite a number of times.
Many of this Star Clipper cruise passengers were repeat guests, among them a number of couples making their third or fourth cruise that year. There was an obvious love affair going on with the ship.
Love is often accompanied by a certain acceptance of eccentric behaviour from one's partner, or lover.
Couples survive relationships partly because they tolerate their partner's oddities. I observed a similar behavioural pattern among loyal passengers, the Star Clipper ship and its crew.
For instance, catering, though occasionally elaborately presented (five courses each dinner, lavish breakfast buffet and afternoon teas) suffered primarily because the quality of the cooking was generally lacklustre. After two consecutive dinners on board after leaving Piraeus, I decided another dinner on the Star Clipper would rob me of savouring authentic Greek fare in a local tavern or beachside restaurant. But the majority of passengers returned religiously to the ship for dinner, indeed many passengers never left the ship at all, taking all their meals on board. I never heard them complain.
For me, the most enjoyable social times on board were during the sunset 'Magic Hour' at the Tropical Bar where the two resident bartenders mixed a mean Negroni or poured the Champagne with real fizzy style. At the bar we had the best laughs with our like-minded fellow travellers, sharing a bit of ship's gossip, making smart quips about Bulgarian pianist Evgeni's sad repertory of 70s Vegas lounge hits or commenting on why the same tape recording of what sounded like the Russian anthem was played every time the ship weighed anchor, hoisted sails and left port.
The passengers I grew to like most took advantage of the daily shore excursions, making full use of the long days in port, dining in local restaurants, exploring on their own and sharing their experiences over breakfast or cocktail hour the following evening.
Nearing the end of a wonderful day at Ephesus with eight other passengers who chose to linger at the ruined city's stupendous theatre, we discovered one person in the group, an Australian, was celebrating a birthday. We sang Happy Birthday to him while marvelling at the theatre's outstanding acoustics.
At Patmos, my partner and I spent a whole day at St John Theologos' monastery atop the island's highest point with another passenger, a Scots writer researching a book on small ship cruising.
We climbed up and down the mountain, sweating profusely on a very hot afternoon when even the crows had stopped cawing, making the pilgrimage to the monastery that much more intensely felt on a physical level with a bit of spirituality on the side.
At the small cave shrine where the Apostle John was inspired to write the Book of Revelation, we gazed in wonderment at the niche carved into the cave wall where the saint supposedly laid his head while dreaming of the Apocalypse.
Back in the island's main town, we lunched on fried calamari, sardines, fried potatoes and country salad, drinking strong rose wine from large carafes at a small wharf side restaurant surrounded by local family groups doing much the same thing. Any Apocalyptic thoughts were conveniently forgot.
The Star Clipper was the only ship in Patmos' harbour. We had the island's famous sites pretty much to ourselves.
On Amorgos, right off the Aegean's beaten tourist path (Mykonos, Milos, Santorini, Rhodos and Crete) a quiet island relatively untouched by tourism we visited the incredible 11th century cliff hanging Panagia of Hozoviotissos monastery overlooking the beach where much of Luc Besson's film, 'The Big Blue' was filmed. The monastery is not a tourist site as such, monks still worship there and though visitors are welcome, numbers are limited. All visitors must be appropriately attired. Shorts or singlets are not allowed.
Access to the monastery is up a very steep set of steps carved into solid rock. Views to the open sea from the monastery's balconies are gobsmacking. The site marks the spot where a lost Palestinian pilgrim carrying one part of an icon found refuge on the sheltered beach (probably during a 'Meltemi') and was inspired to create a shrine to the icon's image, the Virgin Mary.
Construction of the monastery proved difficult as each day's work was inexplicably destroyed during the night. Prayers were sent to heaven in search of an answer to the riddle of the mystery vandal.
Miraculously, a worker's tool was found imbedded in rock hundreds of metres above the building site nearer the beach, a sure sign from God that this must be the right place to build the Virgin's monastery; into a cliff virtually inaccessible unless you could fly.
The rusty iron stick has since become idolised as a holy relic. Fellow passengers referred to it as the 'Holy Tool'. I confess that was my suggested nickname.
Incidentally, the other part of the icon found its way to Patmos where a different monastery was built.
From Amorgos to Mykonos, where the Star Clipper docked offshore early morning, proved a notable change of scene from Amorgos' sleepy atmosphere. Mykonos is Greece's international party island. It's something of a gay destination too. During the height of the summer season, men gather here like bears drawn to one big honey pot. It's also a family destination with a few placidly safe beaches and surprisingly kiddie friendly. Idiomatically speaking, both sides of the one fence occasionally cast longing glances over one another.
We chose the studious option, avoiding the crowds in Mykonos town's labyrinthine lanes packed with shops selling tourist trinkets, its fashionable bars and cafes to spend a half day exploring the nearby island of Delos, birthplace of Apollo and one of Greece's most important ancient sites. At Delos, it becomes obvious why this tiny island became known as the place where the god of the sun emerged from light on water. The harsh sun reflects off the white marble and limestone with blindingly sharp clarity.
Delos is the heart of the Cyclades Vortex, a confluence of wind and light exists there like nowhere else in the Mediterranean Basin. Fortunately Star Clipper's preferred guide proved to be both entertaining and informative. She brought to life the complex layered ruins of old Delos and its importance to the lives and deaths of all ancient Greeks. Its former glory can only be wondered at. Extensive foundations remain and much reconstruction has occurred over the last sixty years, but Delos remains unique among Greece's most fascinating archaeological sites, if only for its abundant ability to provoke the imagination.
I once lived on Mykonos, working a summer in a restaurant on the relatively quiet northern side of the island at Panormos beach. Where I worked has now become a fancy beach diner. It's no longer the quirky bordello next to a stretch of deserted sand, operating without electricity or running water on a kilometre of beach with no road access or regular boat service. We managed to attract roughly a hundred customers in a day, mostly Scandinavians or Germans, in sarongs or nude, getting away from the crowds on the trendy southern beaches nearer Mykonos town itself.
In the twenty years since I worked there, times have changed for Mykonos. A new reservoir has been built. Mains water and electricity now reaches that previously remote northern beach. A sealed road has been paved and the crowds have come, clothed and with families. We hired motorbikes and covered the island. The routes hadn't changed but the traffic had increased, so too the mounds of rubbish lining the roads outside town.
Greece's economic meltdown has affected public services in populated areas. Rubbish collection, road maintenance and infrastructure support has declined severely since 2008. The consequences of political economic mismanagement were most evident on Mykonos during this trip, where the tourist numbers were at their greatest.
Our last port of call was on the Peloponnesian mainland, at its southern extremity, the medieval fortress town called Monemvasia. First it was a Byzantine port of great importance, then a Venetian fortress, then an Ottoman outpost and after World War 2, a Greek historical gem caught in a time warp. Again the Star Clipper was the only ship moored off Monemvasia's tiny harbour. We had the old town's walled majesty virtually to ourselves.
One of Greece's impregnable towns, defensible because it sits on a rock jutting out to sea connected to the mainland by a narrow isthmus, Monemvasia is quite simply stunning. Many of its derelict houses have been sensitively restored, some operating as small guesthouses and bringing life back into the nearly abandoned town. A few restaurants do a good business, serving simple country Greek food to travellers and locals alike.
As had happened every day, we ran across fellow passengers while wandering up and down the steep narrow streets, stopping to share notes, impressions, tips and a laugh or two.
At the end of a full week crossing the Aegean Sea, the same conclusion had apparently been reached. We had shared time in treasured ports on fabled islands spread over a gloriously mythical sea.
Best of all, that gleaming white ship moored just offshore was ours, if only for a brief week in Paradise.
Tom Neal Tacker travelled as a guest of Star Clippers.
Naked Facts:
See www.starclippers.com for a full list of cruises. The seven day Northern Cyclades cruise described here runs three times during the northern summer and departs from Piraeus (Athens). Dependent on cabin size and deck level, costs per person vary between approximately AUD$2,800 and AUD$4,600 inclusive of three meals per day. Alcoholic drinks, shore excursions (approximately AUD$75 to AUD$175 per person) and port charges (AUD$295 per person) are not included. Flights to and from Athens are also not included. Cruise itineraries may be combined, for instance Northern and Southern Cyclades cruises, depending on coinciding departure dates. Star Clippers can reserve or recommend hotels in Athens and arrange transport to and from hotels from Piraeus at the beginning or end of the cruise.
Naked Sleeps
While in Athens, I can heartily recommend the King George Palace hotel located in protest central, Syntagma Square. See www.kinggeorgepalace.com for information and reservations. The rooms facing away from the square are quiet but you don't get a view of the Acropolis or Parliament, or the latest rallies pitting struggling Athenians against government troops. I'd choose a good night's sleep over a Parthenon view, particularly when I can step outside the hotel entrance and walk to it in 30 minutes. Fortunately, the roof top terrace restaurant where breakfast is served (included in the room rate), provides amazing views to the Acropolis buildings (Parthenon included), most of the Plaka, all of busy Syntagma Square, Parliament House and the Zappeion Gardens behind it. The hotel sources its produce from organic Cretan farms and Cretan delicacies feature strongly on the menu. I've eaten the best breakfasts in all of Greece at this hotel. The service at the hotel, from doormen to receptionists to concierge to waiters to housekeepers is outstandingly efficient, friendly and genuinely warm. Real Greek hospitality rules here. Opa!
Writer's Naked Rant:
My interactions with huge ships filled with cruise passengers have been intentionally minimal. I don't like being caught, even inadvertently, mingling with herds of passengers 'doing' the South Pacific or anywhere else for that matter in less than ten days in between trips to the midnight buffet, the casino and the cigar bar.
A latent negative opinion of mass marketed cruising has become my learned judgment, a state of mind I've accepted as unalterable.
I've travelled on lots of passenger ferries, across the Baltic Sea, the North Sea, the Mediterranean Sea, the Irish Sea, up the Nile River, down the Mekong River, down the Rhone, up the Rhine, across Lakes Superior and Geneva and between various Polynesian Islands and enjoyed each voyage.
I'm interested in small ship exploratory voyages with limited passenger numbers, high crew to passenger ratios and unlimited dining time options. I don't want to share a cabin with a stranger and I don't want to get drunk with nitwits who don't give a shit about where they are or where they're going nor am I interested in scoring a drug deal with a sly steward.
I avoid regimentation when travelling. I won't wear a lanyard bearing my ID so a ship's officer can recognise me as a legitimate passenger and I don't like to queue at an all-you-can-eat buffet watching corpulent people load their plates with lots of very ordinary food.
In other words, if I want to holiday among the masses, I'll opt for a get-out-of-gaol free card while visiting Disneyland with an eight hour pass, preferably on a weekday while avoiding school holiday peak periods.