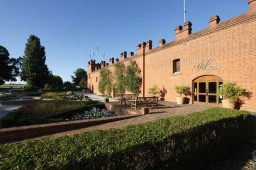 Anyone claiming a casual familiarity with the wines of Rutherglen most likely thinks of sweet fortified and heavy duty reds.
Fair enough since these have been the bread and butter of Rutherglen for more than a century.
Well, times are changing and they're changing in a very pleasant fashion. While the bread and butter wines, Muscat, Topaque (formerly Tokay) and strong reds mostly made from Durif, continue to deliver outstanding wines of excellent quality, other grapes such as Marsanne, Roussanne, Tempranillo and dry wines made from Portuguese varieties such as Touriga, Tinta Cao and Tinta Barocca are adding new excitement to the array of tastes.
Rutherglen is steeped in tradition. The Winemakers of Rutherglen has some twenty wineries operating in the region. Fifteen are owned by multigenerational families, some in business as far back as the 1850s. Breathing new life into the region, some have been in operation for only a few years.
What I like most about Rutherglen is the camaraderie between competitors. Let's face it. The wine business is a tough one, particularly in these cruel economic times. Imports into Australia have sunk in price while local winemakers face rising costs. And this fact doesn't take into account seasonal problems with drought or frost or hail. A farmer's life has never been easy, particularly winemaking farmers. They have to market, distribute and sell their products as well as nurturing them from ground up.
Winemakers are farmers plus producers plus retailers plus salesmen. Any one of those jobs would occupy a clever person full time. Performing four jobs simultaneously in harsh conditions is nigh on impossible. To do any of them well requires absolute dedication and something of a crazy streak.
The Rutherglen winemakers are a friendly lot, willing to share among peers, encouraging and helpful of one another, especially when times are tougher than usual. It's wonderful to behold this sort of fraternal cooperation.
As one of the newer kids on the block, Anton Therkildsen of Valhalla Wines mentions that he couldn't have succeeded without the support of his peers. Therkildsen's wines are in the new Rutherglen style. He doesn't make a fortified, sees no reason to compete with others making such wonderful wines, instead choosing to focus on creating lighter reds and dry whites as alternatives to the region's traditional stalwarts.
Mandy Jones of Jones Winery and Vineyard is another talented winemaker who's focused on tweaking the traditions. Her Marsanne and Roussanne whites are clear examples of how the old can become new with shifting attitudes. Like Therkildsen, Jones believes she shouldn't compete with tradition but embrace it while exploring fresh ways making wines from grapes that historically grow well in the region.
Over at Scion Vineyard, another new entrant on the local scene, mother and son team, Jan and Rowly Milhinch are working innovatively with Durif, creating an elegant wine from a gutsy grape. Their Viognier, a bone dry aromatic white also indicates a regional shift to working wonders with alternative grapes well suited to the climate.
Members of the young generations are having their say in favour of exploring the new as well. Simon Killeen at Stanton & Killeen is working wonders with his favourite Portuguese varieties. Though his family winery continues to make amazingly rich vintage port style wines from grapes like Touriga, Touriga Nacional, Tinta Rouriz and Tinta Souza, charmingly enthusiastic Simon is establishing his lush dry red, 'The Prince' as a wine to watch out for.
Similarly, Jen Pfeiffer, daughter of Chris Pfeiffer of long standing champion Pfeiffer Wines is creating wizardry in her family's winery. Young Jen is a wunderkind, all the while honouring tradition while breathing impressive energy into an established brand. Her Shiraz is one of the region's best dry reds.
Something all winemakers appear to have in common is a love of good food. With great wines come great meals.
Though Rutherglen is essentially a tiny town of fewer than 3,000 inhabitants, the region is bountifully blessed with fresh, tasty ingredients. Fortunately, fine cooking is available as the perfect accompaniment to the uniformly superb wines.
During a lavish lunch hosted by owner/operator Eliza Brown at All Saints Estate's Terrace restaurant, I was impressed again by how hard everyone in the region works at doing the best they possibly can. Brown and her family acquired All Saints just over a decade ago in somewhat trying circumstances. Without the support of other local winemakers she told me her job would have been much harder, if not impossible.
I confess, Rutherglen has always been one of my favourite wine making regions in the country. It's compact, therefore easy to get around and blessed with a curiously unfussy tradition despite its long history. Give me a glass of a complex Cofield sparkling wine or a stand-out Stanton & Killeen vintage port or a Pfeiffer flor fino sherry style aperitif or one of David Morris' memorable Muscats and I'm like a kid in a lolly shop.
Nowadays, I'm even happier with the wines of Rutherglen. There's more to sample, fresh tastes and new grapes with great food. And the winemakers of Rutherglen make me happy.
Naked Facts:
Jones Café
61 Jones Road, Rutherglen
02 6032 8496
Open Thurs-Sun 10am-5pm
Pickled Sisters Café and Cofield Wines
Distillery Road, Wahgunyah
02 6033 3798
Open Mon-Sat 9am-5pm Sun 10am-5pm
All Saints, The Terrace Restaurant
All Saints Road, Wahgunyah
1800 021 621
Open 7 days until 5:30pm
Tuileries Restaurant
13-35 Drummond St, Rutherglen
02 6032 9033
Open 7 nights from 6:30pm
Rutherglen's annual gourmet event, Tastes of Rutherglen is in March and takes place over two consecutive weekends.
All tickets can be purchased online at:
www.winemakers.com.au or
1300 787 929
Bicycling around Rutherglen is easy. See www.murraytomountains.com.au for information about bicycle hire, bicycle transport, itineraries, maps and accommodation.
Stay:
John Foord Guesthouse
7 Braintree Avenue, Corowa
02 6033 5284
www.corowaaccommodation.com.au
John Foord Guesthouse offers four bedrooms and two lounge rooms with a fully equipped kitchen. Spotlessly clean and very comfortable, it's the kind of holiday house you could easily live in.
Tuileries also operates as a fine accommodation provider. This collection of cottages overlooking a vineyard within ten minutes walk of Rutherglen's town centre is the best in town. See www.tuileriesrutherglen.com.au or telephone +61 (0)2 6032 9033 for more details and reservations.
Alternatively check out www.rutherglenvic.com for a comprehensive listing of accommodation within the region.