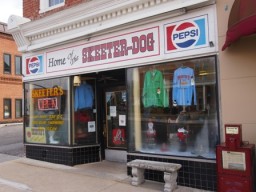 There is no other country more suited to a road trip than America.
I put my foot down hard on the accelerator of opinion driving here I know.
Counter claims? Park them by the wayside while I elaborate.
Two lanes linking small towns all across America is the way to go.
Avoid the interstate system at all cost.
Why?
In the early 1950s when President Eisenhower laid his blessing on the construction of the country's interstate mega-highway system he also cursed great swathes of America into a state of unrelenting dullness marked by speedy access from one soulless chain store to another.
Within forty years the whole network of wide lanes with limited access had spread across the land. Four or more lanes allowed motorists to zip past as the highways were designed to skirt most small towns. Great for speedy transportation, a death knell for many family-owned businesses.
Zoning laws were relaxed to allow multi-national corporations first claim to retail dominance. McDonalds, Pepsi-Cola, Coca-Cola and the like were given free reign.
A loss of regional gastronomic difference was an overwhelming consequence. A burger, fries and soft drink tastes the same in Maine as it does in Oregon when produced by companies that don't give a damn about culture, history or individuality. And let's not talk about health factors. Corn syrup derived fructose and lots of salt are the only ingredients common across America these days.
But all is not lost.
Regional differences are found in abundance once you leave the interstate highways behind. The trip may take longer but it will be infinitely more interesting and rewarding.
If you want to see America driven by individuality instead of herd mentality, stick to two-lane roads well away from the Interstate Highway System.
If like me, you consider a meal at a McDonalds or Denny's or Applebee's or Taco Bell or Arby's as a one-way trip to plastic purgatory with endless regurgitation as the only outcome, never use the Interstate Highways in hopes of finding a decent meal – or accommodation for that matter.
Motel 6, Holiday Inn Express, Hampton Inns and similar, sterilised Bates Motels in all but name (check Hitchcock 'Psycho' reference), occupy prime verge position on America's 'Interstates'.
Horrid food and nightmare inducing accommodation proliferate alongside these mega-highways, conjoined by convenience, pumped up by false advertising and sadly kept in business by customers blinded by excessive consumerism.
People talk about the 'Real America' like it's a myth. There is no myth. Instead there is contemporary reality blended with subjective impressions.
My view is illuminated by nostalgia while occasionally clouded by a touch of cynicism. I see the American roadside's wholesale embrace of corporate sameness as a lack of collective imagination and education. So I get off the main road and like magic, find excellence, individuality, spirit and eccentricity.
There I am reminded again why I love a road trip in America.
Accompanied by two keen travelling companions, we made an excursion from Savannah, Georgia to Charlottesville, Virginia via Asheville, North Carolina. I fell in love again with America's back roads and small towns where many caring people are making a difference to their local environments. Perhaps driven by a need for independence from middle-of-the-road boredom, perhaps by desperation, no matter, I see them as having stubbornly, proudly chosen to avoid rampant mass consumerism. They thrive through imagination and sheer drive, that and the retail rents are probably cheaper.
If there is such a concept as a 'Real America' I am convinced travellers have a much better chance of experiencing it by taking the slow road to that tiny town you've never heard of while winding a way through lands where chain stores and strip malls are not found.
Not far from Savannah, we stopped at the Sunny Side Up roadside diner. (Sunny Side Up, 4800 Augusta Road, Garden City, GA Tel: +1 912 964 9898 Open 7 days 7am -3pm) It wasn't great, nor was it an awful dive either. Instead it was typical. Suburban townsfolk were taking their working breakfasts. Truckers on the lookout for an authentic and inexpensive meal mixed tables with retirees out for a weekly social meal with old friends. Waitresses in pale blue aprons, hair tied up in buns or cut short, wearing sensible shoes with pens stuck behind ears or in apron pockets smiled and asked, 'Morning y'all, coffee?' all in one combined interrogatory exclamation.
'Good morning America how are you? Say, don't you know me, I'm your native son' wrote the famous folk muse Arlo Guthrie, a lyric in his song 'City of New Orleans'. I remember it each time I breakfast in a rural American diner.
When I begin a day on an American road trip with a breakfast in an authentic diner like the Sunny Side Up, I am immediately put in a happier frame of mind.
Heading northwest through the flatlands of Georgia into South Carolina we stopped for lunch in Edgefield, approximately halfway between Augusta and Greenville. For uninitiated urban devotees familiar with rural stereotypes this is akin to stopping somewhere between Bugtussle and Petticoat Junction.
Nevertheless, Edgefield proved a gem. The home of ten former South Carolina governors, (a state gubernatorial home record), resplendent with a central business district fresh out of Main Street America central casting, graced with well maintained public buildings and gardens, little Edgefield increased our reassurance we'd chosen the slow road to Asheville with the benefit of hindsight's wisdom.
Chef Bob's Cafe was a terrific find. Bob's motto is 'If ya leave hungry, it's not my fault.' He's right. I'd go back there again just for his crab soup. (See www.bobssouthernsuppers.webs.com or Tel: +1 803 637 0008 located at 303 Main Street, Edgefield, SC 29824)
Around the corner from Chef Bob's Cafe is Jane Bess Pottery (www.janebesspottery.com  Tel: +1 803 637 2434 located at 206 Lynch Street, Edgefield, SC 29824) Bess found herself in rural South Carolina by a stroke of good fortune. Her kiln is attached to her small studio where she produces ceramics of wondrous expertise.
Chef Bob's Cafe and Jane Bess Pottery are the sorts of treasures not found on an interstate highway.
Asheville, North Carolina has grown into one of America's strongest counter-culture cities.
With an active organic food 'paddock to plate' low carbon emissions ethos, its culinary scene is leading the way for many small rural cities across the USA.
Architecture buffs will be well pleased to learn that Asheville boasts the country's 2nd largest collection of Art-Deco buildings (Miami's South Beach is 1st).
With easy access to the Great Smoky Mountains National Park, Asheville is also where many keen outdoors specialists have found a home base.
The largest private residence in North America, Biltmore House, is also in Asheville. Funded by a Vanderbilt heir George Washington Vanderbilt 11 between 1880 and 1895, it was the last significant work designed by influential architect Richard Morris Hunt and famed landscape architect Frederick Law Olmsted. (See www.biltmore.com for tickets and more information) George Vanderbilt, unlike many of his family's predecessors, was an intellectual and philanthropist, bent on building a monument to design while encouraging his enormous crew of construction workers to reside permanently in the hitherto backward region. He paid his employees well beyond the minimum wage and provided health care and free education.
That may seem commonplace now but back then such acts of munificence were a rarity.
Is it a huge French chateau plonked down atop a mountain in the far west of North Carolina? Yes. It's also where the bulk of the Vanderbilt fortune dwindled in a final display of ostentatious wealth. The house was inhabited by the family for less than twenty years.
Maintenance costs spiralled. When the great depression hit Appalachia hard in the early 1930s, even the Vanderbilt fortune could no longer support such a vast estate.
The Biltmore Estate is now run as a private enterprise.
Justifiably popular, tour tickets are available for purchase before visiting.
A completely different way to see Asheville is from a seat on the LaZoom tour bus. The gaily painted big purple bus is decked out with a DJ console and a narrow stage from which the guides perform a running commentary on Asheville's past and present. Our two guides, the slattern and foul mouthed Erlene Hooch, (straight out of a local trailer park) and the hirsute nun Sister Hairy Mary, (a refugee from the order of the Sisters of Perpetual Indulgence), kept the laughs coming. The bus makes a pit stop at a pub, drinking is encouraged.
If there's a better way to explore Asheville while catching a running impression of what life is like in these parts, I've yet to discover the alternative. (See www.lazoomtours.com for bookings and more information.)
An authentic American rural road, following one of the most scenic routes in the whole country is the Blue Ridge Parkway. It begins just outside Asheville and ends 469 miles northwards in Virginia.
For nearly its entire length the Parkway runs along the summits of the Blue Ridge Mountains overlooking the Shenandoah Valley amongst others.  (See www.blueridgeparkway.org for up to date weather information, road conditions and fuel availability.)
We left the Parkway near tiny Wythville, Virginia for a spot of lunch. In Wythville's single main street is Skeeter's Hot Dogs, a 'world famous' cafe that's been in business for over 60 years. I asked for the secret to the deliciousness of the hot dogs. 'Steamed buns' was the answer, that and true ingredients, not very healthy but a fun indulgence just the same. I ate three dogs with mustard, chilli and cheese and drank an orange juice. Cost? Less than USD$7.
Upstairs from Skeeter's Hot Dogs is the flat where Edith Bolling Wilson was born. She was First Lady to President Woodrow Wilson, the power behind the throne so to speak. When Wilson suffered a debilitating stroke, Edith stepped into the President's shoes, hiding the true damaging extent of his illness while, for all intents and purposes, maintaining the office of the President until the next election. I never knew Edith Wilson was born in Wythville. Admittedly I'd never heard of Wythville either.
When you get off the Interstate Highways, surprising discoveries are made, Skeeter's Hot Dogs and Edith Wilson history to wit.
Past Roanoke and on to Charlottesville, Virginia where the Thomas Jefferson designed University of Virginia dominates this small city's economy.
Near Charlottesville is Monticello, Thomas Jefferson's home and final resting place.
As a finish to a back roads trip through rural America, Monticello is a fitting place to stop and wonder about how this great country has evolved in the 238 years since Jefferson wrote the Declaration of Independence.
Jefferson played many roles during his illustrious life: a scientist, a botanist, a President, a statesman, an author, a legislator, and an architect. He was also a farmer. His estate at Monticello was a crowning glory of early American architectural achievement. There is no better place to gain an increased understanding of this remarkable man's life and legacy.
The house is open to the public nearly each day of the year. Tours during summer's high season are booked out days in advance. (See www.monticello.org for more information and tour bookings.)
Naked Facts:
Naked Routes:
I flew Virgin Airlines/Delta Airlines to New York City from Melbourne direct to LA with a four hour transit at LA's shockingly bad airport. The transit involved visits to three separate terminals, a needless waste of time and energy. Catering options in all three terminals are abysmally depressing, same old chain outlets selling overpriced crap to a captive audience.
The Virgin flight across the Pacific from Australia to the USA was bumpy, very bumpy. Service was interrupted throughout most of the flight in respect of safety for both crew and passengers. I've experienced bouts of extended turbulence on previous long haul flights but nothing like this particular flight. The pilot did his best to inform passengers of ongoing attempts to avert, avoid and minimise the turbulence but the weather got the best of us. The turbulence lasted over six hours. I've never seen so many full vomit bags carried by harried crew members back to the galley for disposal.
Stuck in the stinky worst seats in the back of the bus, the torture that is an east bound economy class flight between Australia and the USA is only exceeded by a westbound flight from the USA to Australia because it takes almost an hour longer.
Virgin's IFE is good with enough new release blockbusters to divert attention from the shocking reality of economy flying in the 21st century.
Virgin's meals in economy are execrable. Drinks service was rudimentary, one tiny bottle of wine was offered, no refills and my impression from harassed crew members was that I had better not ask for another bottle.
I tried to change my return flight home, same route via Brisbane to Melbourne, well after peak holiday season (I flew to the USA just before Christmas and paid over AUD$2,400). After wasting four hours on numerous phone calls with various Virgin customer service representatives, the best deal I was offered to change my flight date was an extra USD$1,000 (USD$200 international flight change fee plus an extra USD$800 for Virgin's loss on my previous booking). I understand that airlines aren't charities but this kind of price gouging infuriated me. I was opting to fly at a post-peak time where many extra seats were empty on flights from LAX to Australia. I wasn't asking for anything other than a date change. For the total price I was asked to pay I could have bought a business class fare to the USA from another airline via an Asian connection. With Virgin I was still stuck in the worst seat in the back of the bus next to the busy galley and toilets, last in the queue for meals and drinks service and being treated like a bum from a Greyhound bus camp. All this for nearly AUD$4,000? What joy!
The domestic flights between LAX and NYC's JFK with Delta were better than anticipated. Now that Delta has installed free IFE in almost all its cabins (offering a far more diverse movie selection than Virgin's long-haul flights) the final leg between LAX and JFK is tolerable. There is no catering on Delta unless you're in business or first class but then all American airlines have dispensed with something novel as free meals on long flights so no surprises there. Delta's menu options are standard American fare, sandwiches and snacks from multi-national corporations chosen (bribed?) by Delta's catering specialists that consider a meal comprising a turkey and cranberry sauce sandwich on white bread with crisps and a cookie to be 'healthy fare'. This is all yours for only USD$8.95, served in a box, wrapped in plastic, tasting like plastic. Drinks are extra of course.
Due to miscommunications between Virgin Airlines staff in Australia and Delta Airlines staff in the USA, our connecting flight between LAX and JFK was overbooked so my partner and I were seated at opposite ends of the cabin. The same happened on the flight between JFK and LAX; we were separated despite having booked our tickets simultaneously and stating we were travelling together. We complained but ground crew expressed an inability to rectify the situation.
Returning from LAX to Melbourne via Brisbane, we along with over 100 other transit passengers, were required to queue at the Virgin Airlines transit desk to re-check our baggage and confirm or acquire a seat assignment for our domestic connections. Two Virgin ground crew members operated the transit desk. We waited in the queue for over an hour, shuffling along like sheep ready to be dipped, mewling ineffectively, exhausted, crumpled and grumpy as one always is after more than 14 hours in cramped conditions without sleep or adequate food or comfort.
Why Virgin hasn't implemented something as practical as a 'Bag Drop' station for speedy disposal of baggage and an electronic checking of boarding passes is beyond me. Given the number of loud and angry complaints I heard while in the interminable queue at Brisbane's inefficient airport (I was informed by a Virgin supervisor that the airline is waiting for more space to be allocated by the airport authority in order to expedite transit passengers in a more efficient and less onerous manner), I was not surprised to overhear murmurs from the shuffling crowd: 'Never again!', 'This is shit!', Why don't they have more staff on?' etc.
See www.virginaustralia.com or www.delta.com for your own special view into man's inhumanity to man from the back of the air tube.
Naked Sleeps:
Asheville's Albemarle Inn is a gracious and well appointed boutique guesthouse owned and run by two devoted hoteliers, Fabrizio and Rosemary Chiariello. Three course breakfasts are cooked to order with great attention to detail and flair. Espresso coffee is also available, unusual in this part of the world. Rosemary arranged tickets to Biltmore Estate and LaZoom Tours, saving us a lot of time and trouble. She made dinner reservations at two of Asheville's best restaurants as well. Having such a resourceful concierge at hand made us feel we were staying in a big city 5-star hotel, but with true country hospitality as a bonus. See www.albemarleinn.com
About twenty kilometres from Charlottesville is the lovely historic property The Prospect Hill Plantation Inn. Owned and operated by Doc and Paula Findley, this is a family run business. The Findley's children were in residence during our brief stay, polite, well-behaved and friendly. The Plantation Inn is a rural residence, the oldest continually working frame-house plantation in Virginia. The principle manor house (circa 1699 with additions until 1850) is surrounded by extensive gardens and grazing paddocks. The long drive from the road to the main house itself is reminiscent of a scene from 'Gone with the Wind', atmospheric and quite grand. Like the Albemarle Inn, The Prospect Hill Plantation Inn takes great pride in its superlative catering. A popular restaurant operates weekends while in house guests are treated to excellent three course breakfasts. See www.prospecthill.com
Naked Eats:
In Asheville, try Cucina 24, a smart Italian influenced bistro right in the middle of town. House made pasta combined with terrific produce and excellent service make this an impressively sophisticated place in which to dine. See www.cucina24restaurant.com
Table Asheville is another cut above the rest of the dining pack. Like Cucina 24, quality produce is the key and it's also conveniently located near the centre of town. Asheville's chef brigade are rightly proud of surrounding organic farms and the marvellous ingredients they supply to the town's most talented cooks. Table Asheville is modern-American style dining, with southern American flavours and a bit of French, a bit of Italian or Southeast Asian or Chinese or Latin American according to chef's whim and what's available from the local farms. The customer is the real winner here with such kitchen imagination serving up excellent food. See www.tableasheville.com
In Charlottesville, we dined really well on simply prepared and delicious food at Maya where everything is 'made from scratch'. Maya has a Mexican slant to it but the food style tends towards traditional Southern USA wholesomeness. This is very much a local's favourite hang-out. The bar is hopping every night and it's an exceptionally friendly place. See www.maya-restaurant.com
Naked Reads:
'Blue Highways' by William Least Heat-Moon is a book I cherished long after reading it. Least Heat-Moon's writing seeps into the soul while he travels the back roads in a search for America's essence.
'Old Glory' by Jonathan Raban is a glorious book about southern American travels witnessed by a keen observer who delves into history, culture and politics as seen from a rural perspective.