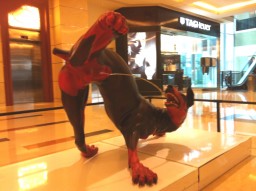 One of the world's largest cities, Jakarta a.k.a. The Big Durian is a shopper's Mecca.
Officially Jakarta's permanent population is approximately 10 million. Unofficially the number swells to 30 million when daily commuters to centrally located workplaces are added to the overall body count. Apparently, if you don't sleep in Jakarta province, you're not considered a resident. No matter, big bad Jakarta rivals Bangkok for first position as Southeast Asia's largest city.
Jakarta is in fact so big it's a province unto itself. A governor instead of a mayor acts as chief mucky-muck. The province is divided into five separate administrative zones with one regency containing the 'Thousand Islands', 105 small islands just offshore in the Java Sea. Each zone has its own mayor and the regency is administered by a chief regent governor.
Unloved by a majority of global travellers, I feel sorry for Jakarta. It's a shockingly polluted sprawling mess with fetid air so thick with humidity and exhaust fumes you could slice it with a cleaver. Abject poverty intersperses with outrageous wealth, a jarring affront to empathetic sensibility.
Something simple as a neighbourhood stroll in Jakarta is a challenge. Broken pavements lead to gaping open sewers. I've almost fallen into numerous black holes while trying to make my way back to my hotel after dinner at a local warung. Street lighting is random; beware the next step. I've also surprised rats the size of cats patrolling side streets in search of scraps leftover from food carts closed up after the dinner rush.
The cheap petrol fuelled vehicle rules in the Big Durian. Millions of pedestrians scramble for space among the densely packed roads. With roughly 10% of urban space devoted to parkland, Jakarta's open area is extremely limited.
Jakarta's public transport system is basically a single lane separate bus way, an inexpensive if overcrowded way to see the city as it makes a great loop around the central business districts. The single lane devoted to the bus way is usually shared with trucks and other vehicles, so don't expect a smoothly efficient fast running public transport experience. The buses aren't air-conditioned either.
So what makes the Big Durian such a fascinating place for me? The local people are overwhelmingly friendly is the primary reason. It's not at all a tourist city, except for Indonesians visiting the capital city during school holidays or for shopping trips, it's something of an international tourist no-go zone.
Foreign visitors are rare, except for business folk, intent on selling or buying something terribly important to human progress, holed up in generic 4 or 5 star business hotels by night, holed up in taxis en route to meetings by day.
Occasionally even time-poor business persons can be interesting, much to my surprise and delight.
Staying at the Hotel Borobudur, I was enjoying the hotel's pool and garden, a real rarity in this low-lying, swampy, rubbish strewn concrete jungle, doing slow laps while imagining pleasurably that Jakarta perhaps wasn't as bad as I initially thought it to be. (It was my second visit and I was still naïve.) A few salary-men were making use of the pool as well. One was doing laps like he was trying out for the Olympic Games. While I was hanging on to the pool's edge looking up at the yellow-ish hazy sky, he stopped for a breather. Hello and bonjour. After a few minutes of friendly banter I discovered I was exchanging foreign trade tips with ex-dictator-for-life of Zaire, the deceased Mobutu Sese Seko's nephew.
Visiting from Paris, where he lived after having escaped being murdered with his mother, Mobutu's sister, he told me he was enquiring in Jakarta for Australian contacts to secure an opening into the Australian market for his European based outdoor furniture business. He didn't qualify for an Australian visitor's visa, likely due to his personal relationship to his dictator uncle, best known for crimes to humanity. Could I help him? We chatted amiably in his native French for a half-hour, me trying to wheedle from him information about devilish deeds done in Kinshasa by the world's most infamous sadistic kleptocrat and him trying to coax from me tips about Australians' preferences in outdoor furniture styles. The conversation veered wildly from plastic or wood to assassinations or civil war. It was a bizarre chat, one I later considered plausible only in a city like Jakarta.
Despite all the urban horror, the impoverished masses scraping by on meagre wages, perhaps dreaming of get rich quick schemes, perhaps dreaming of jihad, I've grown to like the Big Stinky Durian.
For a traveller in Indonesia intent on avoiding tourist excesses such as those found in abundance in Bali, Jakarta is the real deal. It's so ugly it's honest. What else could such an unloved place be but honest? Rampant corruption occurs in Jakarta on a scale that would make Robert Mugabe perhaps a teensy bit jealous. Surely this counts for something significant in terms of travel variety.
The Javanese have perfected the art of obscure politicking. The real political message here is hidden amid layers upon layers of obtuse subterfuge. The only obvious directness, found easily enough by reading the local newspaper, is a blatant disregard for the rules. Officials at the top can get away with murder… and they do. Ex-dictator Soeharto's son Tommy, a convicted murderer, recently tried to sue for damages to his reputation Garuda's inflight magazine when it described him as a convicted murderer, essentially the truth. Soeharto was tried and sentenced in court to gaol but is now free again to wreak mayhem on an uneducated ignorant population entranced with populist political lies. The truth is an ephemeral proposition in Jakarta.
The common language of graft is spoken loudest by the person with the largest number of rupiah and dollars and euros and pounds and yen. Neither does money buy taste. Wealthy Jakartans are among the gaudiest, most louche, loudest and obnoxious on the whole planet. Big hair hasn't died a natural death here, nor has a loose touch with make-up, sequins, rhinestones and plastic surgery. A local rule of surgical practice applies: the bigger the hair, the bigger the breasts.
The greatest folly is seeing a Ferrari plodding along on a typically jammed Jakarta road. Average progress is approximately 19.2 kilometres per hour. Who are they kidding? To avert obvious frustration, some wealthy sports car owners rent whole racetracks for hours of exclusive private driving at high speed fun.
I come to Jakarta to take in the panoply of life on Earth with futuristic effect. Is the Big Durian an example of Armageddon viewed as a slow process? Cinematic allegories abound. Is it Blade Runner writ real or 2012 without a Mayan calendar reference? Will all of the world look like this when global population reaches 20 billion or more? Will the disastrous effects of global warming reach Jakarta first among great metropolises? (40% of Jakarta is at below sea level, the city floods almost annually. In 2007 70% of Jakarta was under nearly four metres of water, at least 85 people were killed and approximately 350,000 inhabitants were forced from their homes.) I ask myself these questions each time I visit.
I come to Jakarta to watch and learn. I also come to Jakarta to shop. A shallow segue but realistically speaking, this represents 60% of the pleasure I derive from a visit here.
By 2012, 68 shopping malls were open for business in the Big Durian. Grab a copy of the English language daily newspaper the Jakarta Post and check for sales. The provincial government has decreed that from 2012, construction permits for shopping centres with footprints larger than 5,000 square metres were to be banned. I reckon there's no chance this will happen. Private money talks louder than public declarations in Jakarta. As of 2011, twelve shopping centres with footprints larger than 100,000 square metres were already open for business. Here's where to find a few.
The international embassy area contains Jakarta's greatest concentration of shopping malls and slick chain restaurants. The usual deluxe hotels operate here too, air-conditioned and peaceful oasis in frantic and pedestrian unfriendly Jakarta. The Pasaraya Shopping Centre (Jl Iskandersyah ll/2, Blok M, Jakarta Selatan www.pasaraya.com) has its own gourmet food plaza located on the lower ground level. It's very reasonably priced and offers a 'suck it and see' approach in immaculate surrounds.
The gargantuan Mall Taman Anggrek (Jl S. Parman West Jakarta www.taman-anggrek-mall.com) is a mini-city of shops, cafes and restaurants, all very schmick. If you fancy ice-skating in Jakarta, this is the place, I kid you not.
In Jl Thamrin next to the Hotel Indonesia-Kempinski facing the Selamat Datang round-about and fountain are the Plaza Indonesia (www.plazaindonesia.com) and Grand Indonesia (www.grand-indonesia.com) shopping centres, both containing top-end luxury chain stores (eg. Dolce Gabbana, Chanel, Louis Vuitton, Armani, Ted Baker, Tag Heuer, Hermes, Valentino, Versace etc and etc.) I have found shopping bargains here that better those I've found in well known bargain bonanza towns like Beijing, Shanghai, Colombo, Bangkok and KL.
West Java is textile central. The world's best tailors operate here and Jakarta is the focus point of all the action. If you can't get a bespoke fine fabric, excellent quality merino wool or silk two-piece suit made here in less than 48 hours for less than USD$300, you're not trying very hard.
From mid-June until mid-July the annual Jakarta Fair takes place. Mostly a trade show, it coincides with end-of-financial year sales in all the major shopping centres. It's a perfect time to visit Jakarta. The weather is relatively benign, dry-ish and cool-ish. The appalling air pollution seems slightly less deleterious to health. Unlike Bali, which is overrun with tourists, mostly Australian, seeking warmth, sun, cheap alcohol, cheap shopping and casual sex, the Big Durian is empty of foreign western faces. They're all in Bali buying some of the same stuff they could buy in Jakarta for a better price, if they knew better.
By the way, Jakarta, from Jayakarta, its former name until 1619 (it was called Batavia under Dutch rule from 1619 until 1942) comes from old Javanese via Sanskrit and means, "victorious deed" or "complete victory". I find this a deliciously implicit irony.
Naked Facts:
I recommend these hotels in central Jakarta: Hotel Borobudur (www.hotelborobudur.com), Mandarin-Oriental (www.mandarinoriental.com/jakarta) and the Hotel Kempinski (www.kempinski.com) All are within spitting distance of a number of Jakarta's largest shopping malls and all three offer top notch dining options, some of the best in the city.