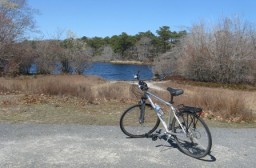 Sticking out at the end of Cape Cod's sinewy finger, Provincetown is like a naughty geographical riposte, an 'Up yours!' to humdrum Middle America amassed somewhere west of Boston.
P'town, as it's called by regular visitors and permanent residents alike, has long been recognised as an artistic refuge.
Artists and writers escaped to P'town for its topographical isolation, unique watery light and natural environment. Coincidentally, post World War 1 fishing industry incomes flat-lined due to greedily depleted stocks while industrial scale whaling died a thankful death.
The Cape Cod School of Art was begun in 1899 by E. Ambrose Webster whose work was strongly influenced by Claude Monet. P'town and chiaroscuro have been inextricably artistically linked ever since.
By 1916 over 300 artists and students were in permanent or seasonal residence, which at the time caused the Boston Globe newspaper to exclaim, 'Biggest art colony in the world at Provincetown.'
Serendipitously the town's financial downturn during the Great Depression proved attractive to writers and painters seeking an enticing base and value for money in terms of accommodation.
Even so, P'town was already an established arts community by the advent of World War 2. Writers were drawn to the hubbub of creativity despite P'town having entered an economic napping phase in the 1930s.
Eugene O'Neill's first hit play 'Bound East for Cardiff' was first staged at the Lewis Wharf theatre in the East End of P'town.  Tennessee Williams lived and worked in P'town as well as Susan Glaspell and the former USA Poet Laureate Stanley Kunitz. Famous journalists John Reed, Louise Bryant and Mary Heaton Vorse also lived in P'town.
In the 30s surrealists Max Ernst, Arshile Gorky and Robert Matta worked frequently in P'town. Robert Motherwell also used P'town as an occasional base.
After World War 2 wandering artists truly placed P'town on the international map. Their abstract expressionist works were gaining recognition but hadn't yet reached the tipping point of popularity. Jackson Pollock, Lee Krasner, Willem de Kooning, Helen Frankenthaler, Franz Kline and Fritz Bultman all worked in P'town while Robert Motherwell continued his semi-permanent residency
Norman Mailer lived there. Kurt Vonnegut also based himself in P'town for some time. Film director John Waters has lived in P'town too, which begs no surprises.
Back in the 60s when local rents were cheaper and the distance between it and larger towns further up the Cape maintained an air of isolation, P'town emerged as the end goal for vagabonds, wanderers and miscreants escaping socially repressive mores. Artists and writers continued to seek inspiration or refuge in P'town. Clearly the town's allure wasn't dimmed by increasing popularity.
Roads improved while a budding reputation for sunny summer weather combined with wide sandy beaches proliferated. P'town's tourism grew quickly as it acquired a reputation as a summer holiday destination.
Since the early 80s and the beginning of the GLBT rights movement, P'town has grown steadily to become one of the world's most sexually liberated towns. Currently it boasts the greatest per capita number of same-sex couples anywhere in the USA.
Rents and house prices have subsequently increased while Provincetown has turned itself into a very trendy Bohemian coastal village. Welcome to gentrification at its most contemporary state as DINKs (Dual Incomes No Kids) rule this cocky roost.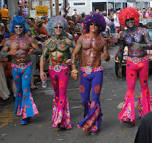 If in doubt about how gay P'town really is, try counting the rainbow flags hanging from just about every shopfront doorway. There are lots of them and it's too easy (and fun) to lose track.
It's also one of the friendliest towns in all America. Given the smiles plastered on almost every face I observed, I'd say just about everyone who comes to this picturesque, historic and slightly wacky town positioned at the end of a sand spit is well pleased to be there.
Wacky? Have a close look at the singularly phallic Pilgrim Monument jutting skywards from a slight rise in the middle of town.
Why is it here? Nearly every American is taught that the original Puritan religious refugees sailed on the Mayflower from England in 1620 and landed at Plymouth harbor (or at 'Plymouth Rock' which is how most history books referred to the landing place).
Not so. The Puritans first landed at P'town in November 1620 before sailing further west to Plymouth where they founded a colony based on peaceful cohabitation with Native Americans (the Thanksgiving holiday celebrates their acts of sharing and generosity of spirit) and religious freedom.
The Pilgrim Monument, built between 1907 and 1912 is still the tallest all granite structure in the USA. It stands 252 feet fully erect while commanding a masterful position over all of P'town. It's the first thing you see when entering town. The monument was built to remind visitors that P'town was the first pilgrim landing place and Plymouth harbor was second.
But most everyone has conveniently forgot that fact.
In his famous song 'Anything Goes' Cole Porter wrote about Plymouth Rock. As it often happens in popular history, a mistake becomes legend which becomes myth which is now entrenched into the general mindset.
P'town rate payers attempted to remind patriots that here was the site of the Puritan's first landing by constructing a gigantic upwardly thrusting symbol commemorating a transit stop on the road to liberty. Instead they ended up with a stony exclamation mark that looks like a big grey knob.
This big grey knob is mid-point between P'town's East End and West End. P'town stretched from end to end is essentially a long strip of two or three parallel streets. West End is the slightly more gentrified of the two halves. East End's extremity borders cheaper summer accommodation places, tiny boxes packed closely together facing quiet bay beaches, all very family friendly but looking rather forlorn. The western end of East End is full of specialty shops and galleries. They don't look as expensive as those in the West End.
The West End is where P'town's narrow assortment of grand houses line up facing the water and where the shops appear tonier. In the middle is downtown, also where you'll find the town's main wharf. Here the busiest bars, flashiest shops and greatest concentration of restaurants gather in one great retail extravaganza of mostly independent operators. Chain stores, mainstream international brands and 'malling of America' ugliness are non-existent in P'town.
The monument and adjoining Provincetown Museum are perfect starting points in which to get a sense of this quirky town's history. When the men of the Mayflower signed (not a single woman was a signatory) the Mayflower Compact in P'town harbor they officially espoused individual rights and freedoms. (See the original text and names of the signatories here: www.pilgrim-monument.org/mayflower-compact#.UzUcH87QsdY)
By the mid 19th century P'town had become one of Massachusetts' wealthiest towns with per capita incomes amongst the highest in the state. Cod fishing and whaling businesses both reaped fortunes, largely for the Portuguese migrants (the majority of them fishermen from the Azores Islands) who settled there earlier. The Portuguese heritage is still strongly felt in P'town as these hardy fisher-folk established an atmosphere of independent social, religious and cultural life.
These days P'town is a holiday resort town of unique attributes. For GLBT persons bent on kicking up heels and having a good time in a relaxed place where politically focused matters of sexuality can be read as 'been there, done that, get over it', this is one of the few places on America's eastern seaboard where acceptance of same sex couples is a given.
Only Fire Island, Rehoboth and Key West can compete on similar levels of liberating attitudinal conceptions. In my opinion, P'town is much more interesting.
Maybe it's the cross breeding of puritan history, Portuguese influence and lately, sexual revolution that makes this town feel separately special.
For my money, the backdrop of calm waters in the bay to the west, rough open Atlantic to the north and east and the wonders of Cape Cod's particularly interesting environment add extra incentives, enough to give P'town the edge over the aforementioned GLBT Meccas.
A visit to P'town may be focused entirely on its abundance of arty shops, arty galleries, funky boutiques, cafes, restaurants and bars.
If nightlife is the main aim, remember that peak season summer nights in P'town stretch till dawn while the bars thrum with house music and sweaty, suntanned torsos twist round one another in an endless interpretation of how to do a 'Bacchanalia' in New England. There's plenty of flash and splash to occupy oneself within the confines of central P'town. Even the most blasé hedonist will not lack pleasurable pursuits: Cape Cod, Escape Cod. Who needs a national park when a spunky muscle man or svelte sex goddess is in need of a bar side proposition?
For me it's the lure of the adjacent nearby wild places that makes P'town so special. I hired a bicycle and had miles of very well maintained cycling trails in adjoining Cape Cod National Seashore Park pretty much to my lonesome during a half day's rambling.
Cycling from Herring Cove beach to Race Point and through the Beech Forest, I tallied about 30 kilometres of easy riding on well maintained tracks. Tiny lakes hidden in dense scrub forest sparkled between sand dunes while circling hawks screeched at bright red cardinals hop-searching for grubs in dim clearings. Pine, oak, beech, hemlock and hickory tree thickets obscured pretty ocean views.
These cycling trails were the first ever built in an American national park. The detour proved a quick revivifying exit from P'town's surfeit of fleshy excesses. Not thirty minutes easy pedalling from opposite the Pilgrim Monument brought me to reedy marshland filled with waterbirds that bordered a sheltered bay beach from which it's possible to see whales migrating to and from Arctic waters during spring and autumn.
Close proximity to the cape's wind scoured beaches grandstands hauntingly beautiful marshlands and forests, positioning P'town foremost in my mind as the funky town perched on an arboreal outpost wedged between sand hills. It's most definitely a unique location.
If history is on the travel agenda, P'town bookends a fair share of colonial, post-revolutionary, mid-19th century marine commerce and 60s sexual liberation stories, quite a varied mix. Check out the town library's reference collection (after visiting the Provincetown Museum).
Past Wellfleet near Eastham just off the road to P'town (US Highway 6) is the Old Cove Burial Ground. It's a small cemetery, unmarked and rather lonely.
Here lie the only authenticated graves of the original Mayflower passengers. The headstones are worn smooth with age but a few remain legible, for instance the grave of Constance Hopkins Snow. She didn't sign the Mayflower Compact but she was one of the famous pilgrims who landed at Plymouth Harbor (Rock) via P'town.
Also near Eastham is the main visitor's center of the Cape Cod National Seashore Park. Cape Cod's ecology, geology and environment are intelligently described in a comprehensive group of exhibits and displays.
The park rangers working on site are invariably amiable and well informed. Typically, employees of the American national park service welcome questions. The wonders of Cape Cod are cheerfully explained. Queries are warmly welcomed and enthusiastically answered.
P'town's permanent population numbers roughly 3,000. In summer it burgeons to over 60,000. Like a dance floor laser show it shimmers during summer's hustle and bustle. Peak season is from May until September when accommodation, holiday houses and hospitality businesses are at their most frenetic. Off peak during spring and autumn is quieter, gentler and captivatingly beautiful. Winter is for true devotees, the only time when P'town's party lights are dimmed… but they still cast a comely glow.
Tom Neal Tacker travelled as a guest of Qantas Airlines and Massachusetts Tourism Authority.
Naked Facts:
P'town's annual calendar of events is packed with an extremely varied program from a film festival to a home made boat race, from a renowned arts festival to a gay bear's week and to a Portuguese cultural celebration. The year's biggest event is Carnival Week (3rd week in August), when the GLBT community is truly out in force.
See www.ptownchamber.com for more information including accommodation, touring and restaurant advice.
Naked Sleeps:
The Crowne Pointe Historic Inn & Spa is smack in the middle of town though gratefully positioned on a rise near the Pilgrim Monument just above the main road's traffic and action centre.
Large suites are decorated with antiques and Presidential memorabilia. My king sized bed in the Lincoln Room almost needed a small trampoline to help me get into it. From on high I had great views over the townscape and nearby bay. All mod cons functioned perfectly. A large bathroom had everything I needed, including good quality toiletries, a full bath and shower.
Best of all, the catering is terrific. Breakfasts are cooked to order and served in a lovely dining room with an enclosed veranda and huge bay windows. Lunches and dinners are equally fine. A small bar adds more pizzazz to the whole scene.
An on site spa boasts an indulgent menu of treatments. In summer a private and secluded outside spa pool draws guests to indulge in social repartee.
Naked Eats and Drinks:
Apart from the excellent dining at the Crowne Pointe, I recommend Napi's restaurant for its authentic American food prepared with Italian flair. The location in a back alley makes this a favourite with permanent residents.
Another established and reliable restaurant is the Lobster Pot. Obviously, ocean delights are the main drawcard here. Fresh local seafood and fish served by talented professional wait staff combine to create a winning dining package.
The Atlantic House (A-house) bar claims to be America's oldest gay bar. This rambling pub is a lot of fun. If you're fresh in town, it's a perfect place to begin engaging in your best new friendship.
Naked Reads:
Michael Cunningham (author of 'The Hours', 'Specimen Days', "A Home at the End of the World', among others) bought a house in P'town years ago. Splitting his time between P'town and a home in New York, this insightful and accomplished writer is clearly very fond of P'town. His book, 'Land's End: A Walk in Provincetown' is compulsory reading for its observant, witty and honest view of this outpost proudly set at the outer reaches of America. I found two copies at the local library, borrowed one my first night and finished it at the beginning of my third and last day. Packed with facts and random personal observations about P'town's propensity for attracting oddballs, eccentrics and geniuses, I felt far better informed for having read it.