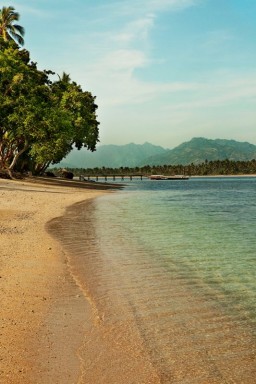 The crow flies' distance between Bali and Lombok is less than sixty kilometres, creating a world of difference between the two islands.
While Bali is famous throughout the world for its exoticism, synonymous with tropical paradise and unique culture, adjacent Lombok remains comparatively unknown. Bali evolved its unique hybrid version of Hinduism over one thousand years ago as Lombok developed its own hybrid Islam in roughly the same time-frame. Separated by a short distance, the two islands co-exist as partners in Indonesian tourism however much their cultural differences prove otherwise.
Regular flights to Lombok's main city Mataram leave from Denpasar, Jakarta and Surabaya. Quick daily ferry services depart from both Bali's Benoa Harbour near Sanur and Padang Bai near Candi Dasa, the trip takes 90 minutes.
I choose the Gili Cat option from Padang Bai, AUD$90 for a return ticket booked a few days in advance from a travel agency in Ubud. Most visitors to Lombok have the three Gili Islands in their sights.
Widely proclaimed as the ultimate in Indonesian beach destinations, I discover they've suffered for their success. Gili Trawangan, the largest of the three coral atolls just offshore from Lombok's northwest coast, is swamped with flash-packing travellers in search of sun, sand and cheap accommodation. Gili Meno, second in size, is for the most part uninhabited with a couple top end, small and exclusive resorts while the smallest of the three, Gili Air remains relatively unscathed by the tourist onslaught. Meno boasts a sea turtle sanctuary. Air has some lovely coral reef accessible from its beaches for both snorkelling and scuba diving but marine life has suffered from overfishing. Trawangan offers over sixty accommodation choices, ranging from 1 to 5 stars. It's cheek to jowl travellers on Trawangan, crowded and often noisy when the bars are full.
The Gili Cat fast boat is full leaving Padang Bai. All passengers save for three, me included, disembark at Trawangan. Two disembark at Air. I am the only passenger disembarking at Teluk Kode, the tiny harbour on Lombok's west coast near Sengiggi and Medana Bay. Have I made the right choice? If Trawangan is evidently so popular among enthusiastic travellers, why am I the only one not going there?
For the record, Teluk Kode doesn't exactly present an enticing snapshot of Lombok. Mangy dogs pick garbage scraps from between dirty tables at a single kiosk serving snacks and cold drinks. Plastic rubbish litters the small beach. People laze about under ratty rattan awnings, snoozing or chatting, ignoring me. One man makes a tired attempt to sell me knock-off sunglasses from a tray full of imitation Ray-Bans. For a moment I contemplate taking the next boat back to Bali.
A slight older man in clean shirt and trousers waves from under a low hanging palm frond. 'Mr Tom? You are coming to The Oberoi?' he asks. My driver is standing quietly and I don't see him. This is my introduction to Lombok's people and their subtle ways, different from the Balinese and their entrepreneurial outgoing nature. While the Balinese don't often miss an opportunity to interact, normally in hope of a sale, the people of Lombok are naturally more reticent. It's a refreshing change.
We hop into a Toyota Kijang, my bag is settled in the back seat and I'm up front with the driver. '15 minutes to The Oberoi Mr. Tom,' he informs me. I open the window and look out over rice paddies and water buffaloes standing chest deep in water. In the distance, I can see Gili Trawangan, thankful I'm not marooned on a tiny island with too many tourists trying to escape from too many tourists.
To my right is Mount Rinjani, the great volcanic massif that dominates Lombok from all angles. At 3,726 metres it's the second highest peak in Indonesia after the mountains of West Papua. The summit is wreathed in swirling cloud, a constant presence. Bali's holy volcano Agung is clearly visible across the Lombok Strait, a sentinel representing the world I've just left behind.
The Oberoi's position at Medana Bay was chosen by CEO and Chairman Mr. P.R. S. Oberoi twenty years ago. Built to blend into the surrounding environment, the villas and pavilions are constructed in local stone and wood, typical of Lombok's rough architectural style. The expansive gardens are immaculately maintained. There's no risk of being struck on the head by a falling coconut here. All the trees are scrupulously pruned. The private beach is sparkling clean.
Hot Tip: Pool Villa 114 is my top pick. Furthest from the restaurant and bar, it occupies a very quiet position atop a low hill overlooking the private wharf and bay. As it's not right on the beach, the price is less than the more expensive beachfront pool villas but with the same layout and large private pool.
Pleasantly surprised, I find the food is far better than expected, most dishes are prepared with real flair. A mix of local favourites and European influenced dishes titillate my tastebuds. Unfortunately outrageously high Indonesian taxes on imported wines continue to plague keen diners not used to paying up to 300% more than normal retail prices seen in Australia or elsewhere. Try the local arak spirit, tastes like rum and is fine in a mai-tai or mojito, particularly sipped at the beach bar during sunset.
Warning: Arak is plentiful but all travellers should beware of possible methanol poisoning. Cheap under-the-counter spirits sold in Indonesia (and at some dodgy bars in Kuta Beach Bali) are notorious for containing methanol. Methanol may cause blindness, brain damage and death. Ask before drinking. Avoid obvious moonshine products. Drink in reputable establishments.
The Oberoi is a refuge from the island's wonky power supply and an assortment of shoddy faux-tropical resorts. I note the guests are mostly 'newlyweds and nearlydeads', a combination common to most remote 5-star resorts, though honeymooning couples dominate the casual social scene here. There are no organised activities. If you want to snorkel, borrow at no extra charge a mask and fins from the water sports centre and wade out from the beach to the coral reef just a few metres offshore.
Reasonably priced personalised diving trips to Gili Air or Medana's reefs run daily. A tennis court is virtually unused in the heat. The gym is empty. The most exercise I see is someone walking from the pool to the beach and back, all of ten metres. People come here to relax, not to sweat. A beautifully appointed spa is justifiably popular; the post-sun burn treatments are fully booked.
A tour guide is on call. I arrange to visit the Sasak communities of the highlands on the northern side of Rinjani and use the opportunity to get beyond The Oberoi's gates for a couple days exploring.
Sasaks comprise approximately 85% of Lombok's total population of nearly three million. They practice their own version of Islam, praying three times per day instead of five, choosing to focus more on raising rice crops rather than attending mosques. Far from Mecca, Lombok is graced by Islam-lite, less strict than the Middle East, or Java for that matter. Most Sasaks speak some Bahasa Indonesia. The remaining 15% are ethnic Balinese Hindus inhabiting the area primarily around Mataram.
From the tiny village Senaru, perched 600 metres up a plateau I visit two waterfalls, Sindang Gila and after 45 minutes further soft trekking through lush jungle, Tiu Kelep. Both are enchanting yet a group of a dozen day-tripping noisy French tourists spoil the Gauguin-esque mood somewhat.
I decide that Lombok is well worth the trip. Getting away from the touristy beach resort strips at Sengiggi and Kuta (not to be confused with Bali's Kuta beach) is the way to go. I also avoid the Gili Islands, leaving them to backpackers keen on a cheap holiday and little else. The Oberoi Lombok offers a deluxe sanctuary perfect for anyone interested in top-notch service, food and ambience.
Naked Facts:
Getting there:
Garuda Indonesia offers the best international service and connections to Mataram, Lombok from its main hub airports at Denpasar and Jakarta. See www.garuda-indonesia.com for bookings and information.
Staying there:
The Oberoi Lombok is stunning. Relatively small with fewer than 60 pavilions and villas, it offers space galore, excellent service, fine food and a perfect location. See www.oberoihotels.com for bookings and information.