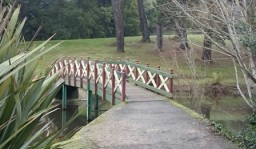 Some of Australia's finest cool climate wines and best country restaurants are found here.
I like to eat and drink the good stuff.
Who doesn't?
Spreading over the high country from the northern fringes of Mount Macedon, east to Heathcote's warmer climate and west to Daylesford's wooded outskirts, the Macedon Ranges wine country is the pre-eminent cool country wine locale on the Australian mainland.
Day-tripping visits or longer stays hold equal appeal. Exploring the pleasingly rural landscape dotted with cute country towns is to experience country Australia at its best. With Daylesford/Hepburn Springs serving as the region's gourmet locus, visitors looking for a range of accommodation will be well catered for.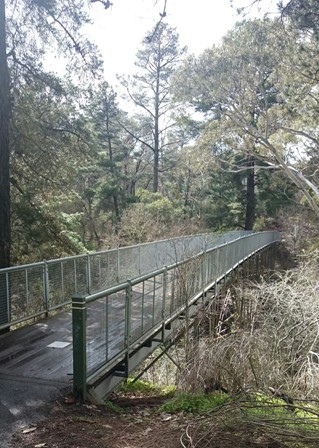 Footbridge into the bush at Hepburn Springs
Author Joan Lindsay's fabulous novel, Picnic at Hanging Rock, which was made into a ground-breaking film by director Peter Weir in 1975, tells the story of four women lost forever in the labyrinth of Hanging Rock's rocky slopes. An ancient volcanic plug, (a 'mamelon' in geological nomenclature from the French derived word mammary as the rounded shape resembles a nipple on a breast), the basalt behemoth dominates the plain immediately north of Mount Macedon.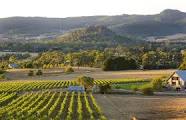 Hanging Rock vineyards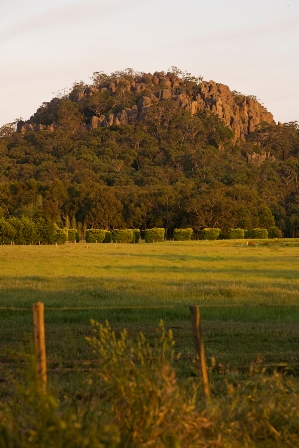 Hanging Rock
Hike to the summit for great views over the ancient volcanic landscape. Northeast is Mount William, famed by indigenous people throughout all of eastern Australia for the quality of its flint stones which were traded up and down country. Not a walker? A simple picnic at the rock's base among the gum trees and watchful kookaburras accompanied by one of the local wines may prove a less strenuous option. Tables are scattered through the parklands next to the famous Hanging Rock racecourse.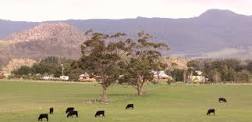 With thirty-four wineries currently in operation, visitors are treated to a broad array of wines. Be prepared to encounter vinous descriptions ranging from racy and austere to refined and rich (i.e. zesty bone dry or fruity full-bodied). Dominant grape varieties are: Pinot Noir, Chardonnay, Pinot Gris, Gewurtztraminer, Riesling and Shiraz. Scatterings of red Bordeaux varieties: Cabernet Sauvignon, Merlot, Petit Verdot and Cabernet Franc are sparsely planted in warmer lower areas. A Macedon Ranges' defining geological feature, one of many that make this region unique, is its rich volcanic soil, clearly evident in the colour of the basalt rock formations that are part and parcel of the scenic beauty of the locale. Another is the altitude. All Macedon Ranges wineries are sited above 400 metres, the highest at 700 metres on the northern slopes of Mount Macedon itself.
John Ellis, the slightly grizzled though still dapper owner/operator of Hanging Rock Winery (www.hangingrock.com.au) has been instrumental in securing international fame for the region. He established his winery in 1983, grapes were planted in 1982. Always an eloquent spokesperson he says, 'We weren't the first however. Tom Lazar of Virgin Hills, who began making wines at his property in the 70s encouraged Gordon Knight at Knight's Granite Hills and a few others to follow suit. There was a bit of a slump from the early 70s till the 80s but the region has been expanding ever since.'
Ellis served as Chairman of the Macedon Ranges Regional Tourism Association for many years, claiming, 'What separates the Macedon Ranges from others is all of the wineries here are family owned. There are no multi-nationals.' With further emphasis he explains, 'We're all small, different and individualistic. Our wines are basically limited editions.'
In 2002 the Macedon Ranges was granted formal Geographical Indication status. Its 650 hectares of wine producing land is one of Australia's smallest recognised regions, a clear indication of its importance in comparison to larger areas of equal fame.
Though best known for its Pinot Noir and Chardonnay based sparkling wines, made in the same method as Champagne, wineries here produce many styles, from earthy and ethereal reds to both fragrant and full-bodied whites. Popping the cork on a bottle of prime Macedon fizz is to savour a rare treat.
But don't forget to indulge in the region's other notable wine styles.
With alternative varieties such as Lagrein, Sangiovese and Tempranillo as new cultivars, the region is expanding its horizons. Ellis elaborates, 'One or two vineyards of Lagrein does not a regional specialty make however. Riesling is a superb variety here as are Pinot Noir and Chardonnay. Macedon Ranges' Shiraz is interesting too, very peppery and spicy. We all continue to do the best we can in marginal conditions. It's why Macedon Ranges' wines are so special.'
Here's a short list of my other favourite Macedon Ranges wineries.
Granite Hills (www.granitehills.com.au) produces superb Chardonnay, Pinot Noir and Shiraz but it's really famous for successively outstanding vintages of Riesling. Owned and run by the Knight family since its founding in the late 70s, Granite Hills is one of Australia's most consistent award winning wineries.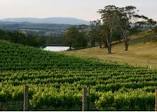 Also top-notch is Curly Flat (www.curlyflat.com), whose Chardonnay and Pinot Noir wines continually rank amongst the finest in the country.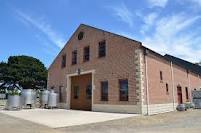 Cobaw Ridge (www.cobawridge.com.au) is really off the beaten track. Here Shiraz and Lagrein grapes are kings of the castle. Cobaw Ridge specialises in long lived wines, full of character and finesse.
Zig Zag Road Winery (www.zigzagwines.com.au), for its prize-winning Riesling and Cabernet Sauvignon completes my current shortlist.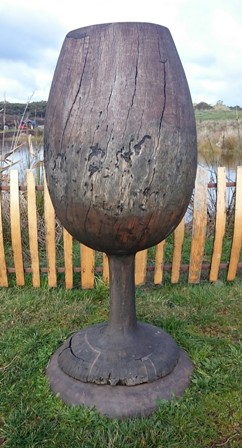 Outside Musk near Daylesford, is the Leith family's Passing Clouds Winery. Top quality Pinot Noir, Chardonnay and Cabernet Shiraz blends have put this small vineyard on the map of renown for over thirty years. (www.passingclouds.com.au) Recently opened, the 'cellar door dining room' restaurant is drawing in happy local crowds with delicious food cooked by the exceptionally talented David Willcocks, (formerly of The Argus Dining Room). The restaurant is open weekends only. Like all superlative dining spots in this popular region, be wise and book ahead.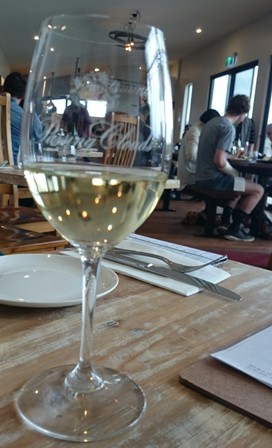 Thirty-four wineries are listed as members of the Macedon Ranges Vigneron's Association. Their website (www.macedonrangeswine.com.au) is a useful tool when discovering this district as many wineries are open to the public by appointment only. A number of boutique guesthouses are listed in addition to other dining options I've not mentioned below.         
West of Mount Macedon is a scattering of small villages and two large towns: Kyneton and Daylesford. Their relative close proximity to Melbourne attracts tree-changers, folks bent on escaping the trials of the big city for a more relaxed back-to-nature country lifestyle. That many end up working harder than they ever did in the city should surprise no one toiling in the hospitality industry. Similarly, running a successful farm or small business in country areas isn't quite the doddle some naive people may believe.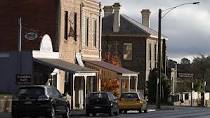 Drawing in permanent residents and visitors alike is the region's sophisticated food scene.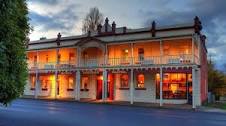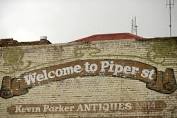 Kyneton boasts a few outstanding restaurants in its unofficial 'Eat Street', Piper St: Source Dining (www.sourcedining.com.au) which was formerly Annie Smither's Bistro, Mr Carsisi (www.mrcarsisi.com), and the Royal George Hotel (www.royalgeorge.com.au) are each excellent examples of country dining at its best. The good value Dhaba at The Mill (www.dhaba.com.au), also in Piper St, does authentic curries with house made Indian breads.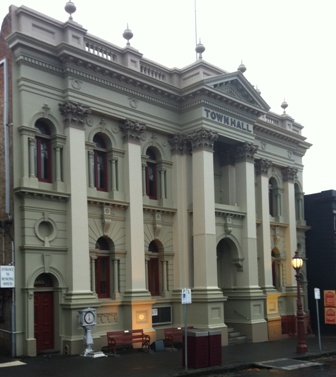 Daylesford's cutting edge restaurants start me salivating as soon as I make a reservation to dine: the Lake House (www.lakehouse.com.au), Kazuki's (www.kazukis.com.au) and Mercato @ Daylesford (www.mercatorestaurant.com.au) The Perfect Drop (www.theperfectdrop.com) and Sault Restaurant on Daylesford's southern outskirts (www.sault.com.au) vie for top honours.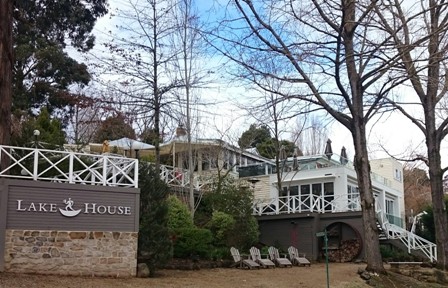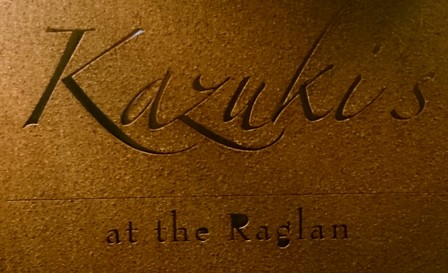 One of Victoria's best country pubs, the Farmer's Arms (www.farmersarmsdaylesford.com.au) is another local favourite.  Run like I want to see all Australian country pubs operate; always friendly, always reliable and always great eating (and drinking).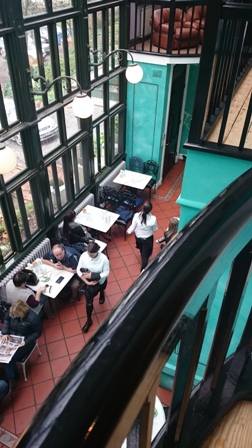 Convent Gallery cafe
The Convent Cafe and Gallery (www.conventgallery.com.au) near the top of Wombat Hill (don't miss the Wombat Hill Botanical Gardens for its splendid Victorian era collection of rare trees; the views overlooking surrounding countryside are damned fine as well) is still rocking a terrific high tea—book in advance. The old convent was converted to an art gallery years ago. Changing exhibitions make it a must-see whenever you're dawdling around Daylesford.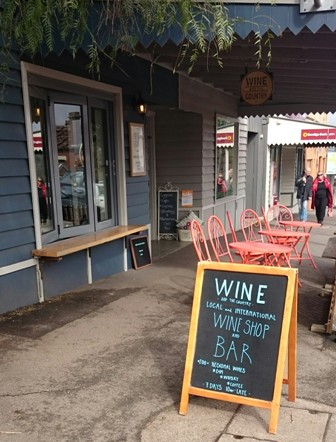 In Vincent St is the Wine Shop and Bar, (owned and run 7 days a week from 10am by Owen Latta of the same family that also owns the consistently marvellous Eastern Peake Winery north of Ballarat www.easternpeake.com.au), serving many local wines by the glass unavailable for tasting elsewhere. A small menu of homemade tapas style dishes compliments the wine selection. (www.wineandthecountry.com.au)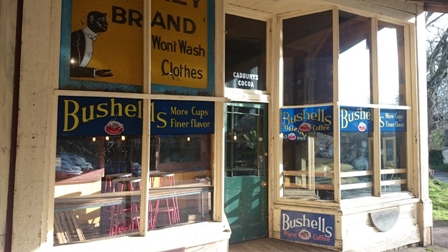 In Raglan St near Mercato @ Daylesford is Cliffy's Emporium, a neat little shop packed with delicious locally made goods and fresh organic produce. A cafe here also does terrific lunches. (www.cliffysemporium.com.au)
On the shores of lovely Lake Daylesford are two wonderful cafes: The Boathouse, run by the same dynamic two ladies formerly of the Farmers Arms pub, is serving excellent lunches in a relaxed setting (www.boathousedaylesford.com.au) and the utterly charming 2nd hand bookstore cum cafe The Book Barn @ Daylesford (www.bookbarndaylesford.com).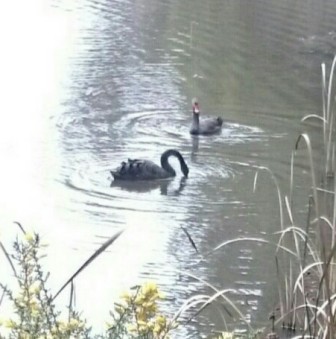 How lucky Daylesford is to have a lake as captivating and beautiful as this on its doorstep. Walking its circumference takes approximately two hours gentle strolling. Misty winter mornings strike a picturesque contrast to summer's clear sunny days.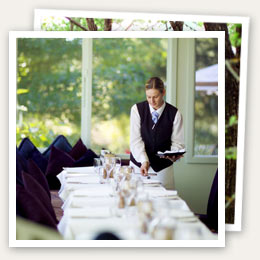 Of course, the esteemed Lake House restaurant and suites is already a legend in its own lifetime. When Alla and Allan Wolf-Tasker turned a run down cafe on the shores of a forgotten lake into one of the state's premier dining destinations, they set in train a revolution in taste that all Daylesford now comprehensively enjoys. Alla Wolf-Tasker once told me that, 'the locals thought we were crazy when we began planting trees on the barren site as they'd spent years pulling them all out.' Theirs was a task not only consumed by hard physical labour but also one of convincing conservative locals that good food and wine could change hearts and minds too. More than thirty years later, the battle has been won, thanks largely to Alla and Allan Wolf-Tasker's dedication to excellence.
Kazuki Tsuya worked as a sous-chef at the Lake House, proving that great training comes full circle. I find it delightful that one of Daylesford's most interesting restaurants is owned and run by an ex-Lake House employee, further proof that Daylesford has come into its own as a food town given that with Tsuya's background and experience he could have chosen to work anywhere. Instead he chose to remain local. Well done. Kazuki's restaurant has raised the dining bar even higher in this food obsessed highland town.
Mercato is another lovely dining affair. With owner/chef Richard Mee heading the kitchen, deft hands craft local produce into sensational dishes, particularly adept with meats. Carnivores will be well sated. This little shop front fine diner is always a winner with locals and visitors alike.
Just up the road from Daylesford is tiny Hepburn Springs. Here is where tourism landed on wet feet. Back in the late 19th and early 20th centuries, most visitors 'took the waters' while seeking cures for ailments from gout to asthma by soaking in the region's mineral-dense spring water. The public baths were renovated in 2014 but one hotel, the Peppers Mineral Springs Retreat, is the best place to see what the fuss was all about. (www.pepperssprings.com.au or www.theargusdiningroom.com.au)
Owners Wayne Cross and Chris Malden have done a superlative job in refashioning this Art Deco palace into a contemporary and swish boutique hotel. The newly outfitted spa is quite simply stunning. The usual range of treatments is available but here authenticity is the key to success. Hepburn Springs' waters haven't changed; it's still aglow with health giving qualities, which the Mineral Springs Retreat makes excellent use of.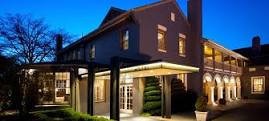 I loved my floating 'soft pak float bed' water bed treatment for instance. Cross and Malden bought two of these nifty German made contraptions for their spa, (the only two in Australia I'm told). They're water beds but you don't actually get wet. Imagine being rubbed down in the nicest way possible with an aromatised oil of your choice, then plastered with healing ointments, then wrapped cocoon like in warm fluffy towels and then gradually and ever so sweetly settled down into an all enveloping water bed that wraps round you like a lover you never want to let go. After a long nap (sleep is inevitable under these foetal like conditions), I was gently awoken, sponged off and moisturised again. Feeling like a freshly minted fortune, I was then truly ready to tackle any possible stress inducing situation that may come my way. Luckily none did.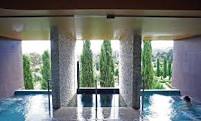 The refurbished The Argus Dining Room offers an interesting menu, a bit on the pricey side considering portion size but the chefs show flair and imaginative use of local ingredients. Banish all memories of execrable hotel food. Embrace instead the refreshing notion that hotel food can be pace-setting and inspiring. The wine list under sommelier/restaurant manager Jeremy Shiell is a compendium of booze I like to drink.
Also in Hepburn Springs is the newish Surly Goat (owned by a couple who ran the Farmers Arms pub; a wellspring of talent), where authentic hospitality rules and where Chef Sean Marshall is cooking the kind of food I expect to eat at a metropolitan foodie pilgrimage place. In a word, wow! (www.thesurlygoat.com.au)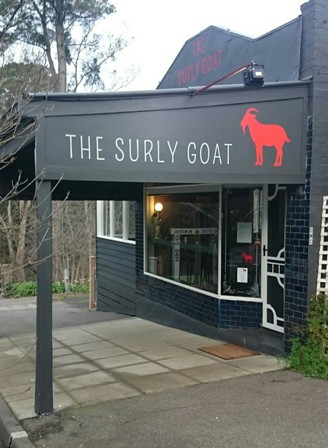 Just around the corner from the Surly Goat is Frank and Connie's Kitchen, a lovely restaurant where quality is king, service down home friendly and the cooking is inspired Mod Oz without fuss. (www.frankandconnies.com.au)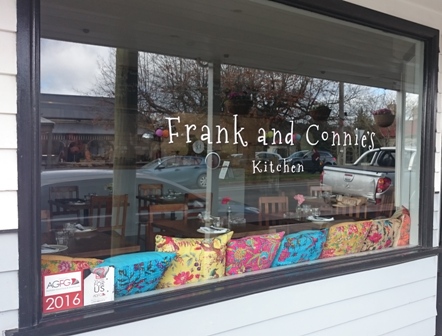 Across the road from Frank and Connie's is the not-to-be-missed funky shop Portal 108. Shopping here is pure joy. (www.portal108.com.au)
The old Hepburn Springs hot springs centre was strikingly renovated in 2014 and now offers a variety of day packages and self-contained upscale accommodation. The unique slightly carbonated waters (high in calcium, silica and rare trace minerals) have been boosting health for over a century. When gold fever was at its pitch, the springs were nearly run dry as a result excessive digging and drilling in pursuit of gold. Concerted efforts by devoted fans saved the springs from ultimate dried-up disaster, thereby turning a tiny mining camp into Australia's preeminent natural springs' town. (See www.hepburnbathhouse.com)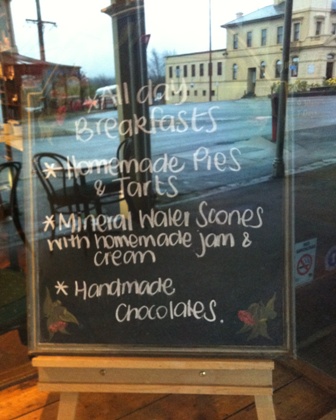 Mineral water scones are the go in local cafes
Between Daylesford and Trentham is tiny Lyonville, a simple one-pub town, where the Radio Springs Hotel is the centre of the universe. Weekend lunches are justifiably popular. Book ahead or don't get in.  (www.radiospringshotel.com.au)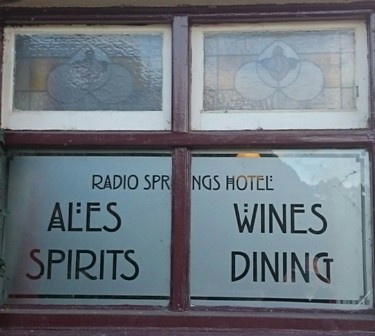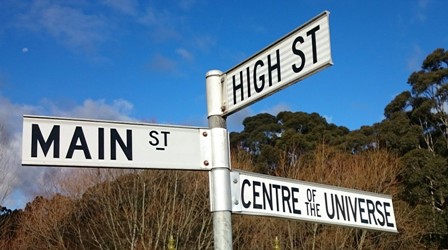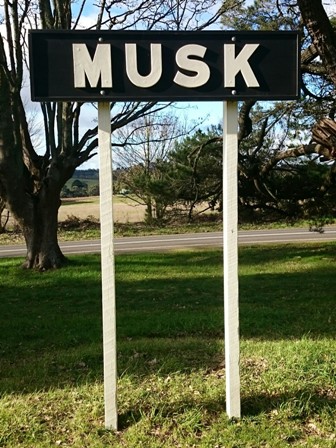 Over in Malmsbury is the tiny and funky Small Holdings open kitchen bistro. There's no menu but who cares? The food is rustic, unpretentious but authentically good. Using local produce wherever possible, the team here espouses 'paddock to plate' ethos and the customer is the beneficiary. Let them cook for you. You'll be happy they do. (www.smallholdings.com.au)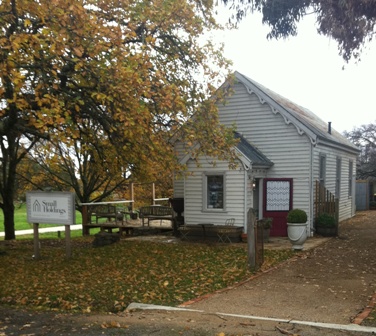 In Trentham, a lovely village well cared for by its tree-changing inhabitants, try Du Fermier (www.dufermier.com.au) owned and run by gardener chef extraordinaire Annie Smithers (she sold her eponymous Kyneton bistro to Tim Foster who has done a smashing job maintaining Smithers' impeccably high standards while changing its name to Source Dining). Simple Frenchified food done to perfection is the go here. Open weekends only, this excellent bistro tends to book out completely weeks ahead; reserve well in advance for a table.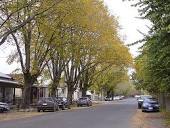 Also in Trentham is the famous Red Beard Historic Bakery where hand-crafted sourdough breads of exceptional quality matched by addictive sweet treats are the rule. The cafe does a roaring weekend trade. Luckily it's also open weekdays. (www.redbeardbakery.com.au)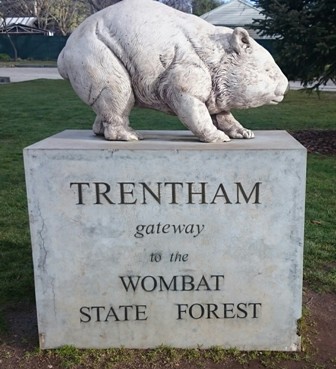 Near Trentham is the Wombat State Forest and Victoria's highest waterfall, Trentham Falls. Plunging 32 metres over a sheer basalt cliff face, it's almost hidden by dense temperate rain forest high up the Great Dividing Range, a sure surprise on first sight. Grab some picnic supplies (and wine of course) from the huge range of Macedon Ranges' gourmet network of shops, purveyors or farmers' markets. Spread a rug amongst the lush mossy bushland, relax over terrific food and wine and revel in the good life.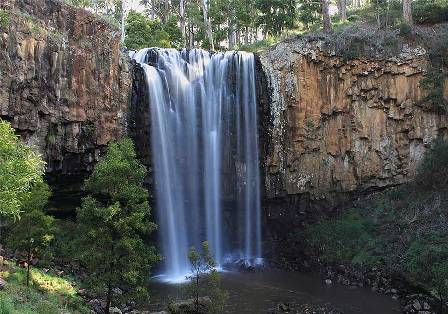 Rural Australia rarely gets better than this.
Tom Neal Tacker travelled courtesy of Macedon Ranges Regional Tourism Association. 
Naked Tips
Don't miss the Macedon Ranges' wine lovers annual Budburst Festival held mid-November. www.budburst.com
Australia's largest regional celebration of diversity is Daylesford and Hepburn Springs' annual ChillOut Festival which takes place each Labour Day weekend in March. Running successfully with lovable enthusiasm since 1997, this festival draws in huge crowds from all over Victoria, Australia and beyond. Accommodation is booked out well in advance so plan ahead. All of Daylesford and Hepburn Springs becomes party-ville. It's a family friendly, pet friendly all-inclusive event, an excellent path to engaging with local residents. (www.chilloutfestival.com.au)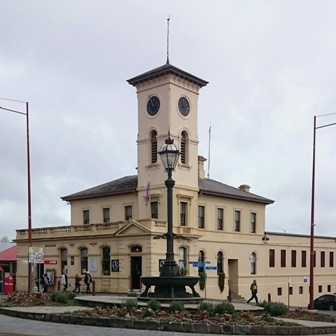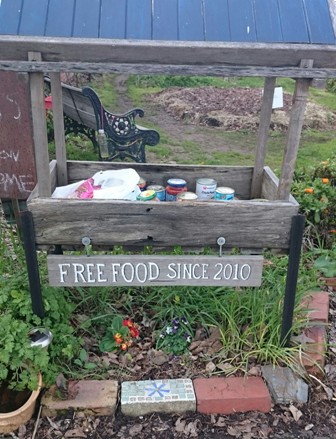 Naked Routes:
The Macedon Ranges is within very easy reach of Melbourne. Less than two hours drive from the city's CBD will bring visitors to Daylesford or Kyneton. Alternatively, Kyneton is on the main train line from Melbourne north to Bendigo with frequent daily services.
Naked Sleeps:
Peppers Mineral Springs Hotel in Hepburn Springs is a wonderfully run boutique hotel. The Art Deco main building has been tastefully renovated while the newer suites in the capacious gardens boast spa baths. A few suites also sport their own balcony spas with calming garden views. (www.mineralspringshotel.com.au)
The historic 1930s era Grande Hotel in Hepburn Springs has a terrific cabaret venue, good restaurant and well appointed refurbished rooms full of character. The back deck overlooking dense forest is a launching pad to dreamland. (www.thegrandehotel.com.au)
Also in Hepburn Springs is Victoria's only Small Luxury Hotel member The Dudley. Immaculately maintained, this lovingly restored guest house is sheer perfection. Breakfasts are memorable. Service is flawless. (www.thedudley.com.au)