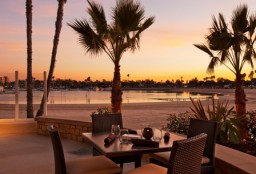 Long haul air travel can be a real drag: cramped flights, aggressive security and bad food immediately spring to mind.
It gets worse when a very long transit stop is included.
Here the choices facing travellers become more complicated.
Get away from the airport, enjoy a good night's sleep, eat well and relax.
How you start a holiday is often a key indicator of how it will finish.
LAX is a stop I do everything to avoid short of hijacking the plane. For most visitors from Australia and New Zealand, it's the unavoidable airport (San Francisco and Honolulu are reasonable alternatives) when travelling to North and Central America.
While LAX continues to upgrade some facilities, security, customs and immigration and public areas beyond the revamped Tom Bradley international terminal's inner sanctum are still woefully inadequate and overcrowded.
It's like a 4th world where anger management skills are tested beyond endurance point.
Less than 20 minutes drive from LAX-BC (Bedlam Central) is the waterfront village Marina Del Rey.
This is my newest LAX-BC sufferance compensation plan.
With a sweet assortment of hotels lined up like refuges along a sheltered bay (with safe swimming beaches), mostly upmarket, mid-sized and new, this tidy bay side town is the guaranteed antidote to LAX-BC dyspepsia.
Arrange a transfer to your hotel (or book Uber as taxis have virtually disappeared from LAX-BC), have a good meal, sleep and awake refreshed for another onslaught at the urban disaster that is Los Angeles' international gateway airport.
I recently stayed at two different hotels during two separate transits: the Jamaica Bay Inn and the Ritz-Carlton.
www.pacificahotels.com/jamaicabayinn
www.ritzcarlton.com/marinadelrey
5-star hotels each one, sleek and well run, both in lovely waterside locations and both balms to restore faith in humanity after LAX-BC's inhumanity to man treatment.
My stays were brief, late arrivals and early morning departures necessitated short acquaintanceships (sadly) but I left feeling revived, like the nightmare memory of LAX-BC was almost totally erased.
Can anyone ask more from an overnight transit stay?
Were I forced to pick between the two, I'd choose the Ritz-Carlton (it's more expensive but worth it) for its terrific restaurant Cast & Plow, which specialises in farm to table food cooked with expertise and imagination and a terrific in house spa where I passed out during an hour's massage. My room was generously proportioned, plenty of space to spread out; large windows opened to picturesque views over the bay (and not the airport thank goodness) was furnished with a comfy armchair and large desk. Typical hotel room in all respects but with a touch of class brand Ritz-Carlton does exceedingly well. The bed was a dream space… literally. I wanted to take the bed away with me; our love affair was sadly all too brief.
The Jamaica Bay Inn is about the same size as the Ritz-Carlton room-wise but has bay beachfront access if a refreshing dip in the pacifying Pacific is in order. Its outdoor restaurant sports a tropical air, relaxed atmosphere, perfect for a cocktail flight, Mexican inspired food that delivers the goods, everything the bad transit doctor ordered to cure LAX-BC blues.
Jamaica Bay Inn rooms are smartly decorated; no complaints, best of all, peace and quiet rules.
Both hotels boast excellently trained employees, helpful when needed, polite, solicitous and always friendly without being overbearing. When United Airlines lost my bag again, the Jamaica Bay Inn reception desk managers made all the necessary 'where-is-his-luggage?' calls for me, ensuring my suitcase was delivered to the hotel before my subsequent early morning flight. I know it's the job to look after the guest but this seemed to me above and beyond the call of duty. Had my bag and I not been re-united (pun intended) that night, I doubt I would ever have seen it again. United Airlines has sent my bag to parts unknown before; a track record I find unnervingly constant.

NHT advice: skip the boring LAX-BC hotels overlooking the runways and make the short and easy trip to Marina Del Rey for the overnight transit refresher to beat all others.
Tom Neal Tacker stayed (briefly) in Marina Del Rey as a guest of the Marina Del Rey Convention and Visitor's Bureau.