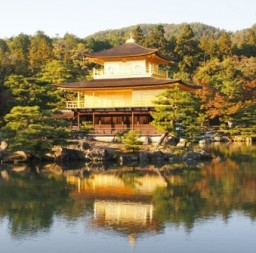 Looking for a smart way into Japan's most popular tourist town?
This is it.
She walks purposefully, if a bit daintily outside one of Kyoto's countless temples. Dressed in a long pink satin kimono, her black hair is swept up and fixed with a fake scarlet hibiscus flower. Traditional wooden soled shoes make a susurrus on the pavement. As a fashion statement, she makes a splendid impression.
Extending from her left hand is a selfie stick, smartphone set on video mode. She narrates loudly while walking. Her attention is entirely self-focused.
Is this the contemporary face of tourism in Kyoto?
Keeping up with its historical past, traditional outfits are for hire in countless shops throughout Kyoto, which is why you see contradictory sights like a modern woman attired in a mock vintage kimono doing the tourist walk with a selfie stick in hand.
By the way, many international visitors are unaware of this custom popular with Japanese, Korean and Taiwanese tourists in Kyoto.
The elaborately costumed women you see everywhere in Kyoto aren't one of the Gion district's few remaining working geisha, despite frocking up in a traditional looking outfit.
In old Kyoto, the Gion shrine gave name to the well preserved historic Gion district. The name of the temple was changed to Yasaka some two centuries ago when the neighbourhood attained status as a place where sex and fun could be bought in lieu of piety and reflection. Gion is where geisha continue their honoured profession working from a few private clubs.
Check the sign boards near the entrance to see which geisha are available for hire if you're in the mood for some old fashioned Japanese entertainment.
Kyoto is to the Japanese what Washington DC is to Americans, what Beijing is to the Chinese. A patriotic pilgrim's right of passage, every good Japanese citizen isn't doing their national duty without making at least one visit.
Kyoto is also Japan's international tourist town.
Actually it's not a town. With more than one million residents spread across a large area, it's no more a town than Manhattan is.
But it is assuredly the single most important cultural city in all Japan, capital for over one thousand years, from 794 until 1889 when the Emperor Meiji and his court moved permanently to Tokyo ('Eastern Capital') whose name he had changed from Edo.
It's important to remember that Kyoto's status as a national treasure would not be what it is today were it not for a capricious twist of fate. Targeted as the second drop spot for the atomic bomb, nicknamed 'Fat Boy', it was the more powerful one that destroyed Nagasaki after the first less powerful bomb ('Little Boy') flattened Hiroshima.
Kyoto's annihilation was seen by many Americans in charge of the nuclear bomb program as the more favourable target due to its cultural heritage, significant universities and strategic position as a manufacturing hub.
Though the well known American art historian and archaeologist Langdon Warner is attributed as pleading convincingly for the recognition of the ancient city's treasures and therefore rescuing Kyoto from impending doom, the real saviour was America's Secretary of War, Henry Stimson. It was Stimson who argued successfully for its ultimate survival. Secretary Stimson convinced President Truman that bombing Kyoto, therefore forcing the Emperor's capitulation, would irrevocably turn Japanese public opinion towards the Russians instead of the Americans during Japan's subsequent occupation and inevitable restoration.
In the 1920s Stimson served as the US Governor of the Philippines and supposedly honeymooned in Kyoto. He was passionate about Kyoto's unique collection of over 1,600 shrines and temples and their importance to Japanese sense of identity and its lengthy history. Most of all, he recognised Kyoto's unique position amongst the remaining wonders of the world.
Kiyomizudera Temple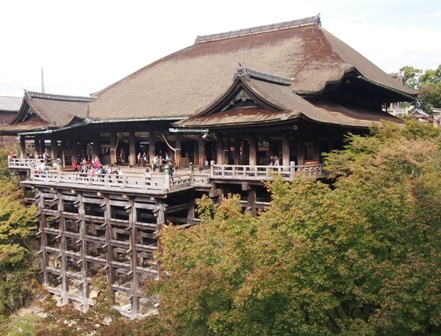 Over the centuries, most of Kyoto's innumerable shrines and temples have burnt to cinders and been rebuilt or been shattered by earthquakes and reconstructed but an atomic bomb would have utterly destroyed everything and everyone.
Would all of Kyoto's wonders have been rebuilt in perfect replication from the ashes of the most destructive bomb ever detonated to end a war?
Luckily for us, we'll never know.
Reflect on this knife-edge twist of fate when visiting Kyoto and give thanks.
Back to the present… you simply can't take in all Kyoto's sights in a few days. It would take months to explore thoroughly its array of 1,600 shrines and temples.
After a recent four day visit, my head was spinning; a bad case of temple-shrine vertigo. When they all begin to look too much alike, it's time for a break, perhaps sipping a locally brewed Nihonshu (sake) in a cosy bar, flipping through a manga comic in a cute cafe or soaking in an onsen's mineral bath.
Kyoto has plenty of cafes, restaurants, onsen and bookshops. It's not all about shrine hopping. All the major temple complexes also include lovely gardens, perfect for quiet strolling and a bit of Zen reflection.
The modern CBD, the area from the main Kyoto Station north to Karasuma Oike subway station (western boundary Horikawa-dori Street, eastern boundary Kawabata-dori Street), including the city's major crossroads at Shijo-dori and Karamasu-dori streets, boasts all the major chain department stores and high end international boutiques if you need a shopping fix. Neighbourhoods away from the major tourist attractions have the usual assortments of small bars, cafes shops where locals hang out buying the same stuff everyone else in Japan buys.
Despite a reputation as Japan's most popular tourist destination, Kyoto is also a working city with the majority of residents not employed in the tourism industry.
I took in the major sights but managed to side-step the tourist crowds by avoiding peak visiting hours and including some off-piste attractions.
Because Kyoto's major sights are literally on opposite sides of the metropolis with many in between, it's helpful to divide your visits geographically.
Try to pass at least one day exploring each: northwest (Kinkakuji Temple, Ryoanji Temple, Insho Domo Museum of Fine Arts are the justifiably most popular), east and southeast: (Kyomizudera Temple, Sanjusangendo Temple, Fushimi Inari Shrine and Sekhoji Temple are the highlights), central: (Nijo-jo Castle, the Heian Shrine and museums and the Imperial Palace, Sento Palace grounds and parklands feature at the top of everyone's lists).
The Sannenzaka and Ninenzaka preserved districts down the hill from the Jishu Shrine and Kiyomizudera Temple are lovely for strolling both during the day and evening.
Many of Kyoto's best preserved private historic homes are found here. Several operate as ryokan where traditional Japanese services including kaiseki meals and tatami rooms are on offer at the high end of the yen scale.
At the far western end of the Kyoto metropolitan area is Arashiyama district, another cluster of shrines and temples nestled in forested foothills, arrestingly beautiful in autumn when the maple trees are glowing orange and red. Spring cherry blossom (sakura) time is equally lovely. The Tenryuji Temple is the heart of this area, easily accessible from Saga-Arashiyama and Trokko Saga stations.
Across town from Arashiyama district on the eastern side is the Ginkakuji Temple area with its 'Path of Philosophy' walk and adjoining Honen-in Temple. Nearby is the Kyoto University, Chionji Temple and Yoshida Shrine district, part of central Kyoto, less touristy than Gion or Sannenzaka but with a good assortment of cafes, restaurants and bars catering to students on a budget.
Bear in mind that Kyoto's temples and shrines are not only historically significant but also religiously and culturally important to the Japanese. Many have been deemed 'national treasures' that visitors are obliged to treat with respect.
For instance the sublime Zen rock garden at Ryoanji Temple is a place of quiet reflection. Noise isn't tolerated.
At Kiyomizudera Temple is the Jishu Shrine. Known as the 'Cupid of Japan' where rabbit images proliferate (rabbit images equate fertility in Japan as they do in Europe and elsewhere). Facing the main building are two stones set approximately ten metres apart. Blindfolded love struck visitors walk between the stones. If they reach each one safely (no tripping over or straying off a straight path) from one stone to the other, dreams of love will be realised.
Try it. You may be surprised at how quickly your dance card fills.
The Fushimi Inari Temple is also a holy site. Fox images guard the entry gates. Signifying messengers of wisdom and cleverness, the fox also carries a key in its mouth representative of the lock to the rice granary, in other words the community's repository of wealth and security.
The main path up Inari Mountain (233 metres, roughly two hours climb up and back) above Fushimi is lined with over 10,000 Torii gates and is now the most popular sight in Kyoto. Inari is considered the patron of business, which is why so many Torii gates have been donated by scores of businesses to this particular temple.
Also near the main gate is a space specially reserved for a single car where temple priests are 'paid' to bless the (usually prestige) purchase, hopefully ensuring a safe drive to and from work.
This summary of Kyoto's highlights would maintain a keen traveller's interest piqued for at least a week's worth of persistent temple and shrine visits.
Central Kyoto is mostly flat, prime bicycling territory. Hire a bicycle and have fun pedalling along canals lined with maple and willow trees, away from traffic and other tourists.
The main railway station is Kyoto's transport hub. Rails tickets, bus and subway passes can be purchased here.
Naked Tip:
A terrific day trip from Kyoto is to Himechi, approximately 45 minutes by Shinkansen from Kyoto's main railway station, one stop after Osaka.
Himechi is dominated by a huge castle (Shirasagijo aka 'White Heron Castle'), the largest in Japan. Reopened to the public in June 2015 after a five year restoration, Himechi Castle is indescribably impressive. It was first established in 1333 as a hilltop fort. The 5-storied 7-floored structure you see now was completed in 1609.
The 52 metres high 'White Heron' tower dominates several hectares of landscaped gardens, imperial palaces (83 buildings in all but Princess Sen's palace is the highlight) and mighty fortress gates (21 in total) all under the gaze of a stupendous ivory tower glowering over the surrounding cityscape from atop its strategically important hill.
Incredibly Himechi Castle has survived earthquake, fire and WW 2 bombing almost unscathed.
Like so many historic Japanese buildings, no nails were used in construction just wood beams connected using mortise-and-tenon joints that hang together like huge Lego sets. The engineering and skill involved is mind boggling.
Exiting from Himechi's railway station the castle looms from about a kilometre away and is easily reached on foot along the pedestrian friendly main street or by bus or taxi. During peak tourist season (March to October) it's advisable to buy a ticket online before visiting. This is one of the most popular attractions for Japanese people, many of whom also make a day trip from Kyoto or Osaka.
Prepare to spend at least a full day wandering Himechi Castle's expansive grounds and its palaces within the massive walled compound.
Beyond Kyoto's undeniably attractive cultural sights lies another perspective, the food and drink point of view.
The central food market, Nishiki Ichiba, is a prime example. Lining a long covered laneway stretching across two city blocks is a splendid assortment of shops, cafes, restaurants and food and drink stalls displaying what Kyoto's surrounding region has to offer hungry travellers.
Try a Kyoto carrot or a Kyoto peanut, both unique to the area. Take up a seat at the oyster bar and watch the cook steam a freshly shucked half dozen.
Or sample from a dizzying array of teas.
Or watch a fishmonger dissect a bonito in a blink of an eye.
Stop in one of numerous restaurants for a bowl of soothing udon or ramen.
Looking for gifts to take home? This is good a place as any.
Also off the beaten track is the Geikken sake brewery occupying a lovely spot along a canal in the centrally located Fushimi neighbourhood.
Kyoto's water has been famous for its purity since before the first Emperor took up residence. Sake (Nihonshu) is comprised simply of rice, water and yeast. The trick in making good sake is finding clear and clean water, the best rice for whatever style of sake being made and the correct conditions for fermentation from specially developed sake yeast strains. Climate also has a lot to do with the process: not too hot, not too cold.
Though a large operation, Geikken remains family owned and is open to visitors. Several sake on sale in its pleasantly appointed shop are unavailable elsewhere. The small museum adjoining the shop is fascinating if your knowledge of sake is limited, as was mine.
(See www.geikkeikan.co.jp for details regards opening hours and tours.)
I came away with a bottle of new sake, brewed for consumption within three weeks, rather like a Beaujolais Nouveau and impossible to find outside Japan. Drunk at home within a week after returning from Japan, it tasted of Kyoto, complex, lovely, fresh and altogether different.
Tom Neal Tacker visited Kyoto courtesy of the Kyoto Tourism Organisation and the JNTO.
Naked Sleeps:
The Travelers Inn is an impeccably managed moderately priced hotel in central Kyoto. Within easy walking distance to the Gion District, Imperial Palace and University, it's situated in a leafy street opposite the Kyoto Municipal Museum of Art and the Heian Shrine complex while backing on to a very quiet canal-side neighbourhood full of traditional wooden houses and small businesses.
Rooms are simply furnished but larger than what most typically tight-spaced Japanese hotels offer.
A cafe is open for guests and visitors alike, serving breakfasts and simple lunches. Breakfast is included in the tariff.
Both Western and Japanese tatami style rooms are available. Specify your preference when booking.
An onsen in the below ground area is popular with visitors and may be booked out for small groups. Check with front office staff to ensure you may have access after the groups have left.
What could be a better balm for sore muscles after a day's traipsing around Kyoto's temples and shrines than a revivifying soak in a hot springs onsen?
What sets this family owned and operated small hotel above the rest is how well managed it is. Guests are really treated like honoured friends, no cliché implied.
I felt like I was coming home after a long tiring day each time I walked through the door.
English is spoken by most employees while owner Ms. Izumi Nakagawa speaks fluent English and is one of the loveliest people you'll ever meet.
See www.k-travelersinn.com
Tel: (+81) 75 771 0225
91 Enshoji-cho, Okazaki, Saikyo-ku, Kyoto 606-8344
Naked Eats:
To say Kyoto is not lacking in choice is stating the bleeding obvious.
Where to eat? What to drink? These are the questions.
Apply the standard rule: avoid the worst tourist restaurants.
Fortunately Kyoto isn't plagued by a surfeit of rip-off tourist joints.
Near Gion is Ponto-cho Street in central Kyoto. It's cute and quaint and touristy but amongst the ordinary is an assortment of izakaya well worth your yen. Follow the locals' nose; they're as fond of the street's bars and cafes as visitors are.
I had the best takoyaki (octopus bits fried in batter, served with special takoyaki sauce) in a lovely izakaya in the middle of Ponto-cho backing on to the river side of the street. Eight seats downstairs at a bar with six seats upstairs, it was like many other izakaya lining Ponto-cho Street but stood out for superlative service and excellent food — reasonably priced too.
Look for takoyaki grilling in the front window next to a discreet wooden entrance door.
Kyoto boasts a few of Japan's top restaurants, the sort where a reservation is almost impossible to secure without advanced planning and an Anglophone connection.
I was lucky to get into Motoi, a French influenced restaurant (the chef/owner worked in France at a couple Michelin-starred places) where I enjoyed one of the best meals I've had in my life.
Unlike many upscale Japanese restaurants Motoi accepts credit cards.
Suffice to say, apart from a dazzling succession of dishes sourced from the best local ingredients purveyors could supply, cooked with exquisite finesse and served with inspiring elan, I also learned that Japan does support a few budding boutique cheese making farms. The cheese course I had after eight preceding savoury courses and before three desserts was a revelation.
Being French inspired, the wine list brought tears of joy to my eyes, like a gift presented by Bacchus himself.
Service was flawless, truly flawless. Friendly yet formal, informed and gracious, polite yet warm; I felt like a dinner guest at someone's home instead of just another paying customer.
If you're looking for at least one lavish feast in one of Kyoto's best restaurants, go here.
The whole team, chef owner included, waved me good-bye outside in the street while my taxi waited. Bowing in unison and thanking me again, I nearly cried when leaving.
It's that good.
www.kyoto-motoi.com
(+81) 75 231 0709
186 Tawarayacho Tominokoji 2-jo Sagaru, Kakagyo-ku Kyoto
Naked Tips:
Finding an ATM in Japan can be a challenge. 7-11 stores usually have an ATM that accepts foreign banks via the Cirrus Maestro network. Most banks do not have ATMs that accept foreign bank cards.
Credit cards are not accepted in surprising places, restaurants for example. Japan remains a cash economy.
Book entry tickets online for popular tourist attractions such as Himechi Castle and major sights in Kyoto. The Japan National Tourist Organization website is a good one-stop shop for inquiries regarding accommodation and transport.
www.jnto.go.jp