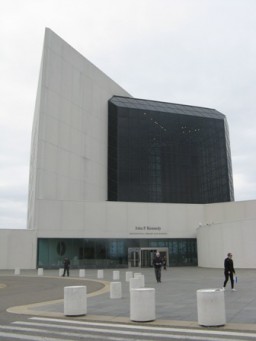 Boston, Massachusetts is Kennedy Country, where it all started for JFK and his stellar trajectory into the Presidency.
November 22, 2013 marked the 50th anniversary of JFK's assassination, a time to reflect while revisiting where his political career began.
In 1946 Kennedy was elected to Congress from Massachusetts' 11th district, (coincidentally both former President John Quincy Adams and House Speaker Thomas Phillip 'Tip' O'Neill were Congressmen from the same district). That district no longer exists. It was eliminated after the 1990 census as Massachusetts' congressional districts were reduced from eleven to ten. Back then it was a working class area of east Boston, a vote winner for JFK's maternal grandfather 'Honey Fitz' John F. Fitzgerald who was the city's popular mayor in the early 20th century. Patrick Joseph 'P.J.' Kennedy was a rival of Fitzgerald's when he first ran for mayor but the families became allies when P. J.'s elder son Joseph Patrick 'Joe' Kennedy Sr. married Fitzgerald's eldest daughter Rose Elizabeth Fitzgerald in 1914.
Ninety nine years ago the Kennedy dynasty was begun when Joe married Rose. John Fitzgerald Kennedy was born May 29, 1917 at 87 Beals St. in Brookline, Massachusetts, a leafy suburb on Boston's western outskirts. As a boy he attended schools in New York and Connecticut spending holidays with his family at their homes in Hyannisport, Massachusetts and Palm Beach, Florida. He attended university at Harvard College in Boston.
Boston is where Kennedy made his mark on the national political stage, first as the Congressman from the 11th district and later as one of two Senators from Massachusetts. The city was his family's power base and remains a place where the name Kennedy has a special kind of historic (and somewhat magical) resonance.
A Kennedy tour should begin at the John F. Kennedy Presidential Library and Museum (www.jfklibrary.org) on the southern edge of Boston in Dorchester adjacent to the Harbor Campus of the University of Massachusetts Boston at Columbia Point. Overlooking Boston Bay, its position is a reminder of Kennedy's love of the sea. The library, archives and museum was designed by I.M. Pei, who was personally chosen by Jacqueline Kennedy Onassis. It opened in October 1979.
In stark contrast to the impressive JFK library in Boston is the much smaller but equally interesting John F. Kennedy Museum (www.jfkhyannismuseum.org) located in the centre of Hyannis, some 120 kilometres south of Boston on lower Cape Cod. The red brick building looks like so many other municipal structures in this part of the world, a bit dull on the outside but it packs a lot of carefully selected Kennedy memorabilia inside. Don't let the exterior put you off. I find it interesting because it offers a more personalised experience than the more formal Boston museum's sombre atmosphere. Hyannis is where the Kennedys lived, where they socialised with close allies and friends, politicked and partied.
Hyannis is a small port city on Nantucket Sound, its population a mix of hard working middle class folk and landed gentry. Wealthy residents have easy access to the yacht harbor, sailing their boats out towards Martha's Vineyard or Nantucket islands as JFK himself used to do during family trips away from Washington's hubbub. Six beaches at Hyannis are free to the public, clean and fairly uncrowded even during the busy summer holiday season.
In visiting both JFK museums, travellers should gain a real sense of how his Irish Catholic Massachusetts upbringing shaped Kennedy's career path right up to his Presidency and its tragic end. There's so much background material to digest in both places that I defy anyone with a basic curiosity to not come away from the experience without a better understanding of what made JFK tick.
Kennedy famously espoused the arts. His widow, Jacqueline Kennedy Onassis, certainly helped in forging a renewed Presidential support for the arts in general as the couple hosted celebrated composers, musicians, performers and writers at numerous White House dinners.
No doubt JFK was influenced by Boston's arts' scene itself.
Two of the city's museums should be placed tops for any visit to Boston.
The Museum of Fine Arts boasts one of the country's most comprehensive international collections, French Impressionists being a particularly popular focal point for art lovers.
The Isabella Stewart Gardner Museum is one of those rare public museums evolved from a private collection into one of the world's most prestigious arts centres. By the way, it's best not to ask a Gardner museum employee about the stolen Vermeer, Rembrandt, Manet, Degas and others. Incidentally, the FBI still offers USD$5 million for information regards the notorious 1990 theft of the thirteen priceless works of art.
Allow at least two full days to begin an appreciation of what these two museums have to offer. Any less is an artistic oversight.
Kennedy's alma mater, Harvard University is well worth wandering through and around of course. One of the world's greatest learning centres, it's certainly renowned by anyone interested in tertiary education. Don't miss visiting the Fogg Museum, one of the university's four museums devoted to art. Imagine yourself as a young JFK for a day and hang out at Harvard Yard while wondering about the world's problems and how you would go about solving them.
Tom Neal Tacker travelled as a guest of Qantas Airlines and Massachusetts Tourism.
Naked Tips:
Boston is the largest city in the Northeast of the USA. A fast train connects it with New York City in fewer than four hours. Logan International Airport is close to the city centre with frequent flights to most major USA cities.
See www.massvacation.com for more information about Boston and Massachusetts.
Naked Sleeps:
The Royal Sonesta hotel in Cambridge is in a good location close to public transport, MIT and Harvard universities. Four star facilities, large rooms and friendly service help lift this hotel's outwardly bland appearance to greater heights. Ask for a south facing room to get the best views over the Charles River and the downtown area. See www.sonestacambridge.com
The Eliot Hotel in fashionable Back Bay is a top-shelf boutique hotel boasting one of the city's best restaurants, Clio. My dinner at Clio was so impressively good that I cancelled a theatre visit to fully enjoy the chef's superb degustation. Service was nigh on faultless, food innovative and delicious. Don't miss a meal at Clio while in Boston, I can't recommend it more heartily. See www.eliothotel.com
In Hyannis the Anchor Inn located right on the harbor is a lovely place to stay. Small and private, it's better than most accommodation offerings in this un-touristy town. The waterfront rooms boast scenic views over the harbor. See www.anchorinn.com
Naked Eats:
All raving about Clio aside, I also ate very well at Bergamot restaurant, a small, warm and friendly place in Somerville, fairly close to Cambridge. If this were my local diner, I'd be there every week.  See www.bergamotrestaurant.com
The Isabella Stewart Gardner museum also boasts a really nice cafe. While most 'institutionalised' food is either bland or boring or worse, the cafe at this museum is actually a destination in itself. Really good, well-prepared food, friendly service, lots of space in a light-filled room turns this cafe attached to a museum into more than just a value-adding experience. See www.gardnermuseum.org
Hyannis' Naked Oyster Bistro & Raw Bar is one of the town's best. The name alone has a lot going for it. Fresh seafood and fish are the go here. Killer cocktails and a hopping bar make this place a stand-out for locals and visitors alike. See www.nakedoyster.com
Naked Tips:
Check out Boston's Museum of Fine Arts at www.mfa.org for the latest on visiting exhibitions and opening hours.
Boston has a rich Italian food culture based mostly around the city's North End. Local resident Michele Topor runs regular walking tours of this district's best delis, cafes and fine food purveyors. She also offers tours around the city's Chinatown. Her tours aren't just for food fanatics. Travellers with an interest in local history will also enjoy the three hour jaunts. See www.bostonfoodtours.com