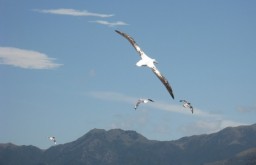 Kaikoura, the town where the mountains meet the sea on the east coast of New Zealand's South Island has attained a well-deserved reputation for eco-tourism.
Best known for easy proximity to Sperm whales, where throughout the year the habitat is nigh on perfect to attract frequent visits of these ocean wanderers to the abyss just offshore. A geological oddity, Kaikoura's deep underwater canyon provides the necessary conditions for regular giant squid and Sperm whale interaction.
The ocean floor plummets over 1,000 metres only a few kilometres from Kaikoura's beach and tiny harbour. Sperm whales hunt while travellers needn't venture far offshore to watch them surface in between deep dives for tasty squid and fish.
The huge population of local dusky dolphins and visiting seabirds that inhabit the area taking advantage of the abundance of seafood are added wildlife drawcards.
In a day, I ventured twice to the waters off Kaikoura's spectacular coastline, first to mingle during a whale watching tour amongst a pod of young male Sperm whales as they repeatedly sounded between deep dives.
The planet's largest carnivores (Moby Dick should ring a literary note) aren't as frisky on the surface as Southern Humpback whales but what they may lack in acrobatic skills they make up for in sheer presence. Encountering these ocean wanderers is a rare occurrence. Kaikoura is one of the few places where sightings are dependable (the Azores islands in the mid-Atlantic is another).
Kaikoura is unique in that deep water is so close to shore. In fewer than thirty minutes leaving the town's harbour, whales are seen lolling at the surface refilling their lungs and oxygenating their blood before the next plunge downwards.
While I know Melville's tale of the great white whale was based on an apocryphal story and likely exaggerated to suit the plot, I loved his book as much for its telling of the mythical whale as I did for the human allegory. 'Call me Ishmael' as metaphor but call me Tom when it comes to admiring rare leviathans.
The morning began misty and cool, ideal for whale watching. The weather cleared by midday and the sun appeared for the day's next excursion, an albatross tour.
The whale-watching tour boat was crowded and noisy. The smaller albatross watching tour boat was nearly empty and quiet.
What does this say about comparable attractions? Whale watching is big business that has crossed over into mass tourism. Albatross watching is by contrast, new business that caters to aficionados.
Sadly, the world's albatross are at peril. Long-ling fishing continues to decimate global populations (despite improved fishing hooks that release caught albatross) and ongoing loss of habitat due to increased human populations plagues nesting colonies. Global warming and reduced fishing stocks add more pressure to these magnificent birds and their ability to breed fast enough to recover.
To see a Wandering albatross in flight is as rare an occurrence as seeing a Sperm whale lift its tail as it dives into the depths.
The Wandering albatross has the longest wingspan of any bird while its body is twice the size of a goose.
In short, it's a bloody big bird with a menacing hooked beak that could lop off my hand if it came too close.
Just off Kaikoura, it's possible to get up close and personal with a Sperm whale and a Wandering albatross all in the space of one day.
Dusky dolphins in their hundreds also call the waters off Kaikoura home. These acrobats of the water tumble and twirl high into the air, seemingly just for the fun of it.
The dolphins accompanied both boats, in the morning during the whale watching tour and the afternoon during the albatross watching tour. Each time I saw a dolphin hurl itself out of the water, I smiled and laughed at the same time. My heart soared with them.
Kaikoura is a special place, not only for its incredible wildlife and scenic position where sheer mountains meet narrow green pastures close against deep blue sea.
It's also home to one of New Zealand's best cultural experiences.
Lucky for me, I had enough time to enjoy a half day's outing with Maurice Manawatu of Maori Tours Kaikoura. Maurice and his wife Heather began showing visitors their side of Kaikoura back in 2002. Since then they've won numerous awards for their impeccably run family business that shows interested visitors what local Maori culture is all about.
The tour begins in a forest near the private marae linked to the Manawatu family and their relatives. The marae is private, open by invitation only but Maurice has permission to use the access road to the site with its stunning views over the Kaikoura coastline (you may see a whale or albatross from the cliff).
During a very friendly welcoming ceremony where Maurice allocates each tour member a Maori name, the family history is recounted in an easily comprehended summary, allowing everyone special insight into how Maori culture evolved over the centuries and how this particular family came to live in Kaikoura. It's a fascinating account of living history interspersed with song and a lot of laughs.
The tour takes in another favoured Kaikoura spot, parkland near the beach where Maurice and another family member show guests how to weave Maori baskets and other examples of treasured craft making. This could top the kitsch stakes but it doesn't. Instead it's a lot of fun, very interesting and interactive as well.
The half day's tour finishes at Maurice and Heather's home where guests are treated to a splendid afternoon tea and a chance to mingle with other family members while comparing notes and impressions with other tour guests.
I've done a few Maori cultural tours before, most frequently at Rotorua. While Rotorua is Kiwi-central for Maori driven cultural tourism, it's big business that serves mass tourism, which is done well but often lacks authenticity.
The whole Maori Tours Kaikoura experience is completely authentic, ringing true at each moment. Maori Tours Kaikoura includes these words in its Social Responsibility Statement:
'We believe in improving communities and play an active role in pursuit of a better place to live.
We recognize we have a special obligation to whanau, hapu and iwi and this is reflected in our policies and actions. We care about our staff……..assist in community projects, businesses and individuals where we can; and encourage our staff and whanau to experience the joy of volunteering. We realise it takes commitment to make a difference in our community.'
Their Environmental Policy Statement reads in part:
'As Maori children we are taught from birth that if we remove the core of ourselves and ruin the fundamental nature of the world we live in, there will be nothing left for our children, their children and the generations to come. We acknowledge the natural environment in which we operate is a valuable resource and we actively support its preservation and conservation which is shown in our policies and actions.'
This could also be read as a mission statement for Kaikoura itself, the town where eco-tourism isn't merely a catchphrase or a PR stunt to attract tourists.
Kaikoura is a place where a few actions speak volumes of words. Here is where the environment is truly respected not only as a means to livelihood and income but also as the essence of life itself.
Tom Neal Tacker travelled to Kaikoura as a guest of Christchurch/Canterbury Tourism.
Naked Tips:
See www.maoritours.co.nz for more information about Maurice and Heather Manawatu's excellent day tours.
For more information about Kaikoura whale sighting tours and bookings, see www.whalewatch.co.nz
For more information about Kaikoura albatross tours and bookings see www.albatrossencounter.co.nz
Naked Routes:
Kaikoura is approximately 2.5 hours drive north of Christchurch or approximately 2 hours drive south of Picton.
Both cities are frequently served by Air New Zealand. See www.airnewzealand.com
Naked Sleeps:
New Zealand does luxury lodges just about better than anywhere else in the world. While in Kaikoura treat yourself to at least one night and one dinner at Hapuku Lodge & Treehouses located approximately ten kilometres north of Kaikoura township on a sprawling coastal property.
My one-bedroom 'treehouse' ten metres above the ground sported gob-smacking views over picturesque paddocks, surf-washed beach and nearby mountains.
The room was an absolute treat of peace and quiet with all the mod-cons I'd ever need. A full sized spa bath and walk-in shower boasted top-of-the-line locally made toiletries. My bed was perfect, were I a princess the pea would never be discovered and I'd never have anything to complain about.
Catering at Hapuku Lodge is flawless. I ate my dinner at the kitchen facing bar so as to chat with the chefs, one of whom was visiting from Chez Panisse in Berkeley, California (one of the world's most famous restaurants and the first in America to be organic well before the word became trendy). She kept supplying me with dishes I 'must try'. Never one to say no to such offers, I was happy as a pig in the proverbial, full with food from the farm, not too heavy, not too light while prepared with skill and devotion to superb locally sourced ingredients. Wines poured by the glass were a bravura mix of Kiwi and imported French and Australian that perfectly matched each course of the degustation.
Breakfast in the same dining room where I ate dinner was equally good. Had I wanted it served in my 'treehouse', it could have been easily arranged.
See www.hapukulodge.com for more information and bookings.