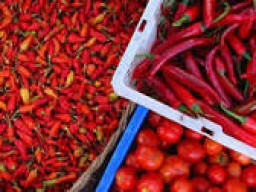 Indonesian food covers the flavour gamut, like the country itself it's packed with worlds of difference.
The centre of this culinary universe is Jakarta, the biggest city and the country's melting pot.
Indonesian food varies as much as the country itself. Six-thousand inhabited islands make for interesting noshing opportunities. The topography alone creates enormous differences in foodstuffs from the outright basic to the outrageously complex. There is a world of difference between a Javanese Rijsttafel and a plate of fried fish and taro from Irian Jaya. A Rijsttafel banquet served in a fashionable Jakarta restaurant, dozens of dishes, some with meat, some with seafood, some with fish, some vegetarian, some spicy, some mild, some creamy, some soupy but all intended to enhance a large platter of rice (Dutch: rijs, rice tafel, table Rijsttafel, rice table) poses a great difference to a bit of fresh tuna barbecued over coconut husks served with baked cassava eaten at a beach stall in Jayapura.
Constant to Indonesian cuisine are these ingredients: rice, tofu and tempeh, chillies, vegetables and a plethora of fruits, both tropical and temperate. Other staples are: Kecap Manis, Indonesian soy sauce and Ikan Bilis, fried and dried anchovies used as condiments, consumed universally from Medan to Ambon. Trasi or Belacan or Budu, depending on where in Indonesia you eat it, is a semi-solid fermented fish and/or shrimp paste with a flavour similar to Vietnamese Nuoc Mam or Thai Nam Pla. As a condiment which adds an umami (Japanese, meaning earthy, soy or truffle-like flavour) element to most dishes, particularly stir-fries, soups and stews, it is invaluable and also an important nutrient, rich in B vitamins and iodine. Its pungent aroma is quite head-clearing.
Satay is ubiquitous; though it's actually a Malay specialty, Indonesians claim equal rights to its origins. Real satay sauce must have fresh coconut cream and freshly ground peanuts. These are absolutely necessary. A good dousing of tamarind water is equally essential; its sour flavour counterpoints the sweet coconut and peanuts. Chillies should be freshly pounded in the mortar with lots of lemongrass and garlic added incrementally to the sauce as it begins to cook. Meats or fish or tofu should be marinated in lemongrass, chilli and garlic with a bit of soy sauce for a few hours before grilling. Coconut husk fire is best. Warm the satay sauce and ladle it on to the freshly cooked skewers. Freshly sliced cucumbers, chopped cabbage and carrot and quartered tomatoes are the usual accompaniments.
(Chef's tip: If you make satay at home remember to soak the skewers in water for a few hours before threading whatever you're grilling on to them first. It prevents burning on the open fire or grill.)
If you're in search of good satay, let your nose guide you. Eschew all eateries that use bottled satay sauce.
Gado-Gado, the mixed salad of boiled eggs, lettuces, carrots, cabbage, bean sprouts, fried tofu or tempeh, lightly cooked green beans and boiled potatoes all smothered with satay sauce has saved many a vegetarian from sure starvation but I've yet to eat a Gado-Gado that didn't make me think of ghastly lentil bakes and tofu surprise.
Bubur Ayam, or chicken porridge, is like congee but served with more accompaniments. As a breakfast treat after a night out on the turps, it's a life saver.
Rendang is another Indonesian success story in the international eating stakes. A rich stew usually made from beef it can also be made with goat, mutton, water buffalo, chicken, duck or jackfruit or cassava. Galangal, turmeric, ginger, chillies, lemongrass and coconut milk hold it all together and it's served with rice.
When you truly believe that you couldn't possibly eat another Nasi Goreng (fried rice) or fried Ayam (chicken), try refreshing your palate with Indonesia's national salad, the Rujak. Made with chopped cucumber, jicama (yam bean), green apple, red papaya, pineapple, mango, chillies and flavoured with roasted peanuts, palm sugar and tamarind water, it's a life saving palate cleanser and absolutely delicious.
The Best Soup:
Certainly Indonesians love their soups. Simple bowls of rice noodles in fish or chicken stock with trasi and some chopped greens, a bit of ikan bilis and a dash of chilli sambal and you're right for the rest of the day. It's cheap, satisfying in a way that only a good soup can be and it's very wholesome. While appealing in their simplicity, I find most roadside stalls (warung) and street carts (kaki lima) serve somewhat dodgy soups. Beware of unwashed utensils, bowls and glasses. This could result in a meal that you won't forget very quickly. Choose a restaurant or café or stall that is very busy, looks and smells clean and eat what most of the other diners are eating. The most popular and busiest warungs in Jakarta are near the market area of Old Batavia. Though this port district is sleazy and dirty, many inexpensive hotels cater to travellers here. Cheap and cheerful restaurants abound.
The international embassy area contains Jakarta's greatest concentration of shopping malls and slick chain restaurants. The usual deluxe hotels operate here too, air-conditioned and peaceful oasis in frantic and pedestrian unfriendly Jakarta. The Pasaraya Shopping Centre (Jl Iskandersyah ll/2, Blok M, Jakarta Selatan www.pasaraya.com) has its own gourmet food plaza located on the lower ground level. It's very reasonably priced and offers a 'suck it and see' approach in immaculate surrounds.
The gargantuan Mall Taman Anggrek (Jl S. Parman West Jakarta www.taman-anggrek-mall.com) is a mini-city of shops, cafes and restaurants, all very schmick. If you fancy ice-skating in Jakarta, this is the place, I kid you not.
Of course the easiest way to avoid gastro-enteritis is to eat in a five-star hotel. In Jakarta, a five-star international hotel is not as expensive as it would be in Paris or Tokyo so this offers a plausible and safe alternative to the dodgy roadside stall. And you get clean cutlery. It's how I found myself staying at the refurbished Hotel Indonesia Kempinski, itself a historic property as centrally and conveniently located as it's possible to be in madhouse Jakarta. I was tired of walking on the wild side of town down near the funky wharf area that reeks of old ikan on its way to becoming trasi. Once I was ensconced in my refuge in Kempinski-world, I decided I was very hungry. Down to its buffet restaurant serving Indonesian food I went.
Before long I was chatting with one of the sous-chefs about Sop Buntut, the local oxtail soup. In a tropical country, this hot and hearty soup made from bones and meat that needs to be braised for hours, is both an anomaly and a life saver. I mean, how many nasi goreng, nasi lemak and satays can one human eat before taste overload overwhelms and a KFC begins to look like a plausible alternative for lunch?
Up to the plate, steps Sop Buntut. I've had it for breakfast, lunch and dinner and haven't had the same soup twice.
The Way to Sop Buntut:
This is by no means an authoritative recipe. Chef's tip: Be generous with measurements as it keeps very well and the stock improves after a few days while the flavours set.
Start with a pot of fragrant broth made with oxtails, ginger, nutmeg, cloves and water. Once the broth has been clarified choose: carrots, shallots, leeks, celery stalks and leaves, tomatoes, potatoes and coriander. They are all part of the mix, but not always. Chef's whim prevails. Sometimes the oxtails are seared in butter or oil first. Often they're just thrown into the pot with a few knobs of crushed ginger, an array of spices and water. Bring the stock to a simmer, skim the rising scum and then add vegetables of your choice. Add rice noodles, fat ones or skinny ones, fresh or dried. Use the ones you prefer. If potatoes are added the rice noodles will be superfluous. Season the whole well with salt and black pepper.
At the Hotel Indonesia Kempinski my Sop Buntut also featured cardamom and a touch of cinnamon. I filled my bowl from the buffet's gigantic stock-pot. The sous-chef was standing by watching me choose my additions: fried shallots, chopped fresh coriander, chilli sambal, some ikan bilis which weren't necessary but raised an approving look from the sous-chef nonetheless, a drizzle of kecap manis and some finely chopped roasted peanuts. This Sop Buntut had rice noodles instead of potatoes, a bit of celery instead of carrots, a scattering of freshly diced tomatoes instead of tomato paste. After a thumbs-up from the enthusiastic sous-chef, I threw on some more chopped coriander and carried it back to my table.
The intense aroma of spice shot right to my inner nose, straight to the oldest part of the human brain, the part that senses smell. In short, mine was a visceral response. Was this the best Sop Buntut I've ever eaten?
After I finished the first bowl and had a second, I decided that it was.
Beware of pretenders to the Sop Buntut hall of fame. A few I've eaten have been ordinary. A hotel restaurant in Bandung offered bottled satay sauce as an accompaniment, a repellent prospect to be sure. Others have incorporated too many potatoes or carrots for my liking.
Sop Buntut should be redolent of spice and intense with umami from well braised oxtail meat and bone. It should be meaty and aromatic, restorative and nourishing. I like to see in my bowl of Sop Buntut a focal point of calm in crazy Jakarta. The spice draws me in, perfect for lingering.
Naked Drinks:
You know you're in very secular Muslim Indonesia when you see Bintang t-shirts worn by locals, not just tourists wearing t-shirts that say 'I've been wrecked on Bali'. The Dutch left behind not only their propensity for hearty eating (see Rijsttafel) but also for brewing. It's where Heineken operates in the tropics and everyone drinks Bintang as a result. Yes, it's cold and it's quaffable but it's not my favourite tipple. As with Foster's or Budweiser, I leave it to the masses. Since 2005, a micro-brewery has operated in Denpasar called Storm Brewery. Though it's still early days, this is a sign of good things to come. Storm's beers are seriously good but few outlets outside Bali stock them.
Local spirits such as Arak and Tuak are made from palm fruit, sugar or coconuts. An aged Arak with tonic and fresh lime is as good as a rum, lime and soda or gin and tonic. Add fresh mint to it and you have your own Javanese Mojito.
Indonesia is the world's third largest producer of coffee. The Javanese drink it strong and sweet, often with condensed milk. Of course, Kopi Luwak, made from beans which have run through the digestive tract of the Asian Palm civet, a cat like member of the weasel family which lives on Sumatra and Java, is famous for being the world's most expensive coffee. Approximately 500 kilos of it is produced annually. The beans are cleaned and ground before brewing but it still has an edgy factor about it.
Tea is the preferred drink throughout Indonesia, served sweet and milky, like Indian chai but without the spice. Ginger tea is served at the end of most official religious feasts and is also widely available. Great for calming tummy rumbles.
Wine is imported into Indonesia. It's very expensive and reserved for special occasions.
Naked Tips:
Indonesia is a tropical fruit lover's paradise. Mangosteens, lychees, pineapples, melons, guava, custard apples, loquats, rambutan, soursops, salak (snakefruit), sawo (like a cross between mango and kiwifruit), mangos, papayas and bananas abound. Durian is a dare-devil's proposition. It's expensive but worth it. Just hold your nose upon first introduction. It stinks of carrion but tastes like mango, pineapple and banana custard.
Tom Neal Tacker travelled courtesy of Garuda Airlines and Jakarta Tourism Authority.
Naked Facts:
Garuda Indonesia Airlines flies direct to Jakarta from Amsterdam, Sydney and Melbourne. See www.garuda-indonesia.com
Hotel Indonesia Kempinski
Jl. MH Thamrin No 1 Jakarta 10310 Indonesia
Tel: +62 21 2358 3800 www.kempinski-jakarta.com
The Lara Jonggrang restaurant is housed in a historic renovated Javanese mansion and serves authentic Javanese cuisine, including a traditional Rijsttafel. Book ahead.
Jalan Teuku, Cik Di Tiro 4, Menteng Tel: +62 21 3153252