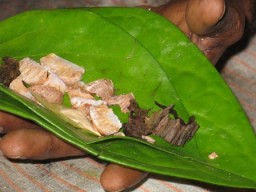 Is all Indian food hot stuff or not? Getting the facts right.
Not all of India's food is fiery hot, nor is it a curry. Variety is the true spice in Indian food which comprises a multitude of flavours from many regions.
An understanding of Indian cuisine is a major step to innate comprehension of the mystery that is India itself. A country of 29 separate states, each boasts social, religious and geographical influences and their own unique approach to food.
From Kashmir's meaty kebabs to Kerala's coconut-cream seafood curries, making sense of the myriad flavours from so many individual areas isn't an easy task. But for the keen enthusiast it can be a pleasant and rewarding one. Well-known actress and cook Madhur Jaffrey says, "The greatness of India's cuisine lies in its regional foods and its regional menus."
As a starting point, forget the notion that there's an actual Indian national cuisine. There is however a blend of different cuisines from all over the sub-continent and even further afield. The 'classic' dishes such as chicken tikka, naan, aloo gobi, tandoori lamb and even lassi are all from the Punjab in northern India. Many Punjabis migrated to the UK, USA, Canada, East Asia and Australia and went on to open restaurants making these the most recognised Indian menu items abroad, yet only represent a fraction of the country's cuisine in its entirety.
A tour of India will quickly highlight diversity and readily apparent differences though exceptions to rules constantly break domestic boundaries. Mega-cities such as Delhi tend to reflect their surrounding states, its food scene primarily encompasses India's northern cuisines: from the green and rich Punjab, famous for its tandoor cooking, to Rajasthan's amazing rotis and imaginative use of scarce ingredients and Kashmir's heavy use of dried pulses and meats cooked in curds or milk. Goat and lamb meat commonly feature in Northern Indian recipes along with dried chillies, saffron, and nuts.
To the west, Gujarat is almost entirely an alcohol free zone where strict Hindu rules enforce the state's temperance laws while adhering to conservative Hinduism. (India's current PM Narendra Modi was the Chief Minister of Gujarat before he was elected as the head of the national government.) Here are many of India's most innovative vegetarian dishes, some with an unusual Chinese-influenced twist.
Mumbai, the biggest city in India, has a food culture largely driven by its tropical climate and bordering states. Though seafood is increasingly expensive (primarily due to over-fishing and pollution), most local people consider fish essential to an important meal. Here Bombay Duck (a kind of white flesh fish) became famous beyond Mumbai's shores.
Further south Goa still retains its Portuguese influence with its pork vindaloo, a Hindi corruption of the Portuguese words vin d'alho (wine and garlic), alongside spicy seafood coconut curries.
Ananda Solomon, executive chef at one of India's luxury Taj hotels, offers up the area stretching from Mumbai to northern Kerala as his favourite regional Indian cusine. "The Konkan Belt, from Mumbai, Vasai, Alibaugh, Sindhudurgh, Goa, Karwar and Mangalore… this coastal belt is lush with paddy fields and coconut laden palms. The sea is teeming with pomfret, prawns, kingfish, mussels, Bombay duck and clams. Central to the cooking of these regions and its communities are three ingredients: fish, rice and coconut grated, roasted or by itself, coconut lends body to the curries. Rice fine, fat unpolished and even red, is eaten not just boiled but also in the form of dosai, fine white neer dosai, parathas and spongy appams."
On the eastern coast, intellectual Kolkata and the area around the Bay of Bengal, is unsurprisingly renowned for its rice and fish dishes. The eastern states such as West Bengal and Assam are also well-known for their desserts such as the syrupy rasgulla. Strong links with Burmese and Thai cuisines are evident in the balance between sweet and sour tastes.
Central India from Hyderabad northwards to Lucknow offers up the best of Mughlai cuisine, heavily Middle Eastern influenced with pulao (rice pilafs) and barfi (milk sweets).
The southern cities of Chennai and Bangalore enjoy various dosas, fermented rice flour pancakes stuffed with any number of local vegetarian ingredients, best known being the masala dosa with potato, curry leaf and onions. Served with a sambar or chatni, they are sublime. Southern states Kerala and Tamil Nadu combine fish, seafood and coconuts with the world's best spices.
One aspect of cuisine does identify India as a single culinary entity: spice. No Indian cook would ever be without a spice box and the mark of a talented chef are his masterful masalas (spice blends). From hot to mild, sweet to sour, bitter to salty and everything in between, spice rules the kitchen. It's a fabulous mélange of spices that relies much on the chef's knowledge and ability to blend that permeates Indian food from one corner of this huge country to another.
Many Indian culinary practices also have their roots in Ayurveda, the science of life, health and longevity existent for more than four thousand years. Ayurvedic cooking is basically the practice of using ingredients much for their medicinal benefits as for their taste. It is the most widely practiced medicine in India.
Another commonality is that an Indian meal is never without a grain: wheat (usually as a roti, generic term for bread) in the north and rice in the south. Each is generally eaten with some sort of dahl, the generic term for pulses or lentils and sabzi, vegetables. Pickles and chutneys are standard accompaniments. Depending upon circumstances, usually religious, meat or fish may be served. Beyond these staples, the only limits are the chef's imagination.
As India's first Michelin-starred chef, London-based Atul Kochhar says, "Look at Indian food… It's a huge fusion pot. It's about pushing the boundaries of cooking and experimenting." Sample it widely and be surprised.
The Religion of Food:
India is a deeply religious nation and food is used to celebrate innumerable religious ceremonies. Moreover, vegetarianism is sacred to Hindus, Buddhists and Jains; and even carnivorous Hindus show innate respect for vegetarians.
For the business traveller, it is important to remember that there are more than twenty major religious feast days in the Hindu calendar – India is more than 80% Hindu (who avoid sacred cows) and 12% Muslim (who avoid pigs and follow Halal protocol) – in addition to personal feast days, weddings and funerals. Plus, fasting is also about as common as feasting.
Many people fast or avoid certain foods before festivals or feast days and on days associated with their favourite gods. Hanuman, the monkey god, is associated with Tuesday, for example, a day when meat is avoided. Krishna is associated with dairy products and Ganesh, connected with luck and good fortune, is never seen without offerings of modak (sweet rice flour dumplings). However, have no fear, knowing this will only help your understanding of India and your hosts; foreign visitors are not expected to fast in the same way.
Naked Drinks:
Alcohol is commonly served in hotels throughout India though only Delhi, Mumbai and Goa may reasonably claim a pub culture or nightclub scene where cocktail bars rival those in London or New York for sheer trendiness. Mumbai's Bollywood district in the city's fashionable northern beaches has a thriving club culture. Similarly in India's Silicon Valley outside Delhi in Gurgaon, a buzzing nocturnal bar-hopping crowd may easily be found. Bangalore's well paid info-technology call centre employees are well paid enough to support a busy club scene but nowhere near the scale as seen in Mumbai or Delhi.
India has a budding wine industry located in the Western Ghats Mountains and foothills to the east of Mumbai. Don't expect the same quality as other New World wines but standards are gradually improving.
Locally brewed beer is the preferred tipple, a leftover habit that developed from Anglo-Indian links going back as far as the Raj. Kingfisher is one of the better known brands. During the worst of India's pre-monsoon hot season from April till June, an icy beer can be like a drink sent down from Nirvana.
Arak or feni (local moonshine or hooch) is widely available. Imbibe at your own risk as methanol poisoning is widespread, particularly in Gujarat where alcohol sales and consumption away from specially licensed international tourist hotels is prohibited.
Paan (tobacco, mixed dried spices and aromatics wrapped in betel leaves) is sold at nearly every corner, even in the smallest villages. Chewed as a finish to a meal or as an appetite stimulant (or suppressant) .
Chaat (snacks) are sold everywhere. Indians are inveterate snackers. Fried savouries or sweets are cheap and cheerfully sold at inexpensive prices. Bear sanitation issues in mind if you choose to eat from street stalls.
Naked Tips:
Basic Indian Food Glossary:
achhar-pickles or marinade
arrack- rum like spirit made from coconut palm sap
bhang-marijuana leaves mixed with vegetables or in a lassi
basmati-long-grain aromatic rice
biryani-Mughlai dish of rice and meat
chaat-snack foods
chai-tea
chapati-unleavened bread or roti
dahi-curds, similar to yoghurt
dhaba-roadside restaurant
desi- local or home-grown
feni-coconut or cashew nut spirit
filtered pani-filtered water
ganga jal-Ganga river holy water
garam masala—spice blend with up to 15 ingredients
ghee-clarified butter
halwa-sweet made from cereals, vegetables, nuts or fruits
idli-fermented rice flour cakes (south India)
jaggery-unprocessed sugar
kadhai-an Indian wok, known in the northwest as a balti