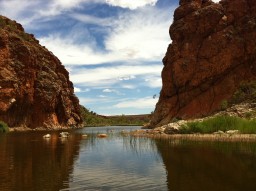 It's hot in the Red Centre in summer and getting hotter. New high temperature records have been since 2103.

Many years have passed since I've been to Alice Springs, the heart of the Red Centre.
That visit included an eventful camel trek in the eastern MacDonnell's Ranges, countless blowflies and spiritually uplifting days at Uluru coinciding with indigenous land ownership conflicts. It was late October and heat waves were beginning to shimmer off red sand and pale green Spinifex grass. Sun stroke was a real threat, countered by copious amounts of water, lots of shade and an afternoon siesta. I survived, loved the timelessness of the place and came away with the opinion that the light around The Alice is like nowhere else on planet Earth.
This time, I've opted for a mid-summer visit, arriving Christmas Eve, staying over New Year's Eve followed by a recovery of a few more days. The heat is so intense it's like trying to live in a blast furnace. Early 2013's temperatures set new records. The national bureau of meteorology recalibrated its forecast maps indicating that average daily maximum temperatures between Alice Springs and Oodnadatta were predicted to exceed 50C. Frying eggs on a car bonnet was no longer just a rural myth. Actually you could scramble a dozen eggs and fry bacon on a Mini Cooper roof in that kind of heat.
I stopped checking the temperatures after about a week. Why bother? I knew each day was going to be blisteringly hot, followed by another scorching night. Perspiration evaporates almost immediately in the intensely dry conditions. My skin's not sticky, no small relief but sweat seeps off me like water from a red melon.
Walking anywhere in the Red Centre during high summer requires preparation. As soon as I down one litre of water, I'm ready for a second. The heat is relentless, like being trapped in a never ending Bikram yoga class. But I'm feeling quite cleansed, toxins literally exuding from my body no matter how hard I top up the toxin ratio with another cooling cocktail, mango Daiquiris one night, Negronis mixed with tonic water the next.
Despite the heat, Alice Springs is packed with tourists, mostly Europeans, though a few Yankee accents occasionally break the sound barrier particularly in tourist magnets like Kings Canyon (Watarrka National Park) and Glen Helen Gorge in the Western MacDonnell's Range. Aussie travellers pull up barstools at Alice Spring's Lasseters Casino or loiter in the few restaurants wise enough to remain open during the 'Off Season'.
For reasons unknown (budget cuts are hinted as being the most likely cause), Alice Spring's prime tourist destination, the Araluen Cultural Precinct is closed from 24 December until 7 January, two days after I leave town. Opened with full political fanfare in 1999, I've wanted to see its seven sacred Aboriginal sites, Strehlow Reserch Centre and Collection, Albert Namatjira Gallery, Museum of Central Australia and the Central Australian Aviation Museum for a very long time. I had been advised by a former employee the Cultural Precinct was shut only on Christmas Day. Obviously, I had been misinformed and am hugely disappointed to find the whole huge Cultural Precinct closed for an extended holiday.
With thousands of visitors in town, this is something of a public relations disaster for Alice Spring's tourism reputation. I visit the town's Information Centre, thankfully operational, and chat with a long serving staff member. She expresses shock the Araluen Cultural Precinct is closed. It had never before closed during a peak holiday period. Sure, it's hot and it's not peak season (mid-winter) but given the numbers of international travellers in town searching for attractions, meals and something to do besides sweat, this had become a PR nightmare for Information Centre employees. When I ask her why the Cultural Precinct is closed, I'm informed, 'No idea why. Budget cuts? Who knows? It's crazy to close it for this long. They could have kept it open with a skeleton staff at least. What do I tell people here? Where in town can I send them? Once they've visited the Alice Springs Desert Park and the Royal Flying Doctors Service museum, that's pretty much it in terms of popular attractions.' It doesn't help either that a few of Alice Spring's limited selection of halfway decent restaurants are also closed for the holiday.
With this news, filling the days in Alice Springs suddenly poses greater challenges than coping with heat stress. Restaurants in this town aren't famed for their cutting edge cuisine, at least the ones still open aren't. Limiting decent dining options cut deeply into remaining pleasure factors.
I know everyone needs a holiday but in a tourist town like Alice Springs, I can't for the life of me comprehend why smart operators don't take an annual holiday in February or March when the heat is still intense and travellers are fewer and further between? Shutting up shop between Christmas and Australia Day (January 26) is a good example of hospitality ignorance in full flight.
Luckily a few reputable art galleries are open in Alice Spring's main tourist strip, the car-free Todd Mall. It's here where I learn some of what I've missed at the Cultural Precinct. Thank goodness for private enterprise.
Thank goodness too that the great outdoors is wide open and ready for anyone brave enough to withstand the heat.
Some of Australia's most inspiring landscapes stretch along the whole length of the MacDonnell Ranges.
Ormiston Gorge and Glen Helen Gorge both have enough fresh water for a refreshing dip. Bird life collects in both magnificent locations proving once again that animals have a sixth sense about finding life giving water in the most unlikely places. Glen Helen Resort is something of a quirky delight. Its restaurant has won a few reputable awards, a feat of clever survival in this difficult location. I'm told that Glen Helen Resort has become the preferred hideaway for Alice Spring's residents when they yearn to get away from it all but don't want to leave their creature comforts behind. Read: naughty weekend escape route. It's a well run and managed lodge with basic facilities set in a spectacular location on the Finke River just next to Glen Helen Gorge. Stop there for a cool drink or meal. Better yet, stay a couple nights to avoid the madding crowds in The Alice.
Watarrka National Park (Kings Canyon) has grown sufficiently in popularity to rival Uluru and Kata Tjuta as must-see attractions for international travellers. At Kings Canyon Resort, where its Thirsty Dingo Bar is doing a roaring nightly trade in bog standard pub grub, Europeans outnumber Australians by at least three to one. Further down the road (there's only one) just inside the park's southern boundary is APT's Kings Canyon Wilderness Lodge. The dining room is ostensibly reserved only for in-house guests but having earnestly implored its manager to allow three diners access for at least one decent meal in this remote location works some magic and we score a space at a shared table of eight. We're treated to a three course table d'hote meal seated under a canopy of clear skies and a full moon. Our dinner is of surprisingly good quality with wines from a list that indicates intelligent sourcing. Lanterns illuminate smiling faces around a large candlelit table. We're dining with a lovely Belgian family of four and a Swiss couple, all well travelled and delightful dining companions.
The Wilderness Lodge dinner is the best we eat outside Alice Springs. Kings Canyon Resort's sole dining option, the Thirsty Dingo Bar, is utterly disappointing with poor service and even worse food. The fine dining restaurant Desert Oaks Bistro is closed for renovation. Within the whole of Watarrka National Park, there are two places where meals can be bought. Uluru is hundreds of kilometres away, Alice Springs even further. Jealous thoughts arise as I observe caravans with kitchens settle into the Resort's camping sites.
Travellers obviously don't travel thousands of kilometres to Kings Canyon for fine dining. They come to marvel at nature's geological miracles. If you're not prepared to don hiking boots and hoof it, you'll miss all the Red Centre's best bits.
The Kings Canyon rim walk is approximately seven kilometres without side tracks. We leave at sunrise and finish the hike just before 10am, taking an extra hour or so to revel in the solitude of the 'Garden of Eden', a permanent soak deeply hidden in a narrow cleft atop the canyon itself. The temperature had risen to 38C by 10am and we were nearly out of potable water, a perfect time to retreat to our cabin for a cool shower and another siesta.
Finke Gorge National Park's Palm Valley is empty of visitors. No wonder. At midday it's 40C+ and intolerably hot. An isolated forest of Red Cabbage Palms (Livistona Mariae) has made Palm Valley famous. First thought to be remnants of Australia's wetter past, now genetic testing has led to a change of opinion among contemporary botanic experts. The palm seeds are believed to have been carried amongst other foodstuffs into this isolated valley by indigenous wanderers some 15,000 years ago. (Reference: Science Now 6 March 2012). No matter, approximately 3,000 palms live in the usually bone dry Finke River Gorge, eking out a moist existence in the middle of the world's driest continent, drawing from water reserves under the hard red sandstone after intermittent flooding.
Palm Valley is accessible only by 4WD with high clearance. It's a rough corrugated road with numerous washouts and steep rocky sections carved out by the mysterious river which floods once or twice a decade. Wandering through Palm Valley on the Mpulungkinya track is a primeval experience. When I first walked up and down the valley twenty years ago, I would have been unsurprised to see a dinosaur poke its scaly head from behind a palm frond. It's that kind of place. I felt the same way this recent visit but instead of a dinosaur, a young Perentie propelled by its skinny legs leaps out from behind a stand of rare cycads and startled me. I feel a cool shiver run up my spine, a pleasant relief.
The Finke is one of the Northern Territory's 'Upside Down Rivers' so-called for their reserves of hidden underground waters, even in the driest seasons. If you dig deep enough, there be water…  so the saying goes.
The Finke is commonly named the world's oldest river. It's not but it's certainly old enough to merit the unproven claim. Much like the Red Centre itself, the stony river bed is starkly beautiful, crystalline light glistening off mica and quartz pierces eyesight. Blood red sandstone cliffs towering against sapphire sky squeezes eyelids shut. It's all so blindingly bright it's painful, a hurtful kind of beauty.
I've returned to the Red Centre to find art and culture, peace and beauty. Finding art is easy. Alice Spring's galleries specialise in indigenous art but as always, it's buyer beware. Fortunately I have a local connection which allows a side trip to Yuendumu, 300 kilometres northwest of Alice Springs on the Tanami Track. We've managed to arrange a private visit to the fully Aboriginal owned and governed Warlukurlangu Artists Aboriginal Corporation where 100% of proceeds go directly back to the artists and their community projects.
Yuendumu town is frankly quite squalid. Plastic rubbish collects like confetti along razor wire fences, shabby houses are surrounded by all sorts of 21st century detritus: broken cars, rusted bedspring frames and junkyard trash. I hear residents threatening one another from two houses just across the road. An air of desperation pervades the heat haze in this fringe community where domestic violence is rampant and clan battles dominate town politics. There's no tourist accommodation in town, it's a long drive on the dirt track back to Alice but Warlukurlangu itself is something of a revelation. Over 200 artists contribute to Warlukurlangu where some 5,000 paintings are produced each year. Galleries spread around the world sell their work. I wonder how much poorer Yuendumu would be without Warlukurlangu's contribution to local incomes.
There are other NT communities that boast communal art centres, all of which require advance notice in which to visit. At certain times of year, many communities are closed to the general public for 'men's business' or 'women's business', when coming of age ceremonies or rites of passage take precedence over commercialism, such as it is.
Yuendumu and Utopia are rightly world famous for their dot point acrylic painting styles. Both communities are represented in two galleries in Alice Springs, respectively Talapi and Mbantua in Todd Mall. These two galleries work closely with the communities they represent, the lion's share of profits returning to the artists. Talapi also promotes the lesser known Ampilatwatja art centre, one to watch out for according to local experts. The Papunya Tula gallery, also in Todd Mall has the largest collection of work from Western Desert artists from around Kintore and Kiwirrkura but it is sadly closed over the Christmas holiday period so I peer curiously through its street front windows instead. There are dozens of small arts centres speckled throughout the Red Centre, from eastern Western Australia to northern South Australia. Many of them have their works represented in reputable galleries such as Talapi, Mbantua and Papunya Tula.
Stroll up and down Todd Mall any afternoon and undoubtedly you will see a few locals sitting on the grass near the historic Adelaide House or the Old Courthouse with a few paintings spread out around them for sale. These are random opportunities and again it's a case of buyer beware. Remember that a canvas first needs to be stretched and prepared professionally before any acrylic colours are applied.
Hermannsburg Potters and watercolourists are justly famous. Albert Namatjira put tiny yet historic Hermannsburg on the map of international arts renown. A monument to his work and life is on the Larapinta Drive just outside Hermannsburg and is well worth stopping at to remember the man's sorrowful life story and the positive impact he had on local culture. The view from the monument to his favourite subject, Mount Sonder is memorable.
My quest to find art, culture, peace and beauty is fulfilled. The Red Centre landscape is the source of all the four elements I desired this trip. Art and culture are both strongly linked to indigenous dreaming stories. As an outsider I've learned to appreciate both from an Aboriginal perspective but realise the path to full understanding is a wandering one. I see beauty everywhere I travel in this ancient land and from that appreciation, the peace I sought is found.
Naked Facts:
These recommended Alice Spring's art galleries are all located in Todd Mall:
Talapi Gallery (www.talapi.com.au)
Mbantua Gallery (www.mbantua.com.au)
Papunya Tula Gallery (www.papunyatula.com.au/gallery/)
Visits to Warlukurlangu Artists Aboriginal Corporation in Yuendumu must be pre-arranged. See www.warlu.com for details. Warlukurlangu also runs a volunteer programme for interested visitors trying to arrange longer stays in a remote community. The corporation has open days for visitors occasionally. Check the website for dates and details.
Red Kangaroo Books (79 Todd Mall, +61 (0)8 8953 2137) has an excellent selection of books covering indigenous history, politics, social issues, Northern Territory history and country yarns, local maps and fiction focused on Northern Territory locations. www.redkangaroobooks.com
Dining:
Honestly speaking, the only really good food I ate in Alice Springs was a dinner prepared at a friend's house. Alice Springs does suffer for its isolation. Absolutely fresh produce is expensive and often not best quality. In the interest of fairness, I tried as many decent (as in clean and not part of an international chain) local restaurants as possible.
Here's a short list of the best of an average lot:
Sukra at Lasseters Casino (www.lhc.com.au/dining/sukra) is okay. At least it's trying to be good. A small dining room lends some intimacy. Food is Asian driven with an emphasis on sub-continental Indian.
Barra on Todd (www.chifleyhotels.com.au/alice-springs/chifley-alice-springs-resort/alice-springs-dining-facilities/) in The Chifley hotel is a slightly above average motel/hotel dining room. After a week in Alice Springs I was starting to feel desperate about finding an open restaurant (Christmas/Australia Day holiday 'Let's shut up shop and leave town!' philosophy was taking its toll) that wasn't a rip off steak joint or ersatz indigenous food tourist trap. Barra on Todd specialises in barramundi, which is fished in waters 2,000 kilometres further north. Fresh? You must be kidding.
Hanuman (www.hanuman.com.au/hanuman_asp.htm) in the Crowne Plaza hotel is at least better than its counterpart in Darwin. Southeast and south Asian cuisine dominates the menu selection, perfect food for Alice Spring's climate. I tried a red fish curry (frozen gemfish) which was actually quite tasty. The fish married well with the subtly spiced house-made curry paste. Unfortunately, we were the last diners in for the night (arriving 8:45p, kitchen closes at 9p) but instead of being seated in a corner away from the reception desk and busy bar service area, were assigned a tiny table in a wide open space next to the bar where staff members gossiped loudly about their friends and customers. Just another example of an overwhelming lack of professionalism I encountered in nearly each restaurant I tried during this visit to the Northern Territory. It's the fault of slack management, not necessarily the fault of typically young employees who haven't been adequately trained.
Casa Nostra Pizza and Spaghetti House (1 Undoolya St, +61 (0)8 8952 6749) has a good reputation among locals and is BYO but it was closed for the holiday season.
Flavours of India (20 Undoolya St, +61 (0)8 8952 3721) also has a favourable reputation among locals. When I attempted to dine there, arriving at 8:35p, it was closing up for the night. Had I telephoned before, perhaps I would have had better luck. Hot tip: Restaurants in Alice Springs close early.
Katja's Kafe (Fan Arcade, 10/63 Todd Mall, +61 (0)8 8952 7632) I enjoyed several fine breakfasts and light lunches in this local's favourite cafe situated in the Fan Arcade, a short alleyway just off Todd Mall between Parsons St and Gregory Terrace behind Papunya Tula gallery. Katja's Kafe is open most days from early morning till late afternoon. Hot tip: Katja's cakes and tartes, made in house, are worth a visit in itself.
I heard of a quite good Vietnamese restaurant near the airport which has its own kitchen garden but it also closes early and I missed trying a meal there.
The Glen Helen Resort (www.glenhelen.com.au) at the edge of the western MacDonnell's range offers far better food than one would expect given its isolated location, proof that a remote spot doesn't necessarily negate culinary care and respect for its customers.
Watarrka National Park (Kings Canyon) offers two dining choices: the execrably bad Thirsty Dingo at King's Canyon Resort (www.kingscanyonresort.com.au/) or the delightfully rustic with well prepared food at the Kings Canyon Wilderness Lodge (www.aptouring.com.au/travel-styles/Wilderness-Lodges/Northern-Territory).
Naked Fact File:
For general information about travel in the Red Centre (what to do and more importantly, what not to do during high summer), see www.travelnt.com
Further reading:
The Lizard Eaters by Douglas Lockwood, 1964, reprinted by New Holland Publishers Australia 2011.
Ted Strehlow's biography: www.adb.anu.edu.au/biography/strehlow-theodor-george-henry-ted-11792
Albert Namatjira's biography: www.adb.anu.edu.au/biography/namatjira-albert-elea-11217
A Town Like Alice by Nevil Shute, 1950