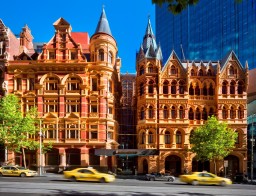 Let's face it, travel is a demanding activity.
Airports are mostly hell on Earth. Getting through security check points at airports requires the patience of Sisyphus.
Surviving a long-haul flight in cramped conditions with a positive mental attitude is just the start. But wait, there's more: security goons are on the look-out for new ways to hassle frazzled passengers ejected from grotty planes. Customs and Immigration lines snake endlessly through bleak arrivals halls staffed by officers intent on treating the weary traveller as if each one is intent on tricking the system out of customs revenue or at least is carrying 200 grams of coke.
Transport from airport to accommodation is fraught with complications: wayward taxi drivers who've never passed an exam covering basic local geography, public transport packed with commuters who don't like sharing seat space with luggage wielding travellers, early arrival at a hotel to be told your room won't be ready for at least six hours.
Grumpy, grubby and exhausted is not how I like to start a holiday but this is all too often the case.
Much as I love to travel, sometimes I just want the trip to be part of the holiday, not the trial of wills before it.
To escape mundane home chores and have a holiday in my home town is a rare treat.
This is where a classy local hotel steps up to become my stand-in holiday when I don't really care to go anywhere.
Lately I stayed at The Intercontinental-The Rialto in Collins St Melbourne, a five-star hotel boasting a bit of difference.
Sure, Intercontinental is part of an international hotel chain, the largest in the world in fact. The IHG Group based in the U.K. claims over 646,000 rooms in over 4,500 hotels spread over 100 countries. If hotel rooms were hamburgers this group would be MacDonald's and Burger King combined. A few I've stayed in have been a bit bland (Chicago and Sydney come to mind) but a few others have separated themselves from the luxury pack with some clever differentiation, such as in Bangkok, Hanoi and Melbourne.
IHG owns Holiday Inns, Crowne Plazas, Holiday Inn Express, Indigo Hotels, Candlewood Suites and Staybridge Suites. Its Intercontinental Brand is the best of the lot, top drawer in a very tall cupboard of accommodation options.
Given the option of staying in a Holiday Inn or an Intercontinental, I'll choose the Intercontinental each time.
I'll cop a lot of flak for saying this, but the commodification of hotel chains has mostly resulted in the proliferation of boring buildings designed to resemble hospitals built in 1960s Soviet Brutalesque Architectural Style. It's all about bodies in beds, bums on seats and quick turn-over. Service, if there is any, has become increasingly impersonal. The customer has essentially devolved into a number without a personality, a credit card to be swiped, worse still a non-entity with a loyalty card kept on a leash of false advertising promises.
Like most other top-of-the-line hotel products purveying their wares these days, there are hotels operating within hotels among the larger companies, as in the Intercontinental-The Rialto in Melbourne. I was upgraded to an Executive Club Room providing me with access to the Club Intercontinental for its free afternoon tea, evening canapés and drinks and breakfast. You pay extra for this hotel-within-a-hotel racket but I reckon it's worth the expense. I've done the same in Mandarin Group hotels, Hilton Hotels, Accor Hotels, Sheraton Hotels, Hyatt Hotels and Shangri-La Hotels, all big chains with a range of huge hotels comprised of 200 rooms or more behemoths. I don't like feeling lost in the mix, hate to queue when I check in or out and dislike intensely feeling like I've just dumped my cash into their money-making machines for almost no pleasurable return in exchange.
Separate check in at a different reception area or a dedicated lounge or better yet in the room itself is what I desire. I want my name remembered by the people paid to keep my comfort levels high when I'm in house.
In this hotel's Executive Club Room the service was personalised, both waiters knew me by name as soon as I used my key card to gain entry, a nice touch. The drinks selection in the evening was beer, wine and a few spirits with mixers, no Campari or other aperitifs available but had I requested it, one of the waiters would have rushed off to the ground floor Market Lane bar to bring me a Campari and soda had I really wanted one. I know, I checked.
The room had a king-sized bed big enough for a party of four, done up with high-thread count cotton sheets and a pillow menu if I wasn't happy with my down stuffed head props. All the standard amenities were included: A big screen television with cable and satellite channels as well as multitudes of pay-per view options and DVD player, a good sized work desk stocked with stationery, notepads, etc and the necessary data ports occupied the living space, along with over-stuffed armchairs, a large three-seater couch, a small dining table and low coffee table. Well positioned lighting fixtures were thoughtfully placed around the room and excellent reading lamps made flipping through the latest C J Box crime fiction while relaxing in that lovely bed a very homely pleasure I savoured as long as possible before drifting off to a very peaceful sleep.
The marble lined bathroom contained a full sized bathtub and walk-in shower which made ablutions a real treat while the Elemis toiletries added sweetly scented satisfaction.
Noise reducing features such as double-glazed windows, black-out curtains and a well sealed door meant I never once heard a footstep in the corridor outside my room or the noise lifting from busy Collins St outside the hotel.
An internet access fee for 24 hours is AUD$29.95, not the highest charge in Melbourne's hotels but not free of charge as it is in other similar 5-star hotel brands such as the Shangri-La group.
The mini-bar had the usual array of sweet and savoury over-priced treats. I left them alone, same with the mini-bar stocked with standard spirits and local wines. Why drink alone from an expensive and limited selection when a really well stocked bar off the lobby is a short lift trip away?
What sets the Intercontinental-The Rialto apart from the rest of the bunch in this top-end category is its historic facade and its food and beverage options. Local hero chef, Guy Grossi (of Grossi-Florentino in Bourke St. fame) runs a restaurant connected to the hotel called The Merchant. Yes, there is a Venetian theme consistent to both the building and this particular restaurant.
While Grossi manages his restaurant connected to the hotel, another dining option at Alluvial is also on offer on the ground level in the so-called Market Lane area which more or less separates the two sides of the hotel like one of Melbourne's famous bluestone laneways. The whole area is under cover in a huge atrium space. Alluvial's menu tries to combine Asian and European flavours, somewhat successfully though I consider The Merchant a better dining option. Credit given where credit is due, the in-house hotel catering team cultivates a small herb garden off a sun deck near the enclosed pool as well as a thriving bee hive that provides honey for both Alluvial and The Market Lane bar's menus.
Adding more value to the whole eating and drinking package is the Bluestone Wine Bar which features a wide selection of Champagnes and still wines available by the glass drawn from its Oenomatic system.
The Market Lane bar offers a monthly themed evening snack: a cocktails and hors d'oeuvres matching experience influenced by different countries where Intercontinental hotels ply their trade. IHG operates in over 100 countries; that's a lot of options for food and drinks matching fun. This bar also offers one of the best whisky selections of any bar in town. The single malt collection is extensive. Slainte!
The hotel's pool is big enough in which to do laps but I didn't use it, nor did I see anyone else when I had a quick look. Had I more time, I would happily have had the pool to myself evidently.
Neither did I use or even see the hotel's spa, called simply enough, the East Day Spa. Check the hotel's website for the spa menu and book ahead for a treatment. I'm led to believe it's a popular facility but can't verify the quality of the service.
There is also a fitness centre and business centre, neither of which I used.
Outside the entry to The Merchant restaurant is an illuminated wall and floor display providing a potted history of The Rialto building's history and its importance to Melbourne's gold rush driven Gilded Age past. For anyone interested in history, this is compulsory reading. Even if you're not a heritage buff, titbits of the building's glorious and surprisingly shady past make for potentially useful fodder at say, a trivia night contest.
I like the fact that The Intercontinental-The Rialto has seen fit to honour and celebrate the building it occupies. To me, this shows integrity, a trait I have grown to disassociate from large chain hotels.
My short but sweet one night's stay in this hotel reminded me the importance of viewing my home town from a traveller's perspective. I was home but not at home, a subtle distinction enjoyably gleaned from even these jaded vagabond's eyes.
Naked Facts:
To reserve a room in this hotel or any others in the Intercontinental Hotel group see: www.ichotelsgroup.com or telephone (in Australia toll free) 1 800 007 697 or +61 (0)3 8627 1400 to book directly with The Intercontinental-The Rialto. The hotel is centrally located at 495 Collins St. Melbourne, VIC 3000 Australia.
The hotel offers secure covered parking at a nearby garage. Contact the concierge when booking.
One of Australia's best restaurants, the Vue de Monde, is situated on the top level of the modern Rialto building adjacent to the hotel's entrance. At time of writing, it is not yet possible to charge back a meal there to your room at the hotel, as it is in The Merchant. I've been informed that an arrangement to implement this service is still being explored.