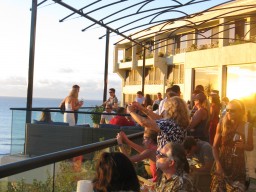 Hawaiians are busily rediscovering their Polynesian roots. The ancient Hawaiian language is taught in high schools across the state. Great pride is displayed in the archipelago's spiritual history and its importance in the renaissance of Polynesian culture.
Hawaii is more popular than ever. As the Aussie dollar remains at parity or above with the US dollar, a visit to Hawaii has become increasingly desirable for increasing numbers of Australians. The Japanese have loved Hawaii, particularly as a wedding destination, since most of the younger generation have forgot that Pearl Harbour was bombed in 1941. Of course, Hawaii remains the most desired destination for mainland Americans, often as a once in a lifetime experience, or twice: honeymoon and fiftieth wedding anniversary. It's the newlywed and 'nearly-dead' object of desire for lots of not-so-well travelled Americans.
Daily non-stop flights with Hawaiian Airlines between Melbourne via Sydney to Honolulu shorten the journey. For comparison's sake, Melbourne to Honolulu takes about the same flight time as Melbourne to Bangkok, give or take an hour's flight time depending on head winds.
Beyond Waikiki beach there's much more to Oahu. While it's tempting to plant one's behind on a banana lounge at the Royal Hawaiian Hotel's Waikiki beachside pool and sip mai-tai cocktails all day long, boredom will eventually set in. It does for me after an hour and I like mai-tais.
Hawaii is experiencing a cultural rebirth, its own Polynesian renaissance. In 2010 the state's first high school class taught both in English and Hawaiian graduated. The increased use of the Hawaiian language has kindled much of the current resurgence of pride in culture. Many hotel resorts in all the main five main islands now employ specialist cultural advisors whose duties include interpreting local history, guiding visitors to important historic sites and telling stories about their ancestors. 'Talking story' as it's called in Hawaii is integral to a Hawaiian's sense of self. Ask a Hawaiian about family history and be prepared to listen.
On Kauai, the Waipa Foundation operates a visitor's centre and farmer's market in the centre of Hanalei Bay. At Waipa, learning about Hawaiian history and culture takes precedence. The experience is hands on and fun. Tuesday is poi making day and visitors are encouraged to help make poi if they wish. Book first.
To understand more about Hawaiian Polynesian history and culture a visit to Honolulu's Bishop Museum is essential. In fact, start your exploration of Hawaiian history here first. Save the mai-tais for later.
Mai-tais have an interesting history. Supposedly invented at Trader Vic's restaurant in Oakland, California in 1933 or Don the Beachcomber's restaurant in 1944, it's an American classic with a Polynesian twist. The word mai-tai is an abbreviated exclamation which means 'Very Good!' among Tahitians. When the 'Trader' Victor J. Bergeron served the drink to Tahitian friends in 1933, one of them said 'Maita'i roa ae' and the phrase stuck. The Beachcomber version grew into the more complex drink we see today. The cocktail migrated to Hawaii in the 1950s and has become the island state's most famous alcoholic drink. For good reason too, it tastes of the tropics, warm trade winds and sultry nights with lashing waves as background music. Even better with a contemporary Hawaiian band playing a mash-up of hula classics and up-tempo Waikiki beats.
A mai-tai is simple to make:
In a cocktail shaker add ice and:
40ml white rum
20ml dark rum
20ml orange curacao or triple sec
20ml orgeat syrup
10ml freshly squeezed lime juice
Shake vigorously and pour into a lowball glass.
Some variations include small quantities of pineapple juice or orange juice or both. Some mai-tais are made with the dark rum floated atop instead of shaken into the mix. Most mai-tais are decorated with paper parasols, pineapple chunks and a maraschino cherry, guaranteed to poke out an eye after three mai-tais.
Whatever you do, never use the frozen pre-prepared mix available in supermarkets or large retail shops selling spirits. Like all lazy bartender tricks, prepared mixes are full of preservatives and artificial sweeteners and taste ghastly. The mai-tai is based on good spirits and fresh ingredients. It doesn't taste of Hawaii if it isn't made from scratch.
Most Hawaiians wouldn't drink a cocktail without a small plate of pupu as an accompaniment. Fried chicken wings, vegetable tempura, poached shrimps served with a spicy horseradish or wasabi infused tomato cocktail sauce or my favourite, poke, which is like Mexican or Peruvian ceviche, raw fish 'cooked' in lime juice and served mixed with raw onion, diced red or green capsicum, coriander leaves and surrounded with the American touch, saltine crackers to help slide the bits of fish into the gullet between sips of mai-tai.
Aloha!
See www.waipafoundation.org and www.bishopmuseum.org for more information and booking.
Naked Accommodation:
The pinkish Royal Hawaiian hotel is the queen of Waikiki beach with a drop dead gorgeous beachfront bar that serves a mean mai-tai.
See www.royal-hawaiian.com for bookings and more information.
The St Regis hotel in Princeville, Kauai is one of this Hawaiian heartland's best hotels. Certainly its beachside location at the eastern end of picture perfect Hanalei Bay is unbeatable. The bar above the beach next to the main restaurant competes strongly as the absolutely hands-down best position for a sundown cocktail in all the Hawaiian islands.
See www.stregisprinceville.com for bookings and more information.