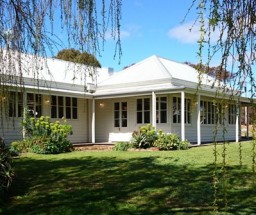 Behind Victoria's world famous Great Ocean Road is another country.
A slight ripple on the water gives it away, though it could be a duck, a grebe perhaps? The small hairy back moves purposefully forward, dives and disappears. Not a duck or a grebe. It's a platypus.
They've survived for millions of years by practicing stealth tactics. Foraging in clean deep water for snails, insect larvae and worms, a little brown platypus is nearly impossible to spot in evening light. It takes a keen eye. Our guide, Brian Jackson, runs daily eco-tours out of the tiny central Otway Range's regional town, Forrest, to nearby Lake Elizabeth. After years of spotting platypus, he has become an expert in their clandestine habits.
Paddling quietly in canoes, Jackson knows the secret spots where this lake's colony of approximately a half dozen platypus prefers to feed. We sit and wait in the gloaming. Not a bad way to spend an evening. The platypus sleeps tucked away deep and invisible in its extended riverbank burrow, feeding on average for three hours at dawn and three hours at dusk. Apparently they're more active at dusk. We're four passengers in two canoes sitting in absolute silence while Jackson guides us on several circuits of Lake Elizabeth's placid waters in search of one of the world's oddest creatures.
The lake itself is an anomaly. Its waters were formed by a landslip in 1953 when the Upper Barwon River changed its course. In 1953 the lake's average depth was approximately thirty metres. Now it's five metres. No one knows exactly when the platypus took up residence. Dead tree trunks rise up like ghosts. Steep banks offer platypus excellent opportunity for burrowing and cover. The lake is well off the beaten track, is secluded and peaceful.
And yet, the two principle Great Ocean Road towns, Lorne and Apollo Bay are less than fifty kilometres away as the crow flies. Travellers in their hundreds of thousands use the Great Ocean Road, so much so that it has entered the 'Australian Bucket List' (a term I find increasingly derisory but will use it to describe an off-kilter effect of mass tourism) of innumerable international visitors, rivalling the Great Barrier Reef and Uluru in popularity.
The country beyond the Great Ocean Road remains largely unexplored.
Avoiding the increasingly heavy traffic on the Great Ocean Road, we drive inland to Birregurra. Rolling countryside recedes into the distant low rising Otway Ranges. There's little traffic on the roads passing through tiny hamlets of Deans Marsh and Barwon Downs and the driving is pleasantly effortless.
Birregurra is firmly planted on the Australian gourmet map thanks to Dan Hunter. When Hunter left the Royal Mail Hotel in Dunkeld last year to assume ownership of Sunnybrae after George Biron and Diane Garrett sold their idyllically located restaurant and cooking school, tongues began salivating near and far. Dan Hunter at the Royal Mail hotel oversaw the village pub's expansion into one of the country's best regional restaurants. (See NHT story http://nakedhungrytraveller.com.au/epicurean-best-in-show/ The Royal Mail hotel's new chef is the very talented Robin Wickens who has in less than one year proved himself very capable of maintaining the high standards set by Dan Hunter.)
Renamed 'Brae', the old homestead has been given a facelift without the loss of country tranquility. The 30 acres property already boasted one of Australia's best kitchen gardens. Under Hunter's stewardship, it's growing into what will undoubtedly become the country's best restaurant kitchen garden.
A meal at Brae is an ethereal experience. What I've always admired about Hunter's kitchen skills is his lightness of touch. Vegetables are the heroes, meat and fish are important players but they're not the focus. After finishing twelve courses and accompanying exquisitely matched wines, I never feel bloated. The following day I don't feel like I slept on a bowling ball. Instead I feel nourished, replenished.
Hunter is setting permanent roots in Birregurra. He already has become a welcomed addition to the tightly knit community of farmers and vignerons.
Great restaurants are built upon relationships, that between the restaurateur and customer and that between the restaurateur and suppliers. Despite having access to the marvellous garden, Hunter has established good relationships with local growers. You can taste the freshness in the food; it's all about close proximity and superb quality. (See www.braerestaurant.com)
Near Birregurra is tiny Murroon, not a town, more a location nestled into the Pennyroyal Creek valley. Here is the Pennyroyal Raspberry Farm, an immaculately tended orchard nearly hidden away in a lovely cul de sac overlooking the Pennyroyal Creek.
Owners Mike and Katrine Juleff's farm has been organic since first planted back in 1985. 28 varieties of apple go into the authentic dry cider named, 'The Crucible'. Made with Champagne yeast in the traditional method with long bottle aging, it's a benchmark example of what cider really should be. The berries are top quality as are all the jams and preserves made from them. Mike also makes several gins from an assortment of berries. Remember what real sloe gin tastes like? His berry infused gins are much better. A cafe is open from November until April during harvest. Two fully self-contained cottages are available for accommodation at a reasonable price. (See www.pennyroyalraspberry.com)
Four wineries operate in this district. Not yet large enough for official G.I. status (Geographical Indicator), they often get lumped into the greater Geelong wine region. Higher, cooler and wetter than Geelong, all four wineries specialise in Pinot Noir, Pinot Gris (Grigio), Chardonnay and Riesling. All four wineries also create splendid wines.
Three have cellar doors open on weekends and public holidays or by appointment: Blake Estate Vineyard & Winery (www.blakeestate.com.au), Dinny Goonan Wines (www.dinnygoonan.com.au) and Gosling Creek Winery (www.goslingcreek.com.au).
The newest winery in this special quartet is Babenorek Winery & Olive Grove. While not open to the public, the excellent Pinot Noir and Pinot Grigio (made in the lighter Italian style, hence Grigio instead of Gris) are both excellent examples of what northern Otways' terroir is all about; savoury, mineral-infused, complex and elegant. (www.babenorek.com.au)
Blake's is well known for its superb Champenoise sparkling wines made with 100% Pinot Noir (served coincidentally at Brae as the house sparkling wine, a fine opener to the meal). Roger Blake is a chemist/scientist by trade. His understanding of fickle Pinot Noir is innate. Both Dinny Goonan and Gosling Creek offer a slightly broader range of wines, Riesling makes a stand-out showing at both these wineries.
Birregurra's single main street has evolved into something of an eats street. Birragurra Farm Foods (www.birregurrafarmfoods.com.au) is a deli and butcher selling local treats and organic meats. Stop here for the best lamb, beef, pork and chicken in the region. A range of local wines are on sale as well. A cafe adjoins the small shop.
The town's pub has experienced its ups and downs but seems to have settled into an easy rhythm providing good food at reasonable prices. Another cafe further down the road towards Colac does a good coffee while its burgers are the best north of the Great Ocean Road.
Birregurra's annual Festival and Art Show is the second weekend in October. The whole town becomes a fresh is best centre of goodness. (See www.birregurra.com)
In Forrest, the brother and sister team Matt and Sharon Bradshaw run the wonderful Forrest Brewing Company brewery and bistro serving wholesome well prepared food and excellent craft beer. Since this hot spot opened a couple years ago, Forrest finally got the terrific local hangout it deserved. (See www.forrestbrewing.com.au)
Forrest is one of the world's most famous mountain biking centres. Don't be surprised to see scores of muddy Lycra clad cyclists scraping dirt off their shoes while sipping on cups of strong coffee or quaffing mugs of terrific beer.
Hippies shifted to Forrest back in the 70s, mixing in, or not, with the traditional, and notably conservative, logging community. Forrest is at once weird and wonderful as it attracts a very mixed assortment of visitors.
The Otway Ranges is the rainiest region in Australia. Note it's not the wettest. Far north Queensland's rainforests are wetter. It rains approximately 280 of 365 days per year in the Otways. A fairly constant drizzle which is a result of mist rising from the Southern Ocean meeting the Otway Range's V shaped topography. The funnelling effect creates precipitation filled clouds that linger over the central ridgelines. The northern side of the Otways is usually dry, as are the beaches on the southern side. In the middle between Forrest and Gellibrand south to Beech Forest and Cape Otway itself, the weather is normally wet.
This unusual topography has blessed the Otway Ranges with stunning wet sclerophyll rainforest. Though logging has taken its toll, remnant stands of towering Mountain Ash interspersed with Australian Myrtle Beech, ferns and rare flora exist in pockets, protected mostly by the Great Otway National Park.
The Otway Fly opened earlier this decade to help educate visitors about the wonders of the Otway Range's ecology. Located outside the hamlet of Beech Forest, the Otway Fly is open year round all day. While treading metal boardwalks suspended at tree canopy height is interesting, I'm taken by the notion of flying through the canopy instead.
A zipline began operating soon after January 2011. Hanging from a thin cable, zippers speed from tree to tree, stopping just long enough to unhook gear from one zipline to another, an exhilarating way to get up close and personal with the rainforest, adrenalin rush included.
Two guides accompany ten zippers at all times. Their knowledge of Otway biodiversity is impressive and I'm swayed by their genuine enthusiasm for both the contemporary adventure and the immemorial impact the ancient forest has on us all.
During the longest zip, 120 metres from tree to tree, I have a flashback to the previous evening when I was canoeing on Lake Elizabeth looking for a platypus. The contrast between these two activities is remarkable, slow paddling one day, fast flying the next. No beaches. No crowds either. And I've got used to the constant rain.
The Otways fickle weather can be a dampener but that's nothing dinner at Brae won't fix in a hurry. As soon as I walk through the door any semblance of grey mood is banished. A glass of Blake's Blanc de Noir is in hand and I feel good. Dan Hunter is working magic in the kitchen and all is right in the world.
Tom Neal Tacker travelled courtesy of Geelong Otways Tourism.
Naked Facts:
Road access to the Otway Ranges is easy. The closest airport is at Avalon with several daily Jetstar flights from Sydney. Alternatively, Melbourne's International Airport at Tullamarine is approximately 2.5 hours drive to Birregurra.
See www.platypustours.net.au to check out Bruce Jackson's Otway Eco Tours, including evening canoe trips on Lake Elizabeth.
The Otway Fly is open daily. The zipline has become very popular and bookings are essential. See www.otwayfly.com.au for more information.
Naked Sleeps:
Tarndwarncoort Homestead five kilometres from Birregurra is a heritage listed farming property in a beautiful rural location, famous for its indigenous Polwarth sheep. The eight bedroom homestead can easily accommodate large family groups.
A two bedroom cottage is also available for accommodation. Self catering is the way to go though owners, the Dennis family, are happy to stock the larder with advance notice. A small cafe operates during weekends and holidays. An art gallery featuring local works recently opened in the old cider cellar next to the wool and yarn shop. See www.tarndwarncoort.com for more information.
For further information about local B & B hostelries, festivals, touring routes and other attractions, check out www.otwayharvesttrail.com.au
Naked Tip:
Since Brae opened for business early 2014, accommodation in and around Birregurra tends to be booked out weeks in advance. The limited range of local B & Bs are all very good but with few rooms available. Brae will have onsite accommodation open sometime late in 2015, six rooms are planned. Though this addition to the narrow accommodation options is heartily welcomed, it won't be enough to meet demand.