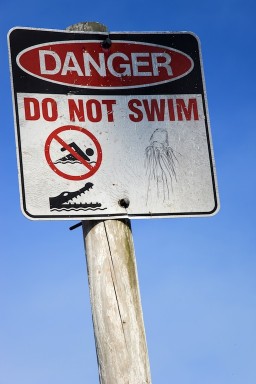 Tropical torpor is unavoidable when the average humidity exceeds average temperature. Being in Darwin during the Wet is like being cloaked in damp inertia.
The NT News, Darwin's daily tabloid newspaper, is so outrageously hokey that it could be read as an alternative comedy script instead of a fact sheet.
Apart from stories about alien landings and crocodile sightings (equally exaggerated),  my favourite story during an entertaining week was the one about an angry woman arrested for doing burn-outs in a pub carpark. She was driving a Toyota Yaris, a car the size of a shopping cart with less power than a lawn mower. How she managed to make high speed doughnuts in a small space was never accurately reported. Fun stuff nonetheless.
Despite the outrageously high cost of living passed on to visitors and residents like a great big new tax, the town still manages to project a slightly cheap impression.  The lackadaisical service found in most hotels, restaurants and cafes and the bog standard food is best ignored if possible. Grin and bear it while you pay up. Darwin can grow on you like a rare mildew, initially repulsive then gradually becoming merely mildly off-putting.
But I like Darwin. There is an air of raffishness about its buildings, many draped in vines hidden behind hibiscus or frangipani blooms that almost obscure the plain cement block construction.
Note how many residents present an impression of petty criminality, as if a significant percentage of the population escaped to Darwin so as to avoid divorce settlement payments, accumulated parking fines, petty drug offences or all of the above.
You get the distinct impression that Darwin could be the town where it's possible to disappear off the grid entirely.
This impression contradicts a pertinent fact. Darwin and the Northern Territory are the most over-governed constituencies on the planet.
That's one parliamentarian for approximately every seven thousand voters.
Per capita, NT politicians out number NT doctors, lawyers and landscape gardeners.
What to do during a wet week in Darwin other than hanging around the grandiose Northern Territory Parliament building waiting for advice from one of the 25 ubiquitous MPs?
Spend a day at the Museum & Art Gallery Northern Territory. This is Darwin's culturally artistic pride and joy. Rightly so as it is an impressive museum that combines natural history, cultural history and the arts in a very clever ensemble.
The Territory is historically rich. For instance, Charles Darwin never visited the town named after him. While in Australia, he remained in New South Wales.
In the museum, the Cyclone Tracy exhibit is particularly moving. Stop for a few minutes in the small dark room where a constantly replayed original recording of the relentless wind is sure to unsettle anyone not hard of hearing. The impression is akin to what it may have been like to have endured the night that tore old Darwin down. Free entry. (Closed Christmas Day, Boxing Day, New Year's Day and Good Friday) See www.magnt.nt.gov.au Conacher Street, Fannie Bay Tel: +61 (0)8 8909 8264
Located smack dab in the middle of backpacking, cafe and restaurant row, Crocosaurus Cove can't be missed. 'Darwin's ultimate urban wildlife experience, Home to the Cage of Death.' hardly lays claim to a tasteful experience but I have to admit, I was impressed by how well run it is.
Essentially a private zoo, it features scarily large crocodiles as main attention grabbers. Happy-go-lucky tourists here have an opportunity to be dunked into a large pool with one or two gigantic estuarine crocodiles. There is something to be said about watching an adult human in a Perspex cage being lowered into a pool with a five metres long, 800 kilos man-chomping crocodile. All that was missing from the perspective of the onlookers was the theme from 'Jaws' as a musical backdrop.
I was more impressed by the reptile handling experience. The guide/keeper was extremely knowledgeable, professional and in control. While being draped with a two metres long, thick-as-three-fingers water python named Pretzel, I felt surprisingly calm, in good hands so to speak. See www.croccove.com for opening hours and details. General admission price is AUD$28 per adult. The 'Cage of Death' is extra. Bring your own swimwear. 58 Mitchell Street, Darwin City. Tel: +61 (0)8 8981 7522
The safe salt-water Lake Alexander Park at East Point is guaranteed crocodile and marine stingers free. Its verdant location in Darwin's nicest neighbourhood is an attraction in itself. Swimming is encouraged. Bring a picnic.
East Point juts into Darwin Harbour and was strategically important during WW2, when Darwin was bombed 64 times by Japanese aircraft from 1942 until 1943. The military museum here is well worth visiting, particularly for those interested in Darwin's history prior to 1974 when Cyclone Tracy virtually wiped the town off the map. See www.darwinmilitarymuseum.com.au for more details. 5453 Alec Fong Lim Drive, East Point, Darwin Tel +61 (0)8 8981 9702 AUD$12 per adult entry, open 7 days per week from 9:30 until 17:00.
Having nearly exhausted Darwin's tourist sights in three days, I decided to cross the harbour to Mandorah. Numerous cruise operators offer tours of Darwin's enormous harbour, three times the size of Sydney's, but during the wet season most tour owners are on leave.
The Sea-Cat Ferry leaves from Cullen Bay Marina, ten minute's drive from Darwin's CBD, offers a dozen daily crossings between Mandorah and Darwin. The trip takes about 20 minutes and costs AUD$23 for a return ticket.
The highlight of a visit to Mandorah is a visit to the Mandorah Beach Hotel, 500 metres walk from the Mandorah wharf. The beer garden here is a gem. Overlooking virtually all of Darwin Harbour, it's a very pleasant place to spend an afternoon or evening. Don't miss the return ferry however as it's 120 kilometres hard driving back to town on unsealed roads with wandering wildlife posing as traffic hazards. Late ferry departures operate on weekends. The hotel service is genuinely friendly; it's clearly a well managed business, quite a change from nearly all other establishments I sampled around Darwin. The Mandorah Beach Hotel is open 7 days. Rooms are available as well. Email: mandorahptyltd@bigpond.com
Darwin is unavoidable when visiting the northern Northern Territory. Visits to Kakadu and Litchfield National Parks start from here. The Tiwi Islands lie just to the north in the Arafura Sea. The town is surrounded by sublime natural beauty, yet it remains a curiosity of contrasts.
By all means, read the NT News while visiting Darwin. News written as fiction apparently doesn't bother the locals. Perhaps that explains much about Darwin in itself.
Naked Facts:
Naked Eats:
The Darwin restaurants I dined in were disappointing. I tried Pee Wee's at the Point, (www.peewees.com.au Tel: +61 (0)8 8981 6888), Hanuman (www.hanuman.com.au 93 Mitchell Street at the back of the Holiday Inn Esplanade Tel: +61 (0)8 8941 3500), Il Lido, (www.illidodarwin.com.au Darwin City Waterfront f3-Wharf One Tel: +61 (0)8 8941 0900) and Garam Masala, (Shop 34 Mitchell Centre, Darwin City Tel: +61 (0)8 8981 1338). Low expectations may reward the fastidious diner at any of these mentioned here. I liked The Istanbul Café simply because it wasn't trying to be something it couldn't be. The location is ideal, prices reasonable and service friendly, a rare trio in Darwin. 12 Knuckey Street Darwin City Tel: +61 (0)8 8941 3777.
I heard that there were a few hidden dining gems in Darwin but during my visit they were either closed or remained hidden.
Naked Sleeps:
Choice of accommodation in Darwin is a dire proposition of averages: Two Holiday Inns, a Novotel, a Crowne Plaza, a Vibe, a Country Comfort and a Travelodge. I stayed at the newish Adina Darwin Waterfront. It's within hopping distance to the 'Wave Pool', Darwin's answer to a huge kiddie pool complete with a wave-making machine. The austere and impersonal outsized Darwin Convention Centre is opposite the hotel. The Adina Darwin Waterfront is just another bland 4-star hotel that serves one of the most disgusting breakfasts I've eaten in a modern hotel in Australia. The Curve restaurant and bar already needs a makeover. The lounges were dirty. Ashtrays overflowed. Service was of the disappearing, untrained kind. But the Adina sadly appears to be the best of a bad lot. See www.adina.com.au/darwin-accommodation for reservations and special deals.
Naked Routes:
Darwin is accessible from all Australian capital cities via Virgin, Qantas and Jetstar airlines. Garuda Indonesia airlines operates flights between Bali and Darwin. If you're heading to Dili, East Timor, Darwin is only an hour's flight away.