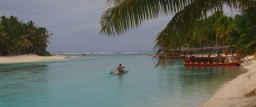 Tua Pittman rides the tiller with stern command. Steering the Marumaru Atua northwards into the night, he scopes the greying horizon like it's a familiar friend. As one of the few contemporary Master Navigators trained in the ancient ways of sailing by stars, moon, ocean currents and migrating birds, on this short voyage from Rarotonga towards Aitutaki, Pittman is recreating a past almost forgot to modern travellers.
The Marumaru Atua is a double-hulled canoe/catamaran of about twenty-two metres length from bow to stern with a deck area of roughly fifteen metres by five metres. A mega-yacht this is not. A reminder of great voyages past, it is.
Sporting three russet coloured lateen sails decorated with ancient Polynesian motifs, she flies across the ocean's surface like a wandering albatross, beautiful and alone. There is no keel; the four metres long wooden tiller steers the 'vaka' easily.
A small rattan roofed galley with enough space for two adults sits amidships.
A single toilet with door is positioned in front of the galley faces the bow. When in use, leave the door open or closed; it's up to you. On such a small vessel everyone knows where everyone else is while privacy is respected. A bucket with rope attached is the flushing mechanism.
The remainder of the deck is open to the elements with two storage compartments that also serve as bench seats. Each separate canoe hull has enough space for eight bunk beds, sixteen altogether. There's not enough space below deck to swing a cat, had one been aboard, creating a cozy arrangement that could make or break friendships.
To comply with contemporary insurance regulations, the 'vaka' is equipped with a GPS and radio but we don't rely on either. Running lights and cabin lights are powered by solar panels fitted to the stern timbers above the transom. During extended periods of cloudy weather a corkscrew propeller generator can be lowered between the hulls through a hatch to add a bit of extra juice. For our short journey, the propeller is lifted and secured beneath the deck.
Wind energy is all we need this night. Given the weather conditions, there's plenty of that.
I'm one of seven lucky passengers, four other writers, one public relations expert and a Pittman family friend who's checking out the facilities on this maiden 'tourist' voyage.
The weather hasn't kind for three days. A strong southeast wind is pushing waves to threatening heights. The narrow entrance to Aitutaki's lagoon is closed due to rough seas.
No matter. We're intent on pursuing the last voyage of 2013 before the summer cyclone season begins. A bit of nasty weather won't put off true sailors but land-loving passengers may feel otherwise. A decision is taken to sail the 'vaka' in the direction of Aitutaki for approximately seventy nautical miles then turn round and return to Rarotonga, more or less matching the distance of a one-way trip from Rarotonga to Aitutaki.
Two watches are assigned to the crew, the first from sunset until midnight, the second from midnight until dawn. Along with Pittman another Master Navigator and our Captain during this short voyage is ex-navy officer Peia Pataia. Pataia assumes overall command for the safety of the crew and passengers.
Pataia, Erena Young, Alex Olon and a young apprentice from a local school, Malik, take the first watch. Tua Pittman, his brother Noel Pittman, Tefini ('T') Pekapo and Thomas Wynne take the second.
The swell reaches four metres once we're a few nautical miles beyond Rarotonga's sheltering reef. The Samoan Trench lies underneath. Bottom is over three thousand metres down. Once outside the reef, the water colour metamorphoses from tropical aquamarine to a deep steely blue.
Three crew members are struck down with seasickness almost immediately, a common malady remedied only by steadfast dedication and gradual physical adaptation. Ginger tablets, Fisherman's Friend lozenges and anti-nausea drugs may assist in reducing the symptoms of seasickness but they won't cure it. My fellow passengers alternate between extreme seasickness and mild queasiness.
Another writer, a friend well known for his bush-walking and mountain biking prowess spends the whole fourteen hours voyage either rolled up in the fetal position on the deck or with his head hanging off the side filling the ocean with his stomach contents. By 21:00, all other fellow passengers are either trying to sleep down below on narrow and rocking bunks or curled up in blankets on the wet deck. Some hang heads over the side, muttering occasional groans. But not me.
This was an experience in which I didn't want to miss a minute. Requesting permission to sit on either of two stern end navigator's seats, I happily sat through each seven hour watch, wide awake, often wet as a random wave washed over me, watching moonrise and moon set, the entire night's panoply of celestial grandeur, gazing at Venus rising as the sun set and later following its disappearance into the first light of dawn. Canopus the Dog Star became a familiar friend. I learned the difference between the false Southern Cross and the real Southern Cross. Orion's Belt was a constant feature, nearly always highest in the sky and eminently visible.
I knew that if I went below and stretched out in a bunk, the risk of seasickness would increase. As long as I fixated on the horizon, the stars, the passing clouds and the moon's position, I'd be fine.
I was reminded of something very important that night. Time really does stretch when modern markers are left behind. I lost track of it, was lost in my thoughts and thrilled to be alone. With nearly seven billion humans on this small planet, it's not often I get to say that.
Peia, Erena and Alex were mostly quiet during their watch. Tua, Tefini ('T') and Thomas were also very quiet. Noel and Malik were both prostrate with seasickness, passed out on deck. Thomas suffers extreme seasickness but stayed his watch nonetheless. The man is a hero. I watched him sit the tiller in between frequent bouts of retching over the stern. Brief snippets of chat were rare, exchanges of information mostly. Checking position and adjusting the tiller to stay on course doesn't necessitate a dialogue. I was mesmerised by the silver light dancing on the waves. Occasionally phosphorescence lingered in the tiller's wake, like a glittering refrain at the end of a rousing speech, though nothing was to be heard other than waves crashing against the wooden hulls and wind ruffling full sails.   
A thousand or so years ago, early Polynesians ventured across the planet's largest ocean in search of new lands. They navigated mostly by the stars, a permanent planetarium seemingly embedded in their brains. These ingenious explorers migrated across huge expanses of uncharted waters without printed maps to guide them.
A few years ago, in commemoration of his ancestors' remarkable explorations Pittman helped build a 'vaka', essentially a large canoe capable of deep sea travelling, at once recreating a vessel that the earliest Polynesians used to circumnavigate the Pacific Ocean well before European pioneers 'discovered' the unknown world. In building the 'vaka' Pittman and his friends simultaneously reconnected with their heritage.
That recreated canoe, the 'vaka' Marumaru Atua (meaning 'Under the Protection of God') sailed with six other canoes across the Pacific Ocean through the Golden Gate of San Francisco, proving that it was possible to sail vast distances without the benefit of modern navigation equipment.
Since that voyage in 2011/2012, the Marumaru Atua has been based in the Cook Islands at Rarotonga. Tua Pittman, his crew and benefactors have given the 'vaka' to the people of Rarotonga as a reminder of their intrepid past. Managed by Pittman and company, it now runs regular three hour evening trips beyond Rarotonga's fringing reef, allowing passengers to witness southern stars far away from city lights as the big canoe sails beyond the island's encircling reef on a short bout of sky tripping.
In March 2014, the Marumaru Atua and crew will begin monthly four day return voyages from Rarotonga to Aitutaki, approximately 180 kilometres north. Leaving late afternoon, the 'vaka' sails overnight to Aitutaki reaching the glorious lagoon's shipping entrance by mid-morning. Passengers will have the choice of staying on board the 'vaka' or transferring to other accommodation on the island, returning to Rarotonga two days later.
Our brief trip is the 'trial run' in preparation for paying passengers. I'm pleased to report that a cruise on the Marumaru Atua from Rarotonga to Aitutaki is unique and should be on every real traveller's so-called 'bucket list'.
Sometimes the travel gods decide to bestow a gift. Fortunate recipients of this gift are well advised to remember it for they have received something both rare and priceless.
It has been my great fortune to be the recipient of random travel beneficence; this voyage beyond Rarotonga on the Marumaru Atua is one of the most memorable trips I've ever been lucky enough to experience.
For travellers interested in living Polynesian history, a voyage on the Marumaru Atua is essential.
For inquiries and bookings on the Marumaru Atua's trips outside Rarotonga's reef and to Aitutaki, contact Tua Pittman or Carmel Beattie at Island Discoveries via email: bookings@islanddiscoveries.co.ck
If a voyage on a 'vaka' doesn't float your boat, don't worry, there's plenty else to discover on a visit to the Cook Islands.
Best known for its 'newlywed and nearlydead' customer base, a recent  expansion of Cook Islands' tourism choices should appeal to visitors not celebrating a marriage nor interested in spending days welded to a banana lounge by a pool next to a white sand beach, though both those options remain very popular.
Rarotonga is basically Cook Islands central. The country's only international airport is on Rarotonga and it's the biggest island in the archipelago. Cook Islands' total population is fewer than 20,000 inhabitants. Approximately 12,000 people live on Rarotonga while approximately 1,800 more call Aitutaki home.
Rarotonga is a large volcanic island with peaks rising to over 600 metres in its densely forested centre. A double lane road of thirty-two kilometres circles the island. There is no cross-island road as the interior is too steep and rugged. A public bus runs two services, clockwise and anti-clockwise each thirty minutes. Passengers are picked up and dropped off wherever they choose to stop, sometimes only ten metres from one stop to the next. The night bus service runs clockwise only but not on Sundays. Hire car companies operate reliable services, renting small vehicles (Daihatsu mini convertibles are popular) and scooters to qualified drivers. A visitor's driver's licence is compulsory and can be purchased at the police station or through the rental agency. Bicycles are very popular transport options as well.
Rarotonga's best beaches are at Muri and Titikaveka on the southern side. At Nikao and Arorangi on the northwest side more lovely beaches stretch along the lagoon. They're not quite as gleaming smooth sandy white as those on the southern side but the sunset views are better. Dogs are frequent beach bums. Generally friendly and looking for free entertainment, local dogs have taken to working on behalf of Cook Islands Tourism as semi-official 'meeters and greeters'. A volunteer animal rescue program began working in the Cook Islands earlier this century. Now all animals are vaccinated and 'fixed'. No longer are visitors confronted by the distressing sight of injured and abandoned animals left to fend for themselves. Each dog I met on Rarotonga (there are no dogs on Aitutaki) was very friendly and good company.
Little Avarua is the main town where the government meets and the country's largest market, Punanga Nui, is held each Saturday morning.  Rarotonga's surprisingly active nightlife is centred in Avarua. Check out Trader Jack's and Whatever! bars on Thursday or Friday nights to see how Rarotongans socialise when they're not at church or work. Saturday night revelries are a tad quiet, church going starts at 9am and it's considered socially bad form to turn up nursing a hangover.
All major Rarotongan resorts sport restaurants and bars, some more lively than others. If your holiday wish list includes lively interactive post dinner activities, be advised to confirm the entertainment options when booking a room.
Aitutaki is much smaller, approximately seven kilometres long by three wide and is a remnant of an extinct volcano with an enormous encircling lagoon. Maungapu, is the highest point at 124 metres. Aitutaki's lagoon is dotted with over a dozen motu that conjure images of tropical heaven: eye-popping white sand, water comprising every shade of blue, fringing coconut palms and coral gardens enticingly peppered with giant clams, black pearl oysters and an encyclopaedia's worth of Indo-Pacific fish and crustacean species. I've seen quite a few tropical lagoons during my travels but few lagoons rival Aitutaki in terms of sheer blissful perfection.
Eleven churches operate on Aitutaki. Considering the population is fewer than 1,800 people, an impressive per capita ratio of proselytising opportunities abound. Christianity rules over all on Aitutaki. A conservative movement to stop all Sunday flights has a strong following.
Cook Islands takes up a lot of space, over two million square kilometres, almost all of it water. Fifteen islands comprise the archipelago, eight in the southern group (including Rarotonga and Aitutaki, by far the most visited and populous) and seven in the northern group. Apart from the airports on Rarotonga and Aitutaki serviced by frequent Air Rarotonga flights, most of the other islands in the southern group can be reached only by charter flights. Both Penrhyn and Pukapuka in the northern group can be reached by air, charter flights only.
The Cooks is a mix of volcanic islands ringed by fringing reefs or coral atolls with lagoons of varying sizes. For more information about the whole country including the thirteen islands not often frequented by international travellers, check out www.cookislands.travel
My job while on this trip to the Cook Islands was to explore what else there is to do other than get married, honeymoon or lash out on an expensive retirement trip.
That I reconnected with my inner soul during my night on the Marumaru Atua was purely incidental and a trick of lucky fate.
Here's a list of 'Must Do' activities on Rarotonga. I list them in no particular order of importance.
A 'Navigating Pacific Skies' progressive dinner with Tua Pittman should be a number one priority for all visitors keen on Polynesian history. As a precursor either to the three hour excursion beyond Rarotonga's fringing reef or the four day trip to Aitutaki, this dinner in Tua's excellent company starts at the Waterline restaurant and ends at a private home for dessert and is highly recommended as an introduction to a trip on the Marumaru Atua. Tua chauffeurs guests around the island while pointing out important stars, explaining navigation skills and relating Polynesian history. Inquiries and bookings can be made via email: bookings@islanddiscoveries.co.ck
Sunday's 10am church service at Arorongi's Cooks Islands Christian church. It's free and better still, allows a glimpse into local culture in the truest sense. The service I attended was led by the new pastor recently returned to Rarotonga after living in Sydney's western suburbs. Replete with song and laughter, fire and brimstone, this was old time religion Cook Islands style.
My mobile phone couldn't lock on to a signal during my first two days on Rarotonga. Frustrated by the lack of connectivity, I resigned myself to be off-grid for at least a week. Seated in a pew on the upper balcony of this church, I listened intently to the first of a number of hymns sung by a group of regular parishioners dressed to the nines looking like they'd won a trip to a prestigious awards event. Apparently, like the Welsh, Tahitians and Samoans, Cook Islanders can carry a tune as if musicality is an inherent genetic trait, they sing like angels. Suddenly, my phone locked on to the local provider and text messages silently beeped their way into the service. Another fellow writer seated beside me, (she's something of a tech-head), sent me a sideways glance as we both raised our eyes upwards and muttered, 'Jesus!' A funny thing happened on the way to church…
As a matter of particular interest, the preacher made several erroneous comments about 'Diwali' infiltrating pure Cook Islands Christianity. A number of Indian Fijian migrants have settled in Rarotonga in search of better paid work than can be secured in Fiji. While I was there Diwali was being celebrated by this vibrant Fijian Indian community. Diwali is one of the most important and cherished holidays during the Hindu year, a commemoration of the goddess of learning and light when children are invited by teachers to visit their schools though the schools are closed for the holiday, often bringing new books to stock the library. As proof that knowledge conquers ignorance, it's an invaluable teaching aid. Most Hindu homes have candles or lanterns placed in doorways to banish dark evil spirits and to welcome in light and learning. It's a wonderful holiday, not threatening to Christianity in any way at all, especially in a place as overwhelmingly Christian as the Cook Islands. Though I was upset by the ravings of an ignorant preacher who didn't know that 'Diwali' is a revered Hindu holiday and not a religion of itself, I was interested to observe how the congregation reacted to the sermon. Judging by the looks on people's faces, the reaction was fairly nonplussed. At the subsequent morning tea when all the congregation and visitors are invited into a nearby public hall to share donated food and non-alcoholic drinks, the talk I overheard was gossipy and fun, not frightful nor fuelled by resentment. I suspect the preacher has since been advised to monitor his hate mongering in public. 
A Raro Safari 4WD tour of the island's back roads and mountainous interior is terrific fun. Owned and operated by local environmentally minded enthusiasts of Rarotonga's soft wilderness areas, this half day trip in an extravagantly decorated open 4WD is a lot of fun as well as insightful. We enjoyed the company of our guide, Mr Useless (many Cook Islanders are best known by their nicknames).
Mr Useless was anything but useless though he was occasionally a bit grumpy and difficult to understand, not because of a lack of English but because an absence of teeth often turned his words into unintelligible mumbles.
A Raro Safari tour is a fun day out following a somewhat random itinerary. Ask a lot of questions, show keen interest and the tour will certainly evolve into a very educational experience. See www.rarosafaritours.co.ck
Definitely more fun than any of us anticipated was the Koka Lagoon Cruise on Muri's fabulously picturesque lagoon.
Billed as a 'Glass Bottom Boat Adventure', I had my doubts about authenticity as a driving force. I was dead wrong about that assumption.
The four crew members, Captain Awesome, Captain Amazing, Captain Jack Sparrow and Captain Cook (Captain Cook was the head cook for the afternoon lunch included in the cruise) proved that a day out in a small boat doing very touristy things like snorkelling around a coral renovation project, or snorkelling among large fish looking for a handout can be a wonderful way to pass a day in paradise.
Enjoying a picnic lunch on a motu just offshore from Muri's beach while being entertained by this outstandingly energetic crew who taught us how to climb a coconut palm, how to husk a coconut, how to differentiate coconuts according to maturity, usefulness and flavour, how to plait palm fronds to make a hat or plate and how to play a ukulele made for a very full day. I tipped my old fishing cap to them all.
These guys could show a seasoned Vegas troupe a thing or three about how to maintain performance enthusiasm. I couldn't have loved it more. See www.kokalagooncruises.com
The Cook Islands Whale & Wildlife Centre is a must visit for travellers who are concerned about Cook Islands' marine environment and its preservation. Owned and run by local heroine Nan Hauser, who is an internationally recognised expert on whales, dolphins and porpoises. Her work on cetacean habitats, their migration routes and how their very existence is now dependent on humans learning to leave them alone to regenerate after the decimations of the past two whaling centuries is widely heralded. As a generalised information facility about cetaceans from around the world, it is invaluable and Cook Islanders are fortunate to have it as a resource and research centre. See www.whaleresearch.org
The Cook Islands National Museum and Library in Avarua's uptown area at the corner of Victoria Road and Constitution Park is a very small museum that packs a punch. Open Mon-Fri 9am until 4pm. Entry fee is CI$5.
The Saturday market, Punanga Nui in Avarua's downtown area is where everyone comes to shop or just hang out. Like mixed crafts and produce markets the world over, a visit to this lively site is obligatory for all curious visitors who are intent on gaining insight into what makes the Cook Islands tick.
Top stalls are: Farm Direct Pearls for some of the best and most reputable deals on locally raised black pearls, Rito Cold Pressed Coconut Oil Products for edible flavoured oils, health and beauty products, Tokerau Jim for hand-crafted art objects and jewellery and KMD Ukuleles for its range of expertly made ukuleles from native woods.
Of course numerous stalls selling fresh juices, fruit smoothies, icy frappes and healthy (or not) small meals and snacks are everywhere. Take your pick and pig out.
A visit to Island Living store is highly recommended. Owned and run by Minar Purotu Henderson, this little shop is a gem which sells locally made and designed fabrics and crafts. The noni juice produced from the trees at Island Living's garden plantation is on sale here. As a cure-all for everything from gout to cancer, the benefits of noni juice are highly regarded by all Cook Islanders.
Henderson also runs the adjoining Plantation House restaurant which serves a set menu dinner for about twelve guests once a week, usually on Wednesday evenings. She's a wonderful cook and uses her huge garden to great effect in the preparation of her special feasts. See www.islandlivingshop.com for reservations.
A Nature Walk with Pa is a unique treat. He's a local hero and the recent winner of a prestigious tourism award. Pa is over seventy years old, walks barefoot dressed in a loincloth and takes limited numbers of guests on a hike around the Needle, a sharp spire carved by wind and rain from an ancient volcanic plug and into the island's jungle interior. During the trek Pa also explains the benefits of indigenous plants as curatives and life preservers. He's living proof of how a good diet and exercise may lead to a long healthy life. See www.pastreks.com
The sunset cultural tour and show at the Highland Paradise Cook Islands Cultural Centre held two or three times per week is a mixed bag of treats. The marae on the mountain is clearly an important historical site and the talk about it and its significance to Rarotongan culture is really interesting. While emcee Danny, dressed in full Cook Islands chiefly regalia, instructed guests not to cross the boundary to the marae unless invited, a woman accidentally crossed the line into the marae. Within seconds, a very large coconut nearly conked the man standing next to her on his head. Had it struck, he would surely have died. A marae can be a powerfully spooky place. The show and dinner that follows the visit to the adjoining marae is full of great music and dancing but Danny's incessant patter is hammier than a Porky the Pig cartoon. See www.highlandparadise.co.ck
On Aitutaki Island these two 'Must Do' activities are highly recommended.
The Punarei Village Cultural Tour is an absolute wonder. The small company is owned and managed by Aitutaki born Ngaa Kitai Taria, a trained archaeologist who is now dedicating himself to revivifying Aitutaki culture as it was before Christianity's impact caused the old ways to nearly disappear.
The half day tour includes lunch prepared from a do-it-yourself umukai (earth oven), a visit to an ancient marae and Ngaa's full attention as he escorts visitors around his work-in-progress, Punarei village.
This excellent day out was a highlight of the visit to Aitutaki. I learnt more about Aitutaki's past (and its future) in a scarce few hours than I ever would have learned traipsing around the island's eleven churches in search of real or imagined history.
The lunch we helped prepare was actually quite delicious. As the umukai was truly authentic, the pork, chicken and fish tasted of mild smoke from fresh banana leaves layered over the hot rocks. The plantains, pumpkin, cassava and red bananas roasted along side were just as delicious. Fresh mangoes, guava, passionfruits and papayas were served with breadfruit salad and taro greens from the village garden.
We laughed and talked about how much Polynesian culture, politics and society has changed since Captain William Bligh first visited Aitutaki in 1798. The whole experience is both very moving and highly educational. See www.aitutakiculture.com
Aitutaki is rightly famous for its spectacularly beautiful lagoon. You'd be crazy to visit this island without venturing out on the lagoon. For that, you'll need a boat and a guide.
Wet and Wild is owned and run by local experts, Quentin and his wife Malea. Their youngest child, daughter Elani accompanied us for the day on the lagoon.
Wet n Wild offers fly fishing trips (bonefish are the fisherman's dream here) and snorkelling trips around the huge lagoon. I snorkelled over great beds of giant clams, all iridescent blue and green as they filter fed on the sandy lagoon bottom, explored a rope festooned with hanging black pearl oysters strung between coral bommies, had a quick walk around a motu famous for its 'honeymoon money' photo opportunities and its preserve as a refuge for red-tailed tropicbirds and other wandering sea birds. The urge to continually jump overboard into the swimming pool like lagoon is irresistible. See www.wetnwild-aitutaki.com
Tom Neal Tacker visited the Cook Islands as a guest of Cook Islands Tourism.
Naked Facts:
Naked Sleeps:
Rarotonga:
The Sunset Resort in Nikao, approximately three kilometres west of Rarotonga's airport is a well run adults only boutique resort situated on a western facing beach. Two swimming pools delineate two areas of the same resort. The pool nearest the beach is closest to the best rooms. The other pool, despite being larger and slightly more inviting is surrounded by two two-story buildings that are nearer the lobby and reception area. The hotel carpark is also very close to one of these two buildings, the one I stayed in unfortunately. The rooms in the far side of this building are very badly positioned, being uncomfortably close to the island's main road. I was assigned one of those rooms. Traffic noise was fairly constant, even in relatively sleepy Rarotonga.  www.thesunsetresort.com
Over in Muri, on Rarotonga's southeast facing coast is the Pacific Resort Rarotonga. One of the country's best resorts, rooms either front a stunning beach or tropical garden area with fish ponds and a swimming pool. Most rooms are decorated in typical Polynesian style with bright colours, boast separate sleeping and living areas and newly renovated granite bathrooms. The hotel's bar and restaurant are both deservedly popular. www.pacificresort.com
My wish list accommodation choice on Rarotonga is the Little Polynesian Resort & Spa. With fewer than twenty rooms, all facing the island's best beach at Titikaveka, this is the pick of the abundant crop. While Muri beach is lined with small resorts, Titikaveka is mostly undeveloped. I hope it stays that way. www.littlepolynesian.com
Aitutaki:
The Aitutaki Lagoon Resort occupies its own tiny island just a short ferry ride across a clear running tidal channel separating Akitua from Aitutaki. Beach front bures are the top choice here, though three overwater bungalows are perennial favourites. The little villas all have outside showers and inside bathrooms. Private decks are attached to each villa, perfect for dropping into a beach lounge chair for a spot of navel contemplation. Dinner is fairly ordinary but the breakfast buffet was better than most I prospected in the Cook Islands. www.aitutakilagoonresort.com
On Aitutaki's western side is the very de luxe Pacific Resort Aitutaki (part of the same group that owns the Pacific Resort Rarotonga). The island's best resort, the most expensive certainly, here the cooking is well above average in a country where too much food preparation is caught somewhere between 80s New Zealand Leagues Club inspiration and London Missionary Society reality. The infinity pool at this resort is one of the most photographed scenes in all the Cook Islands. The beach here, though superb by any concept of reality, is not as fine as the beach at the Aitutaki Lagoon Resort, advantage of occupying your own heavenly island off an island paradise perhaps? Were the Aitutaki Lagoon Resort beach transferred to the Pacific Resort Aitutaki's superior facilities and style, we'd have a perfect winner. www.pacificresort.com
Naked Eats:
If the Cook Islands can claim a national dish, it's probably ika mata, raw fish marinated in coconut milk, lime juice and mixed with chopped onions and/or tomatoes and if you're lucky a bit of chopped coriander. Tahitians, Samoans and Hawaiians prepare raw fish pretty much the same way. The Peruvians do it better and call it ceviche. In Mexico it's served with more lime, coriander and a bit of chilli and is better still.
When the Cook Islands were occupied in the early 19th century by the London Missionary Society and Catholic church missionaries, local people coincidentally developed a fondness for tinned meats, tinned fruits and bland cooking. Much of that tradition continues today. New Zealanders are the Cook Islands most frequent visitors. Indeed, the Cook Islands are to Kiwis what Florida and Hawaii are to Americans and what Fiji is to Australians. For many Kiwis, their first overseas trip is to the Cook Islands. The influence middle-class Kiwis have had on contemporary Cook Islands cuisine is still a work in progress and appears to have been bogged down in 1980s low-brow cooking. I've had many truly excellent meals in New Zealand where innovative chefs winningly marry local produce with the country's stunning wines. That innovation hasn't yet fully reached the Cook Islands. This is my first impression. I heard there are several good restaurants on Rarotonga and Aitutaki but I didn't dine at them.
Unfortunately when I met Minar Purotu Henderson at her Island Living shop, it wasn't a Wednesday and we weren't on Rarotonga long enough to dine at her Plantation House. I read the menu at the Little Polynesian Resort & Spa and found it exciting and enticing but again, didn't have time to dine there.
At The Moorings Cafe on Rarotonga, I ate a very good spicy fish sandwich and drank a fresh coconut juice ('Nu' juice in the Cook Islands). I'd like to go there again.
The umukai I shared during the Aitutaki Punarei Cultural Tour was really good because it was authentic, the ingredients were top quality and the freshness was outstanding.
Samade On The Beach across the channel from Aitutaki Lagoon Resort & Spa is a lovely cafe/restaurant in a stunning location overlooking the lagoon right at the tip of the Ootu Peninsula. Recently acquired by an ex-Pacific Resorts GM, this place is set for great improvements. The small snack I ate of ika mata, fried calamari and plantain chips was very good and shows promise for better things to come. www.samadebeach.com
Also on Aitutaki is Tupuna's Restaurant, highly recommended by trusted associates. The chilli crab cooked here has a strong following. Tupuna's is open Mon-Sat from 6p and can be contacted via email: tupunarestaurant@aitutaki.net.ck or local telephone: 31 678.
The Cook Islands produce is essentially organic. Farms are small and clearly the soil is very fertile. The use of pesticides and fertilisers is almost unknown. The incredible freshness and flavour inherent in the produce is obvious. It's a pity so many cooks don't show innate respect for their ingredients or they're stuck in a time warp of 80s Kiwi cooking when mayonnaise came out of large jars and curry powder was considered truly exotic.  
Here's hoping to a successfully evolving Cook Islands food culture driven by passionate and informed cooks.
Naked Routes:
Air New Zealand offers the best connections to Rarotonga. Daily flights operate between Auckland and Rarotonga providing easy one-stop connections with all Australian capital cities and all other New Zealand cities with Air New Zealand domestic services. A once weekly service connects Rarotonga to Sydney non-stop each Saturday. A once weekly non-stop service also connects Rarotonga to Los Angeles. Why Air New Zealand doesn't do a better job promoting the LAX-Rarotonga-Sydney connection is one of those airline quandaries that puzzle me unceasingly. Imagine the holiday opportunities with that route. www.airnewzealand.co.nz
Virgin Pacific flies regularly between Australia and Rarotonga. www.virginaustralia.com
Air Tahiti operates a once weekly service between Papeete and Rarotonga as a code share arrangement with Air Rarotonga. www.airraro.com
A number of charter services connect all other Cook Islands that have an airstrip. It's fairly easy, though relatively expensive, to get to Atiu, Mauke and Mangaia in the southern group. Penrhyn's airstrip is over 1,300 kilometres north of Rarotonga. Charter flights to the northern group of islands that have an airstrip are hellishly expensive. Now that's a 'bucket list' goal to bear in mind.
Naked Reads:
'My Island Home' by Helen Henry an ex-Kiwi and island resident, widowed  to the nation's first prime minister's son. Her story is a fascinating one.
'The Book of PukaPuka' and 'Island of Desire' by American travel writer Robert Dean Frisbie who came to PukaPuka in 1924, married a local woman and stayed to open a general store.
Finally I'd like to say a big 'Kia Orana' to all my Cook Islands friends!