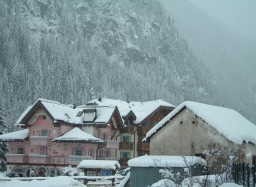 The Dolomite Alps in winter is a snowy wonderland.
Canazei hardly seems real.
Its houses, pretty and decorated, are from fairytales and nursery rhymes. They are Hansel and Gretel houses, gingerbread houses, green, blue, yellow and pink with pretty chimneys and hobbit doors. Under a blanket of snow, Canazei is a Christmas card.
It lies in the Val di Fassa, deep in the Dolomite Mountains and it sits impossibly picture perfect in any season. The whole valley defies superlatives. Its spruce and fir trees, heavily laden with snow in winter, lie thickly at the base of the truly awesome mountains of the Gruppo Sella and the wonderful, evocatively named Marmolada. It's got me talking in teenage-speak but here, in this little town in this beautiful valley, I'm almost certain they invented the word "awe". In the middle of the town runs its pretty stream, the Torrente Avisio. It bubbles along under snow beds and old, wooden bridges. Here and there, in Canazei and the neighbouring towns, the fountains are frozen to create sculptures of cascading, blue ice.
The towns of the Val di Fassa have names like Campitello, Campestrin, Fontanazzo, Alba and, the jewel in the crown, Canazei. Each boasts pretty houses and churches with onion-shaped steeple tops. We sit and have pizza in locales that have lacy curtains and where everything is wood-turned and carved. It is a place of folk art and a quaintness that is impossible to resist.  You feel like you've been here before because you remember all those childhood stories about woodcutters, red apples and houses iced with sugar and dripping with sweets. Doors are adorned here with copper pots, teddy bears and sprigs of spruce.
There is no doubt that the locals are born out of this environment. They are mountain people, weathered and resilient with that ruddy colour that comes from living an age in the snow. They have knotty walking canes and appropriate boots and hats embellished with feathers and brushes. They look like fairy wood folk, their woodpiles neatly stacked by their doors. And, just when your mouth couldn't get any more agape, a white horse-drawn sleigh with chiming bells jingles into view. Now you know it's not real.
We stay at La Pineta, a family-run chalet a little out from the town centre. It sits in a field of snow where, in late January every year, Nordic skiers contesting the 72-kilometre Marcialonga, fly past its doors to the sound of cow bells, cheering and singing.
This is Canazei and it's a wonderland.
by Marisa Tarascio Spiller
Naked Facts:
Albergo Hotel Chalet La Pineta
Via del Ciuch, 34
38032 Canazei di Fassa, Trentino Alto Adige, Italy