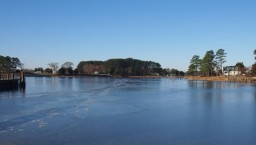 Chesapeake Bay's huge expanse of broad water and inlets has for centuries been Washington DC's playground, the nation's aquatic backdrop, its naval headquarters and unfortunately, a dumping ground for all kinds of industrial and agricultural waste.
Undergoing a renaissance and long delayed clean-up, now is the time to get back to the Bay and discover its backwater secrets.
Morning mist lifts from the quiet waters off Deal Island. A Great Blue heron flaps its wings silently lifting its stilt like body into the air, constantly on the lookout for another soft shelled crab to flip into its long-beaked snout. A skipjack makes silent headway into the straits, readying its oyster dredge for another day's fishing. Great flocks of ducks honk simultaneously while they signal a mass landing. Another autumnal morning on Chesapeake Bay evolves slowly. This bucolic scene repeats itself daily a mere hundred kilometres east of Washington DC.
Sir Walter Raleigh explored the eastern coast of America for Queen Elizabeth 1 in 1584 and returned with tales of untold riches, safe harbours and rustic inhabitants. Captain John Smith followed in 1608 while he thoroughly explored the vastness of Chesapeake Bay, charting its shallow waters to establish a permanent colony at Jamestown in 1608. Here he met the princess Pocahontas and the first true American love story was begun.
Now, it is nearly impossible to imagine how Chesapeake (from an Algonquin Virginian Indian word meaning, 'Greatest Water') looked to Smith's eyes. Descriptions of oyster shoals so immense that they rose from the water and posed hazards for passing ships are difficult to conceive today. Pristine clear water, washed perpetually pellucid from its northern headwaters at the mouth of the Susquehanna River's drowned valley to its debouchment into the Atlantic Ocean at Cape Charles was a constant feature. The Bay extends 300 kilometres from north to south and expands nearly 50 kilometres to its widest point at the mouth of the Potomac River, the stories of crystal clear rivers feeding into the thriving estuary contrast completely with the murky waters seen later.
It remains however America's largest marine estuary, a haven for wildlife and ships alike. A cradle of history and for centuries its most prolific fishery, the Bay has seen it all. Surrounded by rich agricultural lands as well as proliferating metropolitan centres, Chesapeake Bay's water quality has suffered primarily due to nutrient runoff, mostly derived from nitrogen and phosphorus based fertilisers.
Deadly algal blooms in the 1970s were warning signs that the Bay was in dire straits, choking on the asphyxiating clouds of algae that sprouted from fertiliser runoff and industrial pollution. An ignominious end sped along by rampant, unchecked over-development of tidal marshes, the last refuges for fish hatcheries and water birds, was a real possibility. To make matters worse, over-fishing also contributed to the Bay's ill health.
Oyster populations are estimated to be 2% of what they once were. The previously dense populations of oysters efficiently flushed clean the entire Bay in one day. Present numbers now take nearly one year to accomplish the same natural water filtration process.
Obviously rescue operations had become essential to the great Bay's immediate future. In 1983 the 'Chesapeake Bay Program' was created. Combining federal, state and local authorities in one decision-making body, this non-profit organisation helped to focus national attention on the Bay's ecological plight. Further commitment was made in 2000 with the formation of the 'Chesapeake 2000' agreement which guided the Bay's environmental restoration through to 2010.
The new agreement included New York, West Virginia and Delaware in this landmark plan that finally encompasses all the states in the Chesapeake Bay watershed. Strict controls are now in place regarding urban development, safeguarding wildlife breeding habitats and preventing further agricultural runoff into the Bay.
For the casual traveller interested in exploring a part of America that is too often overlooked by international visitors, Chesapeake offers an intriguing insight into the heart of the nation. Far too large an area to explore in only one visit, I suggest that new visitors concentrate their time on the eastern shores of Maryland and Virginia with a side trip into Delaware to comprehend Chesapeake's unique character.
St. Michaels, nestled into a quiet inlet at the mid-section of the Bay is within a few hours drive from Washington DC. It's a very good place in which to begin an exploration of Chesapeake's less developed side.
The prolific author and long time resident of St. Michaels, James Michener, based himself in St. Michaels while he penned his authoritative history, simply entitled 'Chesapeake'. Though typically Michener-ian in its scope, thick as a doorstop and weighed down with sentences as long as the Chesapeake Bay Bridge & Tunnel, it's still compulsory reading to gain a feeling for this special place.
St Michael's Chesapeake Bay Maritime Museum's quirky displays help in understanding the Bay's emergence as the nation's first waterway. If children are involved, they will certainly enjoy being a sailor for a day. The Captain John Smith Water Trail is the U.S National Park's first official water trail. Readily accessible sections of it are near St. Michaels on the Choptank River. Hire a canoe or kayak for a day's exploration of the gently flowing tidal Choptank. It's an opportunity to be Captain John Smith or Pocahontas for a day at least.
Tilghman Island, connected to the mainland by an historic drawbridge, is quintessentially Chesapeake. Quiet and serene, it is a world unto itself. A small fleet of skipjacks, a Chesapeake invention that replaced the barge-like 'Bugeye' oyster boat as the best means in which to dredge for oysters, operates from Tilghman Island's main harbour. Skipjacks occupy a special place in Chesapeake's maritime history. Even today motorised boats are prohibited from dredging for oysters. Only sail powered skipjacks are allowed, a link to shipwright skills mostly lost in this era of contemporary steel and fiberglass speedboats.
The other place in which to see skipjacks at work is at Deal Island's Wenona town harbour, where I inquire casually about sailing on one. My grizzled, salt-weathered respondent is laconic. 'You can just hire one at the wharf over there (pointing gruffly over his right shoulder) if you ask nicely. Or you can wait for the regatta. I'd take you out myself but you'd have to work hard or just pay me a lot of money.' This is typical Chesa-speak: direct, no-nonsense and to the point, very humorous too if you're patient and have no expectations.
Deal Island is also a notable Wildlife Management Area famed for its water bird population. Impressive numbers of indigenous birds make their home here and it's a safe rest stop on the Eastern Seaboard Flyway for migratory species from far away as Patagonia or the Arctic. Wenona hosts annual skipjack races in early September. It's also a busy soft-shelled crabbing town whose businesses export crabs all over the world.
For a dip into another world, with its busy beaches and restaurants, spend a day or evening in Rehoboth Beach just 90 minutes drive to the east of St. Michaels on the Delaware shore. Seductively positioned near-yet-far from Chesapeake Bay, Rehoboth's sea breezes may come as a surprise when the Bay itself swelters under a relentless summer sun.
Well known for its thriving gay/lesbian scene, Rehoboth is also Washington DC's party route to the sea. Clubs hum, cafes buzz and restaurants shimmer during the hot summer season.
But Rehoboth isn't all about sex and sun. Quiet beaches stretch into the horizon and though the water is chilly, the swimming is safe at patrolled areas. Rehoboth has the Delmarva Peninsula (the spike of land that juts into the Atlantic Ocean, forming the eastern boundary of Chesapeake), at its back, an abbreviated amalgamation of three state's names: Delaware, Maryland and Virginia. It is easily the trendiest town between Miami and New York.
Sample the town's art galleries, cafes and bars to see what happens when Washingtonians let their bureaucratically controlled hair down. At one of the popular clubs a bartender says to me, 'We make the strongest Margaritas north of Mexico but ours are more expensive probably.' I admire his honesty. During the summer's gay/lesbian festival, one of the most popular events is 'Drag Beach Volleyball' played right downtown in front of the busiest section of the boardwalk. Kids love this event. Why is it that small children and large drag queens share the biggest laughs?
South of Rehoboth and well past tacky-touristy Ocean City (avoid this ugly mini-city of strip malls packed with cheap souvenir shops), the Delmarva Peninsula narrows as it separates the Bay from the Ocean and towns diminish in size and number. Quietude reigns again. Take time to explore the tiny settlements, their churches and curiously compelling cemeteries filled with weathered gravestones and memories of religious refugees searching for hope in new lands.
The Assateague Island National Park, just across the bridge from charming little Chincoteague town, is well known for its herds of feral ponies, made famous in Marguerite Henry's renowned children's book 'Misty of Chincoteague'.
Ponies were released by shipwrecked sailors hundreds of years ago and gradually established breeding herds unique to the area. The annual Pony Swim from Chincoteague to Assateague islands exemplifies the adaptability of the native ponies; they're like ducks to water. The beaches at Assateague are splendid: windswept, awe-inspiring and lonely.
Tiny Onancock, (Pronounced 'Oh-NAN-cock'. Don't make the same mistake I did when stopping in a cafe to ask for directions to 'ON-An-Cock'. I was politely corrected despite being given a harsh look) is Eastern Shore Virginia's loveliest town. Blessed with a quiet and secluded harbour, two intersecting main streets lined with a small yet interesting assortment of shops, boasting two good restaurants (Bezzotto's and The Charlotte Hotel restaurant) and graced with lovingly restored Victorian houses, here is where the description 'quiet backwater' can be best applied.
Chesapeake charm, too far from the big cities to attract day-tripping crowds and holiday house owners. There's a strong sense of community here, largely due to this part of Virginia often being ignored by state legislators across the big Bay and far away in Richmond.
At the end of the road at the great bay's final exit into the Atlantic sits Cape Charles. One of the region's most historic towns, where history is as common as crab cakes, this is indeed something to boast about. Cape Charles is an excellent place to hang back and relax in the sweetly somnolent atmosphere. It has one of the most extensive arrays of Victorian architecture on the East Coast and is mostly overlooked by the crowds rushing up and down the interstate highways over the Bay to the west.
In fact, Cape Charles is a good place to watch the sun set over the water, an unusual claim to make on the eastern seaboard of the USA if you're not on Florida's Gulf Coast.The Cape Charles Museum and Welcome Center is inviting and useful to gain further insight into the origin of the town. When I ask a center volunteer about Cape Charles' architectural heritage she hands me a map and tells me to  'Wander around a while and soak in the feel of the town. We're not like any other place in Virginia. We're special, kind of remote and most people who find us really want to be here.'
The nearby Virginia National Wildlife Refuge is another jewel in the Chesapeake crown for birdwatchers and wildlife enthusiasts, as is the Kiptopeke State Park, well known for its population of hawks and waterfowl.
Perhaps Cape Charles is an appropriate town in which to contemplate why Chesapeake Bay exists as it does today. Unlike other drowned river valleys scattered about the globe that make up the world's great bays, Chesapeake was formed by a cataclysmic event that occurred approximately 35.5 million years ago during the Eocene Epoch. A bolide, (meaning large asteroid or comet), more than a mile wide plunged into the water just off Cape Charles. Travelling at a speed estimated to be 113,000 kilometres per hour, it obliterated all life on the east coast of America at the time. Billions of tonnes of ocean water were propelled upwards and vaporised. Millions of tonnes of rocks and debris were ejected into the atmosphere. The impact crater plunged hundreds of feet below the earth's surface and remained hidden until scientists discovered it in 1983 when studying satellite images.
Fossil remains have been subjects of fascination since Chesapeake Bay was discovered by Europeans over four hundred years ago. The Algonquin tribes that occupied the region for millennium must have been equally intrigued by the number of prehistoric creatures embedded in calcified rocks sticking out of the Bay's many cliffs and ledges.
Chesapeake Bay has had a powerful impact on America, not because it was formed by one of the greatest explosions ever recorded in the history of the Earth, but also because it witnessed the birth of a nation, fed its earliest inhabitants, created untold riches for innumerable families and provided homes to countless species of fish, waterfowl and other animals. The Algonquin people got the name right; it is simply the 'Greatest Water'.
Naked Facts:
Naked Sleeps:
The Inn at Onancock is an absolute delight. Owner operated, immaculately clean, well-appointed and to-die-for breakfasts make this small guesthouse the best place to stay in the whole lower Delmarva Peninsula. The drinks and canapes served each evening provide guests an excellent opportunity to exchange travel tips. The owners are always on hand, offering advice and suggestions about the region. They're a wealth of local knowledge. See www.innatonancock.com
Naked Tips:
For more information about Cape Charles and Onancock see www.capecharles.org or www.onancock.org
For more information about Chesapeake's national park system and waterways including the Choptank River see www.nps.gov/cajo/
Chesapeake Bay is a year-round destination, though summer is easily the most popular time and consequently very crowded. Winters may be very cold though clear days and nights make it a special season with the least number of visitors. Mid-summer temperatures are often very hot with high humidity but onshore breezes from both the ocean and bay help relieve the heat. Spring and Autumn are typically the best seasons.