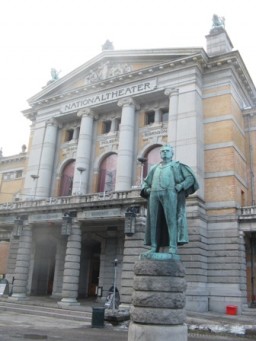 Few capital cities have an outdoor sculpture park like Oslo's Vigelandsparken. More than 200 granite, cast iron and bronze statues are modelled on people Gustav Vigeland observed during his 74 years, almost all of it spent in Oslo. His old house is next to the park named after him, close enough for the master to see his work simply through looking out his front windows.
The park is open 7 days from dawn till dusk, free entry, a welcome enticement in this expensive city.
At Vigelandsparken, watching Norwegians watch themselves as if cast straight from life's exigencies, reveals a side of the national character that is usually hidden.
I first visited the park before Anders Behring Breivik's horrific massacre and bombing in Oslo of 22 July 2011. It was the worst mass murder in Norway's modern history and it shook up the national psyche.
Breivik's slaughtering of innocents driven by his extremely nationalistic political beliefs allowed an overall view into contemporary Norwegian society and its changing demographics. An increase of migrants from Africa and Asia has forever altered Norway's overwhelmingly white colour palette. No one in Norway apparently would have believed immigration could be the root cause of such livid hatred.
Norwegians are proud, imbued with a sense history derived of collective hardships. Inclement weather, geographical isolation and challenging terrain have inculcated an independent culture at the edge of the continent, tied only loosely to Europe's dominance.
As a sea faring country, Norwegians have always been great travellers, forging links to other cultures far from home, often in sympathy with folks of equally humble origins. Norway's humanitarian stance to immigration encouraged an influx of refugees, the majority from Sub-Saharan Africa.
For a few Norwegians, the government's policies have been anathema to racial purity and Norwegian cultural integrity. Sadly, one maniac chose to commit mass murder therefore making his insanity abundantly clear to everyone.
His abominable crime should not be viewed as representative of a majority opinion. On the contrary, Norwegians are internationally acclaimed as peace purveyors, generous with their new found wealth and very welcoming of an expanding multi-cultural society and the increased richness of life it engenders.
That said, Norwegians are also notoriously aloof, often unfriendly and shy around strangers. Like most Scandinavians when they've had too much to drink, the reserve becomes less glacial after a few beers or aquavits. Booze fuelled warmth loosens hard faces into cheery smiles.
Oslogians (Oslo residents) can let their hair down when the conditions are right. Back at Vigelandsparken, I witnessed whole family groups interacting with the sculptures. Kids climbed up bronze images of kids like them, robustly figured, pudgily muscled and coolly smiling as if they had a secret they didn't want to share. Well dressed parents observed from close by, avoiding eye contact with other strangers or parents, safe in their private worlds while their children played quietly amongst the statues of family groups. Grandparents were the most demonstrative emotionally. Some of Vigeland's works generate strong emotions. Age wearies while youth blooms, difficult appearances to emulate in stone or metal. Many of Vigeland's sculptures are capable of evincing passion for lost youth and old age consumed by work for scant gain.
Oslo is a small city, compact and rather constrained by its fjord side location. Open water girds its southern limits while steep hills prevent northern urban sprawl.
From a traveller's viewpoint, Oslo is clearly a wealthy town. For instance, everything works. The air is clean. The streets are almost entirely uncluttered with litter. Low rise 19th century buildings mix stylishly with low rise 20th century buildings. Down by the waterfront, splashy, sleek urban renewal projects have sprouted up among the old warehouses providing apartments for hipsters, urban groovers and trendy elites.
The downtown neighbourhood is traversable by foot or bicycle, while a very efficient public transport network of buses, trams, ferries and trains makes outlying suburbs easily accessible.
Many central shopping streets have been allocated entirely to pedestrians. Cars are banned. On my first day in Oslo I wandered up a main street, Storgata, and noted an adult store next to a clothing store. Large windows made it clear the sex shop was busy with customers. The clothing store was not. Curious, I walked in and immediately observed two adolescent boys acting out a Viking sword fight with two hefty dildos. Their parents were lingering in the lacy lingerie section further back unaware of their offspring's novel use of large black sex toys. Other customers took no notice whatsoever of the boys' antics.
This was one of my first impressions of Oslo and its inhabitants. I decided then that I would like Oslo, if only for a nonchalant attitude to an alternative use of sex toys. Scandinavian's well known social embrace of sex as a means of fun instead of merely a reproductive act best performed in private is well entrenched in Oslo.
Oslo continually ranks highly on lists of the world's most liveable cities, a fact I believe is worth pointing out at this juncture in the story.
Because of the North Sea oil boom, Norway has grown very wealthy. From the late 1970s oil has been profitably extracted from offshore rigs. Subsequently, the nation's bottom line has improved dramatically. Previously a poor cousin riding on Sweden's economic success, sending workers across the border to sign up with Volvo, Saab and Ericsson, Norway's economy was once reliant almost entirely on fishing, forestry and tourism.
Times have changed. These days young Swedes cross the border looking for work in Oslo's restaurants and bars. The wages are better and work is easy to find. When I asked a few restaurateurs why they hired so many young Swedes, the response was universal: they're friendlier and they work harder.
I don't see Swedes as being more outwardly friendly than Norwegians but my perspective is naturally an outsider's view. That being said, Scandinavians in general are a cool group. If national character can be judged by an awareness of social limitations, both Norwegians and Swedes aren't going to win international popularity contests when it comes to the friendliness category. A well regarded locally made television documentary shown in both countries debated why the countries' inhabitants are so hesitant to make friends with strangers. That debate is ongoing while plausible answers are still being addressed. Meanwhile, back at the hospitality coalface, Swedish employees dominate Oslo's restaurants and bars.
Oslo's array of museums is an interesting one for such a relatively small city.
I fell in love with the Fram Museum, named after the polar exploration ship it houses. 2011 was the centenary of Amundsen's expedition to the South Pole. Since then, Norwegians have been riding a polar history high. It's fascinating stuff.
I knew little about Fridtjof Nansen before visiting this small museum essential to understanding the physical, psychological and emotional challenges Nansen and Amundsen faced as they sought to conquer both poles. Roald Amundsen is one of the world's greatest explorers, well known and studied, largely due to his conquering of the South Pole. Nansen deserves equal attention. He's a national hero, winner of the Nobel Peace Prize in 1922 for his work helping displaced persons post World War 1 and for his vital assistance in forming the League of Nations, the precursor to the United Nations.
Nansen reached latitude North 86.14 during his polar expedition of 1893-1896. In 1888 another expedition led by him crossed Greenland's interior for the first time in recorded human history. Nansen's ship, the Fram carried him to northern polar waters. The same ship also served Amundsen's explorations into southern polar waters. It's the only ship to have been essential to both North and South Pole discoveries.
One of Norway's esteemed contributors to literature and theatre, Henrik Ibsen, also lived in Oslo. His apartment has become a museum devoted to his life and work. An appointment is necessary to visit but can be simply arranged by email.
Oslo is rich with arts. Don't miss: The National Gallery (Edvard Munch's most famous painting, 'The Scream' is here), the Munch Museum (Munch donated his collection to the city of Oslo), the National Museum of Contemporary Art, the Henie Onsted Art Centre, the Museum of Decorative Arts and Design (Scandinavian design is rightly world famous) and the International Museum of Children's Art.
Oslo is a skier's town for six months of the year. The subway and tram carriages are filled with people of all ages carrying skis, on their way to nearby ski fields or on their way home after a long day's schussing. Cross country (Nordic) skiing is particularly loved by Norwegians. They have the thigh muscles to prove it.
The Holmenkollen Ski Museum and Tower is a short trip on public transport from Oslo's centre. Any traveller keen on ski history should visit this small museum housed at the base of this futuristic designed ski jump. The jump and museum building underneath is visible from many points in Oslo's cityscape, a much loved local icon.
Thor Heyerdahl is another famous Norwegian ocean voyager and explorer. The Kon Tiki museum is devoted to his contemporary explorations. The museum also offers permanent exhibitions linking his voyages to early navigators and is located close to the Viking Ship Museum and the Fram Museum. Make it a celebratory global navigation day and visit all three museums. I dare you not to be impressed by Norway's long maritime history; seemingly inbred into the Norwegian national psyche.
Scarcely populated Norway (approximately 5 million inhabitants) is tied to land and sea in equal measures. An obvious love affair exists between Norwegians and their environment, despite logging, mining and offshore oil rigs.
Fish and seafood dominate most restaurant menus. I haven't eaten a bad meal yet in Oslo. Indeed on a recent visit I ate three particularly fine meals at: Engebret Cafe opposite the old Christiania Theatre where Munch and other artists and writers used to dine or drink Absinthe, Lofoten Fiskerestaurant in the newish harbour side development and at the Grand Hotel's Grand Cafe. Luckily I visited Oslo during the cod (skrei) season. If a fish can lay claim to forming a nation, the cod has done much to support Norway's developing national identity.
Oslo's City Hall is the perfect end or start to any visit. Construction began in 1931, completed in 1947 after an interruption because of World War 2. Here the Nobel Peace Prize is awarded each year on December 10. The murals within tell the story of modern Norway. The figures depicted strongly resemble those spread throughout Vigelandsparken. Oslo's human spirit is a constant presence.
Tom Neal Tacker travelled to Oslo courtesy of Thai Airways and was a guest of Oslo's tourism bureau.
Naked Facts:
Naked Sleeps:
The Grand Hotel (www.grand.no) is the city's best. Sure it's expensive but it's worth the price. History lives in this hotel. Nobel Peace Prize laureates stay in the top floor suite overlooking the city's National Theatre, between the Parliament and Royal Palace. The rooms are spacious, quiet and elegantly understated. Service is exemplary as is the food served in all the hotel's restaurants.
The Thon Opera hotel (www.thonhotels.com) near the city's central railway station, also where the Airport Express leaves each 15 minutes, is well situated overlooking the new Opera House and the Oslo fjord. Rooms are surprisingly small and mostly utilitarian with little decoration. That said, the hotel restaurant, Scala (opera=Scala), is actually quite good as far as bland hotel restaurants go.
Naked Eats:
Cafe Engebret (www.engebret-cafe.no), open Mon-Sat is one of the city's oldest. Dine here for a refresher course of traditional Norwegian food combined with modern technique. Reindeer and skrei (cod) are specialties of the house. Excellent service with a fine wine list and bar with a wide ranging selection of local aquavits complete the whole superlative package.
Lofoten (www.lofoten-fiskerestaurant.no) is open 7 days. Local hero chef, Bjorn Tore Furset opened Lofoten (named after a small clean and green archipelago off the Norwegian coast) in 1997, the first in his small group of top quality restaurants in Oslo. Obviously, the emphasis is on seafood and fish of all kinds. It's not cutting edge cuisine like Rene Redzepi's in Copenhagen or Mathias Dahlgren's in Stockholm but as an example of constancy in Oslo's dining scene, it's one of the city's best.
Naked Essentials:
For a list of Oslo's museums, galleries, attractions and exhibitions, see www.visitoslo.com Use this site to book online Oslo's indispensable Oslo Pass for unlimited access to Oslo's public transport, reduced museum entry fees and discounts at selected restaurants. The Airport Express train is not included in the Oslo Pass.